According to recent forecasts, the outlook for this coming weekend is cloudy with a chance of guests. Sarcastically fortunate for us, our guest room looks like this:
Oh wait…it gets better…here's the view from another angle:
In our defense, the guest room is looking gnarly because our master bedroom closet is under construction. Technically, it's been under construction since April. Doh! Hence why the room is sporting ALL OF OUR CLOTHES. Do remember the Friends episode when Joey showed Chandler ALL OF HIS CLOTHES? That's what this reminds me of. Oh…but it gets better with a stack of MORE clothes and shoes in the corner. Oh, man!
This poor room has served so many purposes for us since we moved in here and consequently so many names. It started as my office space when I was in grad school, then we moved into it while we ripped apart our master bedroom, then it served as Colby's office space since he works from home, then Colby moved back downstairs and I used it as a craft room, but most recently we've been calling it Goose's room. That's his bed…on top of the futon/bed because he's a princess like that. Just call him Princess and the Pea Goose.
With our house guest looming, we kicked it in high gear this weekend to first and foremost finish our closet and then whip this space into guest-worthy shape. Thankfully…I just moved all our clothes back into our room so the guest room crisis was averted (Christa if you're reading this…we're ready for you!).
I'll have more updates for you this week about our closet, which turned out much better than expected! When Colby walked in on my organizing/closet installing madness he stated, "Wow, this looks like that store you go to in Kittery…kind of a cross between IKEA and JCrew".
But until we reveal our closet, I wanted to share with you the plan for this space since I think we finally have one. Drum roll, please. This space is going to be Colby's room on a day-to-day basis to use as a music room/man space (Colby's a fabulous guitar player…don't let him tell you otherwise), but also house our overnight guests as a guest room. For the record, its official name shall be "Guest Room" but I might start calling it "Colby's Room". The poor guy doesn't have any space in our home to claim his own. Small house problems. And what makeover would be complete without a mood board: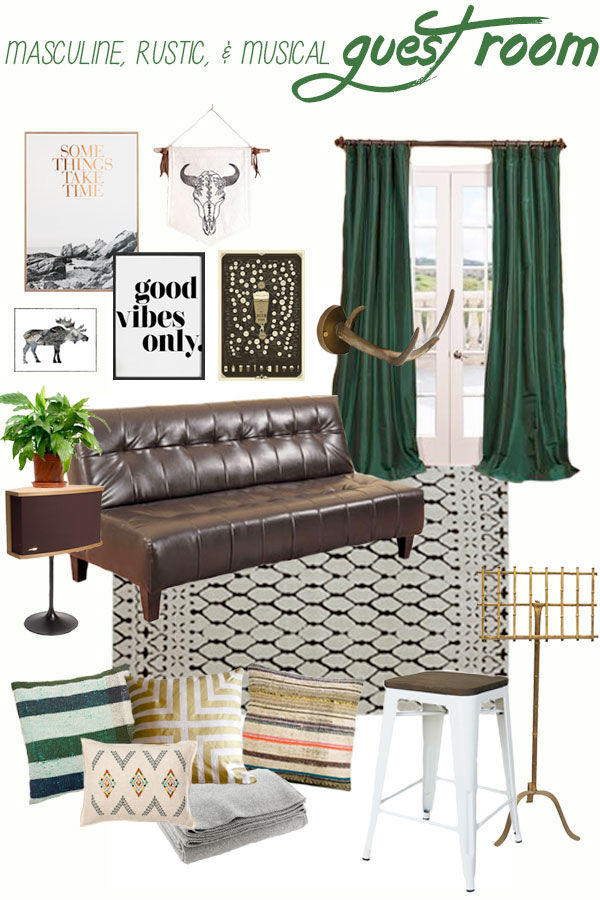 The game plan was to keep the futon/sleeping space for guests, cozy it up, make it more Colby-esque (he LOVES green, and sadly there's a lack of green in our home), and bring some of Colby's guitar-playing stuff out of storage. And the details:
Wall Color: White. We both like the blue that's currently in the room, but it doesn't flow well with our master bedroom across the hall. I've been dying to try out a white room and this seemed like a good (small) space to test it out with.
Couch: We already have a leather futon that we intend to keep. It folds down into a bed which we put a feather mattress pad on top of and it's oh so comfy! This leather futon came from The Futon Shop here.
Rug: I was the lucky winner of a Mohawk Flooring rug from a blog giveaway and thought it would serve as a great, cozy base for the space. Who said reading blogs never pays off?
Curtains: I wanted to give Colby some green curtains to bring his favorite shade in boldly. These curtains are from Overstock here, but there's a good chance I'm going to try my hand at sewing a set of these.
Curtain Tiebacks:  How could I not choose these bronze antler, curtain tiebacks from Urban Outfitters for Colby's man space?!
Art: This part was easy. Over the last couple of years, I've been an Etsy art favoriting/hearting machine. I just paged through all my favorites on Etsy and picked out the most Colby/music room-friendly pieces which included the Some Things Take Time print, Buffalo Print Flag, Moose Bark Print, Good Vibes Print, and the Beer Varieties Print which I have a similar version ripped out of a magazine.
Bose Speakers: Colby has this great pair of vintage Bose 901 speakers (the ones pictured are new). They've been shamefully stored in our basement for the last four years and it's time they came out.
Stool: Colby has told me that a proper guitar-playing stool is a must and I love this white metal stool from Target.
Music Stand: I found an old, metal music stand at our local thrift store for just a couple of bucks. Downside…it's bright yellow, like neon yellow. I can see it in a bronze or gold shade like this one from 1st Dibs.
Pillows: These were other simple choices for the space since they're pillows I've been drooling over for ages. The diamond pillow is from Coral and Tusk (who has some of my favorite pillows and textiles of all time), the two striped kilim pillows are from Etsy here and here, and the gold pillow is also from Etsy here.
Blankets: I love wool blankets like mad in love with wool blankets. If I had a million dollars, I probably would spend a decent amount on these Faribault Wool Blankets. But I don't, so I've been scouring our local antique shop and flea market for some cheaper…aka less than $200…alternatives.
So that's the pipe dream…the goal…the light at the end of the room-switching tunnel. Hopefully, we'll be able to start making some small progress towards this goal/plan/mood board. I'm hoping I can at least paint the space before our house guest arrives but there are still porch renovations and closet finishing to tackle. The job of a DIYer is never done.
Pssst…Now that you know we spent our weekend in a flurry of closet building/painting/organizing madness, what were you guys up to? Did anyone finish some long overdue projects?