The other day I was talking to my mom about style and she pointed out that it was painfully obvious, as she's read the blog over the last couple of years, that my style has shifted. At first, I was a bright colors all the time kind of gal. I'm talking bright wall colors, bright patterns, bright light fixtures, etc. A more modern style. But lately, I would have to define my style as a cross between farmhouse and cottage with a few pops of accent color. This was painfully obvious to me as I put together the mood board for our master bedroom: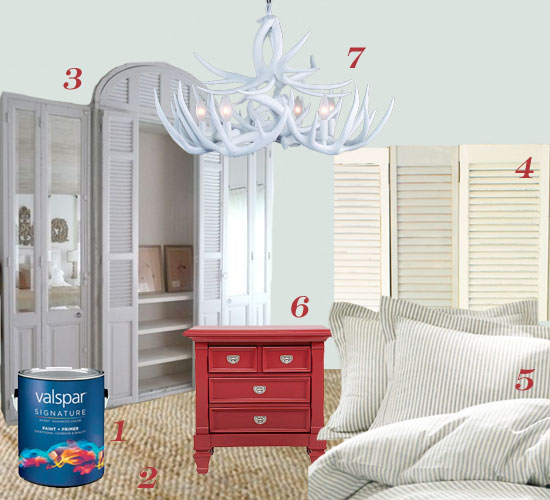 Did you ooh and ahh? I sure did! So here's the breakdown for the master bedroom plan:
Wall Color: I'm going with Valspar's Sea Salt Blue.  It's muted with a punch of that blue tone that's been resonating throughout our whole house.  The paint color has this beachy, cottage feel to it that I adore.
Jute Rug:  Alas, another jute rug.  This just so happens to be the same rug that I picked out for the guest room mood board yesterday that can be purchased from Overstock.
Built In Closet:  I have always had this grand vision of a wall to wall, floor to ceiling closet for our master bedroom.  We have the perfect wall for such a closet and just barely enough space to make it work.  In our tiny master bedroom, I want to make every inch count and what better way to maximize storage than with an organized to the max closet.  This inspiration closet hailed from here.
Shutter Headboard:  No matter where we put the bed in our room, it's inevitable, there will be a window behind it.  So why fight it?  A window shutter headboard, kind of like this one from HGTV, would be adorable and practical in this room.
Vintage Ticking Stripe Bedding:  It's official, I'm obsessed over this bedding from Pottery Barn.  It's gorgeous, it was the first item I added to the mood board (I may have designed the room around it), and we've registered for it as a wedding gift.  Hmmm…but perhaps it should come home with us sooner?!
Red Night Stands:  I found this one at Rooms To Go Kids but I'm not married to the night stand…just it's color.  A pair of nightstands is high on the summer yard-sale-ing priority list.  I'm feverishly scouring the local hoods for a matching pair that I can paint red and dress up with some hardware.
Antler Chandelier:  And finally le piece de resistance….a white (preferably faux) antler chandelier.  Jury is still out whether or not I can find something like this guy or if I will have to DIY something.  But I love it and think it will add some much needed masculinity to the room.
So there you have it. That's the game plan for putting our master bedroom back together again. I'm hoping to stick to the game plan but you never know just what might pop up and change my mind. At least there is a plan to start with.
Pssst…In bedroom renovation news, the guest bedroom has been officially sheet rocked and we moved most of our clothes back in there while we dive into the master bedroom. We still have some more sheet rock to hang in the master and then it's the always fun endeavor of mud slinging. And sanding…ick…I loathe sanding!