I love a good conversation piece in a house. Whether it's Grandma Doris's baby-blue milk glass lamp, the ginormous larger than life lamp picked up from the dump, Grandma Barb's vintage tapestry, or that wacky r-rated knick knack your cousin brought back from her honeymoon in Hawaii. All true stories. One of the pieces that I get comments on every single time we have someone new in our home is the vintage steamer trunk that I turned into a console table. It's been a mainstay in our dining room for the last six years so maybe it's about time I shared more about it, especially how I converted the vintage trunk into a table.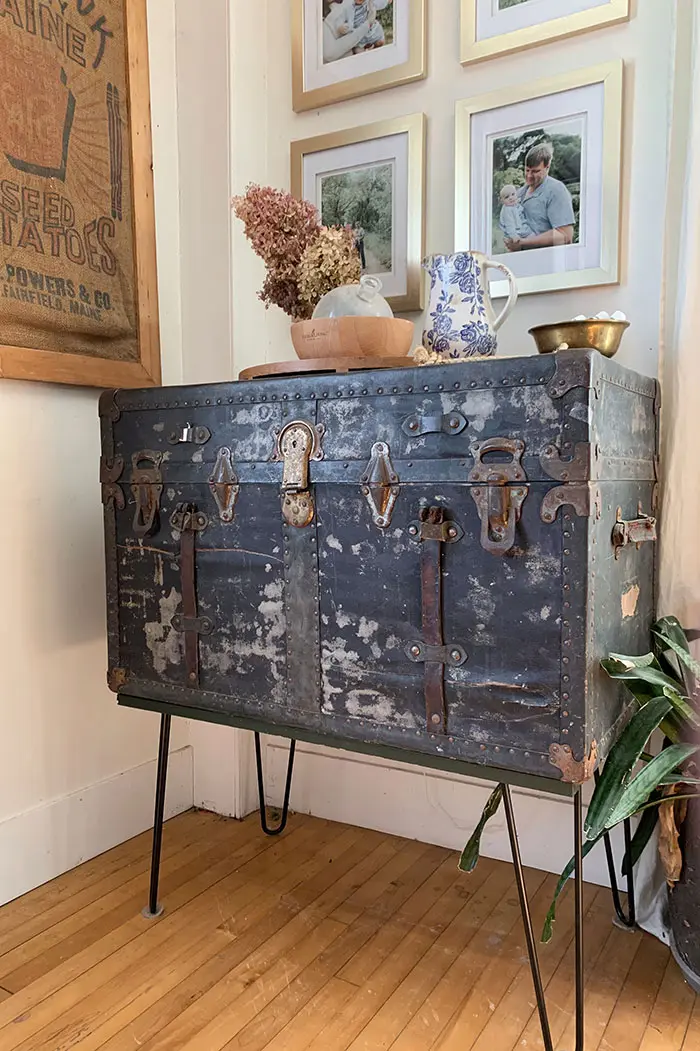 Vintage Steamer Trunk Thrift Store Find
I have found many amazing thrift store finds in my days as a professional thrifter. I've succumbed to amateur status lately as i haven't been out on the hunt as much. Although I have been teaching Rowan, our six year old, the art of the thrift.
True story, a couple of weeks ago Rowan and I were thrifting together when I found this amazing old Radio Flyer ride-on toy that I knew Beatrix (our one year old) would love. I picked it up, looked it over, set it down, and turned to ask Rowan if she thought Bea would like it. Honestly, I turned my back for 20 seconds…tops. I spun back around to find some toddler had snaked it and was riding it around the store. While I couldn't see said toddler I could hear the bike bell. It haunted me as we shopped. Rowan made it her mission to track down the bike and make it ours. She found it dumped it under a women's clothing rack. My hero!
GOAT
Anyway, one of my greatest of all times thrifting finds was a vintage steamer trunk at our local thrift store. It was originally priced at a whopping $7 but was marked down that day for a super steal at $3.50. I couldn't possibly pass it up. Colby, who unfortunately was out thrifting with me that day, had concerns and asked his favorite question, "What are you going to do with it."
Note to self, leave Colby home when going on a thrift adventure. I responded with my usual thrifting mantra, "I'll figure out a spot." Colby's mom concurred it was a solid investment. Colby's mom is a master thrifter and we were in her hometown thrift store so it wasn't much of a surprise to run into her. If she's reading this, Colby says "Hi Mom!" and he's sorry he hasn't called because (insert lame son not calling his mother excuse here). Ungrateful children.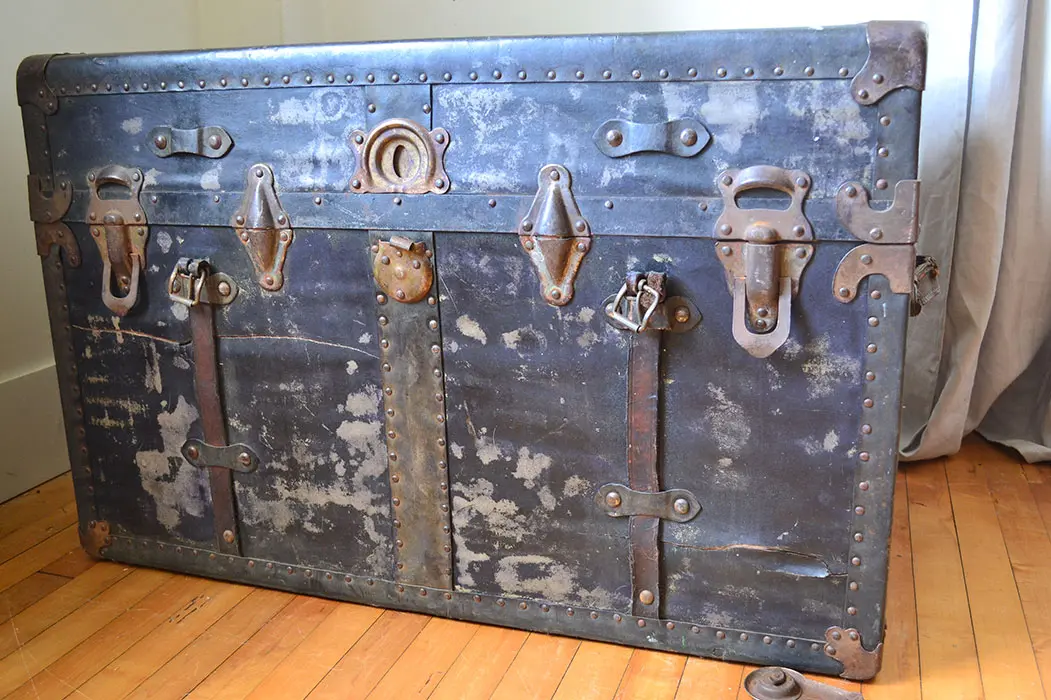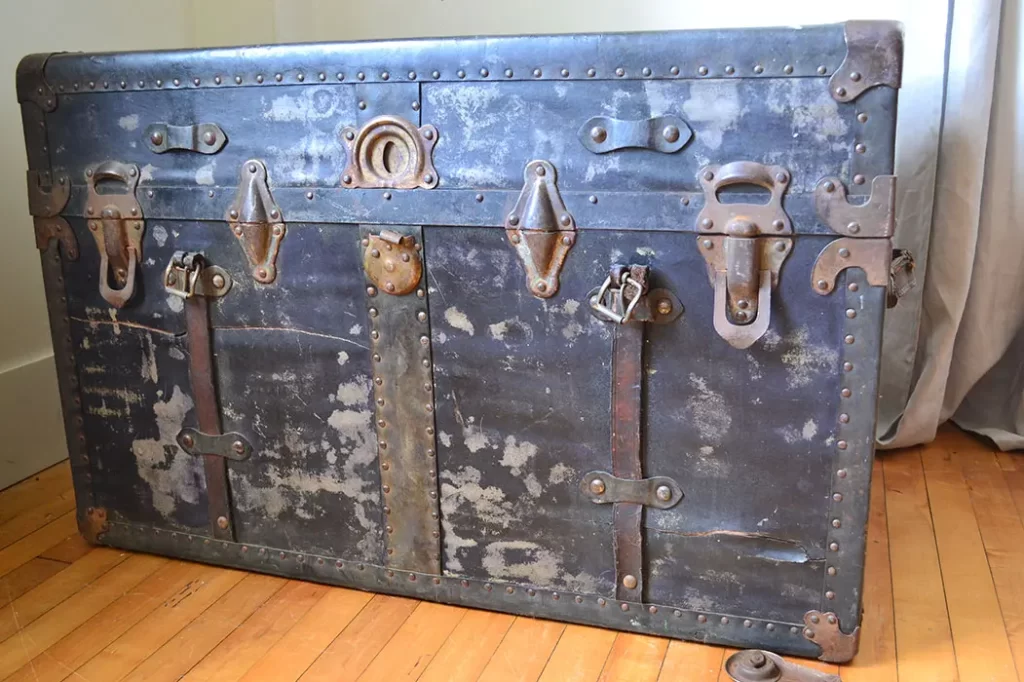 I brought the trunk home, cleaned it up, and set to work finding a place for it. This was back when we desperately needed furniture to fill some empty spaces in our home. We happen to have one of those ridiculously old homes, from 1781, that has absolutely no closet or storage space. Inspiration struck and I decided to turn the trunk into a console table to store things we don't use often. It seemed like too much of a pain to store anything we need access to regularly since you would have to move the decor on top of the trunk every time you needed to get into it.
Adding Hairpin Legs To A Vintage Steamer Trunk
My approach to turning the vintage steamer trunk into a console table was to add hairpin legs. I love hairpin legs. They have this mid-century vibe to them that I love paired with something deeply vintage, like our new to us old trunk. Armed with a set of 16″ hairpin legs from Amazon, a wild idea, and a husband who reluctantly agreed to help me with my "hair brained" idea (his term, not mine), I set to work transforming the trunk.
The trickiest part of the project was deciding how to attach the legs to the trunk. Attaching the legs directly to the trunk didn't seem like the best idea. I felt like it wouldn't be very stable. Instead, Colby built me a shelf for the trunk to sit on out of some scrap pine boards he had in the workshop. Next, I painted it a dark green color using some leftover paint from the keeping room painting project.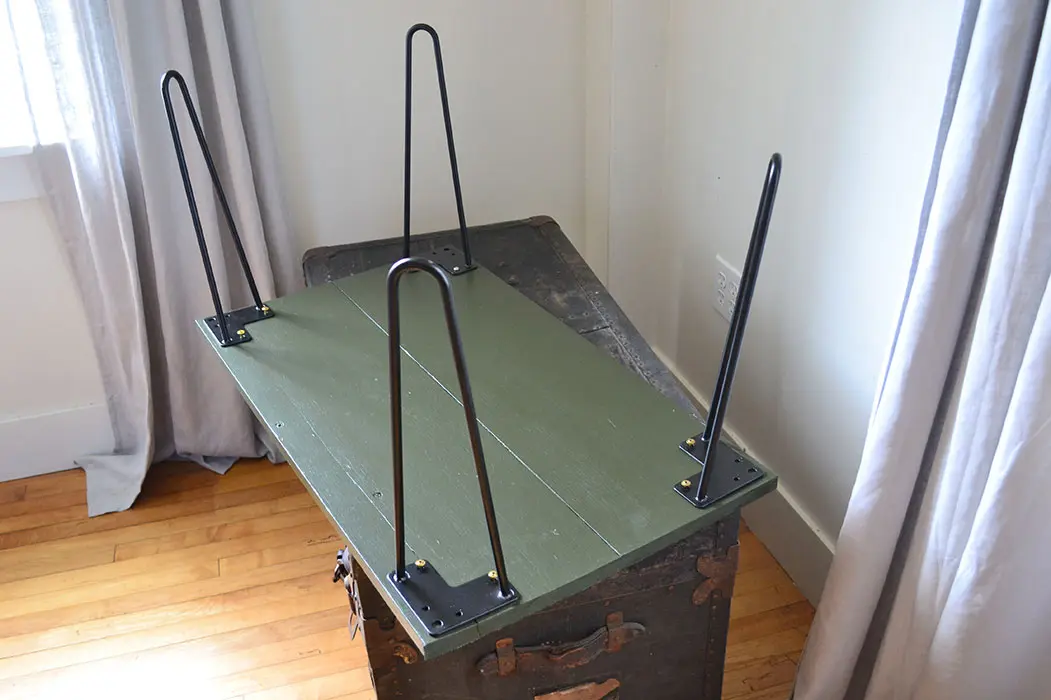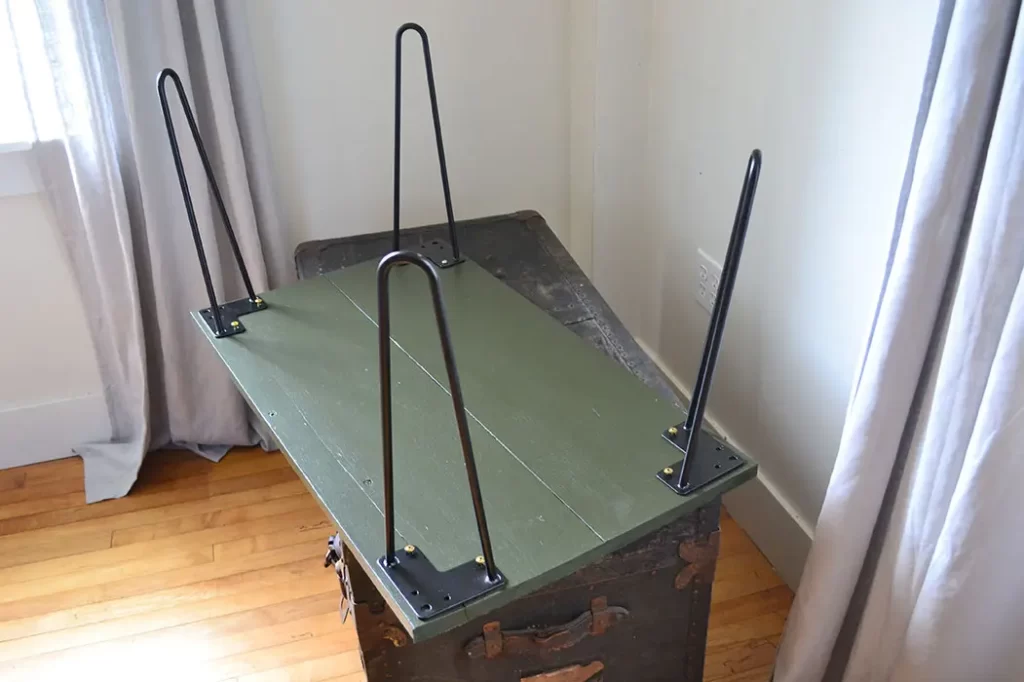 Then we screwed the hairpin legs onto the bottom of the shelf and flipped over the shelf. We placed the trunk on top of the shelf, opened the trunk, and screwed the trunk onto the shelf from the inside of the trunk. Et voila! Now the trunk is sporting some sexy new leg hardware.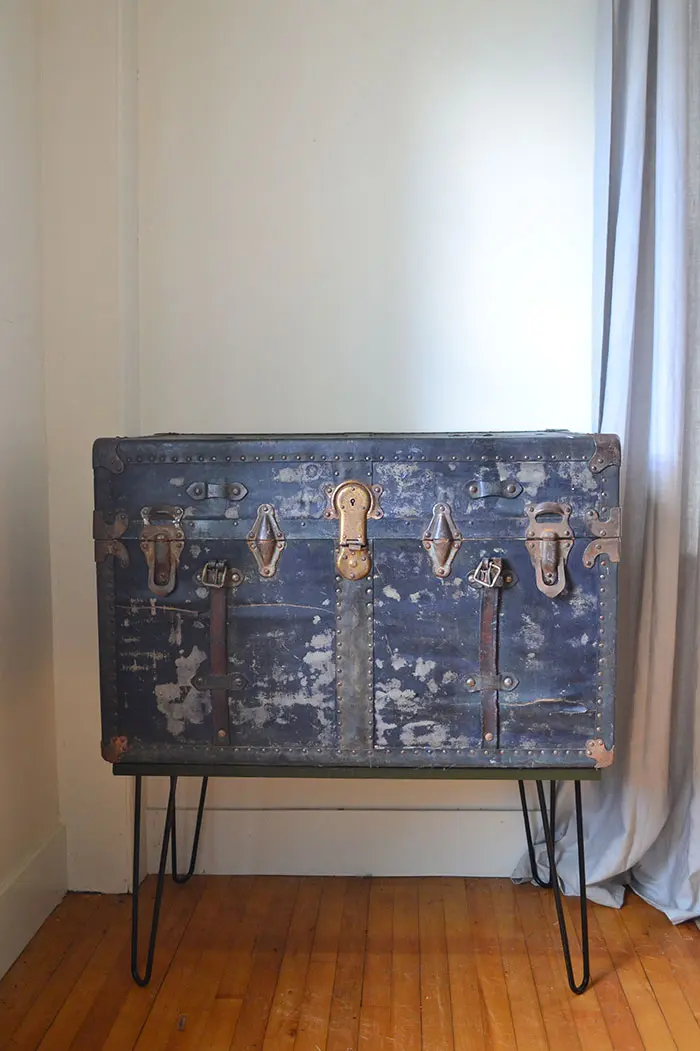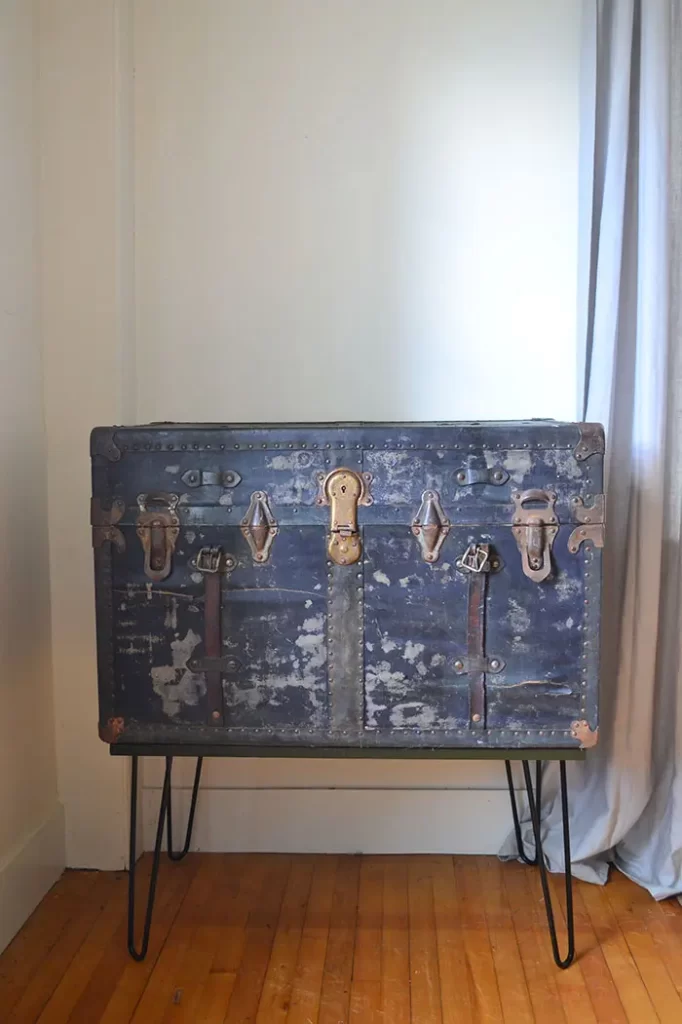 Using An Old Trunk For Storage
Because I'm a big believer in good design having a purpose, I also wanted to use the trunk for storage. I loved the idea of using the top of the trunk for an essential oil diffuser station. This meant that whatever I put inside the trunk needed to be something that I accessed very infrequently since I didn't want to constantly be moving the diffuser. During pandemic times, our family, like many others, got into puzzles. We collected a few puzzles and a puzzle board, which we kept at one end of the dining room table.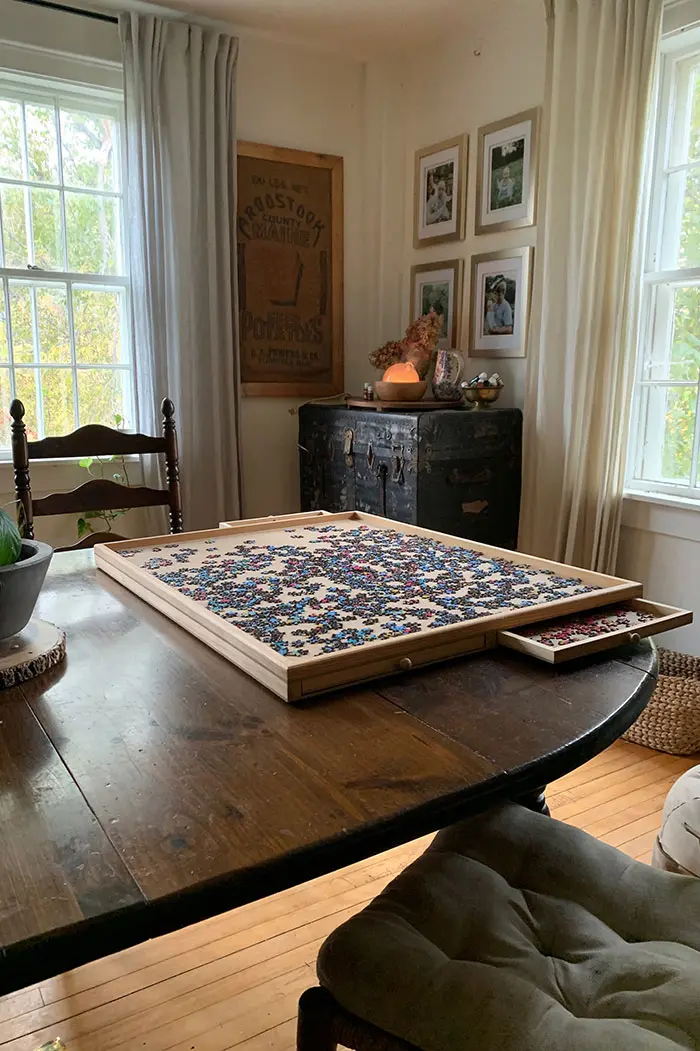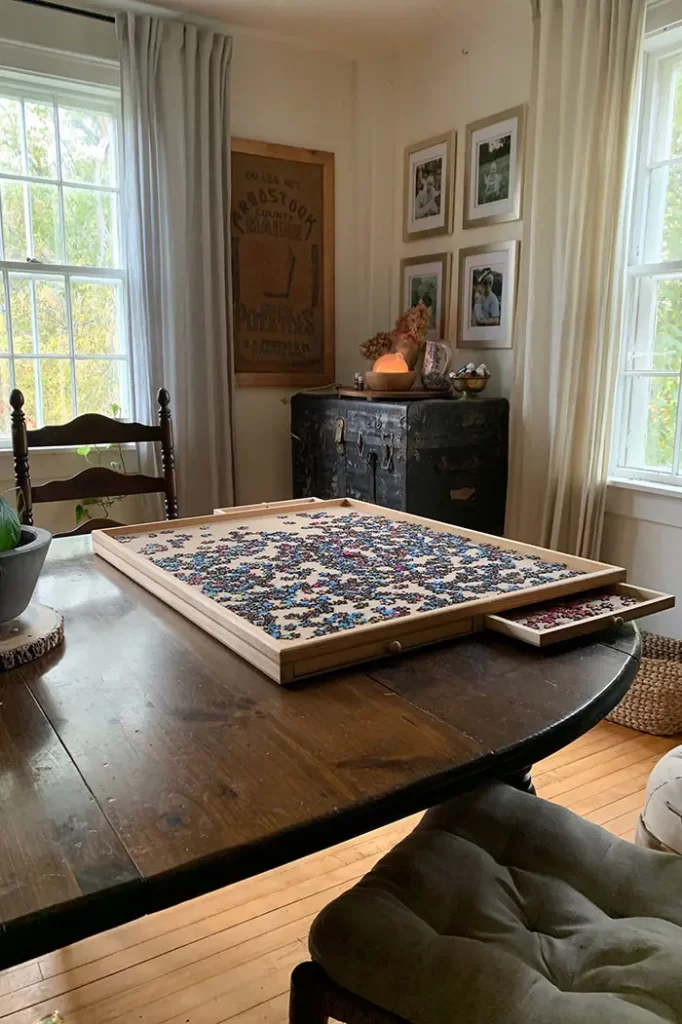 Storing puzzles in the trunk seemed like a fabulous idea. These days, we only need a new puzzle about once a month, if that. We also liked that the kids no longer have easy access to all of our puzzles. We may have had an incident or two involving the dumping out of a 1,000 piece puzzle and the subsequent picking up of said puzzle. Now all of our puzzles are secured inside the trunk. For awhile we also kept games in the trunk, but lately Rowan has been really into playing games. Thus, accessing the games from the trunk regularly started becoming a pain and alot of "Trouble." See what I did there?! Rowan's favorite game happens to be Trouble. She's pretty good at it but make sure you watch her for cheating.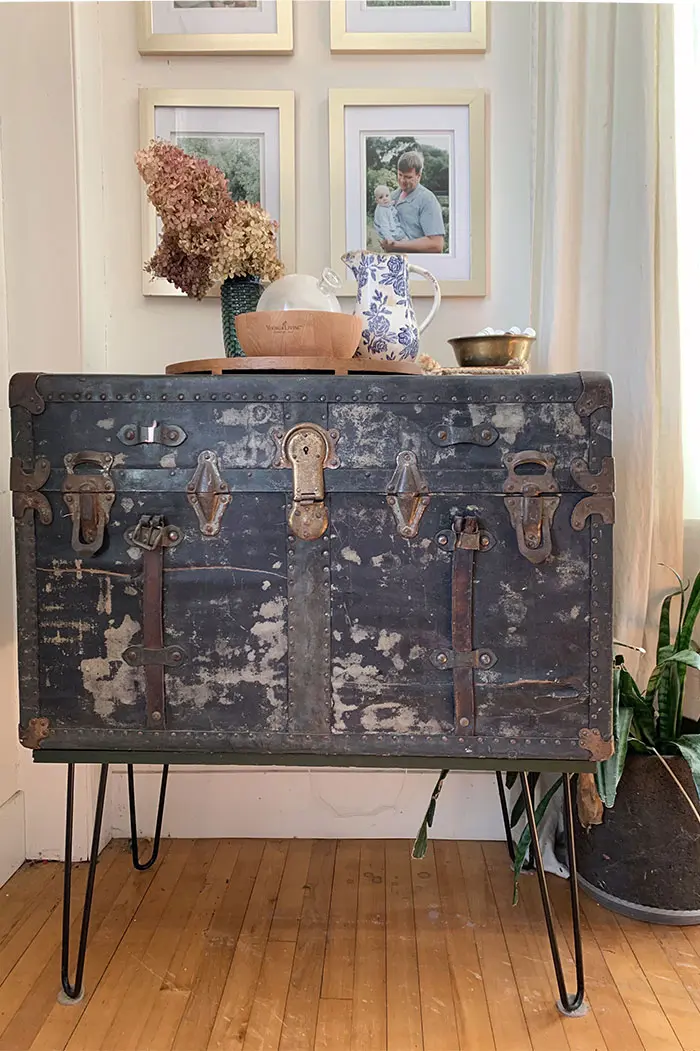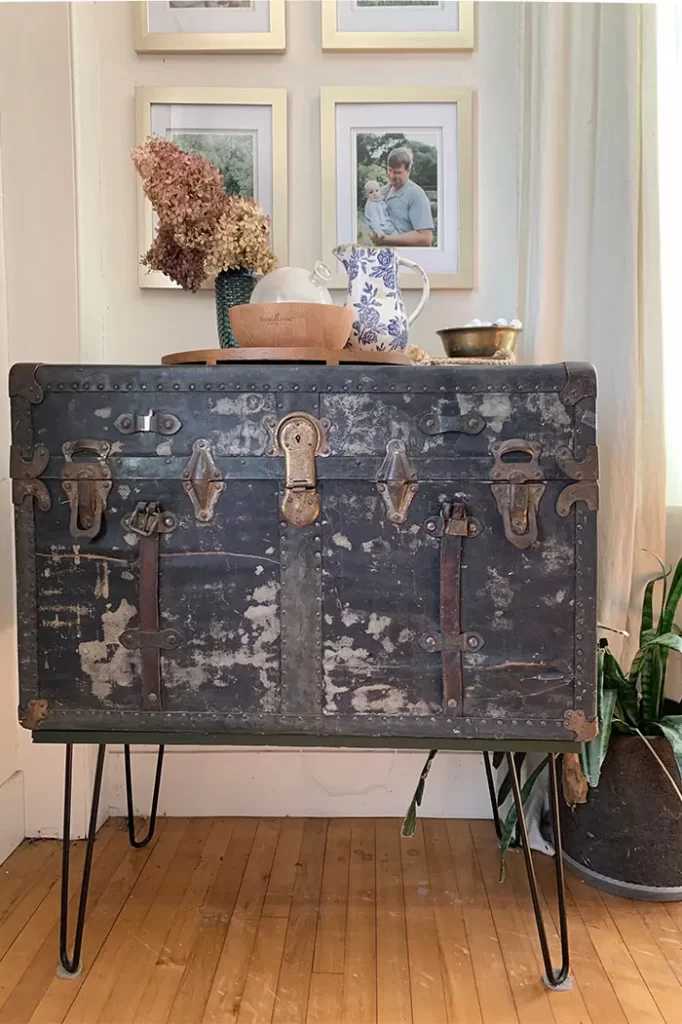 How Much For The Trunk?
This trunk is priceless to me and one of my cold dead fingers items. For those of you new around her, it's my affectionate term for an item in our home that one would have to pry out of my cold dead fingers because I'm never letting it go. It's one of our favorite pieces in our home and bonus points that it cost us around $25. That's $3.50 for the trunk and around $20 for a set of hairpin legs from Amazon.
PS…Tell me, what are some of your "cold dead fingers" items in your home?! I love hearing from people what they will never part with. It's always fascinating.