I always forget about this part of renovating, the unglamorous side of renovating. Although it's also the totally necessary parts. You know the projects I'm talking about. Things like heating systems, plumbing, electrical, framing, and all of those basic structural items. While these things are essential, they're definitely not the most fun. We're in the thick of this part of our bathroom renovation for the One Room Challenge so that's what I'm sharing with you today for our week 2 project update. Read all about our bathroom renovation plans and check out all of the One Room Challenge week 2 updates.
A few days ago I listened to an episode of the "A Beautiful Mess Podcast" and host Elsie Larson, a perpetual renovator with several houses under her belt rattled off one of the best statements about home renovations. She mentioned the most exciting days of a home renovation are the first day and the last day, the rest of it is just plain hard. Yup. I can relate to this. So without further ado, here's our bathroom renovation update.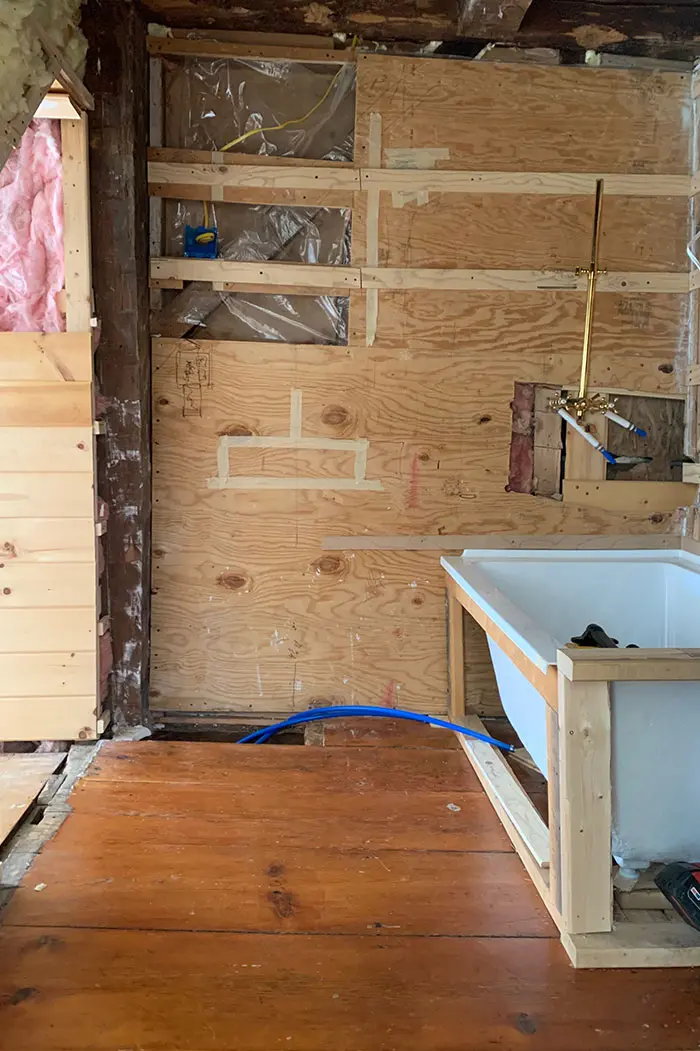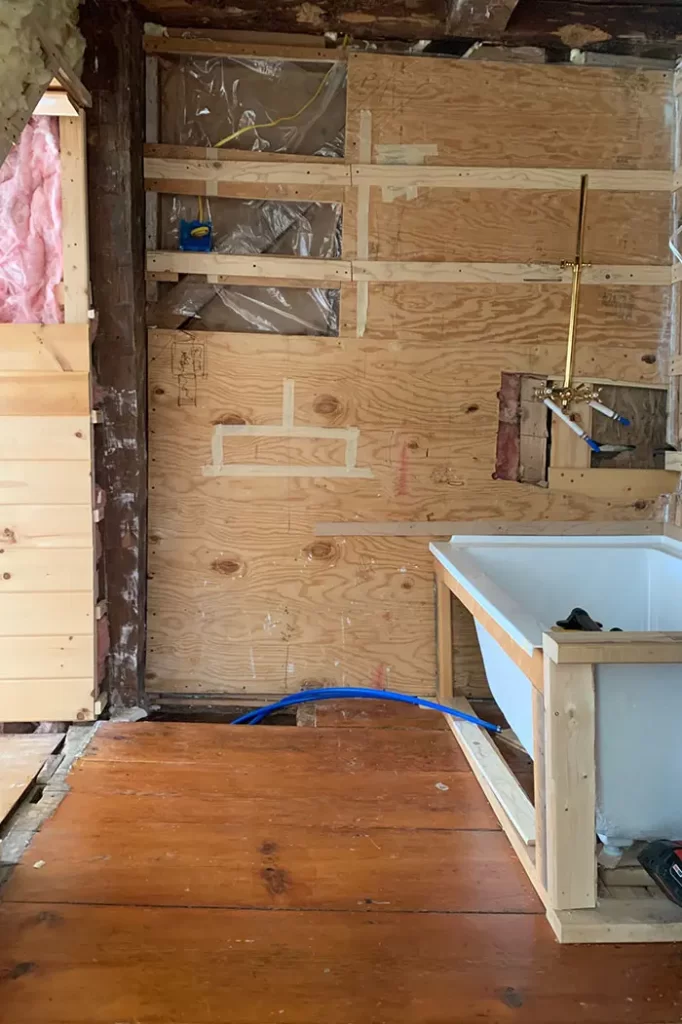 What Is Done
I suppose we can start with the good parts, what we were able to get done. We didn't have a ton of time to work on the bathroom this weekend since it was a holiday weekend and family first is our motto around here. We logged a town pancake breakfast/egg hunt (I love small town living), a birthday party, an egg hunt at our home, and Easter dinner. Meaning it left about four hours of total work time for bathroom projects.
Colby buckled down and was able to finish most of the wiring minus a couple of snags, add some insulation to the exterior walls, adjust some plumbing, and strap the walls to prep them for the cement board. It was definitely some major progress but honestly, it doesn't look like anything has changed. As an extremely visual person this part is the hardest for me. I know the bathroom renovation has progressed but it doesn't look like it. Sometimes, it has to look worse before it gets better!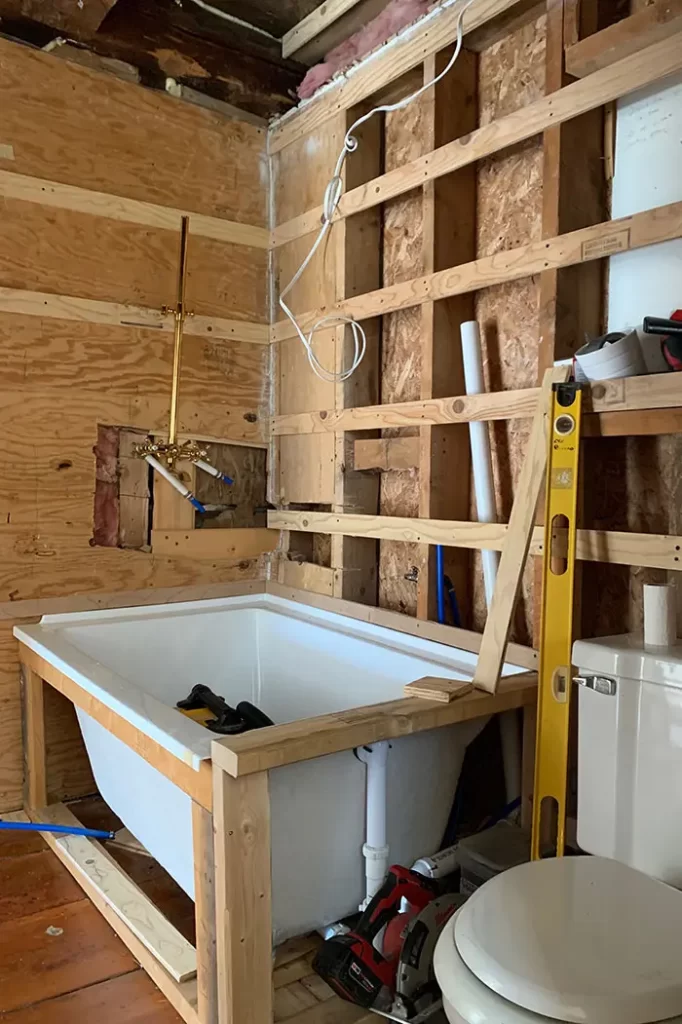 The Problems
Enter the snags because like every good home improvement project, there are always some snags. It's been a long time since we worked on a bathroom, or any major home improvement project for that matter. We're a bit rusty and forgot about the snags part. I know, I know. It's the cardinal rule of renovating, especially in an old home like ours, to always plan for the unexpected. When you take down walls, you're going to find something strange and unexpected that calls for your immediate attention.
Snag #1: Hidden Junction Box
While Colby was moving the wires for the overhead light switches he noticed something weird and popped his head into the ceiling. Totally normal move on his part. Lo and behold he found a hidden junction box above the nursery, which is right next to this bathroom. Hidden junction boxes are big no nos. Hiding a junction box in a wall or ceiling is against most building codes, can be a safety hazard, and makes it extremely difficult to fix the electrical should there be an issue with the circuit. Since the walls and ceiling are already open in this space, Colby decided to fix the hidden junction box issue. This pushes back our project a little as he has some additional work to do to finish up the wiring this coming weekend.
Snag #2: Wiring Sconces
A certain someone who is very particular forgot to order the mirror for the bathroom. While we don't need the mirror until the end of the project, the mirror we end up getting determines the location of the sconces which need to be wired at this stage. A certain someone, who is perhaps the original certain someone, also prefers to see things visually in person before committing. Who could this person be?!?! The mirror is on order and will be arriving soon so we can finish up the last of the electrical work. I ended up going with the Threshold Pharmacy Mirror from Target. I would also like to amend my previous statement that the best days in a renovation project are the first day and the last day. The best days also include any day you get to order the finishing touches and accessories for the project. I am all about those final details!
Snag #3: The Plumbing
Colby roughed in most of the plumbing many months ago, which by many months I mean at least a year. It's hard to leave off on a project like that and remember where you stood. Next up on his list was finishing the install of our shower hardware and making sure it all works. We bought a budget friendly exposed shower faucet set from Amazon which come to find out does not use standard US plumbing fittings. Because all the plumbing needs to be good to go before we can install the cement board and start tiling, Colby has been trying to track down some fittings that will work. He's got a few parts on order to wrap up the plumbing. Note to self…stick to standard US plumbing fixtures from now on. And maybe read the Amazon reviews before ordering. Although that can be a double edged sword!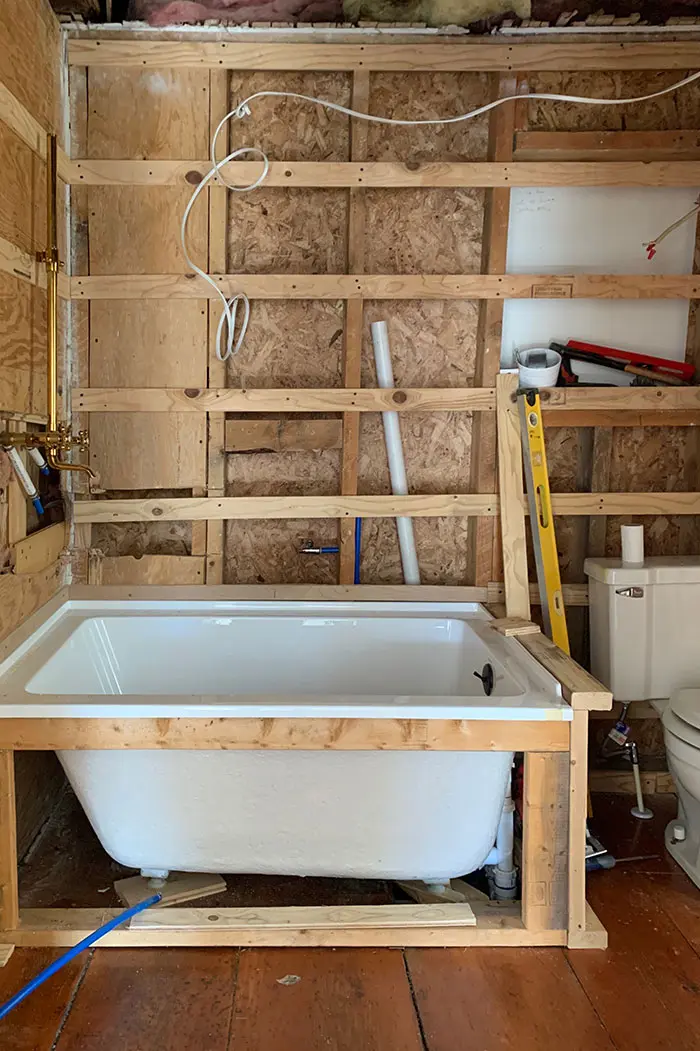 Next Steps
So now we're here, in a bathroom that doesn't feel like we're making progress but we are. We are full-on in the unglamorous side of renovating stage where all I want to do is jump right to the finish work. I'm resisting the urge to talk Colby into letting me tile at least one little corner. Throw a girl a bone!
My favorite tip for this stage of renovating is to write out your punch list on paper. Write it out, modify it when things come up, and just focus on one thing at a time. It's what keeps me from getting completely overwhelmed by such a big project.
Project Punch List For This Weekend
Get the shower fixture in the right spot and hitch the water up to it
Rewire the light switch to the attic
Fix the hidden junction box
Wire the sconces
Frame the ceiling
Install the electrical boxes for the ceiling light and fan
Frame the shower niche
Insulate the ceiling
Install the cement backer board
Then we will be in tiling business! I cannot wait to tile this bathroom. Tiling projects are my idea of a good time. They're right up there with painting all the things and doing laundry. I would like to go on the record and say, "Colby, if you need a good Mother's Day gift for me, take the kids out of the house for the day and leave me with the tiling project."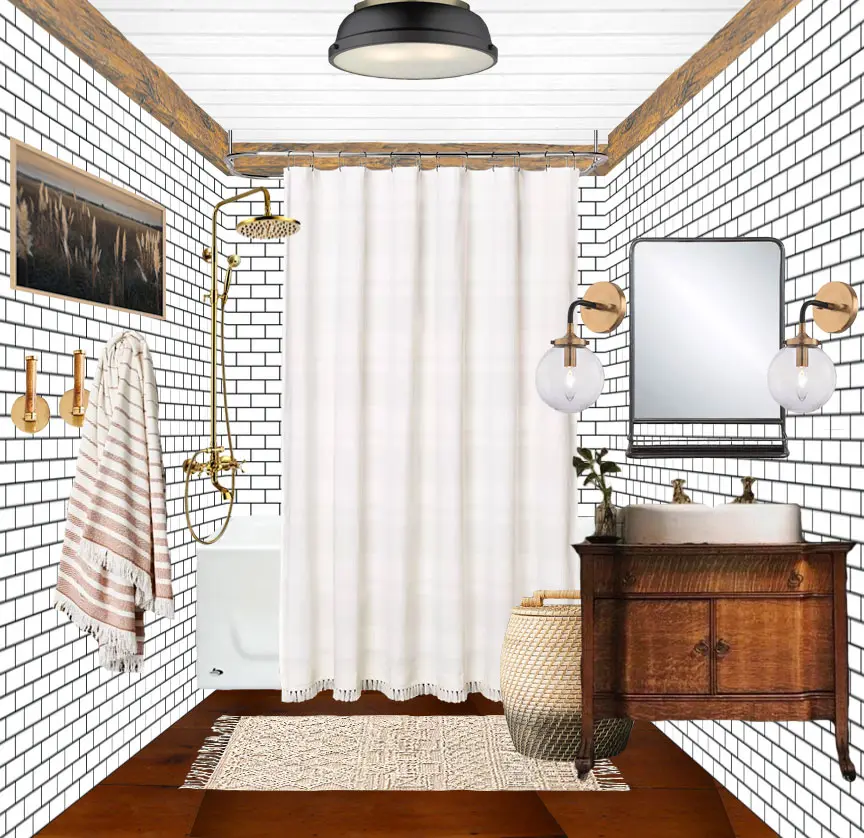 Thanks for sticking by today as I chat about the unglamorous side of renovating. I feel like this comes up with every big project. I definitely remember going through this with our first bathroom renovation project and wrote a post about how the middle of the project is the hardest. This still rings true today!
One Room Challenge Week 2
As a reminder, this project is part of the One Room Challenge. The challenge features a group of DIYers and designers who makeover one space in their home in just eight weeks. Be sure to check out all of the One Room Challenge Week 2 updates.