We recently tackled a few laundry room storage DIY projects and thought today would be a great day to share that small laundry room makeover with you. Specifically, we'll be talking about the DIY laundry room shelves along with storage ideas for a small space.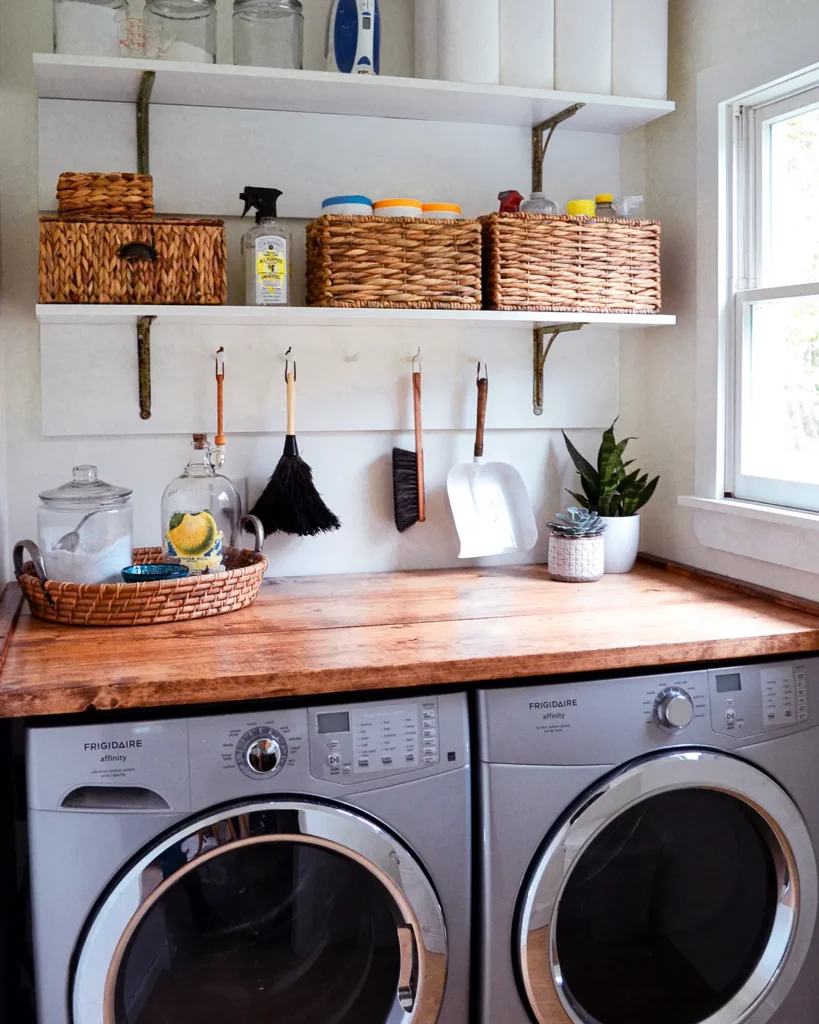 I'll also include some laundry room organization ideas and links to our DIY shelving tutorials (DIY laundry room countertop for folding and DIY laundry room open shelves). Let's get onto some tips and tricks to create an organized laundry room within your budget and space constraints.
Small Laundry Room Makeover
We recently checked the last box on our remodeled laundry room project and couldn't be happier. It was a labor of love and worth every ounce of sweat equity we poured into it.
One of my biggest beliefs when it comes to home and home decor is that spaces need to be both beautiful AND functional. Utilitarian spaces need personality too and can be inspiring places for us to work. I set out on this renovation project to have a well-organized space that was a joy to be in.
Who says you can't collect the dust bunnies using a metal dustpan with a smiley face instead of a cheap plastic dustpan? Trade in that Swiffer Duster for a cute feather duster. Decant stain removers and bleach into vintage bottles. Small swaps like these give your laundry area more character and bring in more of your personality and style.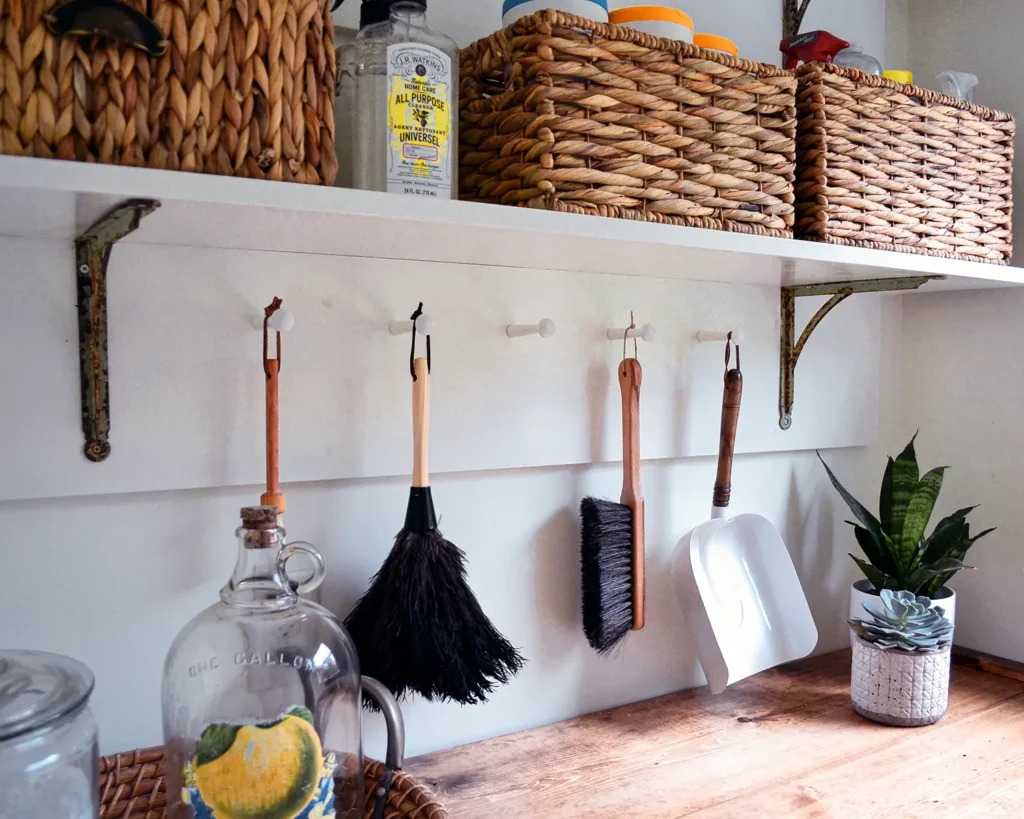 Another goal of this laundry room makeover was to create a more functional space. Our old laundry room was so dysfunctional with overstuffed laundry room cabinets that didn't fit our cleaning supplies. I wanted our laundry essentials at our fingertips and storage solutions for our cleaning supplies.
Adding functional storage solutions was probably the biggest reason for renovating the small space. Open shelves made the most sense for us, but there are so many simple laundry room storage DIY ideas. Floating shelves, adding taller cabinets, or a hanging rack for a mop, broom, and ironing board are some other solutions.
Tiny Laundry Room
Our laundry room is tiny. We're talking about no room for two people in this space tiny. The biggest challenge when planning out our laundry room storage DIY projects was to find enough room to create a functional space. Show of hands, who else has a tiny laundry room and is challenged to make it more functional?
When you have a small space, or a small house as we do, it's important to carve out extra space where you can. We've been known to build shelves between studs to find a place to store things. The same holds true in your laundry area. For us, carving out extra space meant leveraging the vertical wall space above our washer and dryer with some DIY open shelves.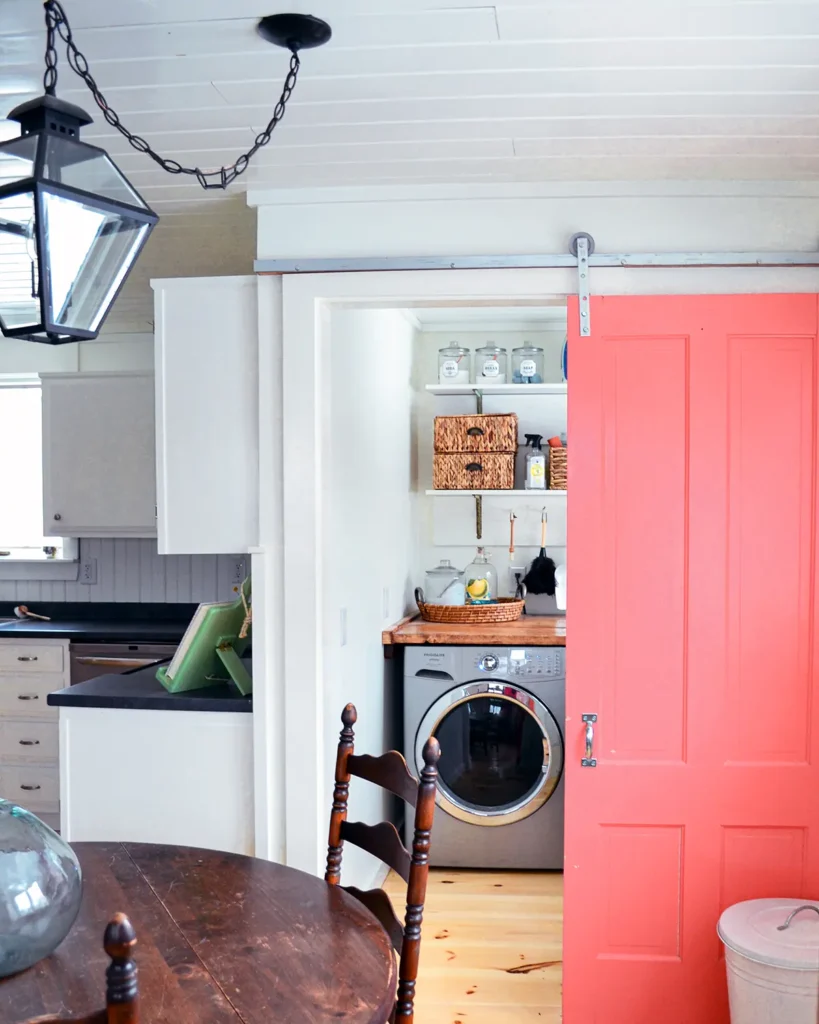 Determine What You Really Need
I'm always cognizant of how I perform functions in our home. It's easy to get sucked into Pinterest and see the beautiful wall-mounted, laundry drying rack and want that for your space. But if you don't hang your laundry to dry, it's wasting so much potential storage space.
My laundry habits involve collecting all the dirty clothes and laundry throughout our home, bringing it to the laundry room, and sorting it there before tossing it in the wash. Compact laundry sorters, ours is a three-section hamper from West Elm, are the perfect solution for the way I do our laundry. It helps me sort the laundry the way I like to, is compact to fit by the dryer, and folds up for hanging after I'm done using it.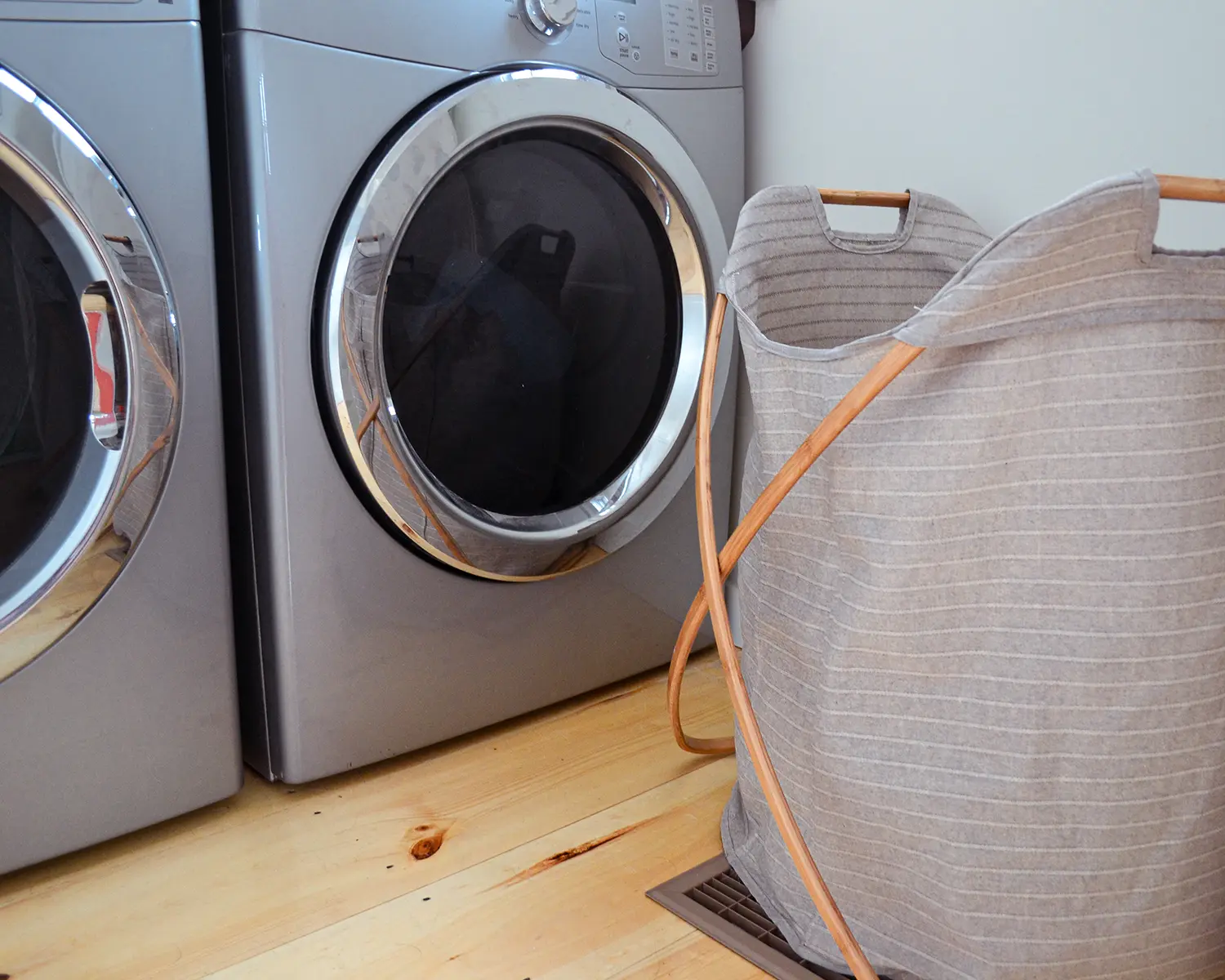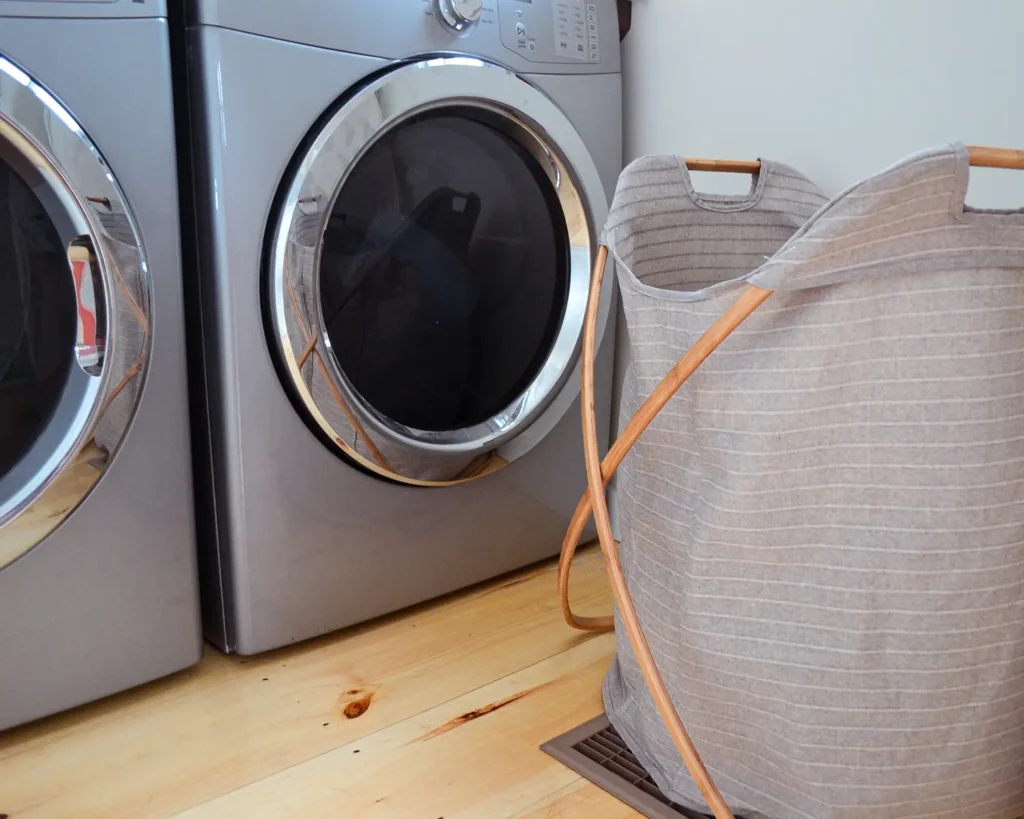 I also prefer to fold my laundry in the laundry room as opposed to on the bed or on the couch while watching television. Thus it made sense to build a laundry room countertop for folding. This optimized the small space and added functionality to the way I perform laundry tasks.
Leverage Wall Space And Ceiling Space
Let's talk about wall space. Building DIY laundry room shelves above our washer and dryer was a game changer for our tiny laundry room.
The wall above a washer and dryer is a space that's out of the way but provides the perfect spot to store laundry supplies and cleaning supplies. It's always smart to leverage that wall space as much as possible, especially for bulkier items. In our space, that looks like storing extra paper towels and supplies to make laundry soap on the top shelf.
If you are the type of person who likes to hang their clothes, try adding folding, wall-mounted drying racks to the walls. They may be hard to access hanging above your washer and dryer, but these racks can be tucked on any wall. Pottery Barn sells a gorgeous galvanized laundry drying rack and also an accordion version. I recently found a vintage accordion laundry drying rack at a flea market that I'm hoping to refinish for the rare occasion I hang items to dry.
There is also an amazing, vintage farmhouse-style laundry drying rack that hangs from the ceiling and uses a pulley to bring it down. This is an excellent way to optimize ceiling space in a small laundry room. These Sheila Maid air dryers at Homesong Market are stunning.
Another option is using clothes hanging rods hung from the ceiling along with some hangers. Here's an example of a ceiling-hanging bar from West Elm. I've heard of many people who swear by these hanging bars in their small laundry room as a solution to keep clothes from getting wrinkled. They immediately take clothes out of the dryer and hang them on hangers on the rod, before transporting the clothes to their closet.
Create A Folding Station
Creating a folding station is another of my favorite tips for maximizing a small laundry space. Building a folding table or countertop is an easy way to use the space on top of your washer and dryer if you have front loaders.
You could also fold your laundry on top of the machines but building a folding countertop expands the usable area over the gaps and prevents you from losing that fresh stack of folded t-shirts to the no-man-zone behind the machines. No one likes losing clean clothes behind the washing machine.
A laundry folding tabletop can also help provide easy access to laundry essentials like laundry detergent and dryer sheets. Think of the things you use most often when doing laundry. Keep those things handy near your folding station. A small tray can help corral laundry items together and can easily be slid out of the way if you need more space to fold.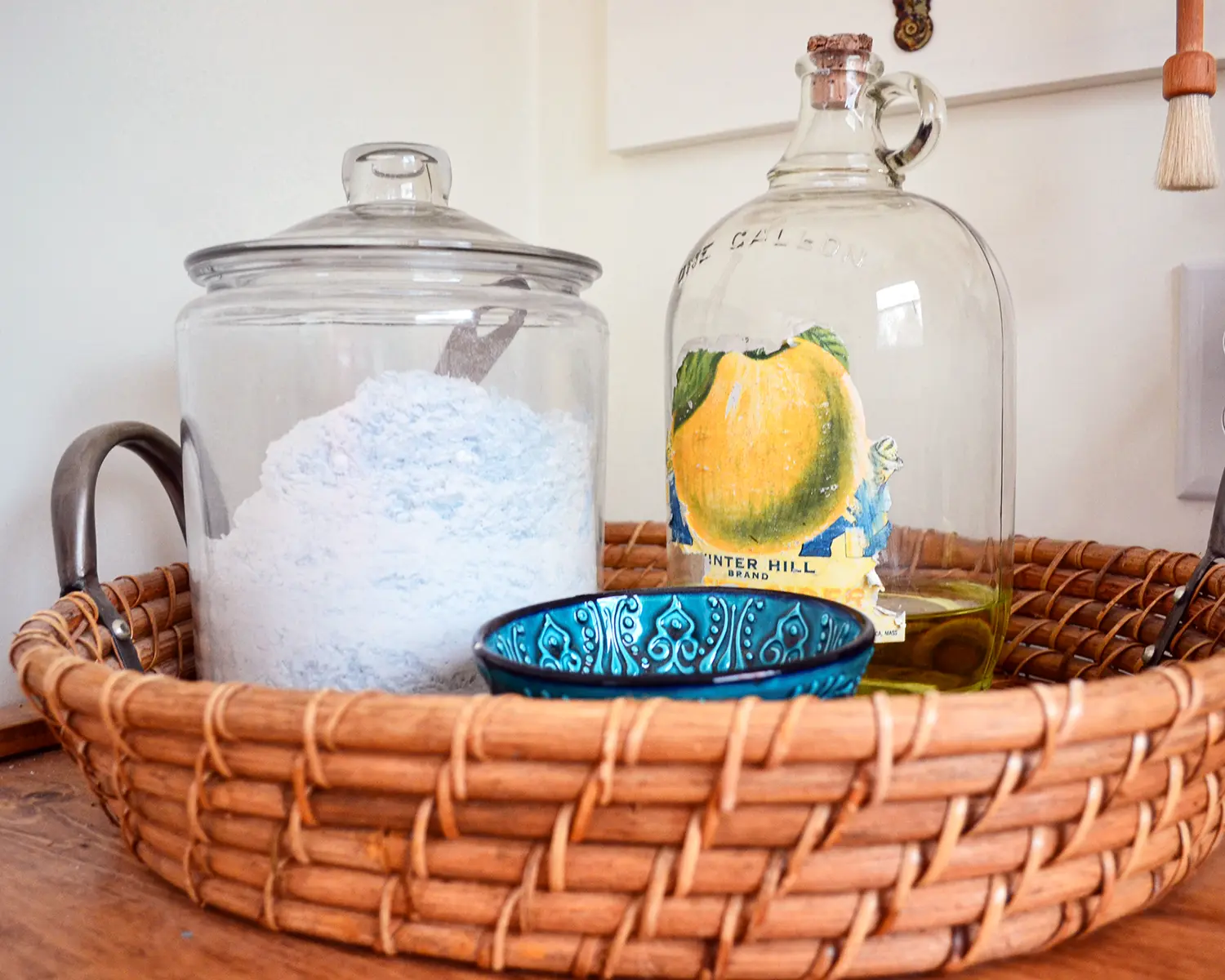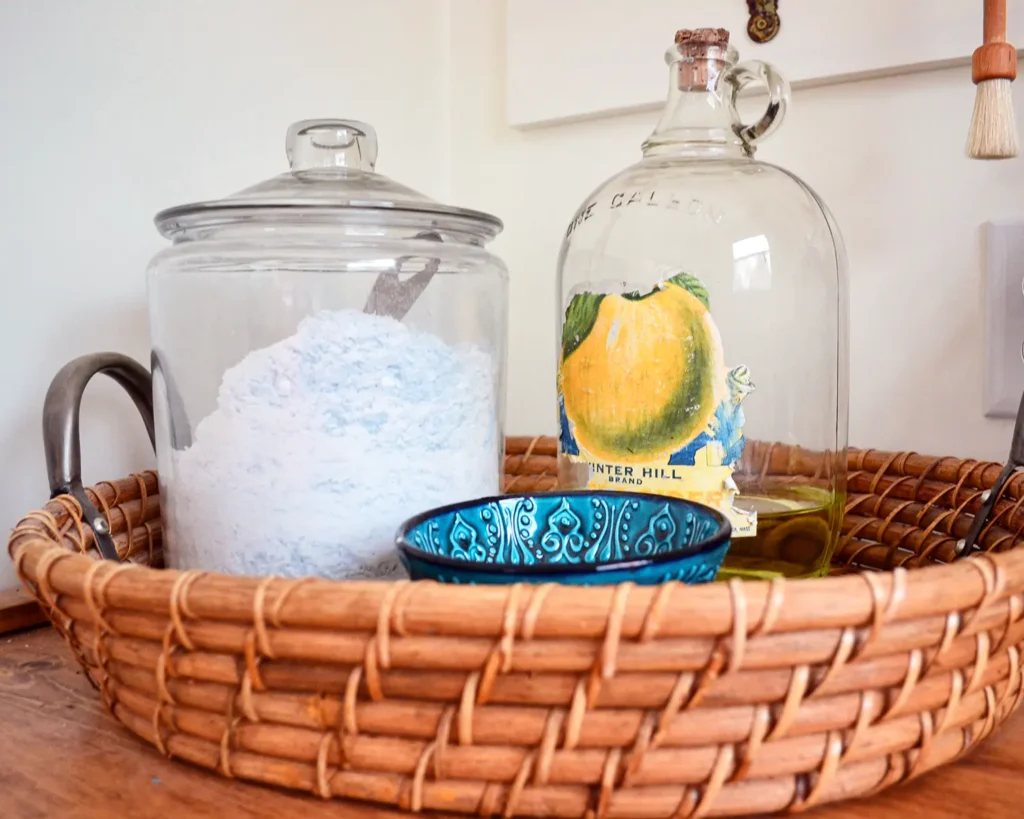 Smart Laundry Room Storage Ideas
Onto my favorite part, creating smart laundry room storage and organization, otherwise known as my favorite laundry room organization hacks.
Open Shelves
Open shelves in a laundry room can keep supplies handy and also help you see EVERYTHING. If you have tall ceilings, definitely utilize the extra vertical storage space. Keep items used infrequently on higher shelves. For me, I make my own laundry detergent about once every few months. I keep all my laundry supplies for making powder detergent on the top shelf since I can't reach it without a step stool.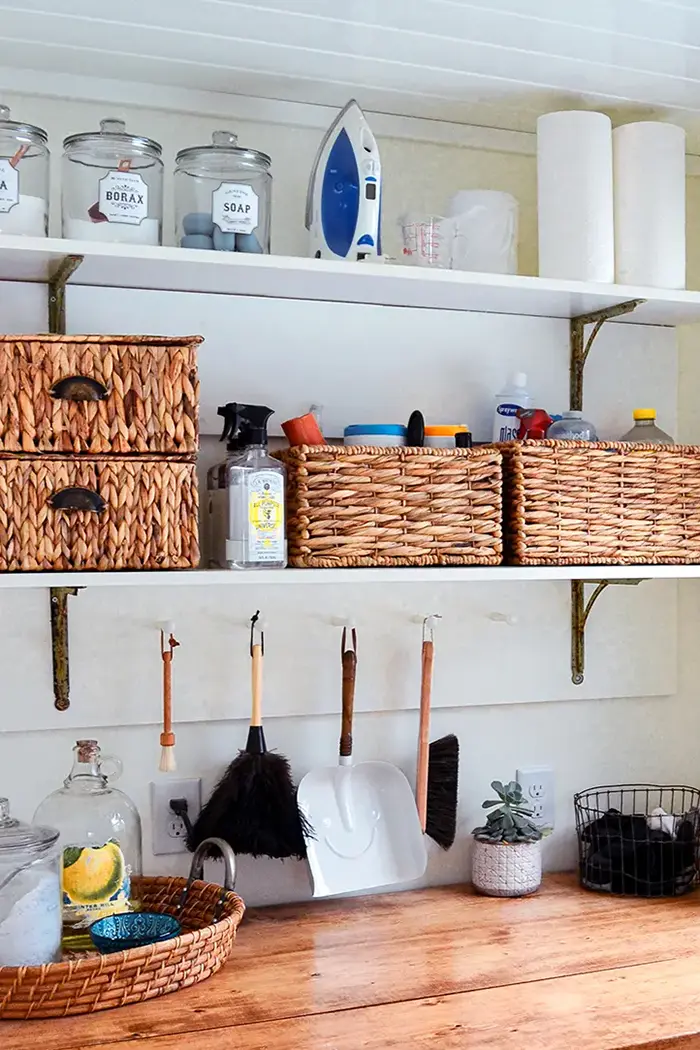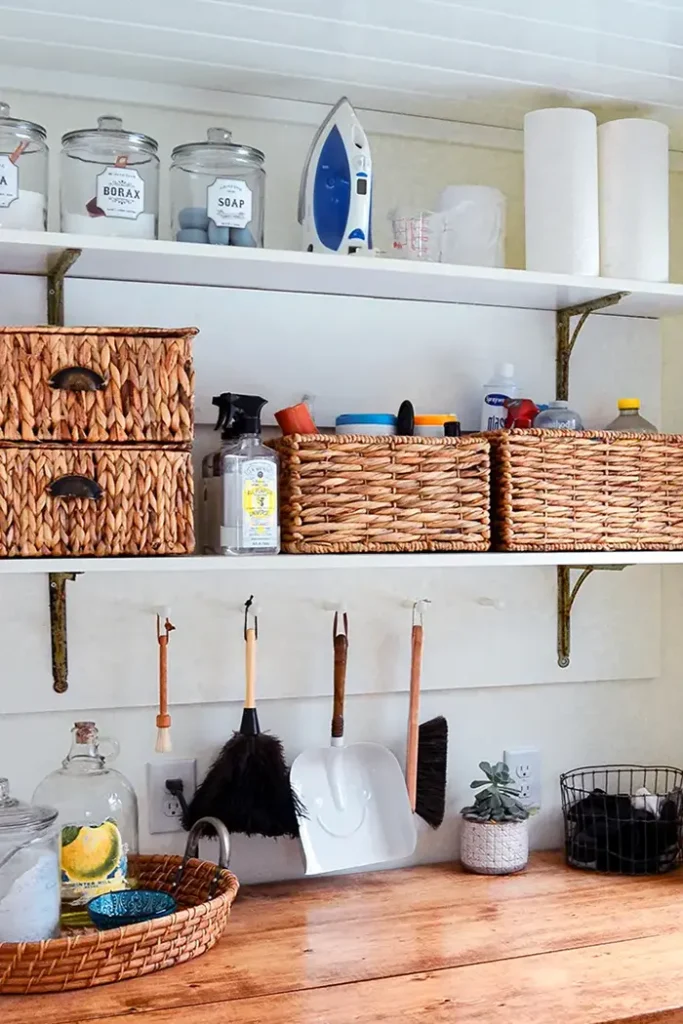 Small Foldable Step Stool
A small foldable step stool is on my short list of things to pick up on my next trip to Target. I love the simplicity of this step stool from Target. These can be tucked away or hung without taking up much space. They're so handy to have in the laundry room when you need access to things up high.
Natural or Wire Baskets
I love an organized, streamlined, uncluttered look. The easiest way to achieve this look with open shelves is to use natural or wire baskets to corral like items. For example, put your cleaning products in one basket, dish rags or dusting clothes in another, lightbulbs in another, etc. Then place the baskets on the shelves. These keep like items together and lighten the visual clutter load.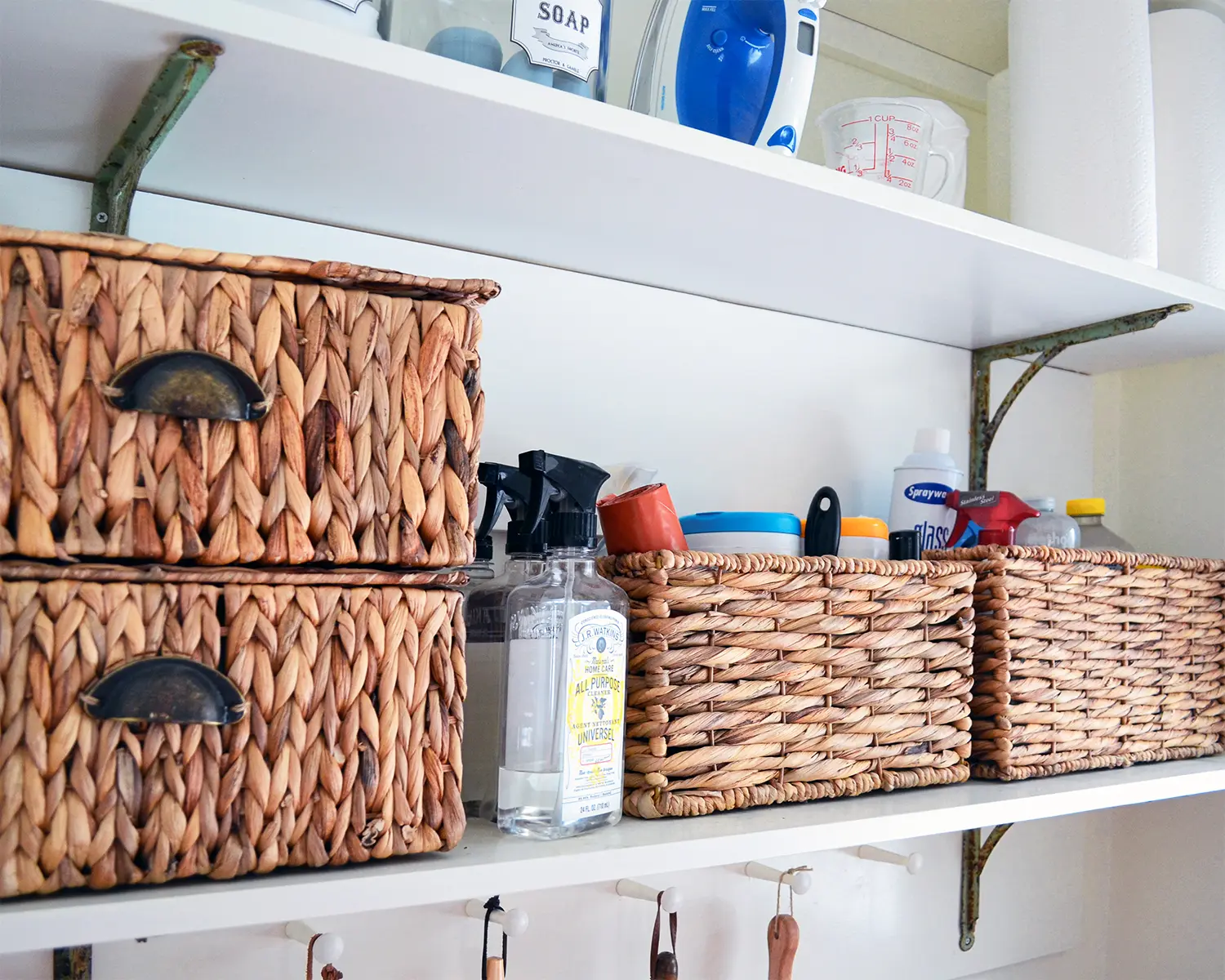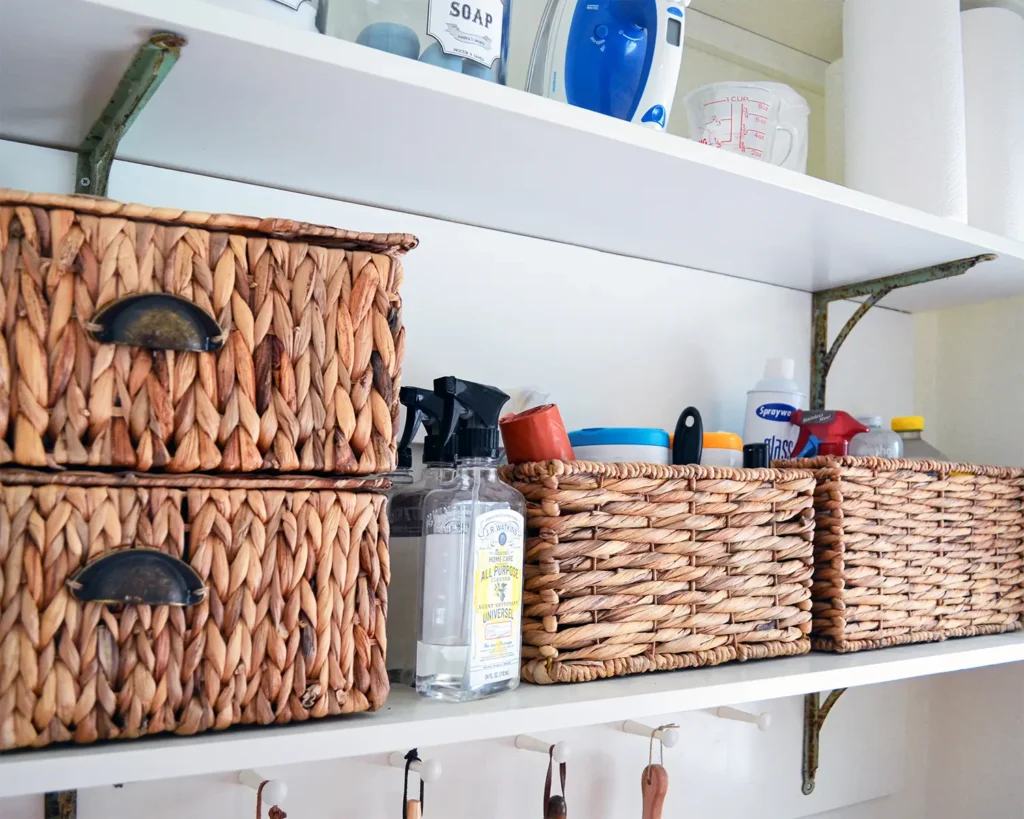 Hang Tall Items On The Wall
Unused wall space is a great place to hang taller items like brooms, mops, and even your ironing board. Use command hooks or robe hooks to hang items. You can even loop a zip tie or a piece of jute through the hang holes at the end of the handle to help hang them.
Glass Jars
Glass jars give a more organized, sleek look to a small laundry room, which can look super cluttered really fast. I know it's an extra step, but decanting items into glass jars can optimize a small space while looking good. You can even make yourself some cute jar labels!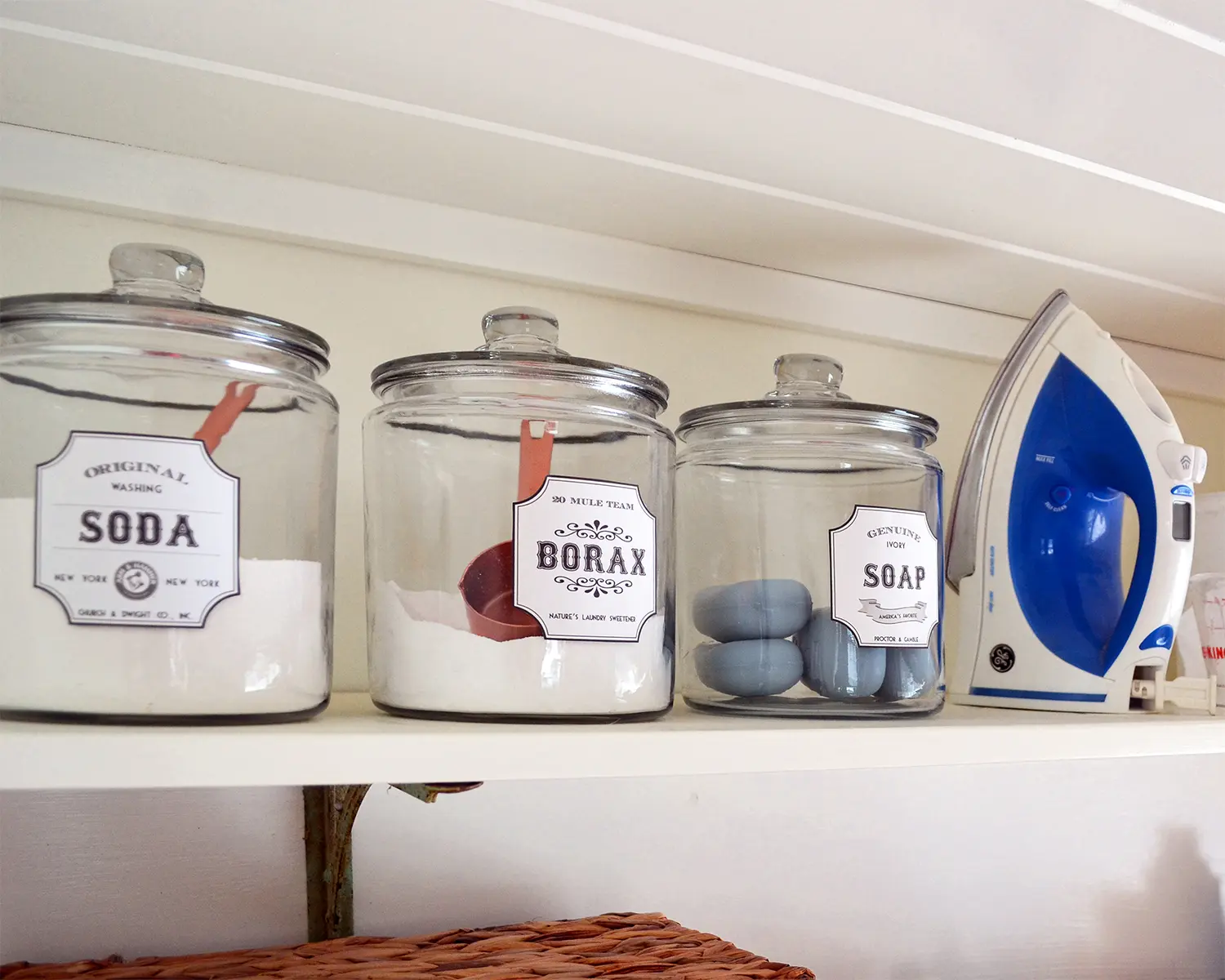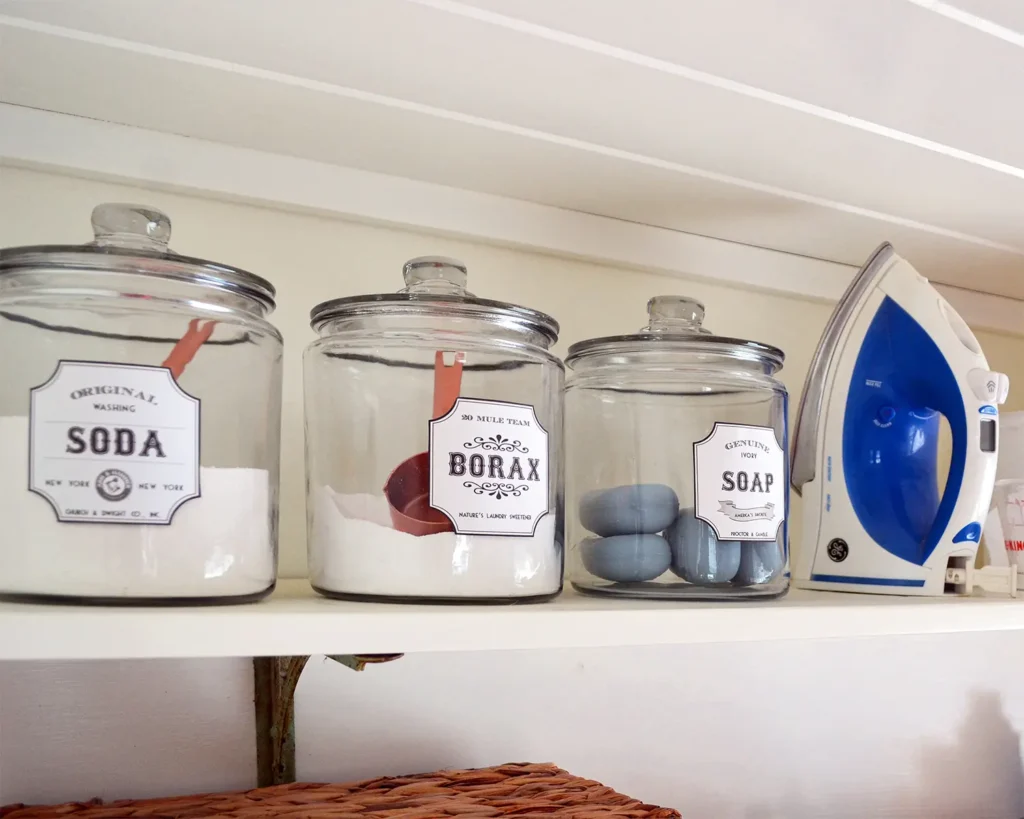 Lint Holder
Many small laundry rooms don't have space for a large trash can. Adding a small lint holder can be a game changer on laundry day. A small jar or canister on the folding table can serve the lint collection purpose. You can also create a wall-mounted one with a small mailbox (Home Depot) or attach a magnetic lint holder (Target) to the side of your dryer.
Peg Rail
Oh, how I love a good peg rail! There's something about it that gives that old English, cottage home vibe. Peg rails can be a stylish way to store hanging items in your laundry room, like a hand broom and dustpan. You can even hang small baskets from a peg rail and store dryer sheets or dust clothes.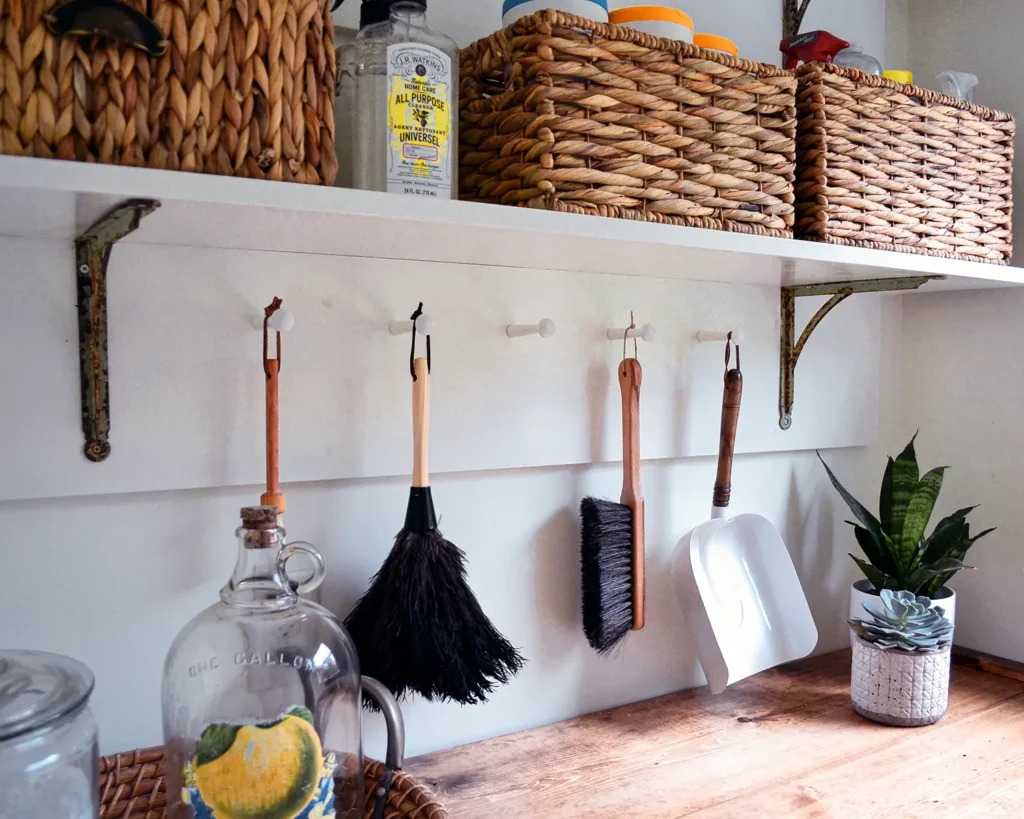 DIY Shelving Tutorials
Shelving can be an easy and affordable way to add laundry room storage DIY solutions customized to your space. I'm sharing two of our most popular tutorials for building laundry room shelves including building open shelves with a peg rail and a DIY folding table countertop for over front loaders.
Posts You May Also Like