It's been a little while since I've posted so let's do a little recap of where we left things and what we've been up to this summer, shall we?!  Before we get into the closet plan.  Ever since we finished our guest bathroom renovation, we've kind of been laying low in the DIY department.  We (along with our renovation budget!) needed a bit of a break to soak in the lazy days of summer and recuperate.  We've done a pretty good job of that, spending some serious time fishing and gardening, but we've also been busy trying to finish painting our house exterior.  It's almost almost a fully painted white colonial.  Since that's pretty much the only project we've been working on, I've spared you a summer of "we've painted this section of the house", "now see how we finished painting this section of the house" posts.  But we should have a big, white house reveal soon-ish.
So onto tonight's post.  When we last left off over a month ago, we were in full planning mode for our next project, turning a tiny space attached to our master bedroom into a walk-in master closet.  I spent weeks upon weeks putting together a design plan for the closet, a plan that I absolutely LOVE!  But here's the kicker.  It didn't quite feel right.  The use of the space that is.
I know I've mentioned this a million times before, but we've been really hesitant making major changes to this house. Largely due to the fact that so many of the changes we want to make have major impacts on potential future projects. Thus, Colby and I spent an evening with tape measures in hand planning and sketching out a whole house remodel plan. Like a WHOLE HOUSE plan! I'm working on drawing it up and intend toshare the grand plan soon with you all. It's epic. It gives me all the type A planning feels. And it gives us both the confidence to move forward with certain projects but scrap others. But sadly, one of the projects we're scrapping is the master bedroom walk-in closet plan.

Cue the sad face emoji. We do have some pretty amazing plans for this space instead but that's another post for another day. Even though we're not doing this project just yet, it's still in the grand plans for the house but likely not for awhile. The space is going to serve another purpose first. But since I had finished the design plans and am truly, madly, deeply in love with them (like a Savage Garden song), I'm still sharing the plans with you all today. I'm planning on stealing some of these ideas to create a closet in our room, just on a smaller scale. So without further ado, the sadly deceased master closet plan part A: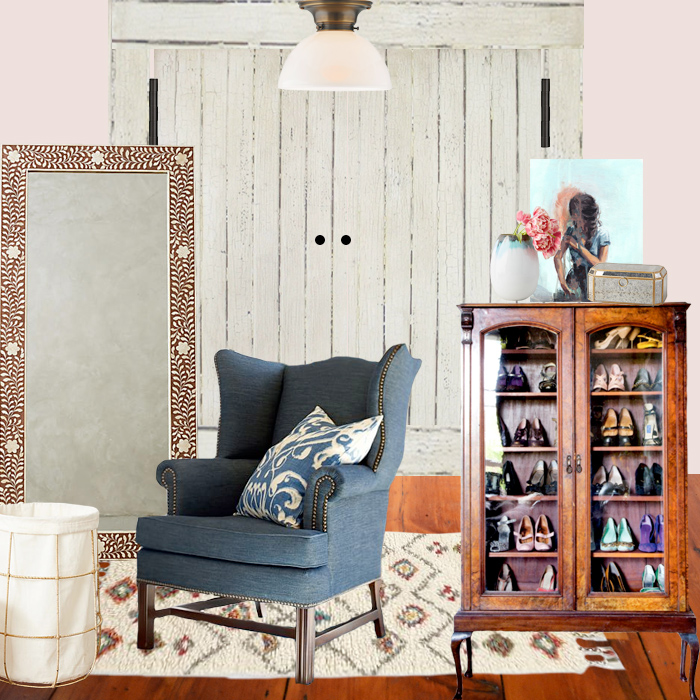 The plan:
In case you couldn't tell, I'm really feeling the Anthropologie style for this space. Although, I can't always afford the Anthropologie style, so I'll be looking for similar pieces at a lower price point at thrift and antique stores.
Now for the master closet plan part B: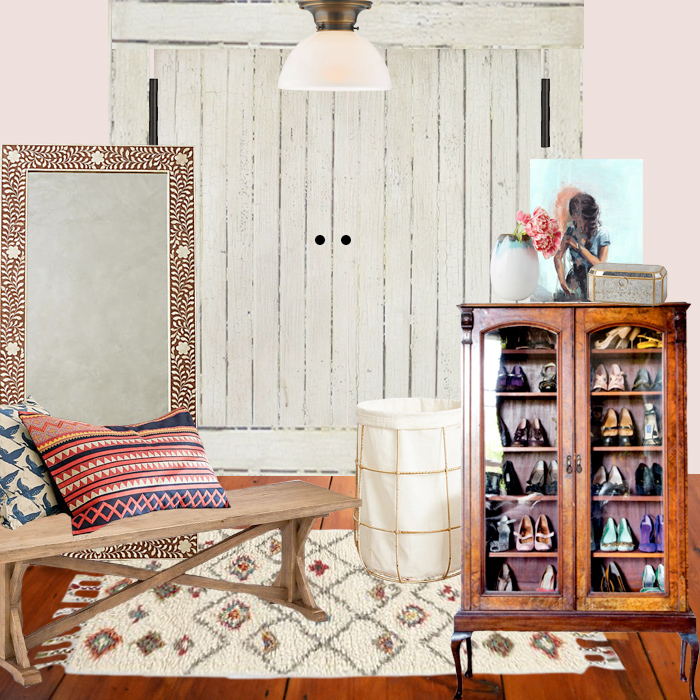 I was a little worried that once we built the closet/wardrobe part of the walk-in closet that things would get a little too tight with the oversized, denim chair.  Just in case, I had a back up plan.  Replace the chair with a wooden bench.  This bench is from Target and the pillows propped on top of it are clearance Pottery Barn pillows that are unfortunately no longer available.
So that was our master walk-in closet design plan that sadly is no longer happening…at least not happening in the next few years. You can wait five-ish years for us to tackle this, right?! Kidding. So maybe it's less mourning the death of the closet plans but more mourning the fact we have to postpone it for a few. But wait…just you wait…to see what we do have planned for this tiny room! Until next time…
Save
Save