Woo to the hoo….we are FINALLY done with the front door refinishing.  Cue up the band folks!  The final project…install a slide bolt to keep the top of the door closed up real tight (especially useful for those chilly December evenings we have here in Maine).  As mentioned back here, our 100 year old door has become a little warped over the years according to my door guy (Colby) and a simple slide bolt install was just the fix we needed.  We chose one with an oil rubbed bronze finish to match our refinished hardware (found in this post) and installed it: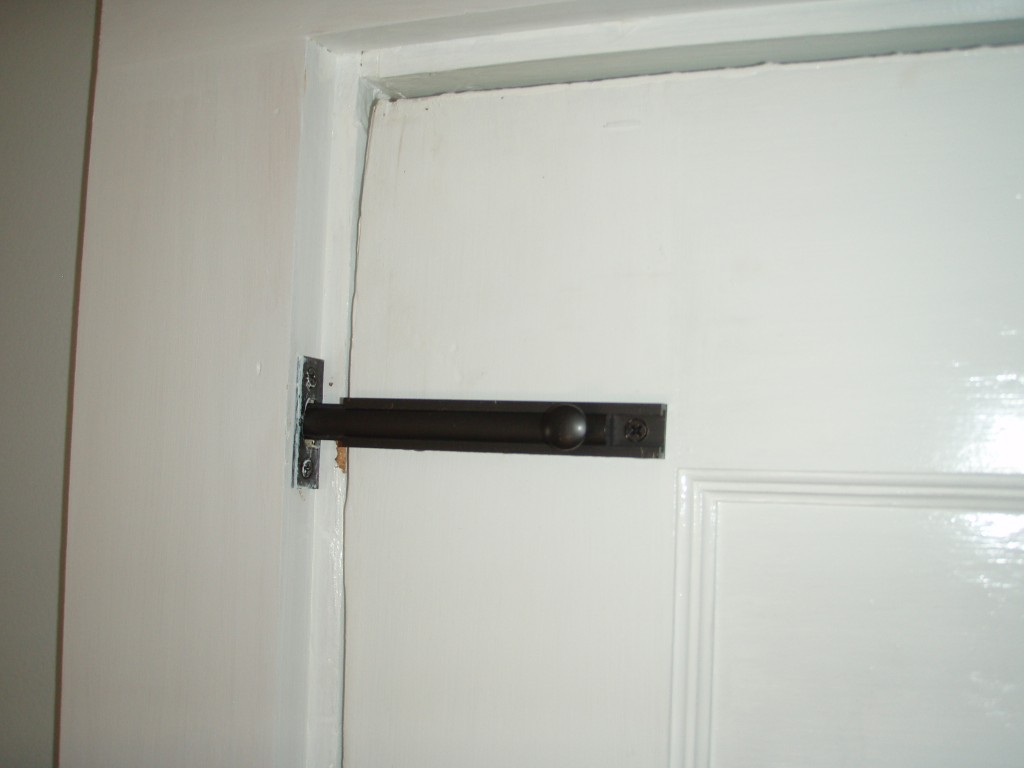 It was a simple install.  Basically, you just screw the slide bolt onto the door, attach the strike plate to the trim, and notch out the wood behind the strike plate with a drill.  Simple as that.  Now our door not only looks b-e-u-tiful but it is also more energy efficient (no more daylight comes streaming through the cracks).  Oh…and I also took a few moments to prime/paint the door trim.  Pretty, huh?!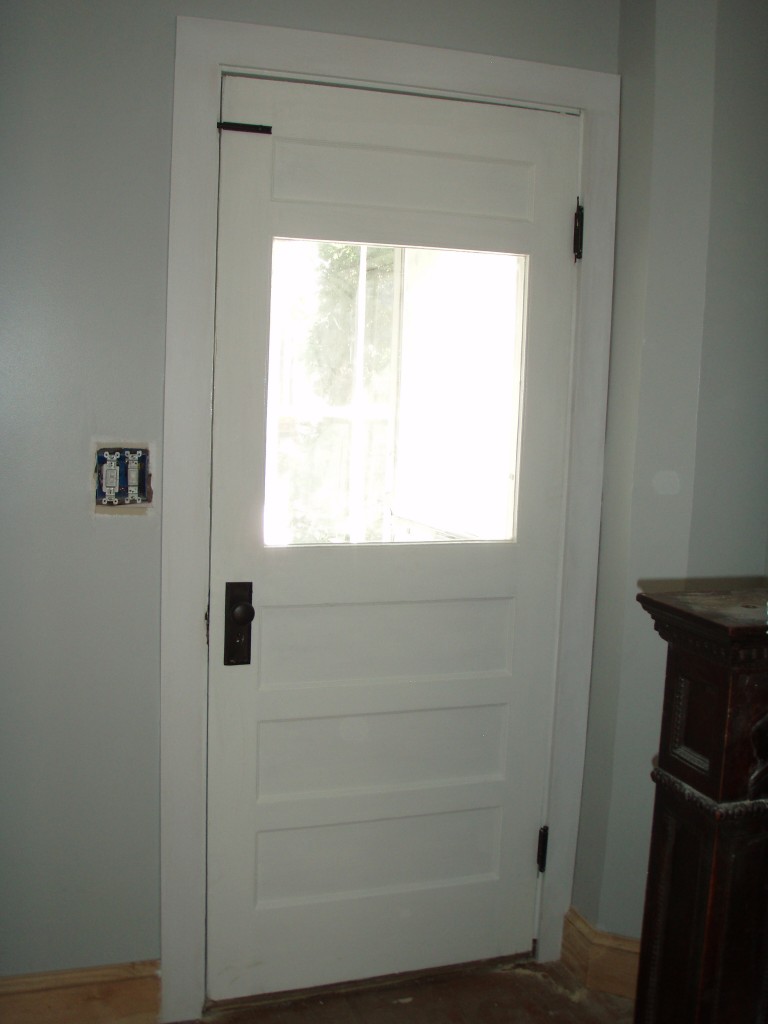 And since it's football Sunday and we're multitasking with the Giants/Patriots games rotating on the tv, how about some front door stats for ya:
101 – age of the front door
100 – grit of the sandpaper that I used to take off the old cream paint with the orbital sander
61 – holes in the door that needed to be filled with wood putty
18 – days to complete this project from start to finish
6 – number of power sanders that we have in our household
4 – inches of screw length necessary to securely reattach the door to the frame
3 – times we had to un-assemble/re-assemble the door during the whole refinishing process
2 – number of power sanders that I actually used for this project (DeWalt orbital sander and a Milwaukee multi-tool)
2 – coats of primer on the door and trim (followed by two coats of paint)
1 – key exists for the door
So….I can finally scratch "Refinish front door" off the old to-do list.  That leaves the great desk build, introduced here with an update here, at the forefront of the list.  We're making some progress, although it is a slow and steady kind of project (it just took Colby about three hours to build one drawer).  I'll be back in the next couple of days with an update for you all.
Pssst….anyone notice some of our little redesigns? I mixed up the blog theme (it was time for a change), created a new header, and worked on the about us section. Be sure to check it out!