Our wedding is officially less than 90 days away! Can you believe it?! Less than three months away! When I realized this for the first time a minor panic button went off in my head. It went something like this, "oh my gosh, you still have so much to do, you haven't started a single craft project, you still don't know what you want to do for centerpieces………uh-oh." So I decided it was time to make my reception table decisions and COMMIT TO THEM so I can start making everything. So without further ado, I bring you the wedding reception table mood board….wah-bam!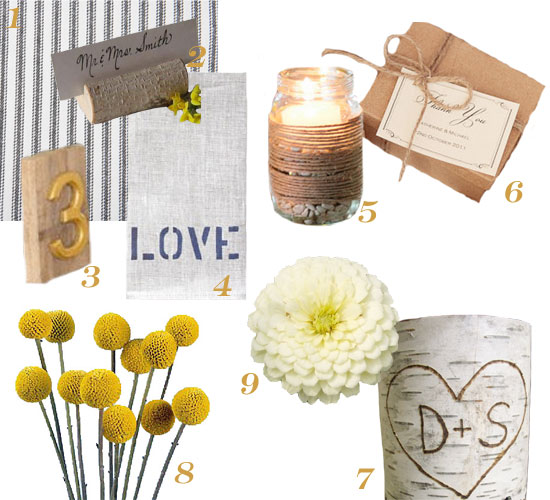 So here is a break down of the game plan:
Table Runners: This blue ticking fabric will make amazing table runners. I recently picked up the fabric from a local Jo-Ann's store and have started assembling runners.
Place Cards: I dig rustic, made from branches and twigs place cards. These will be a fun DIY project to tackle.
Table numbers: These numbers are perfect. The perfect color and the perfect style. I envision having Colby cut me up some boards out of scrap wood and then I'll paint some wooden numbers from the craft store and glue them to the boards.
Stenciled Napkins: This may sound crazy, and believe me that's exactly what I'm thinking, but I love the idea of making my own napkins for the reception and stenciling them. But if for some reason I become time pressed, this is the first project to go.
Mason Jar Candles: So simple…take a mason jar, fill it with gravel, wrap it with twine, insert candle, and light it! And you can't have a barn themed wedding (our official theme is "Party 'Til The Cows Come Home"), without some mason jars?!
Favor Boxes: Can't you just see cute little, craft paper favor boxes sitting on our reception tables? I do, I do! I'm pretty certain I can make these. I've found a few templates but have yet to test them out. You know I'll share the details once I figure it all out. Oh yeah, and I'm thinking whoopie pies will make a mighty fine Maine themed favor!
Birch Bark Vases: I have already started working on the prototype for this. If collecting the birch bark counts as making a prototype. I want these vases to be the focal point of the table. And of course they will be sporting our initials in a Colby-carved-our-initials-in-a-tree kind of way. And inside the vases will be…..
Billy Buttons and
White Zinnias both of which are happily growing in our garden as we speak.
So there you have it. The girl has a plan, a very definitive plan. So now when I'm cruising Pinterest or Style Me Pretty I won't get distracted and go totally off track. Although I'm sure things will change and my "mood" will sway a little bit but at least there's a plan.
Pssst…so seriously, what do you all think? Any hints, tips, tricks or advice? Any recent brides out there who would like to share their centerpiece craft stories? Or brides to be…chime in too!