We hit a big milestone this weekend in our bathroom remodel project. All of the electrical and plumbing is finished! And by finished I mean that there are switches and outlets that WORK, a shower head flowing with water, and a toilet that flushes. Huzzah! This means we've been installing the cement board on the bathroom walls which is also (insert dramatic pause here) DONE!
This stage of the project, up to completion of installing the cement board has been by far the most challenging part of the project for me. I, like many other DIY bloggers and old home renovators, like to get to the finishes. That's the fun part. Talk to me Goose about tiling the bathroom walls, painting the trim, and adding the fixtures. Those are the parts of a renovation project that we see and make us feel like we're making progress. You don't really "see" the electrical updates or the fixing of a hidden junction box. I talked alot about this in my last bathroom update about the unglamorous side of renovating.
But now we're here, with all of the structural and functional parts complete and we're ready for the finishes. While I'm itching to put up the ceiling planking and start the bathroom tiling, which I'm sure you are too, today's post is all about installing cement board in the bathroom and prepping the bathroom for tiling.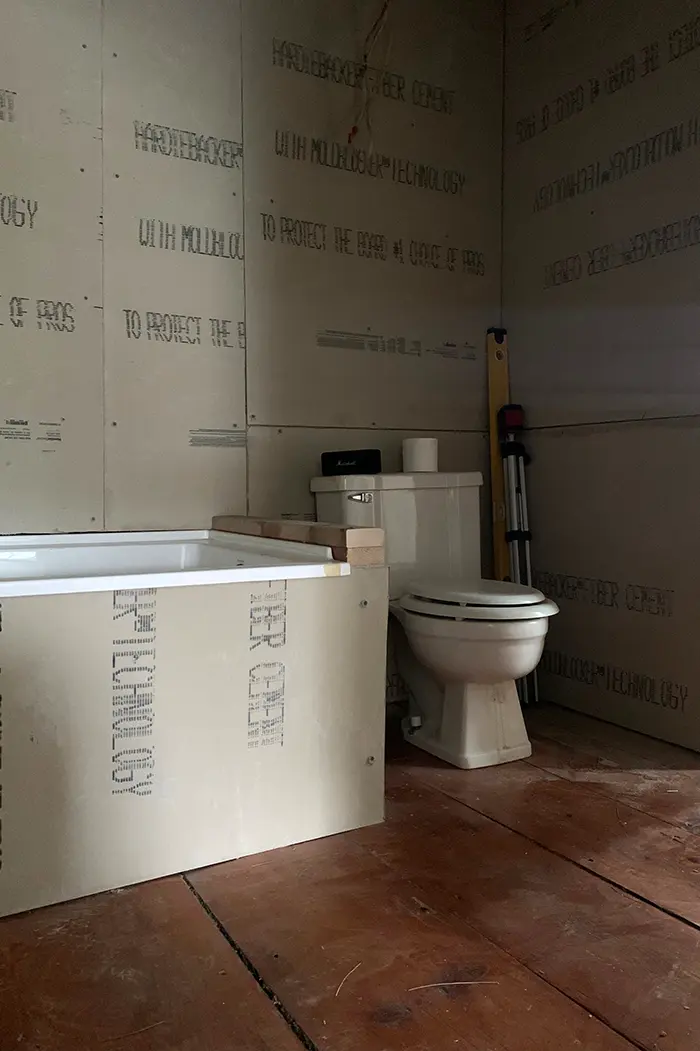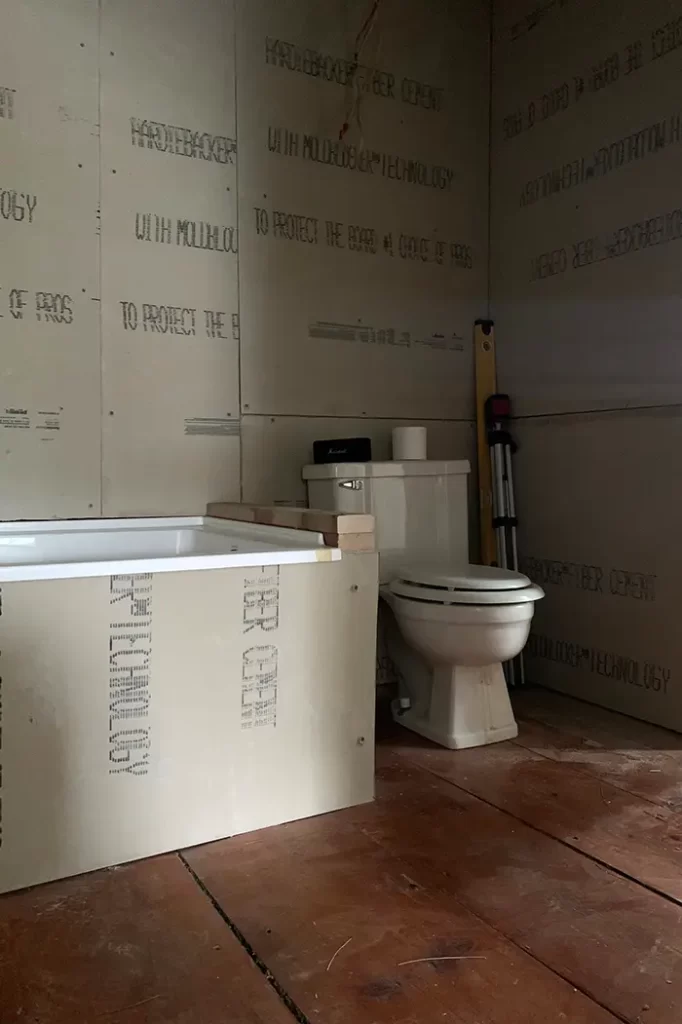 Why Do We Install Cement Board Behind Tile
Let's preface this by saying it's a terrible idea to install tile on plain old sheetrock. This is one of those things I envision Holmes on Homes getting angry about and ripping out. Cement board, and other tile backer boards, have a purpose. They provide a waterproof barrier underneath your tile that is perfect for rooms with alot of moisture, like a bathroom.
The most common tile backer board is cement board which is made of cement and other reinforcing fibers. Unlike plywood or sheetrock, cement board does not break down when it gets wet. While many tiles aren't porous, grout is, hence why we grout seal. If moisture gets through to the tile underlayment, it's likely to breakdown unless the material underneath is waterproof.
In addition, cement board is also extremely durable and stiff. Tiles and grout are much less likely to crack when installed on a tile backer board. In Colby's years spent on job sites, he's seen several instances of floor tiles adhered right onto plywood that have vibrated and popped right off.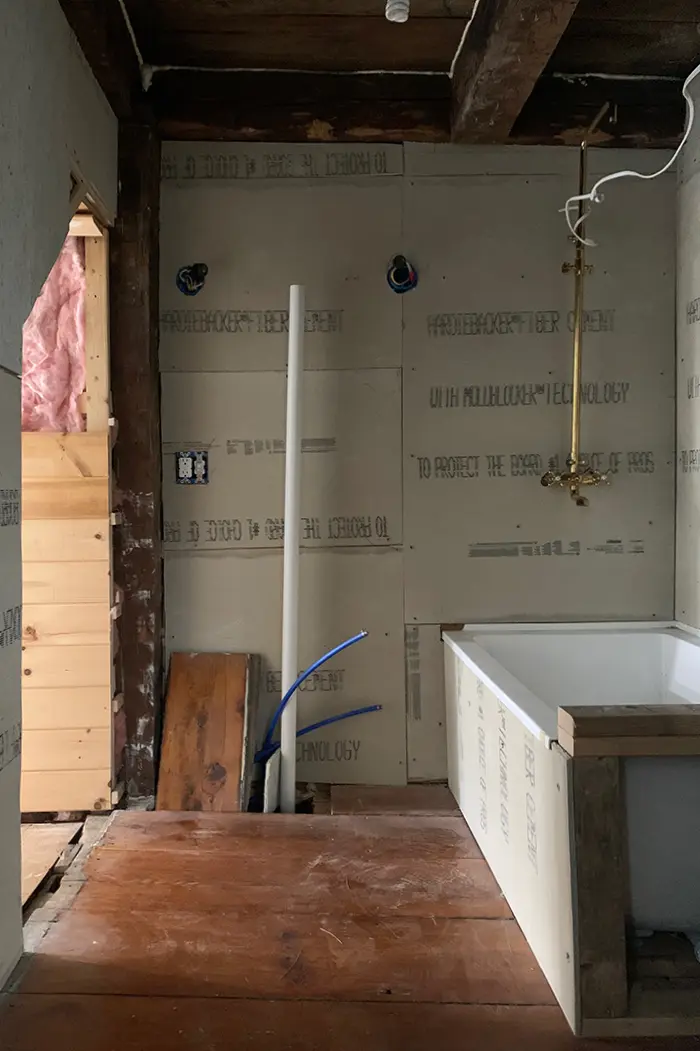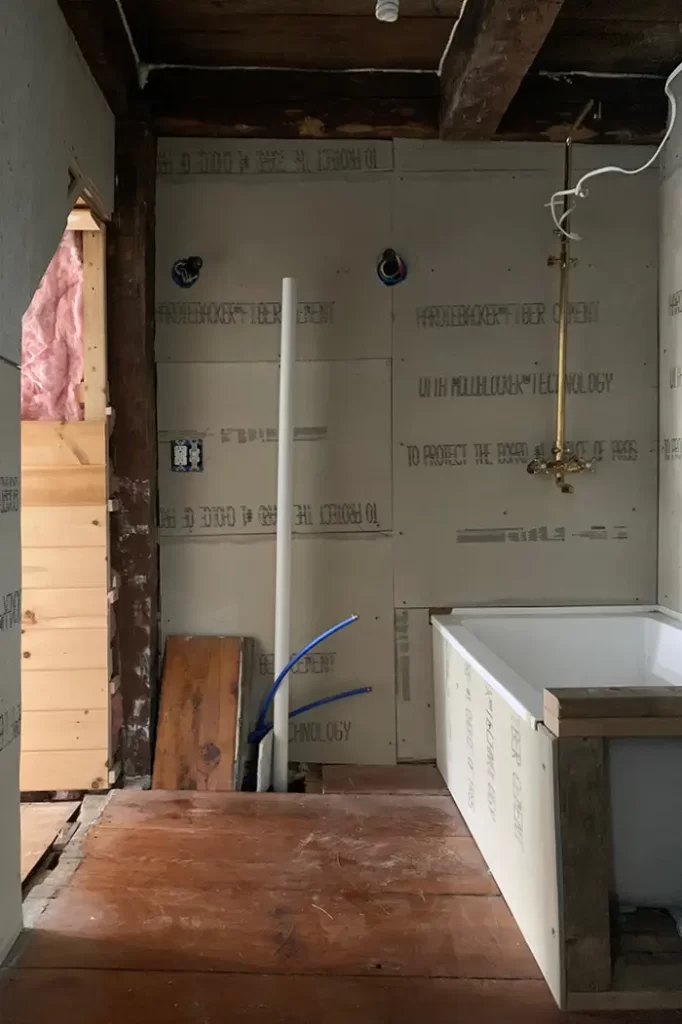 The Materials We Chose
These days there are several options for tile backer board. We went with the traditional cement board option and purchased James Hardie HardieBacker from Home Depot in the 0.42 in. x 3 ft. x 5 ft. size. For our approximately 5′ x 8′ small bathroom, we ordered 15 sheets but only used 13 of them. It's always easier to order more than you think you need! Lesson learned when I tiled the guest bathroom a few years ago and spent a day driving to Home Depots to try and find more tile to finish the project!
We wanted to try a new tile backer board that Colby has been seeing on job sites lately. For reference, Colby is an outside salesman for a door and window company and spends alot of time with contractors on job sites. Many have been using a foam backer board, particularly the Johns Manville GoBoard. This product has the durability and waterproofing benefits of traditional cement board but is 85% lighter! For anyone who hasn't worked with cement board, that stuff is heavy, cumbersome, and makes one serious dusty mess when you cut it. GoBoard can be cut with a knife.
We tried to purchase GoBoards but the only buying option near us meant we had to buy it in a big pack and not by the sheet. Most retailers in our area can't keep it in stock so it's hard to buy right now. It's also more expensive than cement board. We paid $16.97 per sheet of cement board. After this bathroom renovation is complete, there's still one more bathroom to remodel in our home. Hopefully by then, this product will be more readily available in our area and we can give it a try.
Strapping The Walls
Before we could install the cement board for bathroom tiling, we had a lot of prep work to get the space ready. One of the greatest challenges of renovating an old home is that nothing is level or square. We always joke that they built them that way, which is partially true. Think about what it was like in 1781, the year our home was built. They had nowhere near the tools and technology we have. I consider it a miracle that our home is even remotely level.
Colby spent a considerable amount of time strapping the walls of the bathroom to prepare them for installing cement board. He shimmed the strapping in some areas to help bring the wall out to be flatter. This prevents the wall from being wavy.
Cement board also has to be secured every 12″, both vertically and horizontally. When Colby put up the strapping he made sure that the horizontal strips were installed every 12″. Strapping makes the cement board installation stronger by providing a place to screw the boards into. Random side note. Colby did the bare minimum of screwing down the cement board and it is currently not secured every 12″. He's waiting until the last possible moment to do this because he is almost certain he will need to take a sheet or two down to fix something he forgot. Happens every time.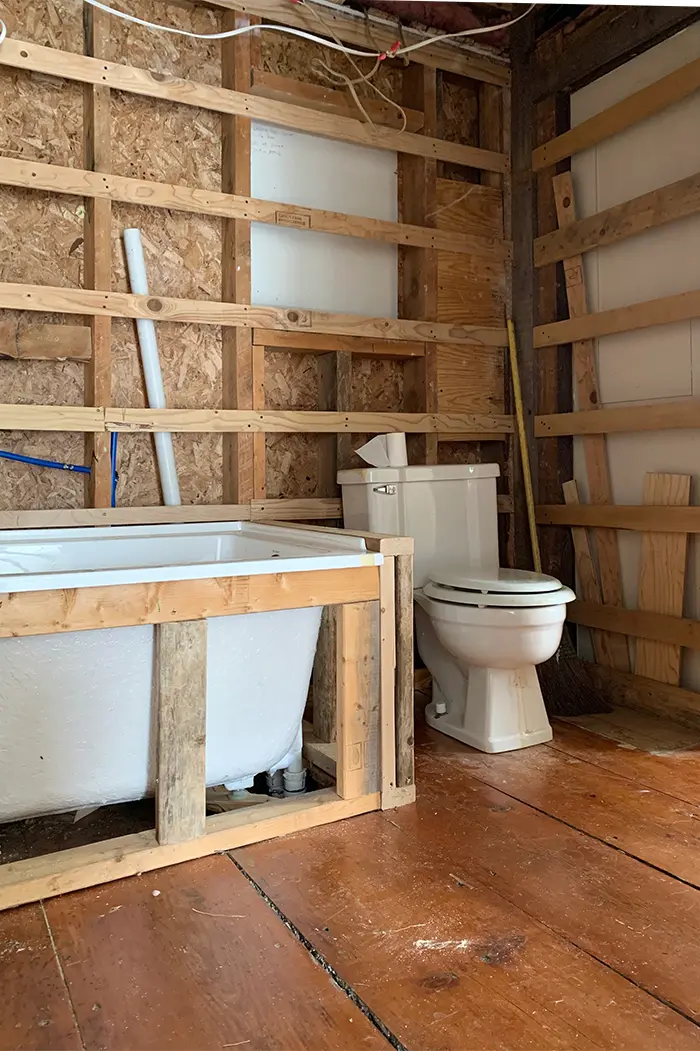 Installing The Cement Board
Now for the fun part, the main event ladies and gentlemen. Let's cut some boards together and get them up on the walls! Cutting and installing cement board is relatively easy in theory but definitely has its moments. A couple challenges: boards are heavy and cutting gets messy.
Colby's strategy for installing cement boards…install full sheets first. In such a small bathroom, there weren't many places for full sheets. Sheets were screwed into the strapping using 1-1/4″ cement board screws. Cement board screws have a knack for holding securely and seating flush, making it easy to level tile without a screw popping up.
When it came to making cuts, Colby minimized the dust as much as possible and made cuts outside. To limit the amount of trips up the stairs, he first measured and sketched out the pieces he needed. He even used a compass to mark the round cuts for the electrical boxes. Who knew those things were useful outside of middle school geometry!
With his cut list in tow, it was outside to cut away. Straight cuts were pretty straightforward. He measured and marked the cement boards: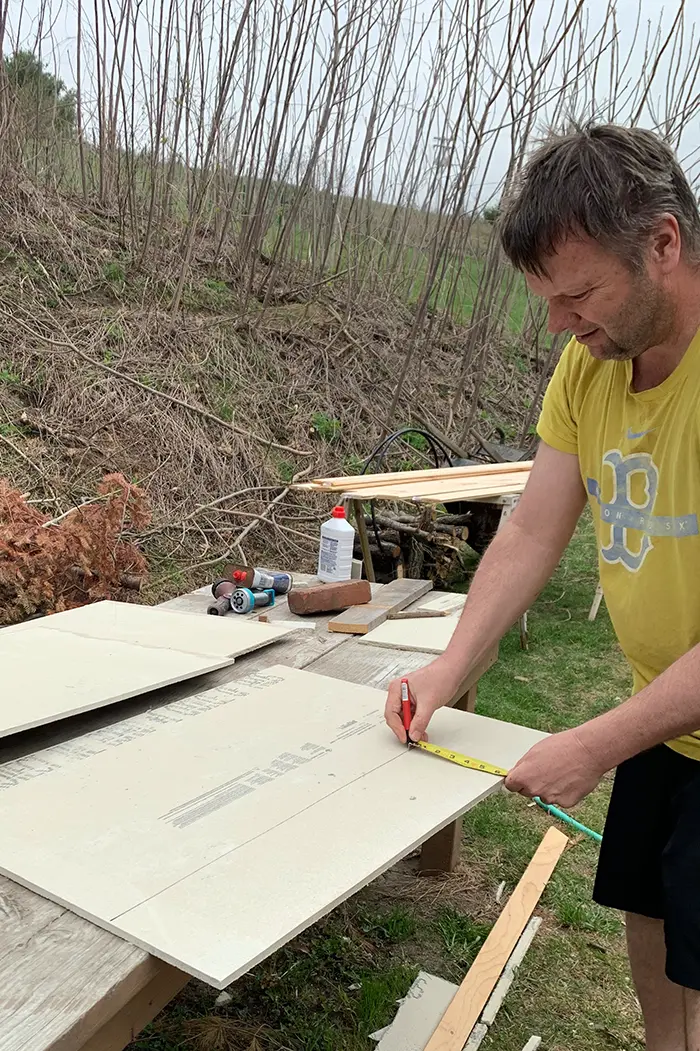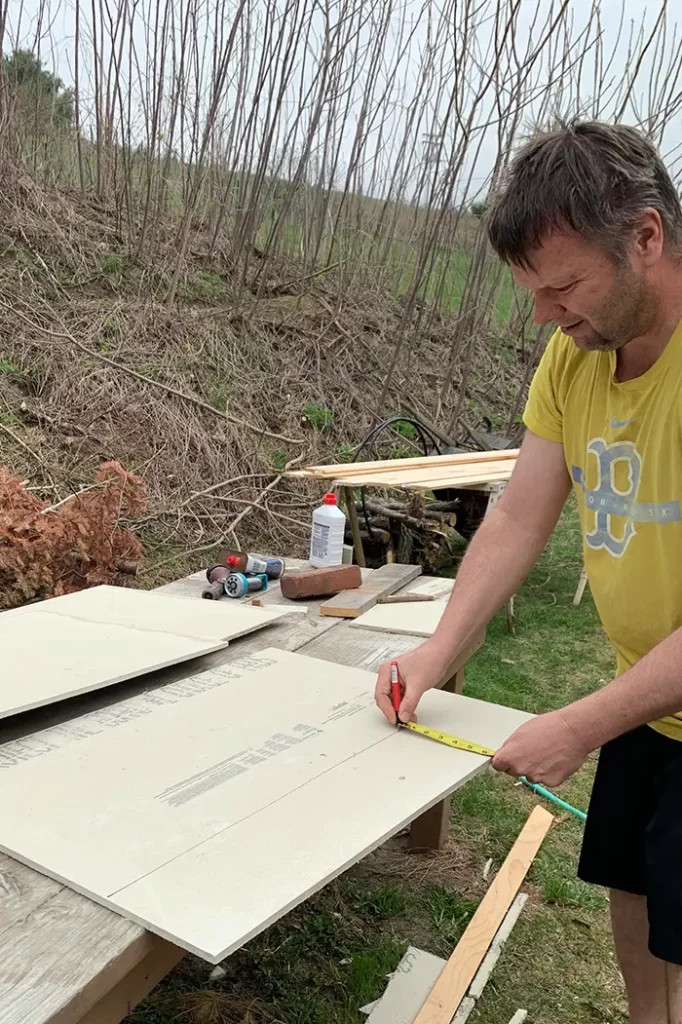 Then scored them using a basic utility knife (5 or 6 scores seemed to do the trick) and snapped the board.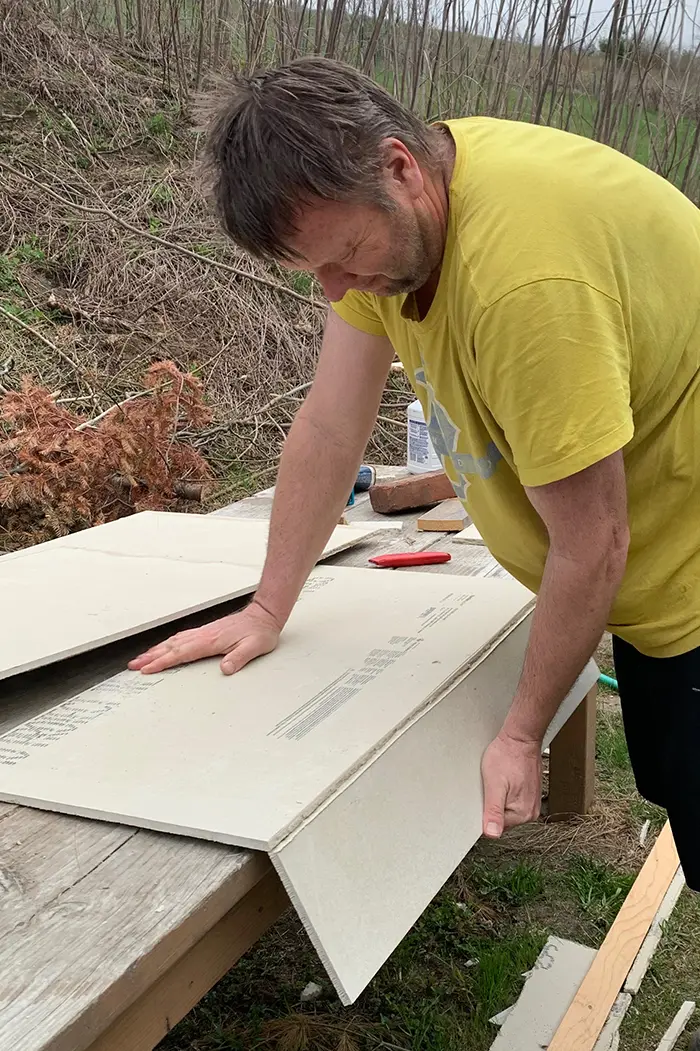 For round and notched cuts, he broke out the power tools. He used a Sawzall to make most of these cuts but a Dremel or a multi-tool could also work.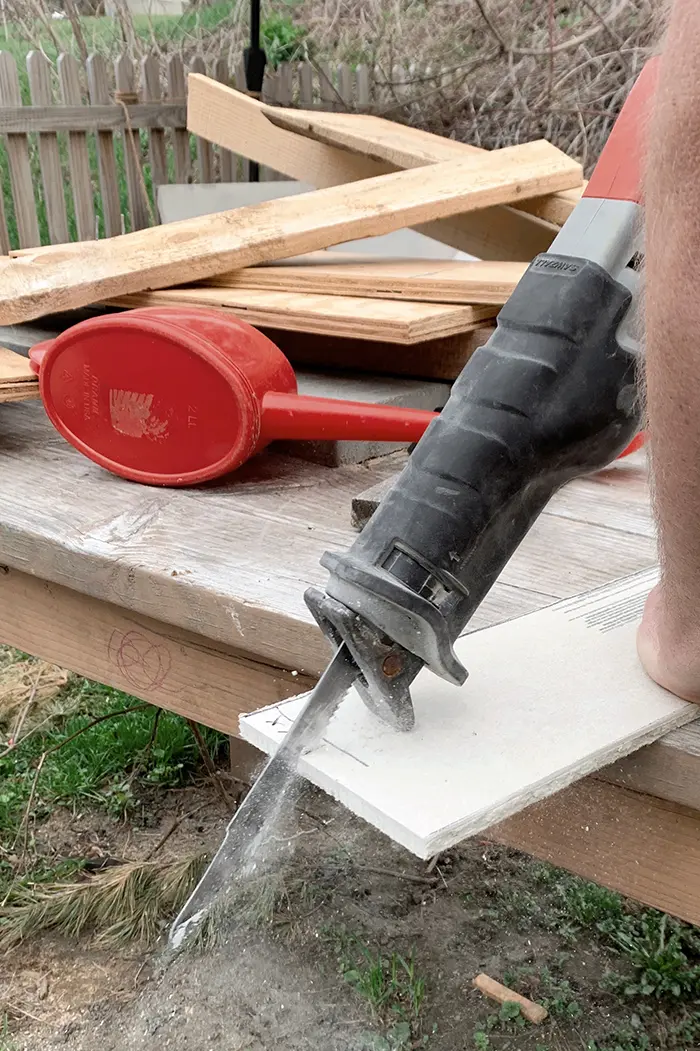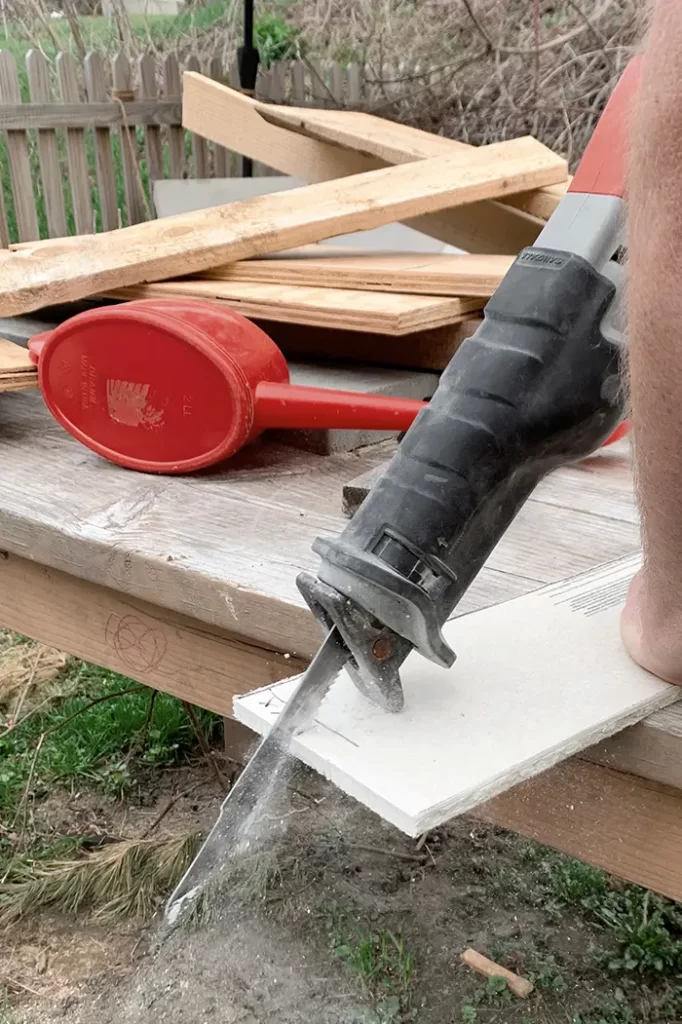 Back upstairs with a stack of cut cement boards to screw them onto the strapping then measure/sketch another set. Lather, rinse, repeat.
This part of the project seemed to take the longest since Colby was trying to sneak in a few boards here and a few boards there in the fringe hours. One of the biggest challenges of DIYing and renovating, especially with young children, is you rarely get a large chunk of time to do projects. But it's amazing how it all adds up when you log 20 minutes before work and another 20 minutes before dinner. It took a Sunday and four before/after work sessions to install the cement boards.
To Waterproof Or Not Waterproof The Cement Board
Deciding whether or not to waterproof cement board is a very common conundrum in the home improvement and DIY world. Just Google it and see what kind of mixed messages are out there! I remember when we renovated the guest bathroom we spent a considerable amount of time researching this topic. The jury really is out on whether or not this is necessary.
We made a decision based on the cement board manufacturer's recommendations. James Hardie doesn't require waterproofing but does suggest consulting local building codes. Some codes require it, some don't. In our area, we don't have general building codes to abide by and we chose not to waterproof.
Bathroom Renovation Next Steps
The next steps in our bathroom renovation plan are the exciting ones! To recap, here's where we are heading: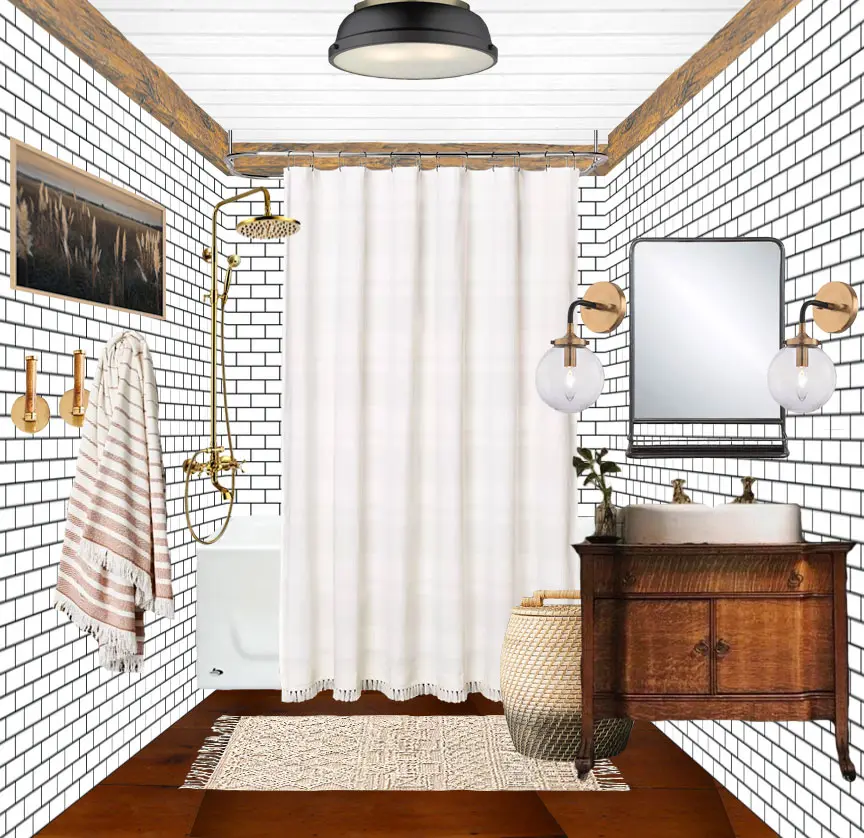 The next steps include:
Strapping/framing the bathroom ceiling
Hitch up the light and fan fixtures to the framing
Insulate between the ceiling and attic floor
Add a ceiling vapor barrier
Prime and paint the v-groove pine boards for the ceiling
Install the ceiling planks
Install white subway tile on all the walls
Grout everything
Seal the grout
Build a vanity/sink console
Install bathroom hardware and accessories
Add that last layer of style
One Room Challenge Week 4 Update
This blog post is part of the One Room Challenge, which is an event where DIYers and designers gather to makeover one room in just 8 weeks. We're at the halfway point with our project and I'm starting to get nervous about the steps we have left. Can we pull it off?! Perhaps. Be sure to check out all of the other week 4 project updates. There are so many really amazing projects, including a few other like-minded, some might say unhinged, souls who are tackling bathroom renovations.