Last weekend, I was gung ho, all in ready to give our master bedroom a new look, starting with refinishing the wardrobe. But two things dawned on me. One, I don't really have a plan. And two, I haven't shared with you yet the state of our primary bedroom. So today's post is sharing a current bedroom tour along with some simple bedroom refresh ideas.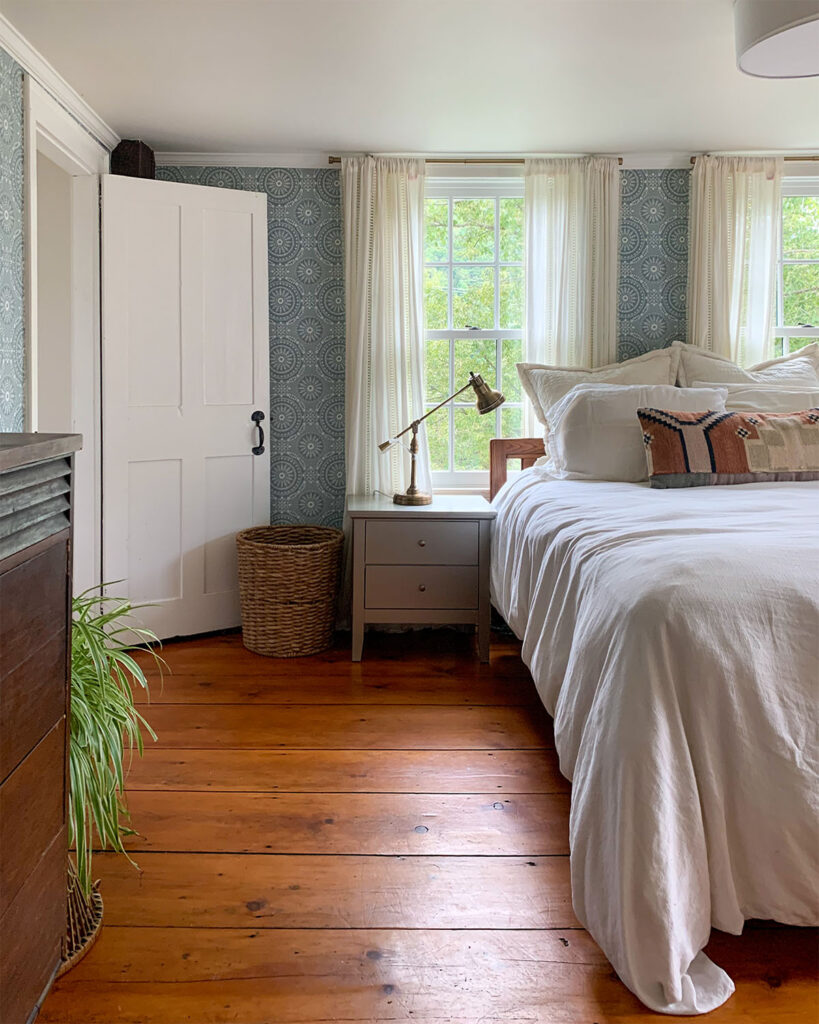 The Current State of Our Bedroom
While I don't think there's anything wrong with our bedroom, it also doesn't have that layered, lived-in design feel that I love. Like artfully mixed patterns, various textures, plants, and that last layer of interest in the art and accessories.
I feel like our bedroom is your typical, simple bedroom design. It's probably not that uncommon from others, maybe even yours!
We moved in with the furniture we had. Furniture pieces were added when we needed them, a lamp broke and we fixed it with Christmas ribbon (more on that in a moment), and added basic white bedding as we needed to replace pieces. It's just one of those spaces that slowly morphed over time without much intention. You can see our bedroom in the initial home tour and in the floor plan.
The bedroom feels very unfinished, partly because it is! Case in point. The giant wardrobe Colby built us seven years ago still sits with unfinished pine. He built it out of necessity because an old house equals no closet space. I just couldn't decide on whether to paint or stain it and then which paint color or stain shade. The bedroom needs direction.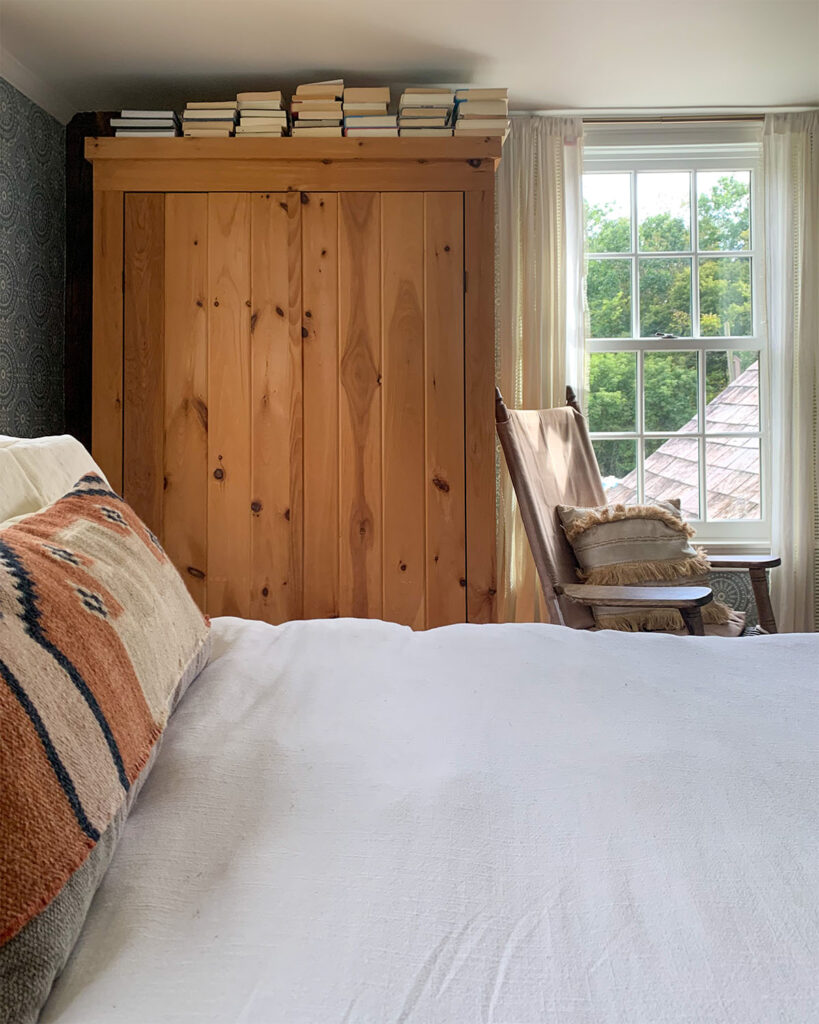 Bedroom Refresh Ideas
What are some easy bedroom refresh ideas that any bedroom could use? Let's dive in, shall we?!
While I am currently working on crafting a design plan and a mood board, I first need to introduce you to our bedroom, what's working and not working, and some basic bedroom refresh ideas. Here we go.
Bring In New Furniture
If your bedroom furniture isn't working for you, donate or sell pieces of furniture and find something that does work. New furniture can instantly refresh a bedroom.
I used to think switching out furniture wasn't a great refresh idea since new furniture can be a budget breaker. Enter thrift store shopping stage left. If you're willing to put in a little elbow grease bringing thrifted furniture back to life with a new color or updated hardware, it can stretch a small budget and make a huge difference in your bedroom makeover.
While I don't intend to bring new furniture into our room, we like the shape and style of most of it, we do have intentions of altering a few pieces. Which brings me to…
Refinishing Bedroom Furniture
Refinishing bedroom furniture can instantly give a room a new feel without spending alot of money. Paint is powerful and bringing in fresh paint colors can do wonders for a space.
In our bedroom, priority number one is finally staining the unfinished pine wardrobe. I also have intentions to paint each bedside table and I'm considering building a new DIY headboard for our bed. Refinishing the bedroom furniture will likely be the biggest DIY project in the space. Here's to new life for old furniture!
Story time about our bedroom side tables. I searched and thrifted hard for a basic, matching set of nightstands. In particular, I wanted the shape and style of the ones we ultimately bought from Wayfair. I don't normally like buying new, particle board furniture but I desperately wanted the functionality of a bedside table with drawers and was on a tight budget.
I ordered what I thought was a pair of light green colored side tables. Then they showed up and they were silver. Shiny, metallic, silver. They looked nothing like their photo. Lesson learned. READ the description, don't just look at the photos.
Hence, the plan is to chalk paint them in that light green color I was looking for. Years ago, we successfully chalk painted IKEA laminate furniture and hope to have the same results with these bedside tables.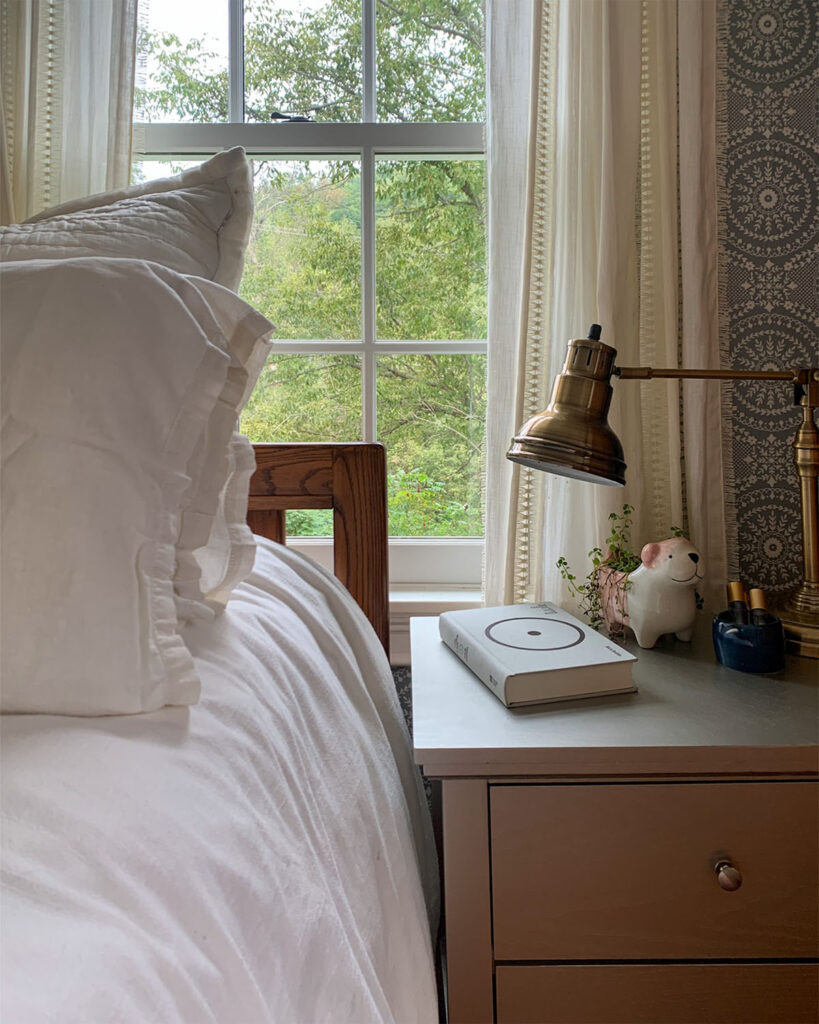 Levels of Lighting
Lighting can make or break a space. Get it wrong and your room can feel harsh. Get it right and you've got yourself the cozy bedroom you've been looking for.
Layering or adding a variety of lighting sources can really help elevate a bedroom. Even just switching out a light bulb can take a room from super cool to warm and inviting.
While I love our overhead light fixture in the bedroom with its soft filtered light, the nightstand lights don't have the same feeling. Switching these from a task lamp to a standard lamp with light shades should help the lighting.
As promised, here's the story of the broken lamp. Shortly before selling our old home in Maine, I purchased a pair of brass task lamps for our bedroom. While they looked great, I quickly realized task lighting is not the greatest idea for a bedside table. They don't provide that soft, filtered light you would get from a traditional style lamp and lampshade combo.
In the big move to Vermont, one of the lamps broke. The lamp head won't stay suspended and constantly crashes to the surface below. I believe "That's okay, they're just temporary placeholders because they're not the right lamps for our bedroom anyway" was my response to the broken lamp situation.
So Colby fixed his bedside table lamp with some Christmas ribbon. Fast forward eight years and they're still here. Hangs head in shame. See the ribbon?!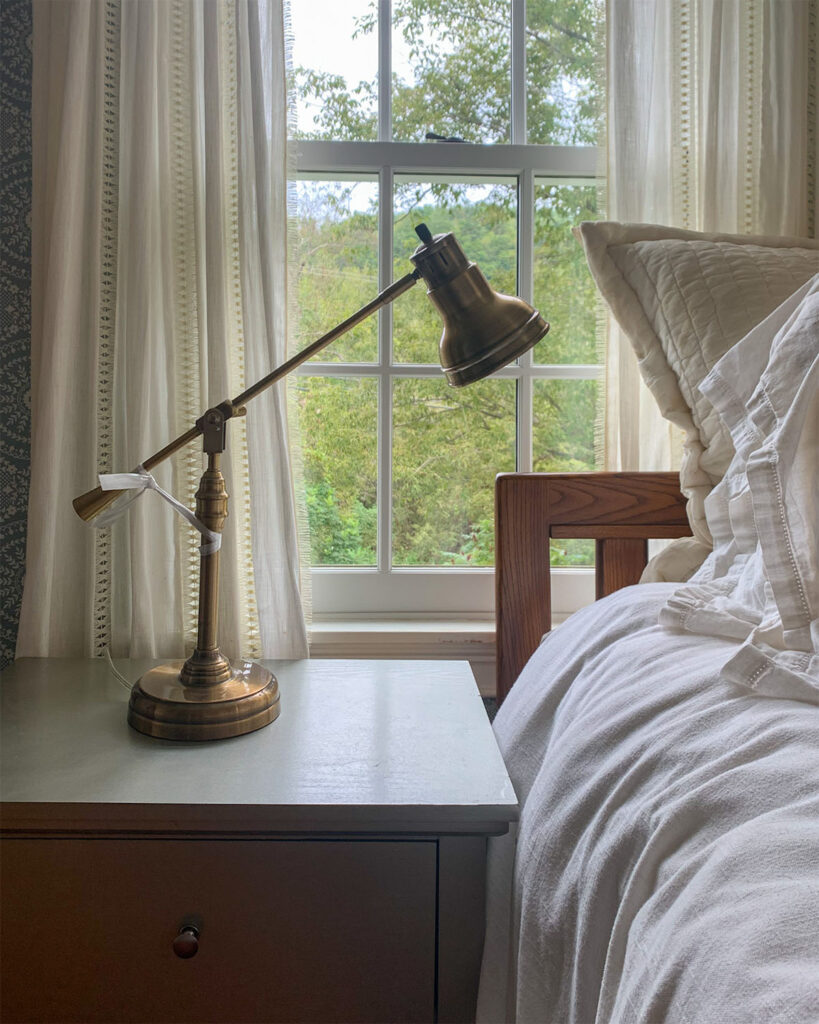 New Bedding
The bed is often the focal point of the entire room. One surefire way to bring more visual interest, pattern, and a variety of textures to a bedroom is to play with the bedding. Updating your bedding can have the biggest impact on bedroom room makeovers. 
Once you've determined your overall color scheme for the room, bring in some pattern in your bed or add that cozy fringe throw. Bedding is also a great place to play with design trends or switch up seasonally. So throw on a fresh duvet cover to update your bedroom without putting in much effort.
While I love the basics in our main bedroom, there's just so much white bedding. TOO much white bedding for me. It's time for a fresh look and a new color palette. Maybe striped sheets, deep jewel-toned throw pillows against the headboard, a patterned quilt or coverlet, and a cozy bed blanket.
I really want our bedding to feel like this ad from Red Land Cotton. Cozy, right?! Such a sucker for good marketing at just the right time!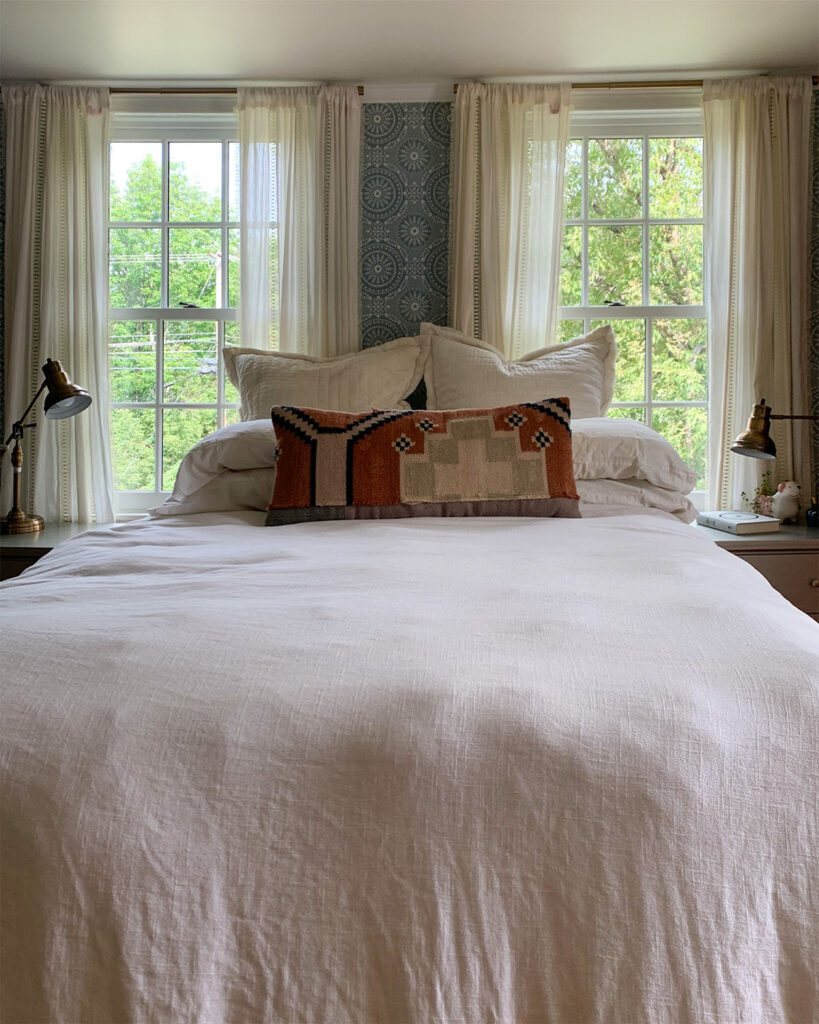 Throw Pillows and a Throw Blanket
Not only can you add accent pillows and throw blankets to your bed, but it is also the perfect way to bring a cozy texture to a bedroom chair. With so many main bedrooms including a chair, make the chair an inviting place to land instead of a catch-all for laundry that needs to be put away.
Our bedroom sports Grandma Gert's old rocking chair, the one she rocked all six of her babies in. It's one of those "cold dead fingers" items in our home. You know, the I'm never giving this up, you'll have to pry it out of my cold dead fingers type of thing. Anyway, the rocking chair could stand some added cozyness.
DIY Headboard
Sometimes beds feel dated. Or sometimes they just lack style or visual interest. Our bed is just that. A basic wood-framed bed.
While replacing the bed frame entirely is out of our budget for a quick update, we could create a DIY headboard instead. I have so many ideas for the kind of DIY headboard I would like to create: tufted, channel, caned. It could also be an easy way to bring in a pop of color that fits the overall color scheme we're going for. And what a fun way to update an otherwise neutral space (if you take the wallpaper away…how boring is our bedroom?!)
Some favorite headboard inspirations at the moment include this fabric-wrapped headboard and this DIY channel tufted headboard. I can pull those off, right?!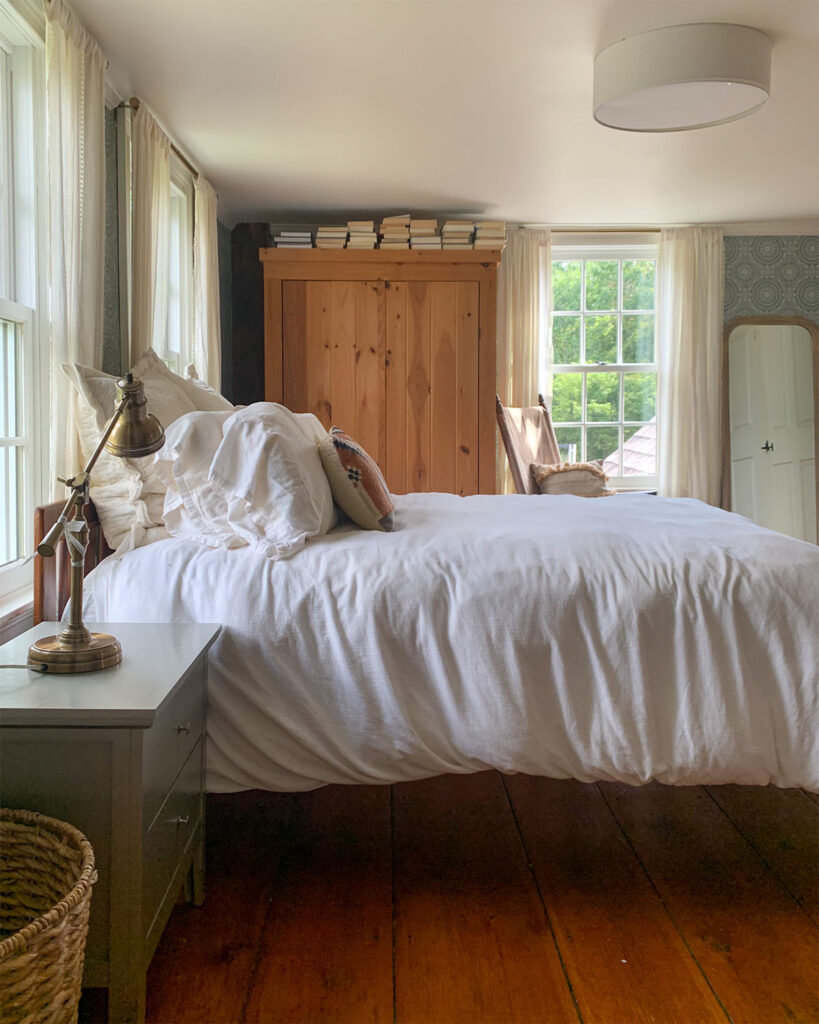 Window Treatments
I cannot ignore the idea of updating window treatments. Adding patterns and color to curtains can instantly refresh a room. Layering in natural blinds, like bamboo shades, is a great way to bring in a variety of textures to a bedroom.
I adore the white, linen fabric curtains in our room. They let in soft filtered light which is so dreamy. But they don't block the light when you just want to sleep in on a Saturday morning (when the kids let us…which happens…never?!). Adding some woven shades is on my list of a master bedroom refresh ideas for our bedroom. I'm already cruising blinds.com for just the right shade.
Adding Plants
Plants in a bedroom aren't just for the bohemian style room but for every bedroom. They bring life to a room and can even have calming or stress-reducing effects. Add a plant or two on top of your nightstand, next to a dresser, or hanging from the ceiling.
We don't have plants that permanently live in our bedroom. Full disclosure, every time I take pics of our bedroom I steal plants from other rooms. I love the interest they add.
Brooke's bedroom at Nesting With Grace ALWAYS does plants right. She's the ultimate plant lady and I hope to someday give the same love and attention to my indoor plants. In our room, I envision plants surrounding the full-length mirror, in front of our south-facing window which gets the best light.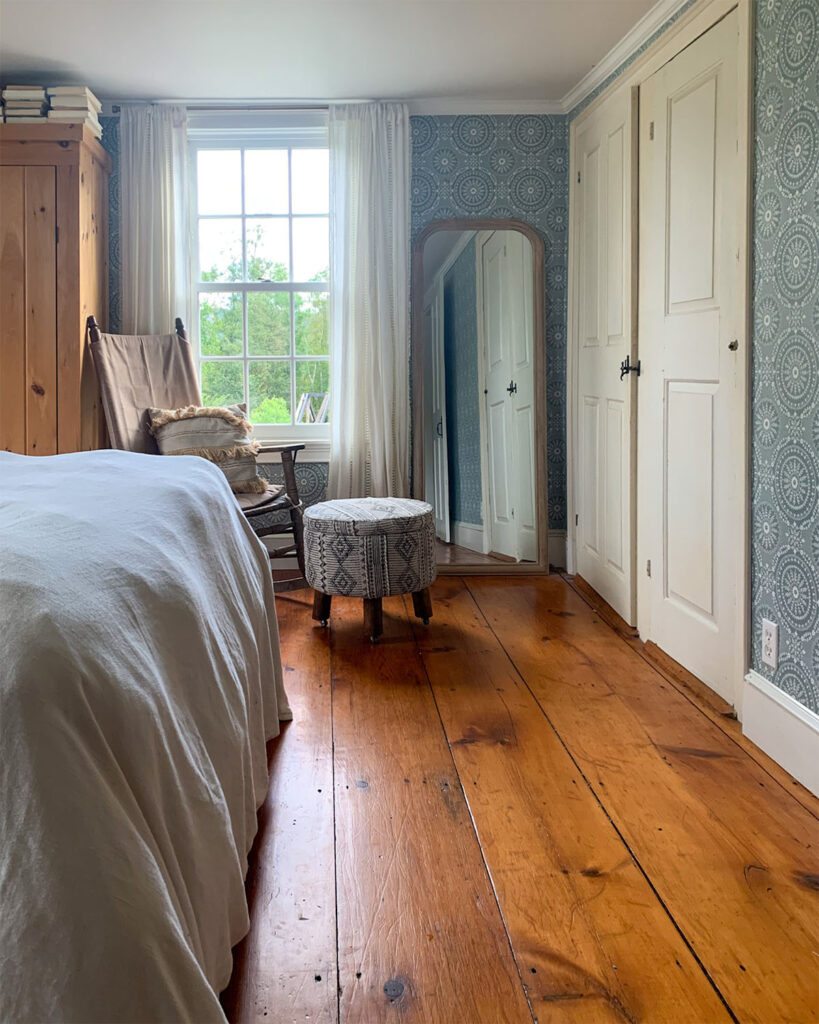 Also, note the unpainted bathroom doors. Those will be painted when we paint all the bathroom trim since we're also in the middle of a bathroom renovation.
Styling With Vintage Accessories and Artwork
I adore, like ADORE adore a room filled with vintage accessories and artwork. There's just something about vintage pieces mixed in with new items that give a space a lived-in, collected-over-time feel. Thrifting a decorative element or two is also a great way to stretch a small budget and add affordable artwork.
I've been hitting the thrift stores with the kids and we've been acquiring a nice collection of one-dollar art that just may make an appearance in our bedroom.
As for styling, there are a few surfaces in your bedroom that can often use a little love during a refresh. One, the top of your dresser. Is it where you get ready? Find cute bowls or vessels for your jewelry or cosmetics, bring in some flowers, or find an adorable hand mirror. I miss the old decor on the top of our dresser since moving it all to the walk-in closet attic.
The top of your nightstand is another surface to style, just be sure to leave space to store things for when you head to bed each night. Adding a plant or a vintage ceramic bowl as a catch-all can help freshen up the bedroom.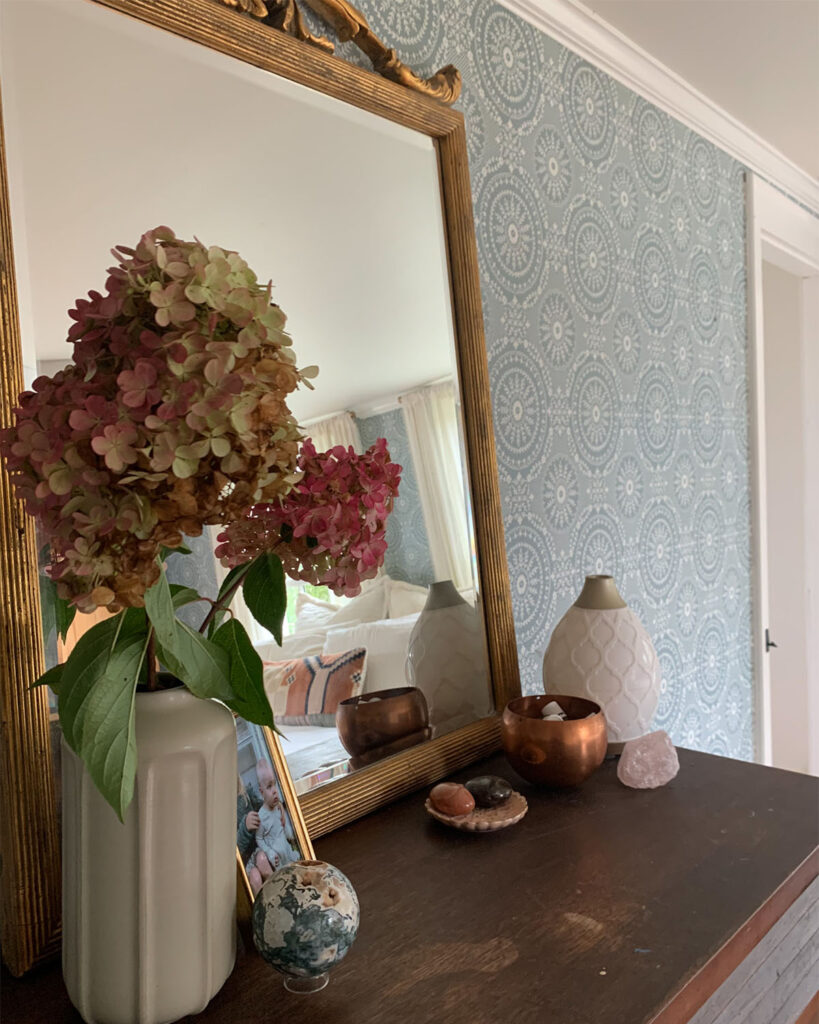 Add An Area Rug
Adding an area rug or patterned rug on the side of the bed is another simple bedroom refresh idea. While not something I'm planning for our room, I hate the idea of covering up the gorgeous wide pine floorboards in here, it's definitely something I would do in a guest bedroom.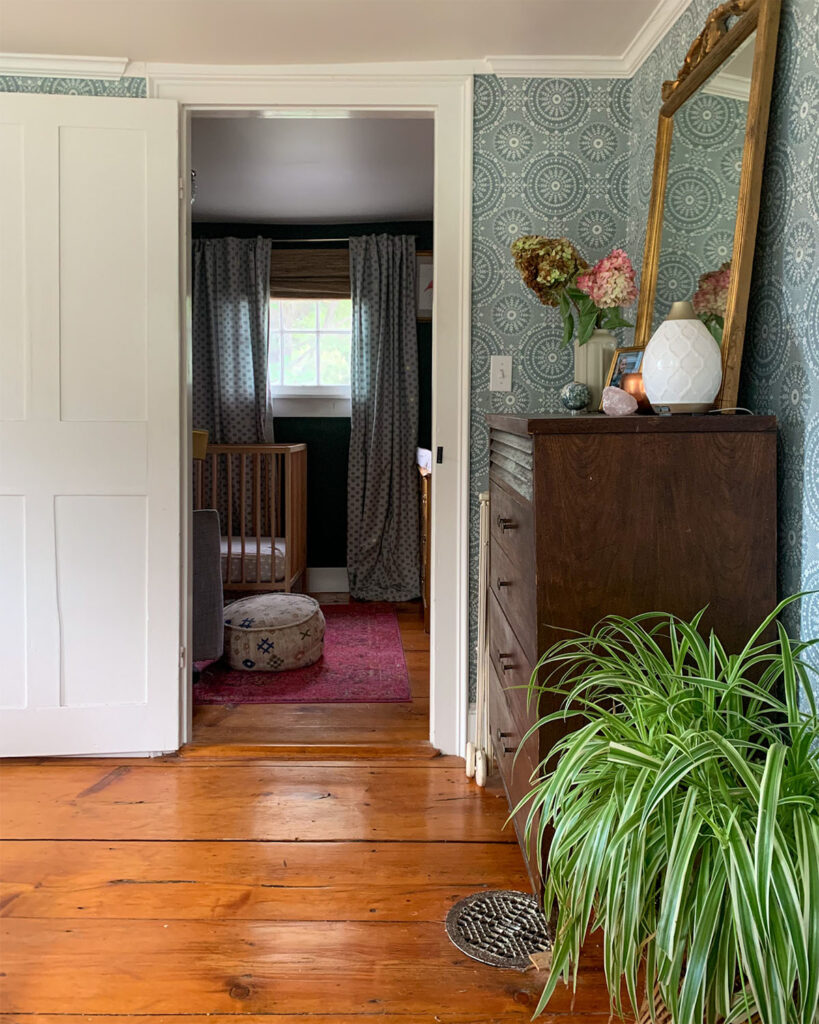 Main Bedroom Next Steps
Now that you've cordially made an acquaintance with our main bedroom and I've gone through my top tips for how to refresh a bedroom, I feel like I can get to work here.
My next step is to come up with a mood board. Rooms always turn out better for me if I create a mood board first thing. I am not an interior designer and I don't always just "know" what to do. Instead, I like to play around with things I like, mixing traditional nightstands with a modern lamp, for example, and see what makes the most sense.
Once I have a mood board to act as my design spirit guide, you'll find me picking the perfect stain shade for the wardrobe, staining it, and working away at refinishing pieces of furniture. Who knows, maybe I'll even order some new bedding to finally give the white bedding the boot! Stay tuned dear readers!
PS…What are some of your simple bedroom refresh ideas? Or other bedroom makeover ideas? Do tell!