The One Room Challenge Fall 2023 edition is here and I'm happy to announce that I will be partaking in the festivities as a guest participant. The room I will be tackling, drumroll please, is finishing our master bathroom renovation. I'm so excited the first week is here!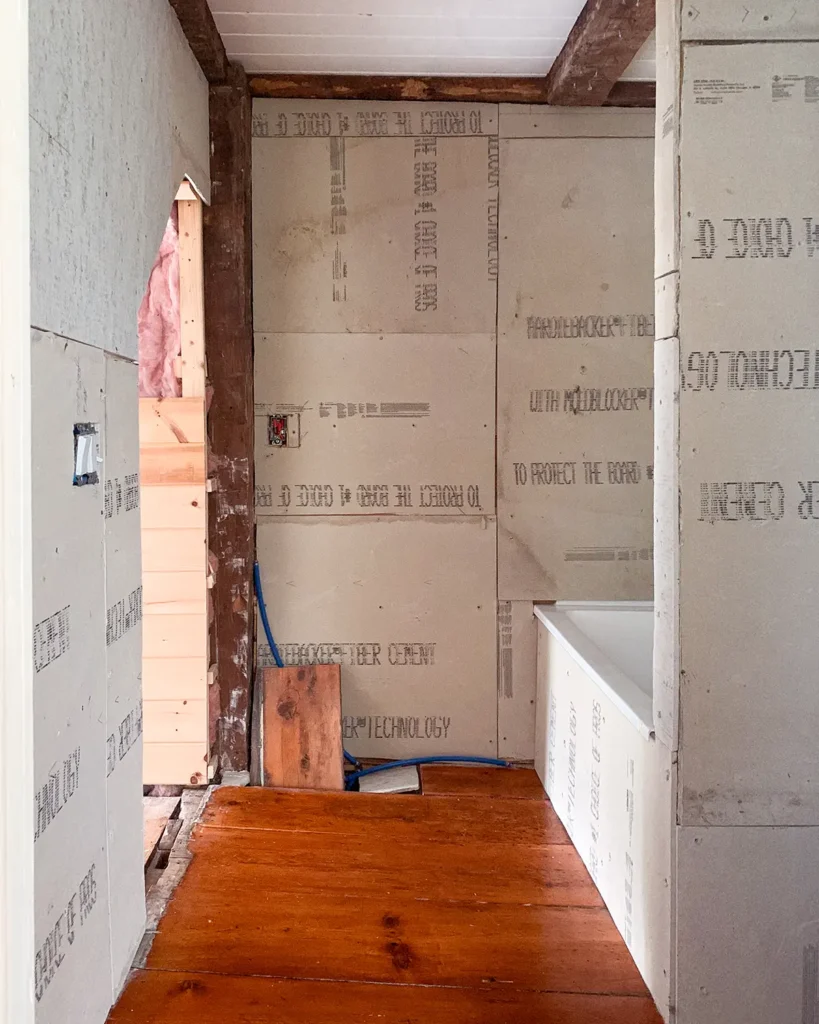 What Is The One Room Challenge?
Before I dive into the details of my Fall 2023 One Room Challenge project, let's paint a picture of what the One Room Challenge (ORC) is. Basically, a group of design and DIY bloggers makeover one room in their own home over the course of 8 weeks, documenting their progress along the way.
It's a bi-annual event with a spring and fall edition each year. The ORC projects are completed by a featured designer as well as guest bloggers like myself. The challenge is a lot of work and not everyone reaches the finish line.
Progress blog posts and photos are shared on the ORC site each week. Shameless plug, it's a great source of inspiration photos, especially during room reveal week.
The big reveal day is slated for Wednesday, November 15th so at least stop by then to see the final reveal of our bathroom.

How To Follow The One Room Challenge?
Part of the One Room Challenge includes a directory of links to participant projects on their blog, Instagram, and TikTok. Each week's linkup goes live on Wednesday morning but you can always see the previous week's posts and cheer on your favorite DIYers and designers as they work on their rooms.
As for my project, you can follow along right here! Stop by next week for a weekly update on our bathroom renovation project. You can also follow my Instagram account @angiesroost for more real-time progress updates in Instagram Stories.
My One Room Challenge Fall 2023 Project
Now for the good stuff, my ORC fall 2023 project. We are finally, FINALLY going to finish our master bathroom for this challenge.
Here's where she currently stands. Officially ready for tile.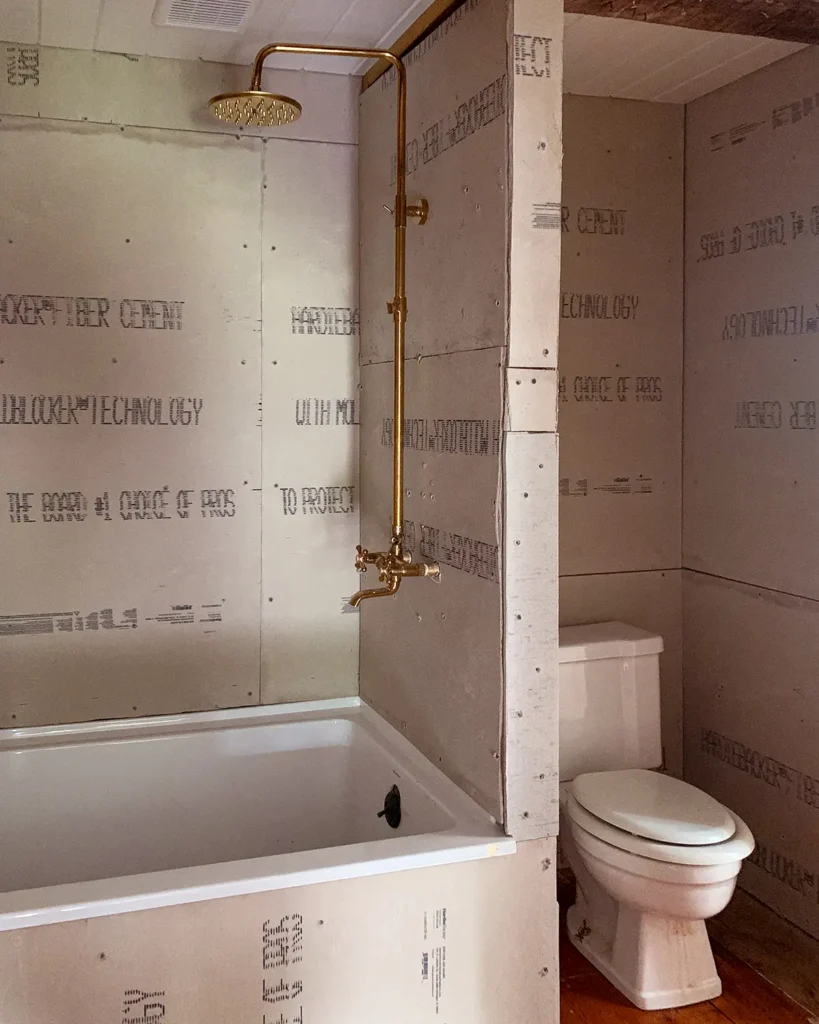 This project has been nothing but a labor of love and setbacks. I know there are always unexpected delays, but we've had a hard time finishing this space.
We tried to finish this bathroom for the Spring 2023 ORC and we were doing SO well until we hit a snag. We decided to put the project on hold, figured out how to fix the things that didn't feel right, redid some plumbing, and now we're back with a blank bathroom slate.
So without further ado let's get you up to speed with our bathroom plans for our week one update.
Bathroom Before
Let me introduce you to the before of our master bathroom, the way it looked the day we bought our new house. Although, it's really an OLD new house built in 1781 and the oldest home in our rural Vermont town.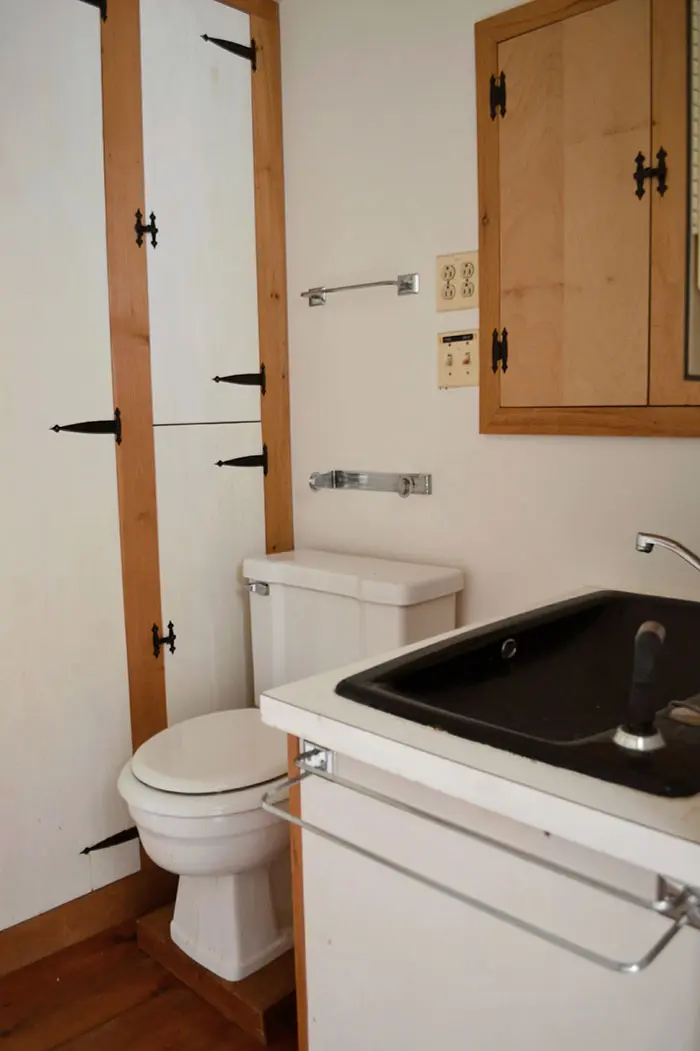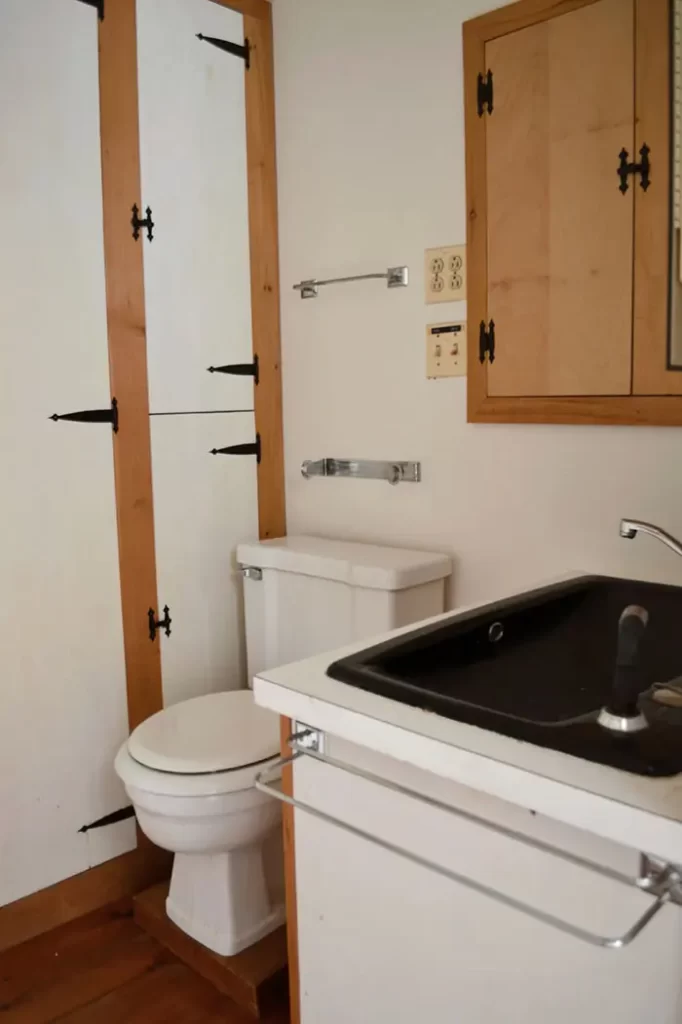 Our master bathroom is in a funky location which makes for some challenging design decisions. The bathroom is located in our master bedroom, between the bedroom and the attic walk-in closet we just created.
Here's the floor plan for reference: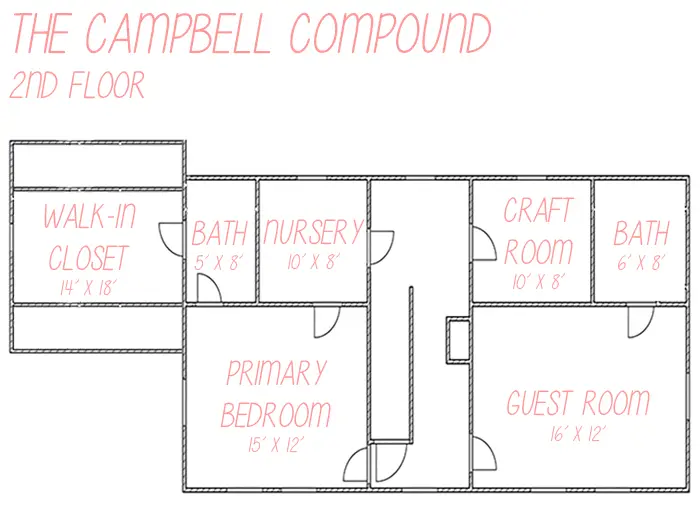 During the spring ORC, we managed many of the major bathroom DIY projects. Things like finishing the demo, running new electrical, moving and replacing the plumbing, adding insulation along with a vapor barrier, planking the ceiling with shiplap, installing cement board, and prepping the entire space for tiling.
​Somewhere in the middle of that, we made a rash decision to move the shower hardware from its originally planned location by the toilet (attached to a wall we would build) to the back wall by the sink. We powered through but then it opened up a can of worms.
Suddenly the tub drain was on the wrong side, we had a pipe burst in another bathroom that made us nervous about the plumbing in this room located in an exterior wall, and we noticed the roughed-in electrical boxes for vanity sconces were freakishly close to the shower head. Even with fixtures rated for a wet room, it didn't sit well with us.
These things didn't feel right and we knew we had to course correct. We chose to remove the sconces and move the shower hardware back to the toilet side. This meant the cement board had to come down for more plumbing and wiring work. We also had to build a wall to create a shower surround.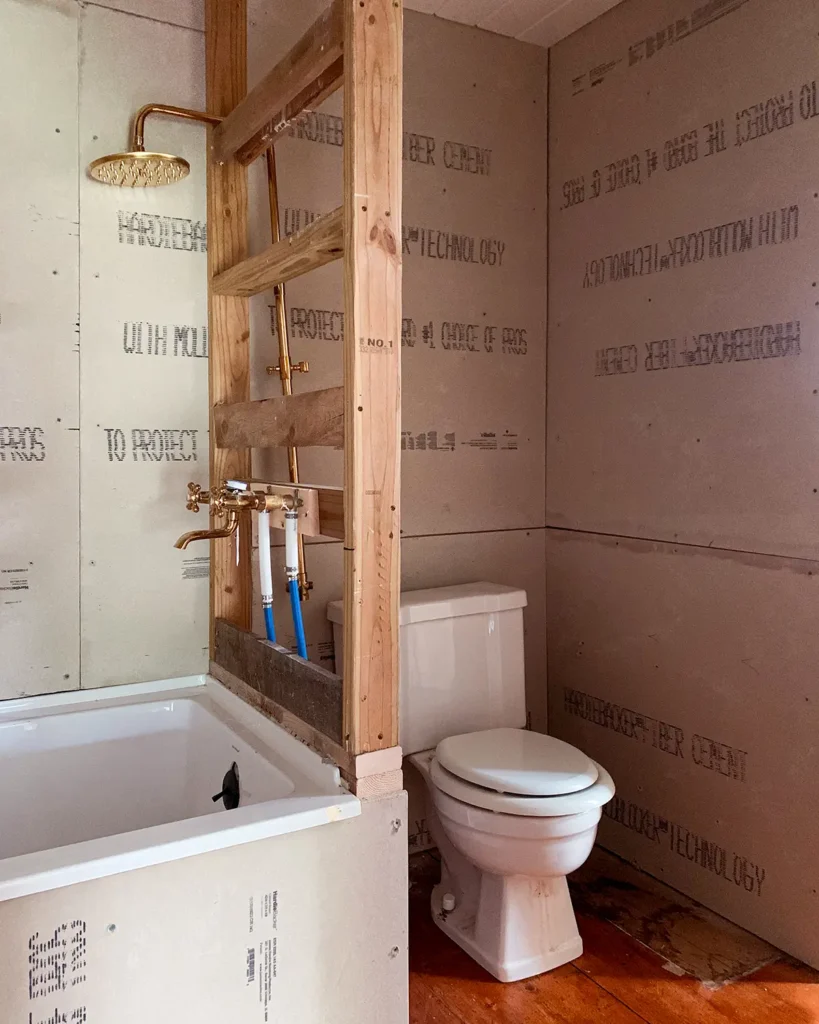 Before course correcting, we were already feeling squeezed for time to get the project done. Hashtag real life. So we bowed out of the Spring ORC but now we're back and ready to tackle the space for this next ORC series. For real this time!
Original Bathroom Mood Board
Let's talk about the design plan and ultimate goal of this bathroom project starting with the original mood board.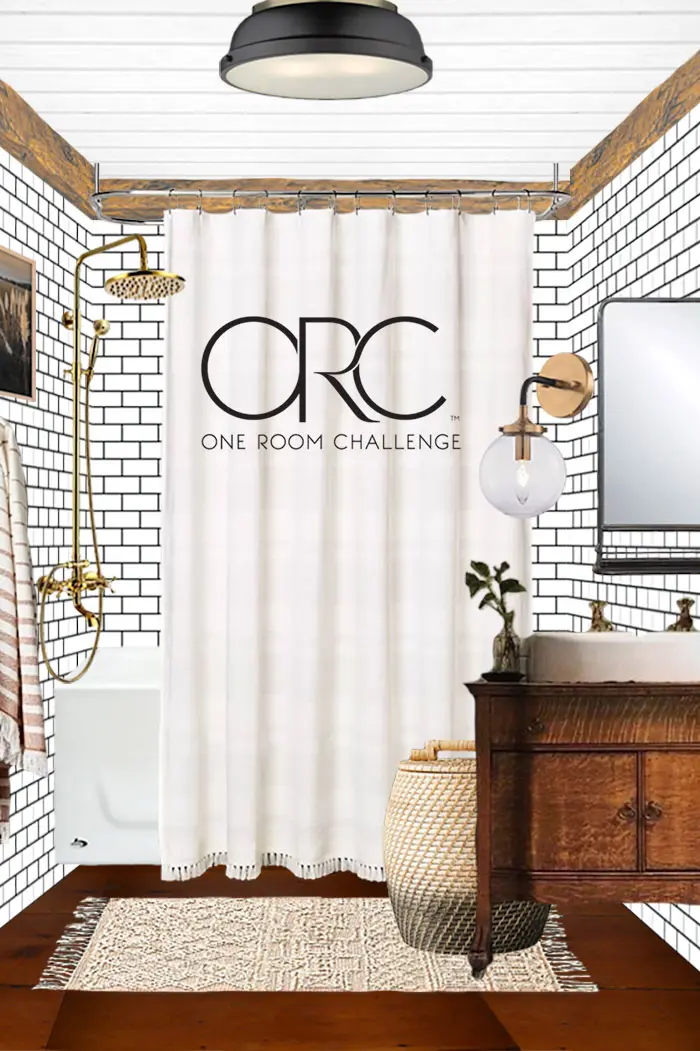 The basic features of this mood board include wall-to-wall, floor-to-ceiling white subway tile with black grout, shiplap ceiling, vintage vanity, and lots of texture. You can see all the bathroom mood board details on this old post.
Then I went to order many of the accessories and fixtures and found most pieces out of stock. Which led to…
Updated Bathroom Design Plan
I updated the bathroom design plan AND ordered everything we needed immediately after I finalized the details with my husband Colby.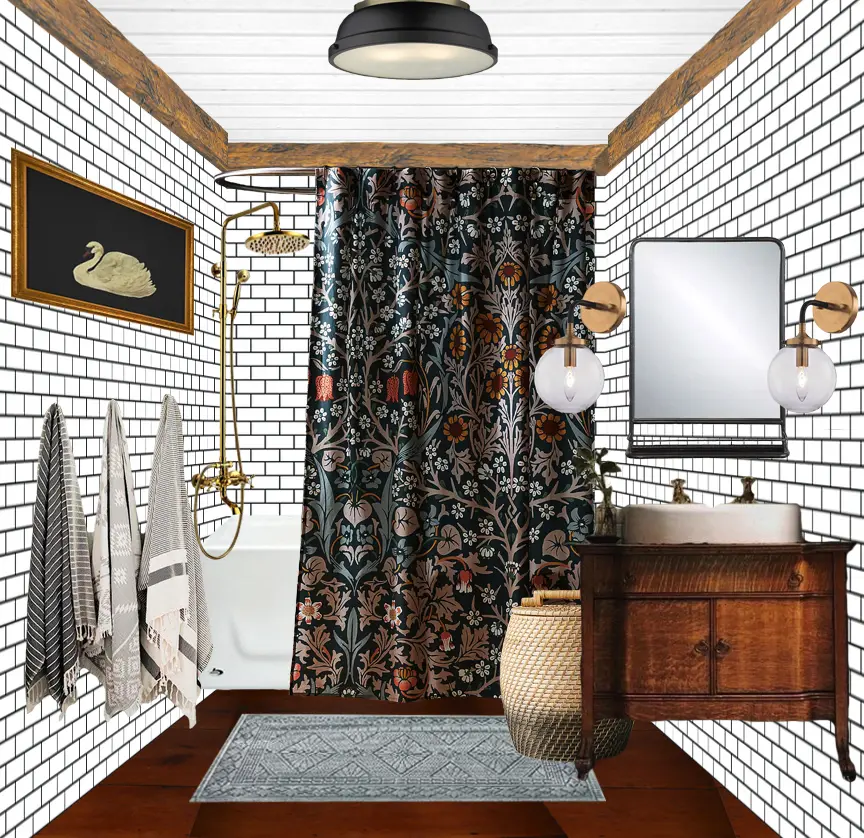 Truth be told, I LOVE the second design plan so much better. Sometimes I force myself into thinking I love a super-neutral space. I don't know why I do it and it's definitely not on purpose. But having such a bold shower curtain and some color in the bathmat feels more true to my style.
There's a whole post about the updated bathroom design plans and mood board sources, in case you want to know where that shower curtain is from. Spoiler…Anthropologie. Anthro has the BEST shower curtains.
So now I have not only boxes upon boxes of white subway tile crowding out my closet but also a big box of towels and other accessories for this bathroom just waiting to be put to use. I think it's time we get to work!
Bathroom Renovation Next Steps
So now that you're up to speed with the whole dramedy that is our bathroom renovation, let's talk about some of the next steps. And naturally, let's put it in a list format because who doesn't love a good list?!
Finish taping/cementing cement board seams
Waterproof the shower
Tile the entire bathroom (by far the biggest undertaking of this space)
Grout the entire bathroom
Design and build a bathroom vanity
Install the vanity and faucet
Install shower hardware
Install overhead light fixture
Replace switches and attach switch plate covers
Add accessories, art, and that last layer of styling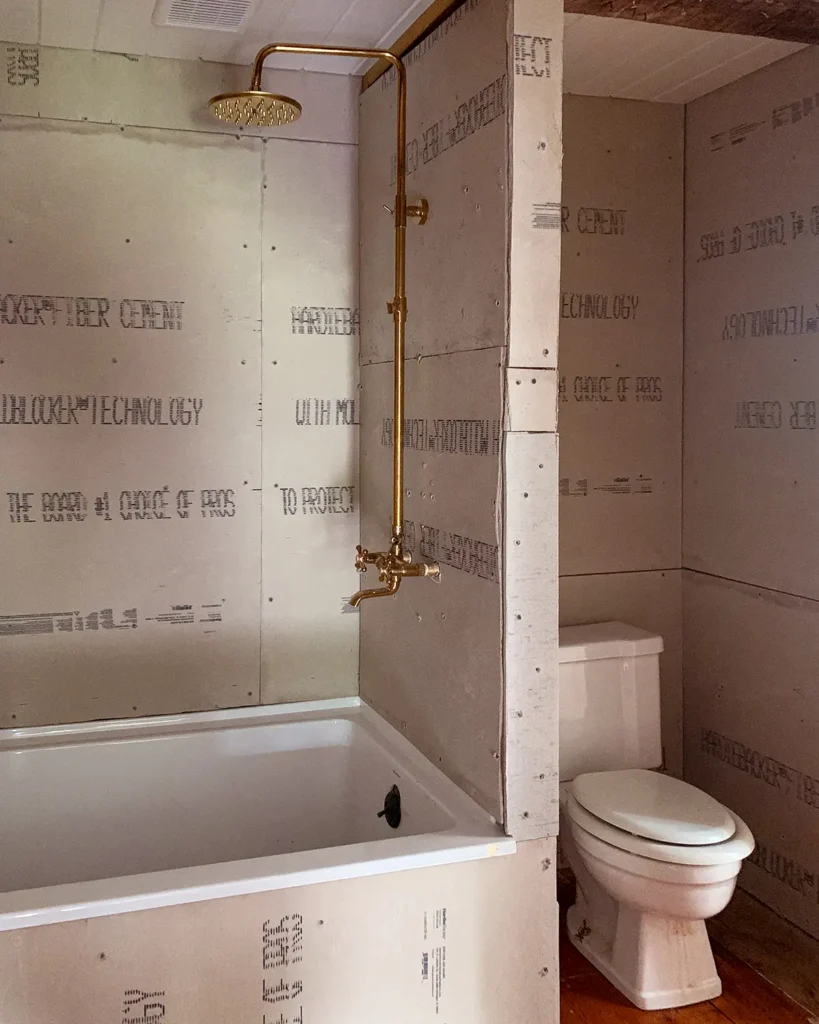 ​My First One Room Challenge Project
I cannot let this post go without mentioning that the first time I participated in the One Room Challenge was when we first moved into our home. I tackled our then guest bedroom bathroom (currently the bathroom in our daughter's room). It feels full circle to be working on a bathroom renovation again for the ORC.
Follow Along: One Room Challenge Fall 2023
Now I'm going to get to work because 8 weeks goes fast and I'm already feeling behind. No last-minute, big frantic pushes for me this year! Who am I kidding, it's inevitable!
So go check out the ORC website and give my blogging friends a shout-out for all the projects they're working on. Here's the link for all the ORC Fall 2023 Week 1 projects. The ORC is a lot of hard work but it's SO worth it in the end.
Often, it's just the push and inspiration I need to truly finish a space.
Posts You May Also Like