Today's post isn't one of those fun, flashy, decor and design posts. While I LOVE those posts since home decor, design, and DIY projects are my favorite, I also find value in posts about how much things cost. We're going to talk about the attic project budget and try to answer the question "how much does it cost to finish an attic?"
With posts about budgets and costs, I always like to include a few disclaimers since every project is different. Keep in mind as you're reading this that costs vary greatly across regions and over time. This was one of those projects that spanned a couple of years so some things that we bought in early 2020, like the v-groove planks, were alot cheaper then than they are now. Also keep in mind the things you can do versus what you need to hire out. We are a couple of DIYers, Colby a former builder, and we know how to do many things. Even most electrical work Colby is able to do and it passes electrical code inspections.
While there are alot of variables for how much it costs to finish an attic, I still think there is alot of value in sharing our budget breakdown. It gives you a ballpark of how much it might cost to do something similar along with a rough materials list of items to consider. I can't tell you how many times we have started a project and thought we had all our materials. Then we find ourselves mid project picking up all kinds of little things we forgot about. And those little things add up! I'm sure we missed things as we planned out our upcoming bathroom remodel so stay tuned to hear about all of our "oh yeah, we need this too" moments.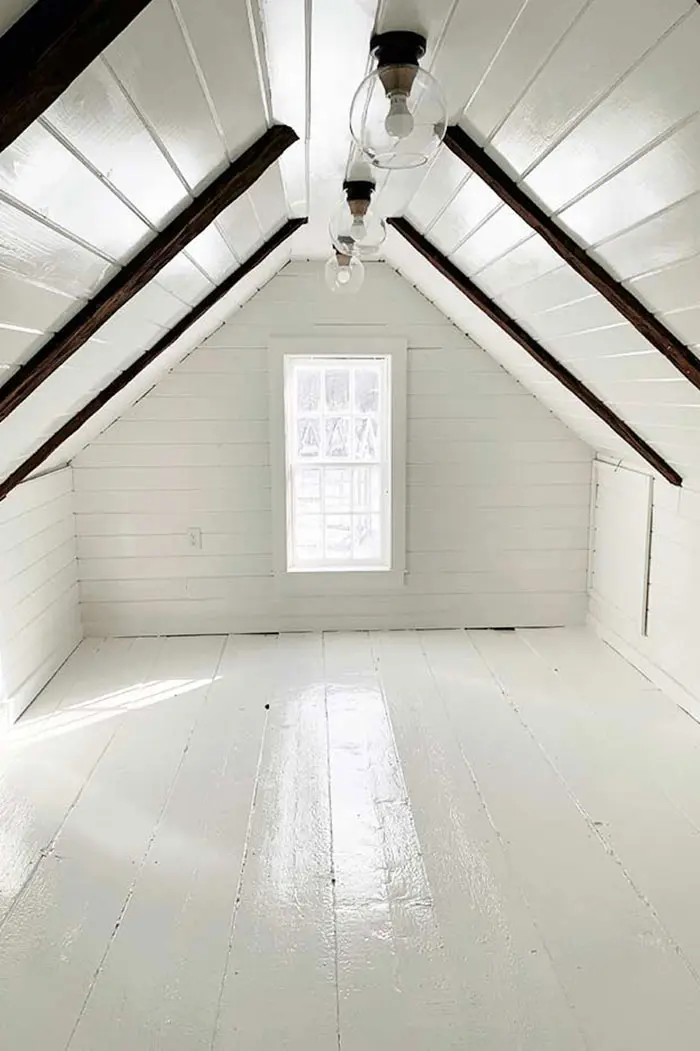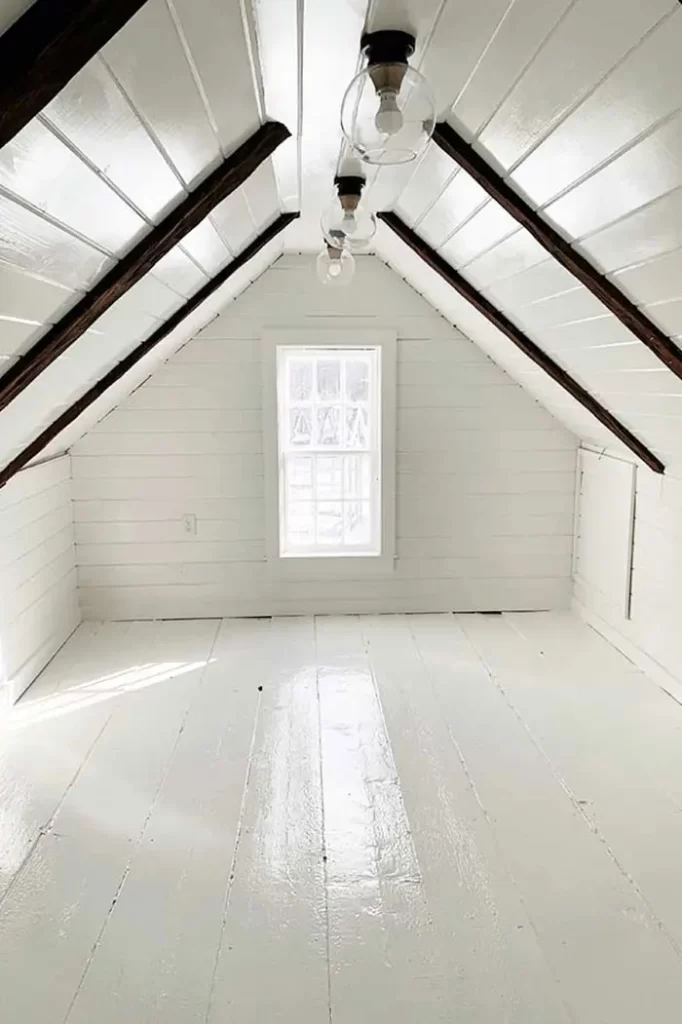 Attic Specifications
Let's talk about our the space a little bit so you get an idea of the size before we get into how much it cost us to finish our attic. The original floor dimensions of the attic were 14′ (from door to window) by 18′ (from side to side). After adding the knee walls the floor dimensions became 14′ by 10′. The knee wall height is 3'3″ and the ceiling height in the center is just over 7′.
This information is important when it came to calculating how much v-groove pine planks we needed. Knowing that each of the planks were 5″ wide meant we could calculate the square footage per lineal foot which was .4 square feet per lineal foot. Next we calculated the surface area of where we were installing the v-groove and divide by .4 to give you the number of lineal feet you need to order.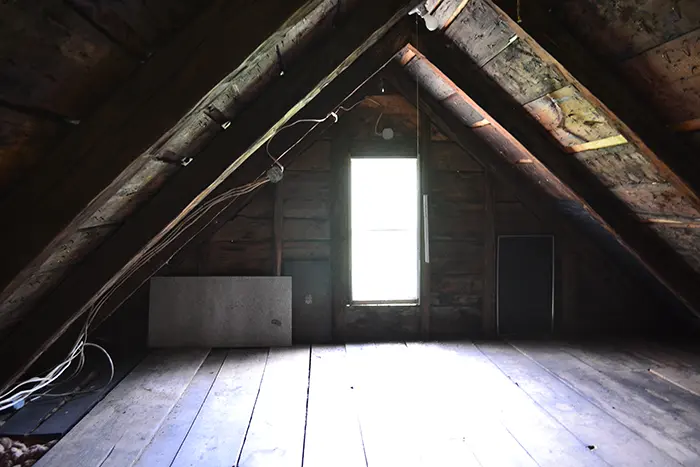 Materials and Price List
Let's get into the nitty gritty about the materials that we bought specifically for the attic.:
GRK Screws and Pneumatic Nails – $60
Framing Materials for Walls – $150
Rafter Vents – $120
Insulation (4 Rolls) – $160
1100 Lineal Feet V-Groove Pine – $750
Electrical Wire, Boxes, Outlets – $60
BIN Shellac-Based Primer – $75
Light Fixtures (3 at $40 each) – $120
Trim and Baseboard – $100
Caulking, Putty – $15
Grand Total: $1770
Attic Window Replacement
There is one major renovation element that we didn't do and that was replace the window. The window is extremely old, does not operate well, and is rotting. I painted a few coats of paint on the window which held it together in lieu of reglazing the windows. Now the window is painted shut which is a whole other problem. We chose to wait because we renovated this space in the winter and just didn't want to replace a window during the freezing months. We have plans to replace it this summer instead.
Our estimated cost of replacing the window is around $750 (retail) for a six over six Marvin Windows Elevate. In full disclosure, Colby works in door and window sales and does get a discount on Marvin so our actual cost would be a little less. I love that I say the window will be replaced this year but you know what they say. The window salesman's house never gets new windows!
Grand Total Including New Window (at retail): $2520
While I know $1500 to $2500 doesn't seem like much for a major renovation, it is significant for us. We're a single income family right now so we're always budgeting and saving for projects like this. That's why many of our projects are small with only one or two major projects each year. And sometimes, like in this case, finishing the project spans a few years until we can afford that new window or the finishes we want. We are definitely not a quick, before and after blog, although I'm trying with our bathroom renovation.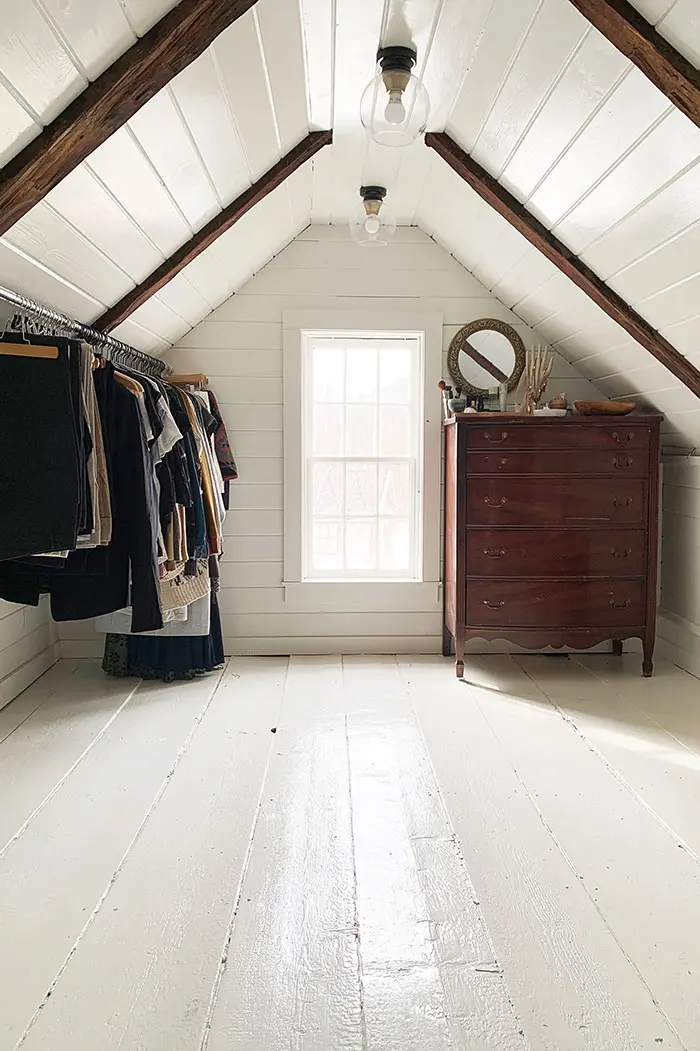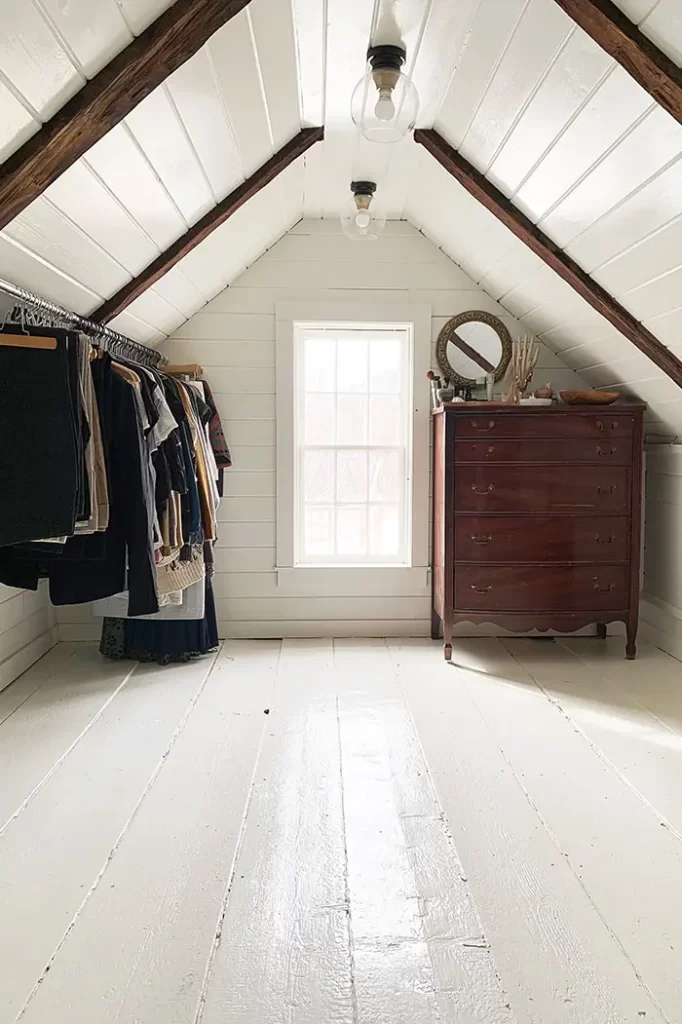 Chimney Addition
There's another looming project in our attic that will definitely affect how much it cost to finish our attic. Although I'm uncertain if I would classify it as an attic cost or a keeping room/Colby's office cost. It's replacing the chimney that used to run through here.
Chimney Backstory: Where Did It Go?!
So now I'm going to tell you a little story. Pull up a chair, grab a cuppa tea, and cozy on up because this is a story you're going to want to stick around for. When we first bought our home, one of the weirdest things that popped up on our home inspection was that the chimney was missing. THE ACTUAL weirdest thing was that the home didn't have washer/dryer hookups. But the home inspector didn't realize it and neither did we until it came time to do the laundry!
We have a fireplace in the keeping room, the room below this attic space, but there is no chimney. Totally gone. The firebox is still there and in great shape. Parts of the chimney are still intact it's just gone from the attic floor and above.
Chimney Backstory: Well That Maybe Makes Sense
One day when Rowan was an infant, I pulled into the driveway after work and started getting her out of the car when a strange vehicle pulled in right behind me. It creeped me out at first because rural country living and home alone with a baby. Now people pull up our driveway all the time thinking it's the road and I don't think anything of it. My favorite is when they drive by our house AND KEEP GOING, up the lawn to the chicken shack. Face…palm.
Anyway, the guy gets out of the car and introduces himself as the son of the woman who owned our home before we bought it. Did you follow that? He was a contractor and one of the people that saved this house. When the old owner bought this home in the 70s it was sinking with one side 26″ lower than the other. It also was the town creepy house. One of neighbors, who grew up around here, informed us it was the scary abandoned house that all the teenagers dared each other to go into.
The son was in the area and stopped by to check on his family's old home. This felt a little creepy too but I get it. I've driven by my childhood home so many times with the impulse to knock on the door and scope things out. I learned SO MUCH from him. He answered many of my WTF questions, one of which was why the chimney was missing. Here's what our convo looked like:
ME: "What happened to the chimney?"
SON: "Mom tore it out."
ME: "Oh, I see. Was it in bad shape so she just took it down?"
SON: "No, she just didn't like it."
Well okay then, mystery solved. There were so many strange things about our home when we moved in that have slowly been answered over the years. Like why were there so many books in the library written in Arabic? Because one of the women who lived here was a spy. Knowledge I picked up from the town office when registering Merle (our dog). Whether or not it's true or just town lore is another story. One of the many reasons I love small town living.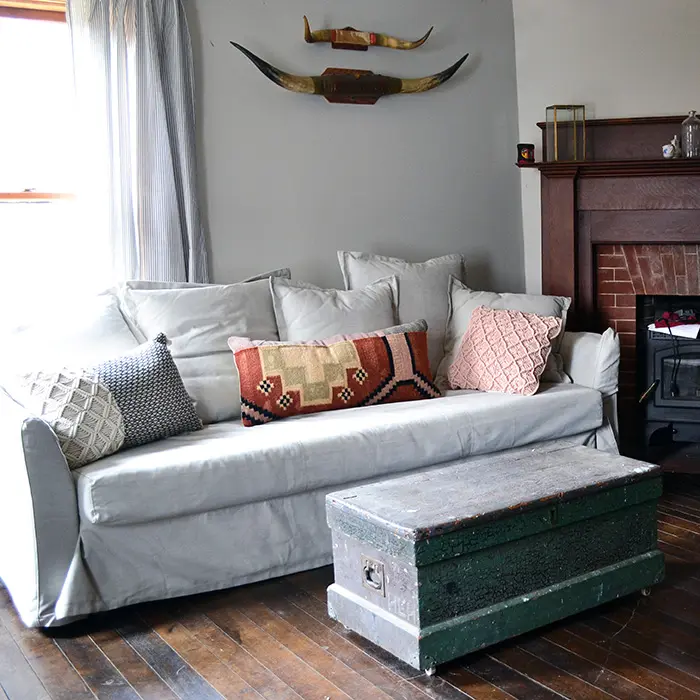 Chimney Addition Project
When budget allows, we want to put the chimney back into this home and create a working fireplace again. We added access panels to the attic knee walls since we want to add back the chimney. The chimney is nowhere close to the top of the project list at the moment but it is on the master home renovation punch list.
When it comes to adding a chimney, I don't have any idea how much it would cost. This is a project we don't have expertise in and would hire it out. Colby thinks it would be a few thousand dollars to have a mason come out and tackle this. At the current rate of inflation I predict that it will cost precisely six million hard earned US dollar bucks to make it happen, when we're ready for it in 51 years when I'm 89 years old. Hmmm…maybe at that point I'll just want to sell the home?!
So that's our "how much does it cost to finish an attic" dramedy. Thanks for stopping by today and reading all the words. You win a prize! Not really, but that would be nice, wouldn't it?!