I would like to say that our first weekend back from Puerto Rico, we hit the house projects hard! But no…despite all good intentions to poly floors, install door knobs and sew curtains, I managed to amount to nothing other than getting a new phone plan, baking cupcakes, and watching a ridiculous number of Downton Abbey episodes. Successful weekend I think so! But actually, I did do alot of "accomplishing" on the 30 Before 30 list:

I know I promised you all some Puerto Rico stories and pictures, but it will have to wait for a few more days. No joke, I have absolutely no room left on my Mac to upload the 1,000+ photos that we took. So I spent a little time this weekend organizing my computer files and moving old pics to discs (see #28 on the list…organizing the house) and I finished two more photos books (#18 on the list). See…I told you I did some list conquering. But the big list task I conquered this weekend was registering for the annual Beach to Beacon 10K Road Race in Southern Maine (task #10 on the list).
Technically I haven't completed the task so technically I can't check it off yet and technically the race doesn't take place until after my 30th birthday, but I'm checking it off. Technicality, schmecknicality! I just have the compulsive need to check things off lists.
But let's talk about the race and how I'm so excited for it. The Beach 2 Beacon race is actually a bucket list item of mine. It's a 10K race in Cape Elizabeth Maine that attracts thousands of world class athletes and running enthusiasts like myself. The 6.2 mile run is an annual event started by 1984 Olympic gold medalist Joan Benoit Samuelson. From what I've heard the race is pretty scenic, starting at Crescent Beach and ending at the Portland Headlight. While I will be running the following race map:
Colby is planning a whole other route. He will be competing in the lesser known, Beach 2 Beacon 12 bar race, where he will be bar hopping along the route "cheering" me on. I love my husband! And his enthusiasm for all things beer related.
I consider myself uber lucky to be even running in the race. Let's just say…race registration opened at 7:00 am and by 7:05 am registration was full. Whoa! But now that the registration rush is over, it's serious lace up those sneakers time.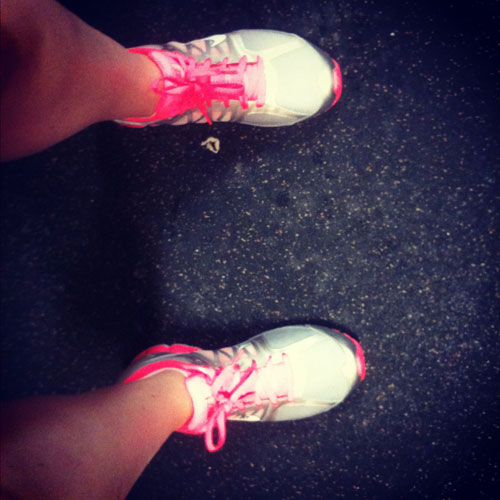 I was on a good 3 to 5 mile run, every other day routine before we headed out to Puerto Rico, but haven't run since. It's time to get back into the swing of things…wish me luck. Actually, I don't need luck I just need a new running mix? Any suggestions?
As for the rest of the 30 Before 30 list, here's where things are standing with only 4.5 months to go to D-Day…or should I say B-Day…har har har…I'm so sorry!
Get Married (August 10, 2012)
Go see the Timber Tina Lumberjack show in Bar Harbor
Consider having children
Join Colby for a romantic date night out
Learn how to use the video function on my Nikon DSLR (March 5, 2013)
Purchase a big girl couch (September 3, 2012)
Try surfing (March 8, 2013)
Track dow the world's most amazing Sangria recipe
Travel somewhere outside the continental US (March 6, 2013)
Run the Beach to Beacon road race (registered March 15, 2013)
Hike Cadillac Mountain
Finish a quarter of the books on "The List"
Go on a picnic
Learn to sew
Bake Colby a birthday cake (August 19, 2012)
Learn to knit
Dig for mussels on the Maine coast
Finish the yearly photo books
Make my own Christmas cards (December 7, 2012)
Spend a weekend in Southern Maine (July 20 – 22, 2012)
Go to an auction
Send my mom flowers
Watch all 10 seasons of Friends start to finish
Explore Portsmouth, New Hampshire
Cook through my recipe idea files
Attend the infamous Brimfield antique show
Become a mug club member at a local bar (November 14, 2012)
Organize the house
Conquer Julia Child's Le Boeuf Bourguignon
Host a yard sale (September 1, 2012)
Over a third of the way done! Woot woot! And let the training begin!
Pssst…Anyone else out there running in the Beach 2 Beacon Road Race? Or another road race this summer? Or anyone have any training suggestions they would like to share?