Since we're trying to renovate our old bathroom in under 8 weeks for the Fall 2023 One Room Challenge, I thought it would be a good idea to put together a bathroom remodel schedule to keep us on track. It's the inner project manager in me.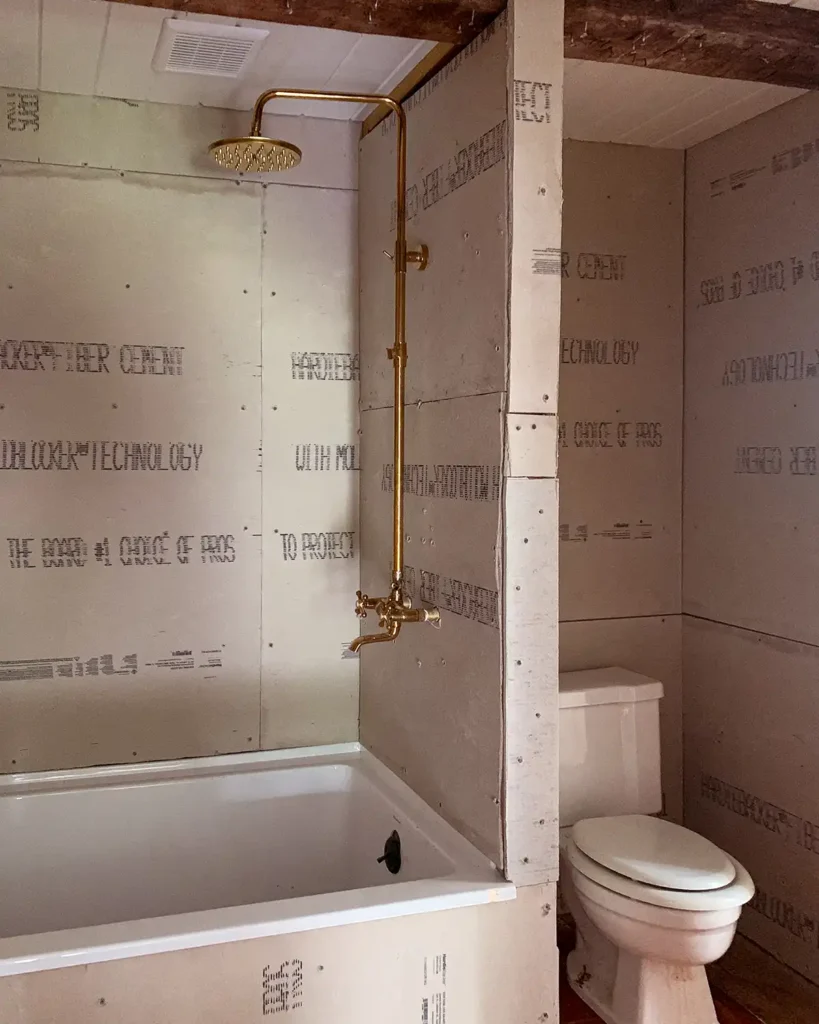 I'm already feeling behind on our project. But am I really, truly behind?! I'll let the schedule tell me!
Before I dive into the small bathroom remodel schedule to help me finish the new bathroom, let's recap the bathroom renovation timeline to date. Especially since we did the demo, electrical work, plumbing work, and more ahead of time.
Bathroom Renovation Timeline
Renovating an old bathroom takes time. A lot of time, especially in our case as a couple of DIY enthusiasts who dive into projects primarily on the weekends (or with a toddler in tow). In reality, we started this project years ago although we weren't ready or terribly focused on it. I'll just chalk that up to life with young children. But when I laid out the bathroom renovation project step by step, it was surprising how it actually took less time than I thought.
This is the third bathroom that we have completely gut renovated ourselves (no general contractor here) and we've learned there are four distinct phases of a complete bathroom renovation.
Some eye candy from our second complete bathroom renovation.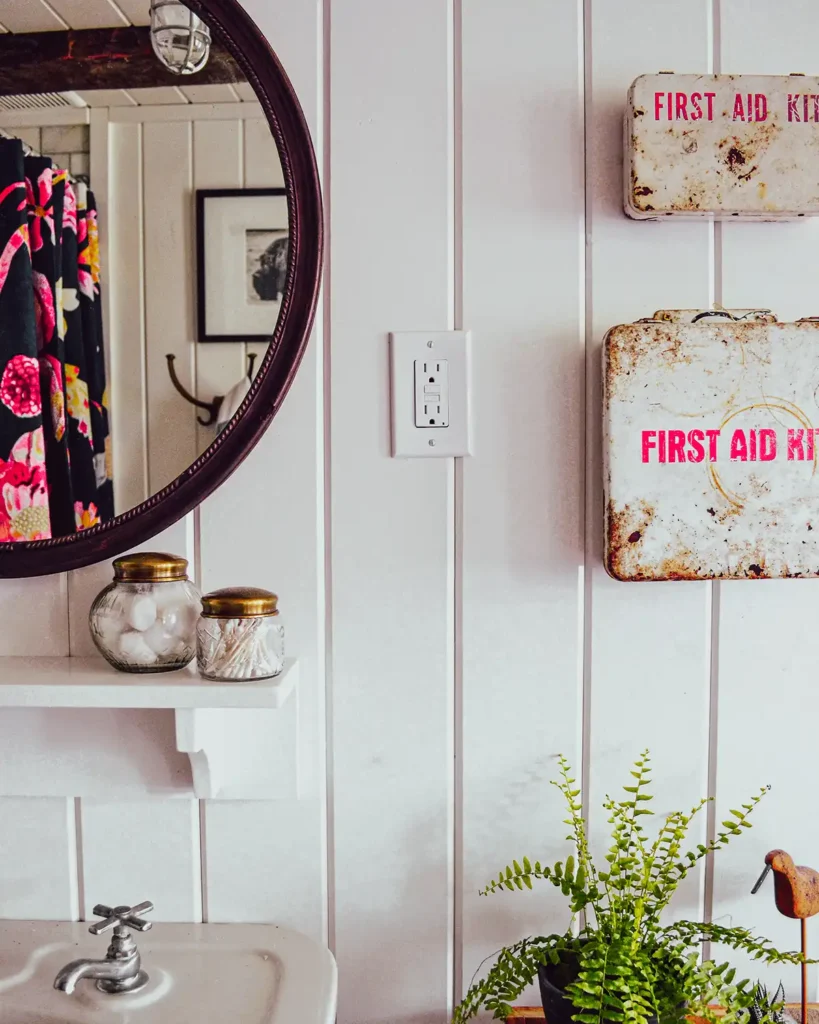 Phase 1: General Planning And Saving
The first step of all renovation projects: save up! We saved for this project for about two years. It's part of the reason it has taken us so long to get to this point.
We started this project with a $1,000 budget about four years ago when we kicked off demo day. Then we realized it made sense to do the attic simultaneously, which cost a lot more.
Throw in a global pandemic that drove costs through the roof and extended lead time on materials, and it took us until this past year to save up the $5,000 we expected to spend for finishing the unfinished attic and remodeling our primary bathroom.
While you're saving is also when it's also time to figure out your general plan. Take measurements, figure out the floor plan, contemplate material choices, compile a materials list, and price it all out. If you need to hire a general contractor for part of it or a specialist, start researching. Overplanning in this phase is never a bad thing.
In this phase, I sifted through all my design ideas and put together a basic bathroom design and floor plan.
Total Time Spent Saving: 4 ish years
Total Time Spent Planning: 2 Days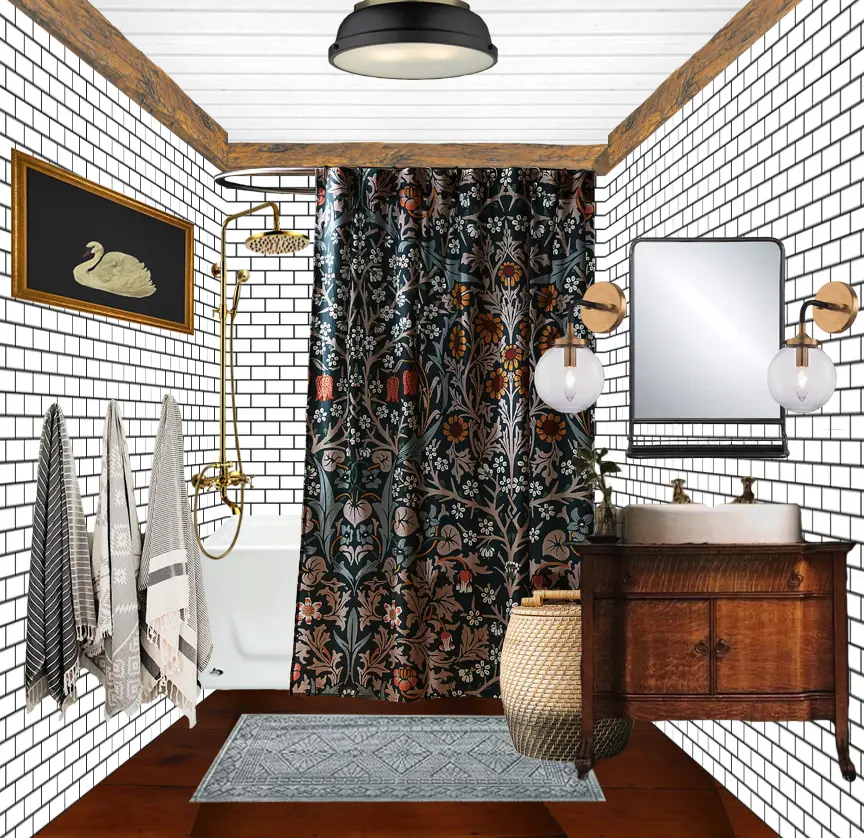 Phase 2: Construction Phase
This is the phase where demolition happens, the bathroom design plan is fine-tuned, materials are ordered, and the construction process begins.
Our DIY approach to the construction schedule looked something like this:
Finalizing Design – 1 Day
Ordering Materials – 1 Day
Bathroom Demo – 2 Days
Material Lead Time – 2 weeks – 3 months
Framing Shower Wall Studs – 1 Day
New Plumbing – 3 Days
Electrical Work & Exhaust Fan – 2 Days
Strapping, Insulation, & Vapor Barrier – 1 Day
New Tub – 1 Day
Shiplap Ceiling – 2 Days
Cement Board – 3 Days
This brings us to the current state of our bathroom renovation project. The basics are in and the space is almost prepped to start all the finish work.
What Slows Down The Construction Phase?
While the construction phase, in theory, should have taken a total of 17 days of actual work, there were various factors that slowed us down.
Lead Time On Materials
One was the lead time on materials. We ordered all of our materials at once. We're talking all the wood for the attic remodel along with the cement board, framing lumber, tile adhesive, and wall tile. Even the new fixtures like the shower heads and light fixtures were ordered.
Everything we needed for the scope of the project was purchased at once. Bonus…we got to spring for delivery which one, saved us 18 trips to the Home Depot and two, entertained the kids for 30 minutes while the delivery driver unloaded everything from the "big truck."
While most materials came quickly in under 2 weeks, there was a significant lead time for our tub. The tub we ordered from Wayfair took months to arrive.
Because our project is a small bathroom remodel, we ended up special ordering a compact tub to make the design plan work. It wasn't a tub we could just walk into Home Depot and purchase.
Change Orders
The other part that held us up in the construction phase was making some changes to the design plan and then reversing back to the original plan.
It's a blessing and a curse when you're doing your own bathroom remodel. It's nice that you can change your mind and not have to pay a contractor extra for change orders.
BUT all that hard work you just put in needs to get changed. A contractor can course correct quickly. When you're DIYing and the work is not second nature to you, sometimes it takes a while to figure out the right thing.
For example, we had put a pair of wet-rated sconces above our bathroom vanity, right next to the shower. While on paper it looked fine but once everything was roughed in it looked WAY too cramped. We were also nervous about light fixtures right next to the shower.
I'm sure a professional would have spotted that well before we did. We didn't notice until the sconces were wired in just to remove all that work and replace the cement board.
Total Time For Construction Phase: 6 Months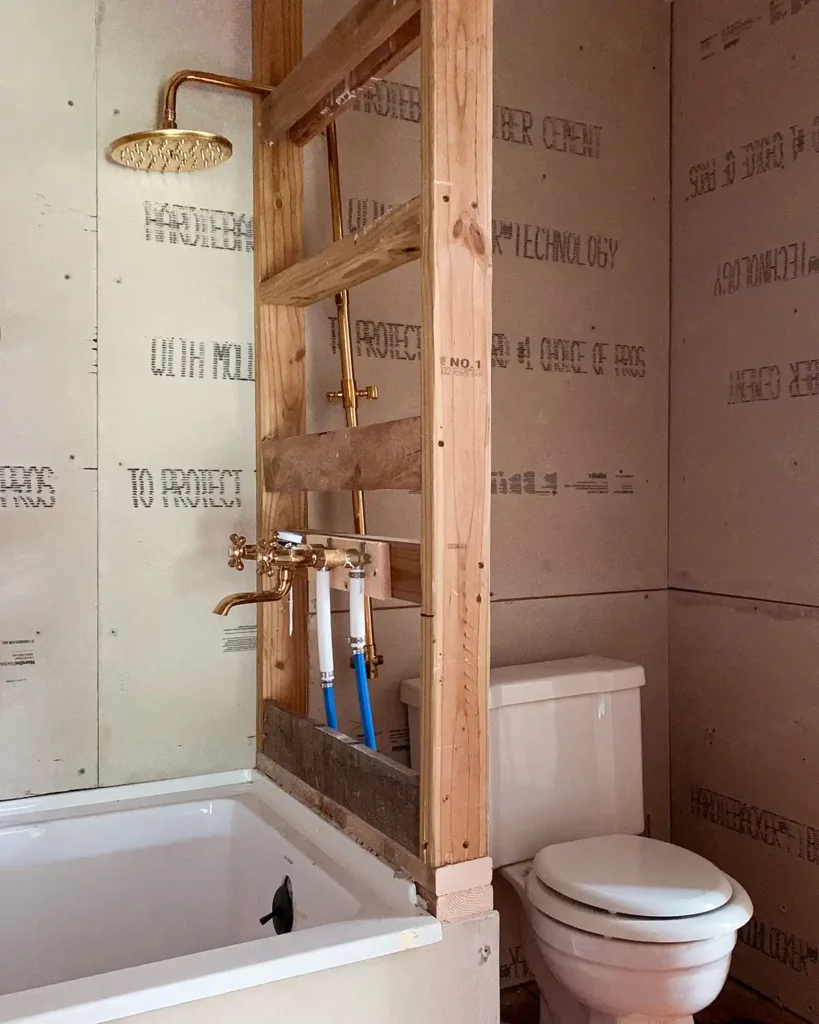 Phase 3: Finish Work Phase
The finish work phase is the phase where I come into play. My husband Colby is excellent in the construction phase and I'm always amazed at his skill set in this phase. Those years he spent building houses have definitely paid off.
But the finish work of a home improvement project is where I shine. I love the attention to detail and getting into a good tile or trim work project.
The finish work we have for our bathroom includes:
Prepping For Tile – 2 Days
Tiling Shower – 1 Day
Tiling Walls – 5 Days
Installing New Flooring – 2 Days
Grouting – 3 Days
Building New Vanity – 3 Days
Installing Vanity – 1 Day
Installing Bathroom Fixtures – 1 Day
Installing Light Fixtures – 1 Day
For our bathroom reno project, we aren't replacing the floors or adding floor tiles. I did include it in the list because it's more common to be part of a complete bathroom renovation project.
Our bathroom has the original wide pine floors in it which I wouldn't dare replace unless necessary. If we didn't already have these gorgeous floors, I would definitely be installing floor tiles since I prefer that to wood in a bathroom.
Total Time For Finish Work Phase: 19 Days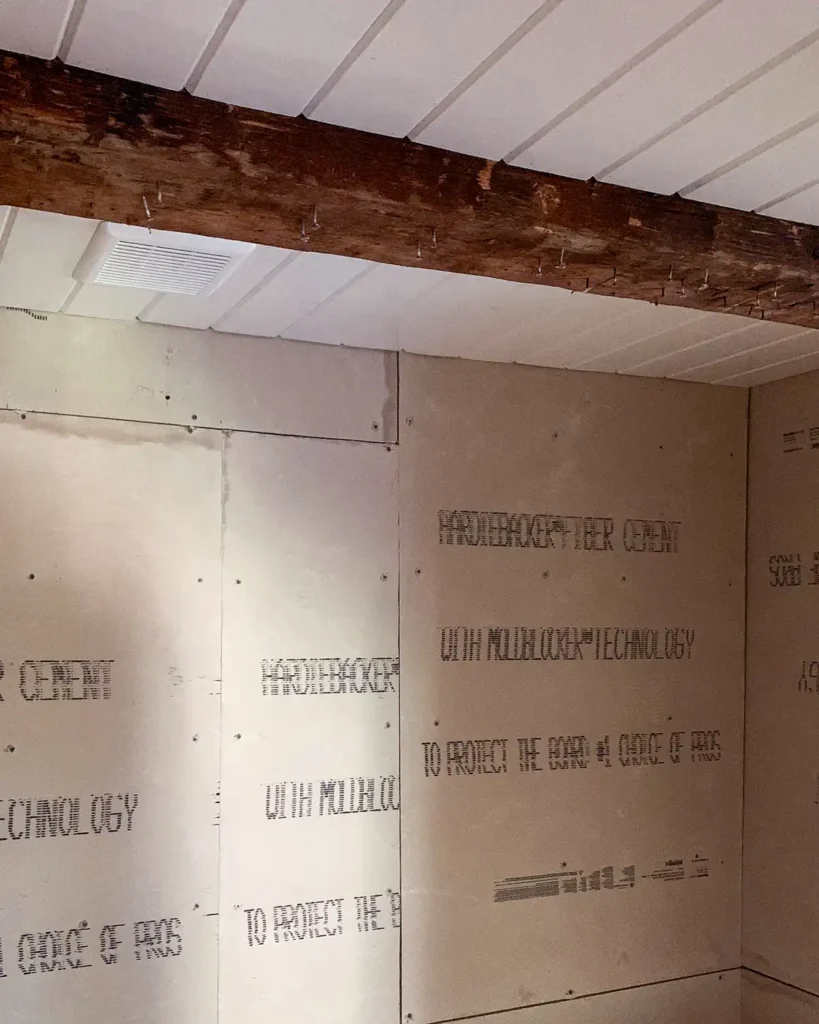 Phase 4: Decorating Phase
And now to my favorite phase, the phase I dream of, the decorating phase. This is the part where the new shower gets decked with that gorgeous shower curtain, the towel bars go up, and the soap dispenser is filled. It's my favorite part of the project and the part where my vision finally comes to life.
This phase is also the quickest phase of them all. During the planning phase, I also plan out all the final touches and accessories that I need for the space and order those when I place the big materials order.
I do raid my collection of thrifted goods first and anything that's missing is purchased. It usually doesn't take me more than a day or two to decorate a bathroom, especially such a small bath remodel.
Total Time For Decorating Phase: 3 Days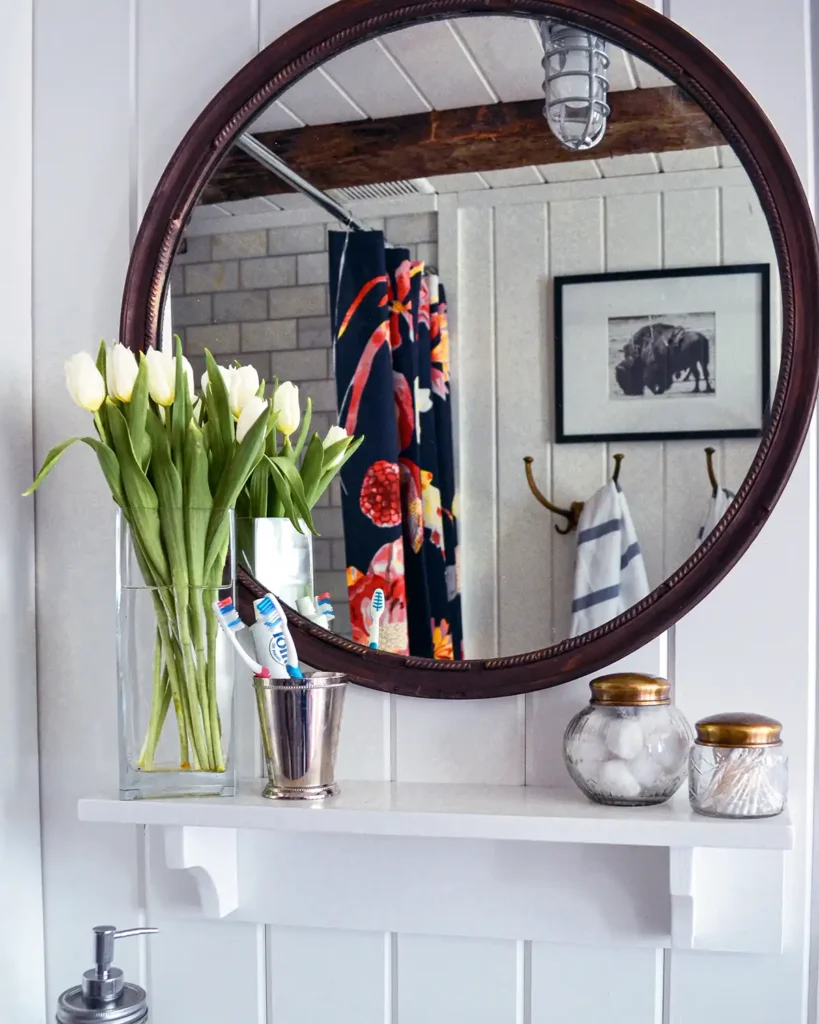 Plan For Extra Time In A Bathroom Remodel Schedule
These are just time estimates for how long it takes to remodel a bathroom yourself. There are definitely things that crop up that will make the project take longer.
At our current house, we don't have to pull city permits or have a final inspection. We did have to do those things when working on our first home and those things take time. Sometimes a significant amount of time.
We've had projects take weeks just to secure the necessary permits and even longer for someone to come out to do the final inspection. So do your research and factor in permitting and inspection time.
Planning for the unexpected is also wise. Replacing a broken light switch can snowball into removing all the walls in your home to completely rewire because you find sketchy electrical work and suddenly there's a professional electrician in your home for weeks on end. True story. You never know what you're going to find in an old home.
And finally, life happens. I can't tell you how many times I've said, "This is the weekend I waterproof the shower for tiling" to have an unexpected family gathering come up or a toddler who just wants mom to rock her.
Life is important and it always trumps house projects for me. Unless the house is flooding or something, then I might just set the toddler down…ha!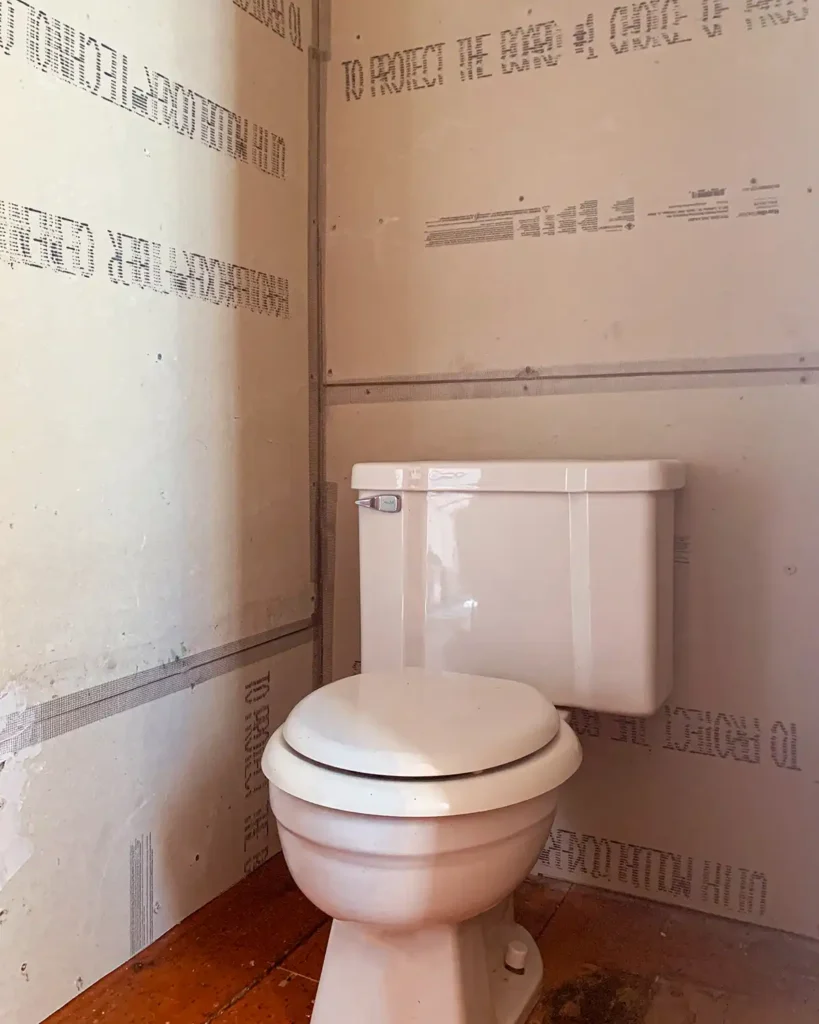 DIY Bathroom Remodel Schedule
With the renovation timeline down and the planning/construction phase behind us, here's what the bathroom remodel schedule looks like to get the dream bathroom done in time for the One Room Challenge reveal day on November 15, 2023.
Tape cement board joints (Oct. 2)
Apply thin-set over tape and screw heads (Oct. 3)
Waterproof shower (Oct. 5)
Find tiling tools and prep tile cutting station (Oct. 6)
Tile shower (Oct. 8)
Tile toilet nook (Oct. 9)
Tile walls (Oct. 15)
Grout (Oct. 22)
Design vanity (Oct. 25)
Build and finish vanity (Oct. 29)
Repair vintage medicine cabinet (Nov. 1)
Install bathroom fixtures (Nov. 3)
Install light fixtures (Nov. 4)
Decorate (Nov. 5)
* Due date is in parenthesis on the bathroom remodel schedule
Note that I have scheduled to have this project done a whole TEN DAYS before the One Room Challenge final reveal day. I want to give myself as much time as I can to photograph and write up the post. It also gives me a little bit of wiggle room for that eleventh-hour project or the final touches that I didn't realize I needed until the end. Happens every time!
Now with the entire process planned out and a schedule in hand, into the planner it goes. You know the saying. What can be done anytime is done at no time. I know that if I prioritize the master bathroom project, and schedule it out, it will get done!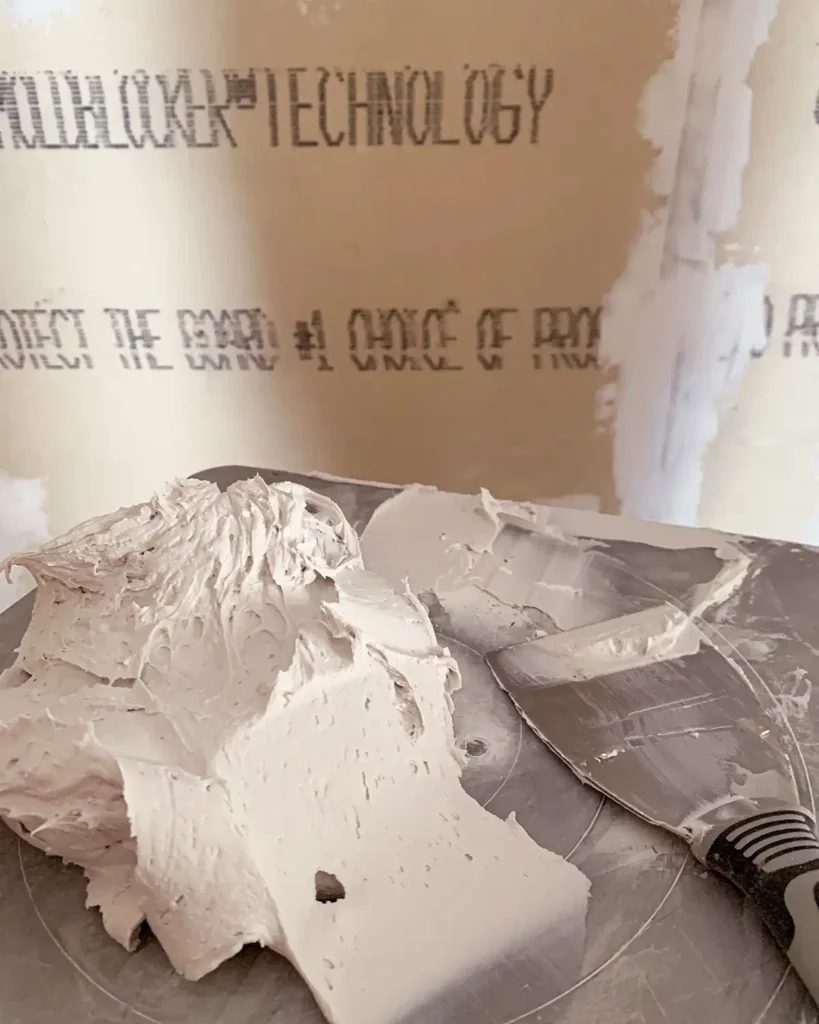 I'm happy to report that I'm right where I need to be for our bathroom remodel schedule. I finished applying all the Thin-Set to the taped joints yesterday (it makes for a more secure joint in the corners and where the cement board pieces come together). Today, I'm breaking out the waterproofing material.
Hi ho, hi ho, it's off to work I go! Because according to the schedule, I've got some waterproofing to do!
One Room Challenge Fall 2023
As a reminder, this project is part of the Fall 2023 One Room Challenge (ORC) where bloggers, designers, and influencers makeover one room in their own home over the course of 8 weeks. I'm participating in the ORC with our primary bathroom makeover. Be sure to check out all of the other ORC week two updates on the ORC website. Catch up on my project with the week one bathroom design plan.

Until next week my DIY-loving friends! Check back next Wednesday for a bathroom renovation update.
Posts You May Also Like