It's the age-old question, "Do I stain or paint my wood furniture?" It's right up there with "Should I stay or should I go?" ala The Clash, but that's a conundrum of a different color. I've mulled staining vs. painting furniture many times when we've built or refinished pieces for our home. It's not always an easy decision to make AND there's no right or wrong answer. It's a personal judgment call every single time.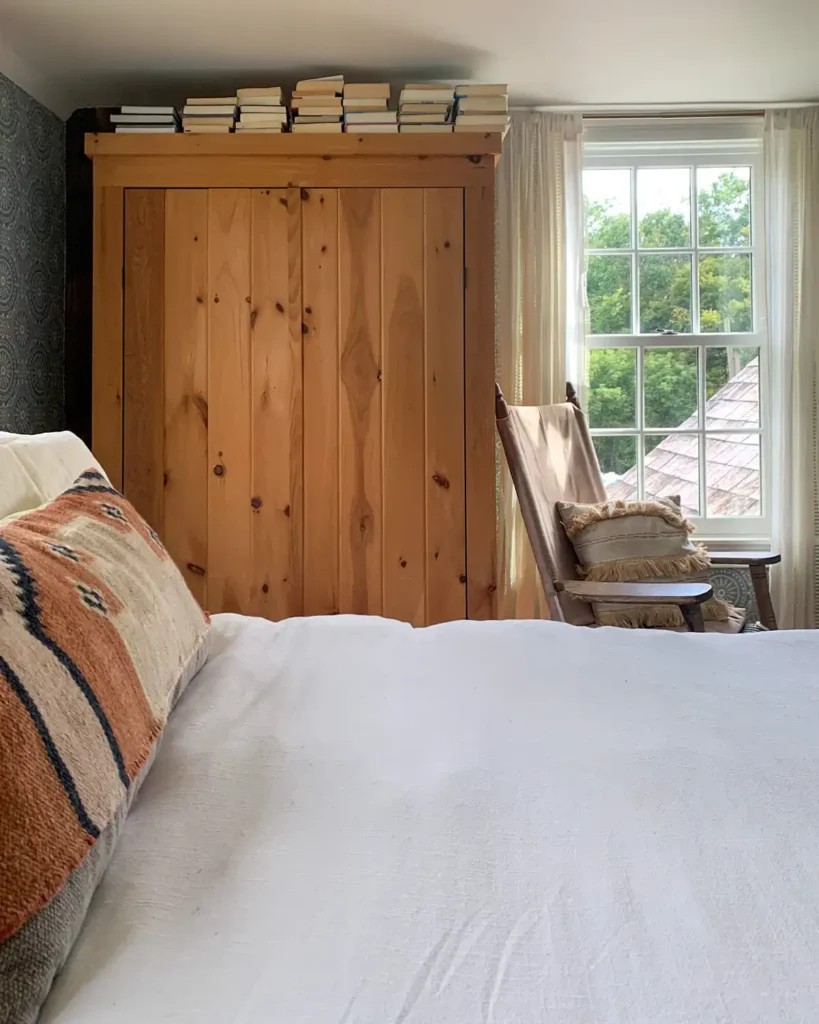 I have a piece of unfinished furniture that I've been deliberating stain vs. paint for about five years. Hangs head in shame. We built an unfinished pine cabinet for our bedroom since our old house came with no closets. I've been waffling forever on whether I want to stain it or paint it, especially since it's an unfinished wood surface.
I finally decided on the finish for the wardrobe and I'm letting you into my stain vs. paint thought process. So let's dive into the pros and cons of staining vs. painting furniture so hopefully you don't take nearly as long as I did to decide. AND I'll share my wardrobe finish decision at the end.
Before we contemplate the factors that can help you decide on the best option for your furniture piece, let's go over some staining and painting basics…
What Is The Difference Between Paint And Stain?
The major difference between paint and stain is that paint sits on top of the wood while stain soaks into the wood, meaning paint protects the wood while stain isn't as protective without a clear coat of polyurethane.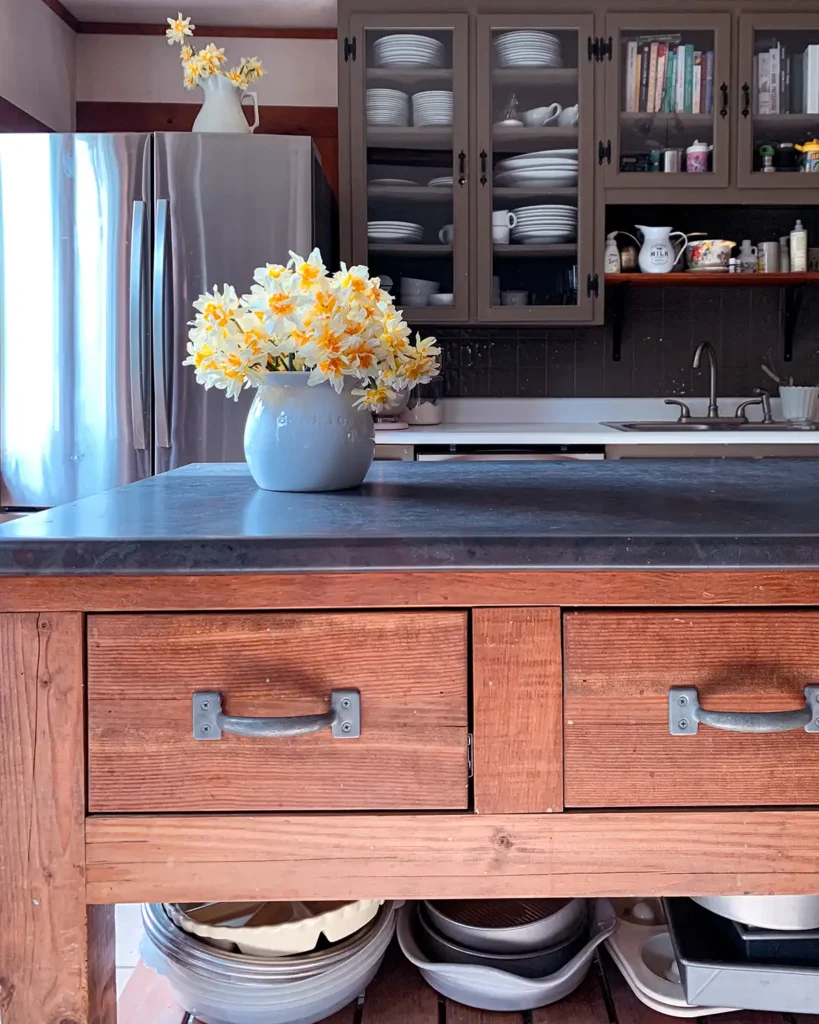 Paint, which also needs a primer on an unfinished wood surface, covers the wood grain and presents a solid color. A stain doesn't need a primer, although a wood conditioner can be helpful, and soaks into the wood and enhances the natural grain of the wood.
Often painting furniture requires a coat of primer and a couple of coats of paint. Staining, on the other hand, is just one coat. Though typically it's a good idea to add a top coat or two of polyurethane to protect the finish.
Once a furniture piece is painted, it cannot be stained. To stain it, the finish must be stripped down bare and prepped properly for stain.
Now with the basics out of the way, let's dive into the advantages and disadvantages of staining vs. painting furniture. So channel your inner Rory Gilmore and let's make furniture finishing pro-con list.
Reasons To Stain
I adore a piece of stained wood furniture. Like it wouldn't be unusual to find me in the antique store bear hugging a vintage stained hutch and whispering sweet nothings in its…ear?!
While I also like natural wood tones, there's something about the richness of color that just gets me when a piece is stained. Here are a few reasons for choosing to stain that wood project of yours.
Stain Is Classic
Stain is often a classic, timeless look for solid, wooden furniture. It's the Katharine Hepburn of old Hollywood.
But honestly, is there anything more gorgeous than an old Victorian coffee table with a dark stain? Or a substantial, primitive-style kitchen table with the stain starting to wear off and reveal its natural color?
When you find that perfect stained piece of vintage furniture, built with solid wood, still sporting its old finish and original colors, and with great patina, it's hard to choose to paint it. Especially if it's in really great condition.
There's also this stigma that you "shouldn't" paint solid wood unless it's in bad condition, and even then you should strip it down to its natural state. But that's just not true. Yes, a stained vintage piece is timeless, but if it doesn't fit your style or your home, change it up.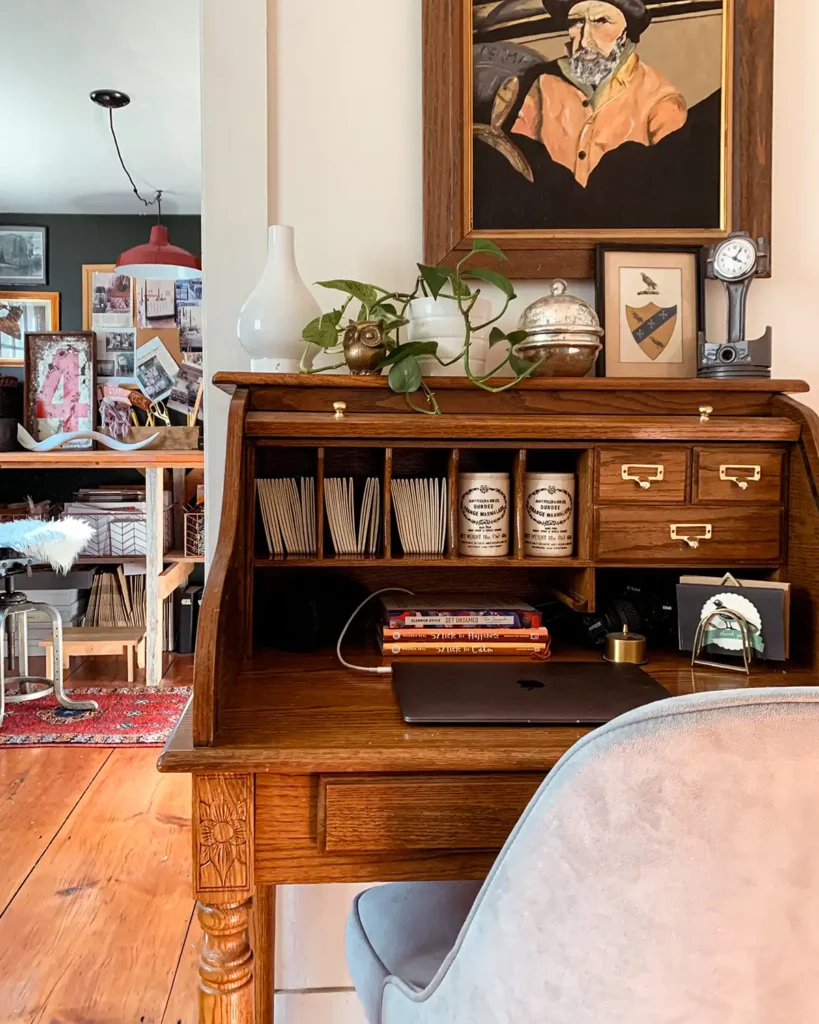 Bring Out The Natural Beauty Of The Wood With Stain
Stain has an uncanny ability to bring out the natural beauty of the wood. You can see the grains with wood stain where layers of paint would just mask the grain of the wood material.
A stain allows you to go beyond the natural colors of the wood furniture piece you're working on. While there aren't nearly as many stain color options as there are paint (you can lighten stains), there are still plenty to choose from. A quick stroll through the Home Depot stain aisle reveals some interesting colors. I'm looking at you Hot Pink BEHR wood stain!
Go from light wood to a rich, dark tone by layering on a deep stain finish and see the grains with the wood stain.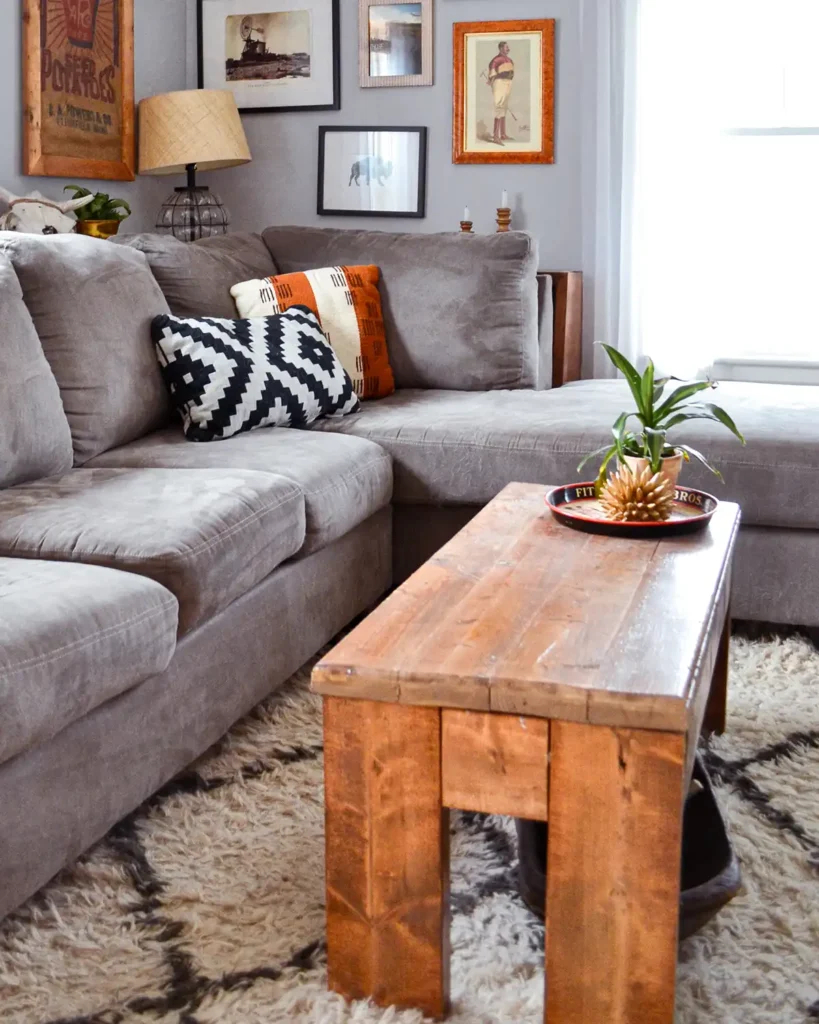 Solid Wood Can Be Stripped And Restained
Lately, I have been super infatuated with watching furniture refinishing on Instagram (@pnwrefurbished, @vivandvioletsdesigns, and @bluewreninteriors are my current faves). Have you seen those?! They're my version of cat videos and I'm never short of impressed when I watch someone magically transform an old piece of furniture into the gorgeous stunner it was meant to be.
Solid wood furniture pieces can be stripped of their old finish, repaired, and restained. Laminate can't be restained as easily. There is a way, I'll get to that in a moment, but it doesn't have the same depth of color and richness as a solid wood piece.
So just because a piece of furniture is stained a color you don't love, like the aforementioned hot pink, does not mean it has to be painted. There are ways to get the stained finish you dreamt of.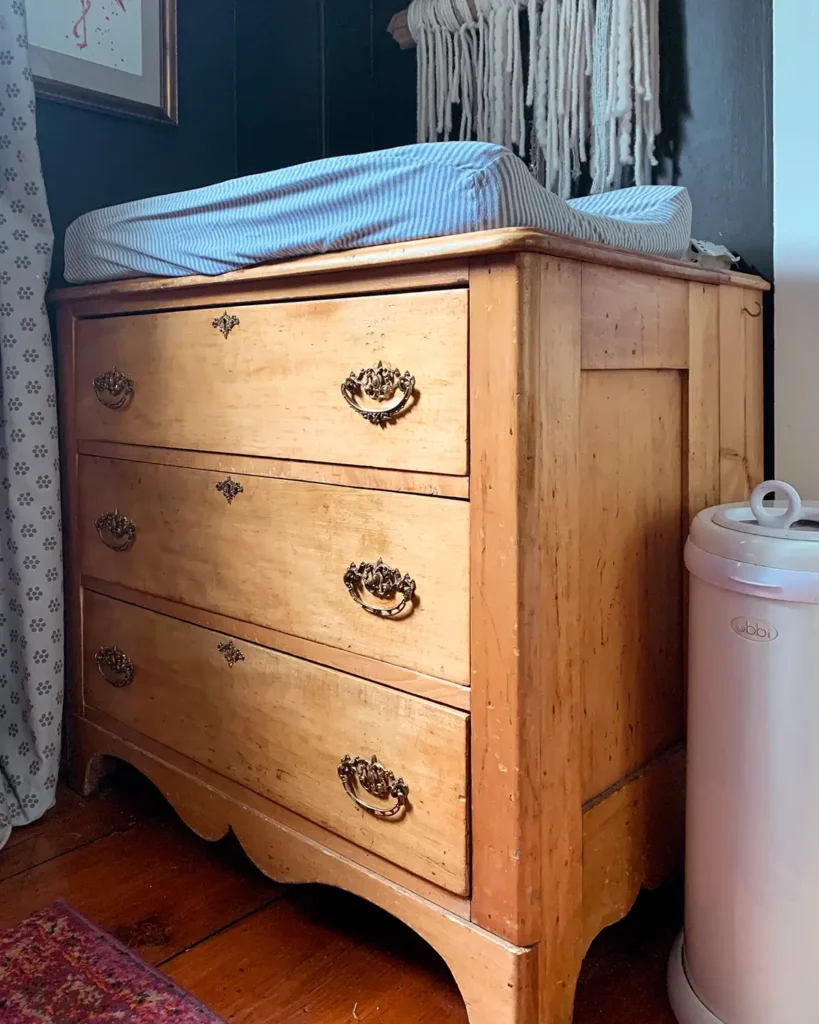 Staining Is Typically Quicker
From my experience finishing unfinished wood furniture pieces, it is quicker to stain vs. paint. That's not the case if you need to first strip a piece of furniture. Stripping and restaining will take longer. Much much longer. But given you have a bare wood piece, staining will be faster.
I'm always amazed at how quickly I can stain a piece of furniture. Armed with a foam brush in my right hand, which gets me the best finish, and a rag in my left hand to wipe off excess stain, I can complete the staining in no time.
Painting the furniture piece often takes at least 1-2 coats of primer and then 2 coats of paint with at least 24 hours of dry time between coats. You also have to be much more careful painting since you can't just wipe away the drips like you can with stains.
But if you do finish your stained piece with polyurethane, that does add more time and can bring your total project time closer to if you painted the piece.
Ease of finishing was one of the reasons I chose to stain the wood wine rack we built a gray color instead of painting it.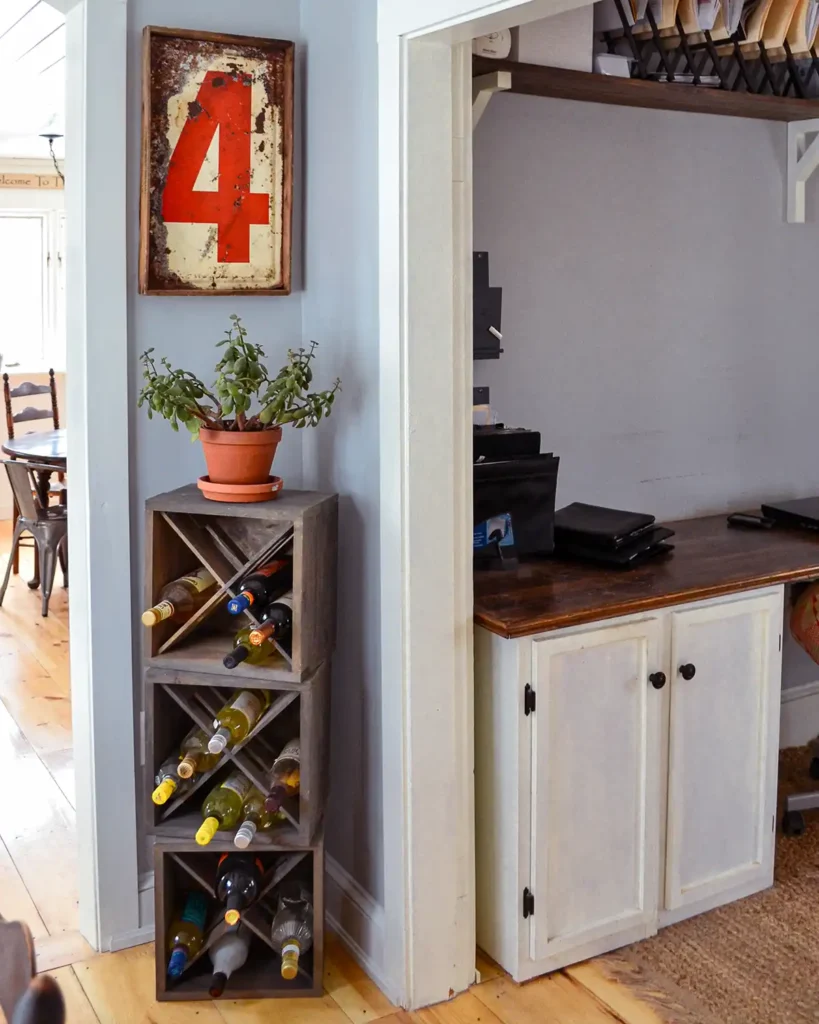 Reasons To Paint
While I do love a piece of stained wood furniture, there are also times to go for a painted finish. Sometimes it's the best choice for me and my furniture piece in the great staining vs. painting furniture debate.
Go Bold With Paint
There is such a wide variety of colors for painting furniture than there are stain colors. While there are many more stain color options these days than there were even just 10 years ago, it's still not comparable to paint.
Not only can you choose from a limitless number of colors, but there are also so many different finishes to choose from with paint. From your standard gloss and eggshell latex paint finishes to textured spray paints and even chalk paint with distressing techniques applied. Painting provides the widest range of paint colors and general finishes to get your desired look.
Our oldest daughter LOVES color. But I mean, what six-year-old doesn't? Show of hands, how many of you had an outrageous color choice on a piece of furniture in your childhood bedroom?! Guilty! I believe my nightstand was three shades of neon.
While I would prefer to paint her nightstand with white paint or another neutral, she dreams of shades of red for it. And while yes, I can find a red stain, I don't love how the grain would be competing with the color for attention. Painting it red is definitely the right choice. And I love that she can pick absolutely any shade of red imaginable by choosing paint over stain.
My boldest paint color choice to date…chalk painting the nightstands in our first home Antibes Green by Annie Sloan.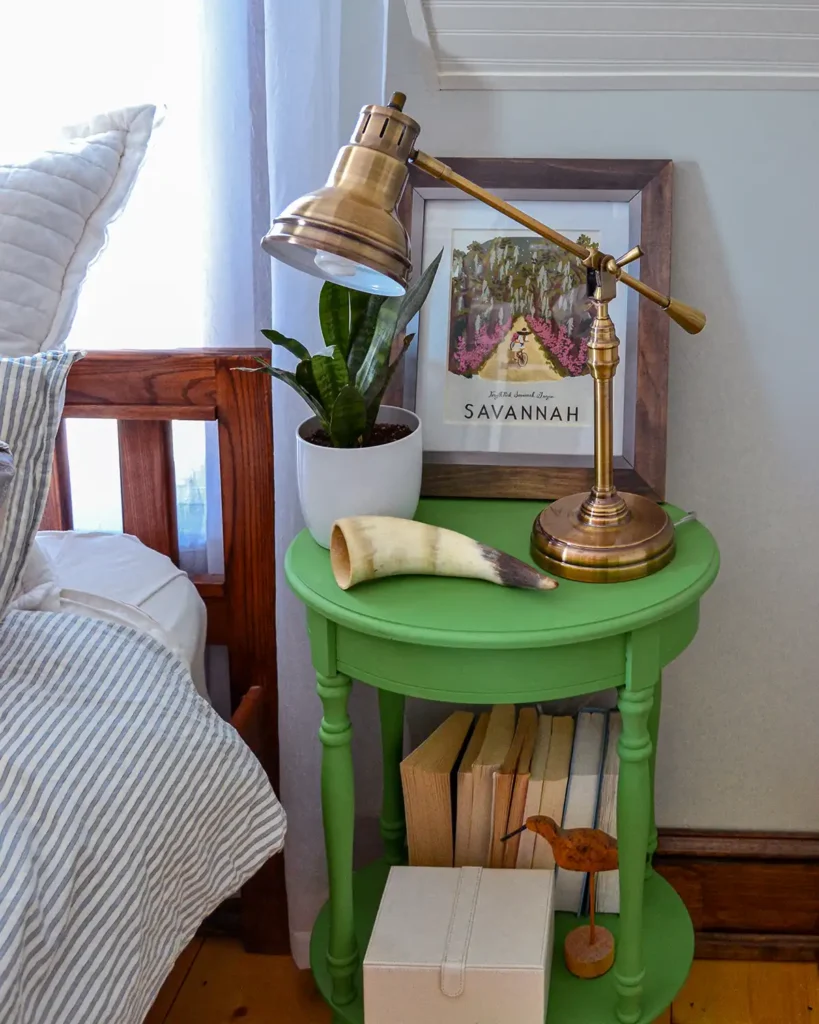 Paint Covers Imperfections
Got a major ding in a bookcase? Fill it with wood putty, sand it down, and paint over it. How about water stains on a tabletop? Paint the surface to cover it up. Paint is a good option for covering up imperfections without spending a considerable amount of time trying to fix them.
I'm not saying that paint is necessarily a better option than stain when it comes to covering imperfection repairs, but it's often the quicker and easier solution. You can still get out an old water stain from a solid wood table, but it often requires a lot of elbow grease and sanding to get the best result. And sometimes, a quick makeover is the best way to go.
In my apartment-dwelling slash on-a-tight-budget days, I often thrifted a five-dollar side table or ten-dollar dresser because I needed something. These furniture pieces weren't in great shape and weren't always worth the effort of restoring. Making minor repairs and painting the entire piece quickly and easily transformed them to fit my style and feel like a nicer quality than they actually were.
The vanity in our first home's bathroom is actually a vintage buffet that we hacked, repaired the damage with Plastic Wood, sanded down, and painted quickly.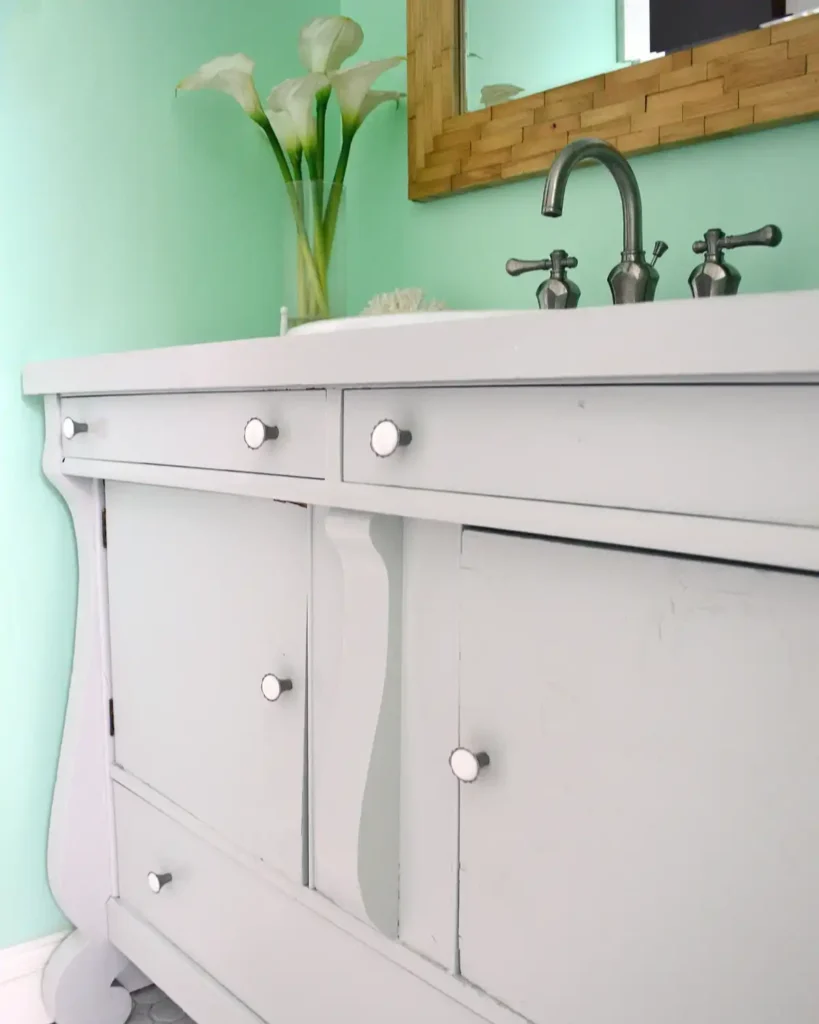 Laminate Furniture Is Easier To Paint
While gel stains are an amazing product that can help with staining a laminate furniture piece, it's often easier to paint laminate furniture. Some thoughts on gel staining laminate furniture…
Gel stain sits on top of the wood, very similar to paint, and doesn't sink into wood like a traditional oil-based stain does. It's essentially painting on the stain in a wood color so you still see some of the grain. Gel staining is essentially painting. It sits on top of the surface and doesn't sink into the wood because there is no wood grain for it to sink into.
I tried gel staining a laminate wooden dresser once and let's just say gel stain and I are not friends. We've had words.
After applying the gel stain, the dresser still looked like a cheap piece of laminate furniture. The poor piece was painted shortly afterward. It was so much simpler and quicker just to paint it than to try to get a wood-tone effect with a gel stain.
I will forever choose to paint laminate furniture from here on out. I had great results chalk painting a pair of Ikea Malm dressers years ago and loved the finish. It gave me the look I was after and was more durable than I expected. The finish outlasted the furniture!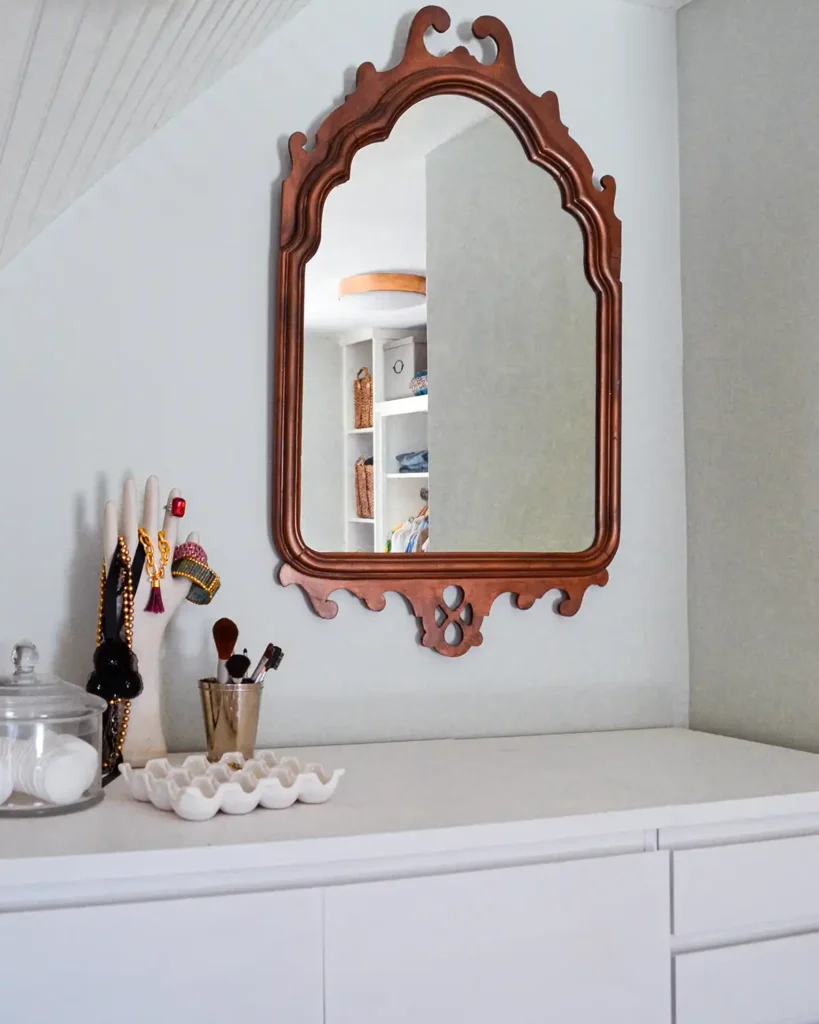 Change The Color Easily With Paint
Sometimes, one needs to quickly switch out that childhood eyesore neon nightstand with a more adult color and spray paint the furniture red. True story.
Whenever I'm feeling creative and want to play with color, paint is what I reach for. I can quickly repaint a bookcase that I painted last week when I decided that the color wasn't quite right. I just give that painted surface a quick sanding followed by a couple of coats of latex paint and scene. No extensive stripping and refinishing is required.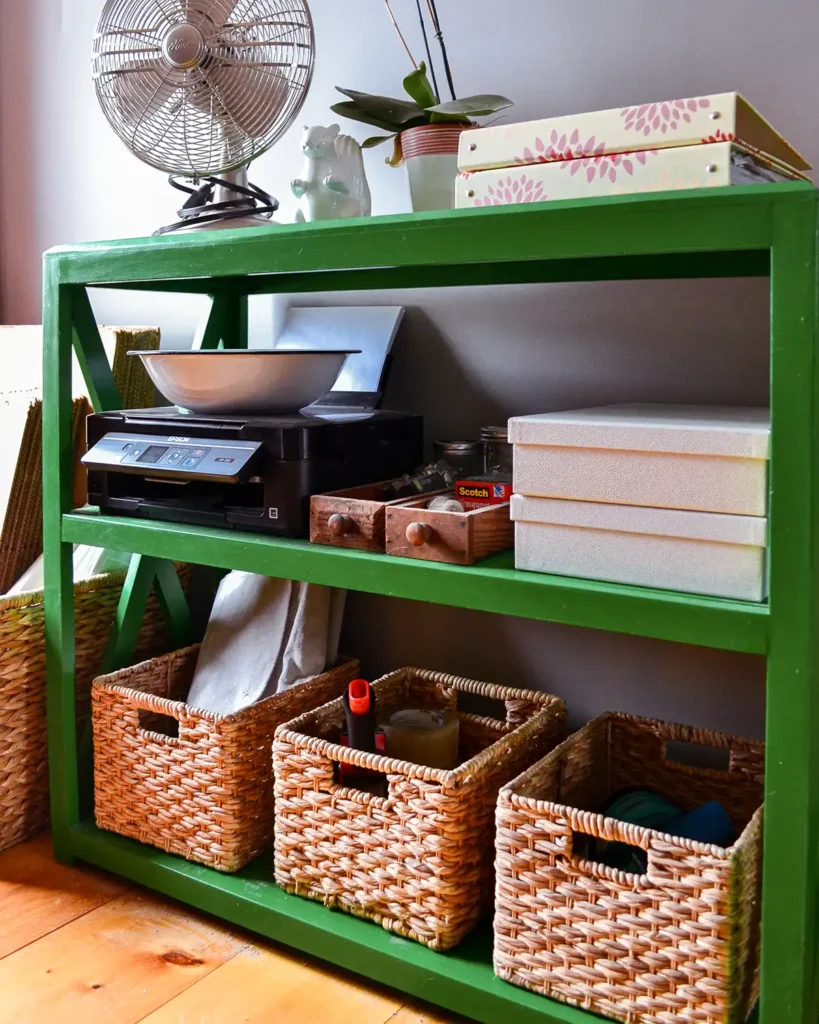 There Is No Wrong Or Right Choice
When choosing between staining vs. painting furniture, there really is no wrong or right choice. It is entirely a personal preference.
For example, I found a gorgeous old buffet at a local thrift store for cheap. Every fiber of my being told me that it was wrong to paint it. It was in good condition, an antique, and had a gorgeous stain. But I also had it in my heart to chalk paint it a dark, almost black paint.
I had so many wood tones in our dining room, where the piece would eventually go. From the hardwood floors to a big hutch, the table, and the chairs. Adding one more piece of stained wood furniture just didn't feel right.
So I went with my gut, made an unpopular decision, and decided to use paint to transform the finish. I have never regretted this choice and to this day is one of my favorite furniture pieces in our home.
So this is me getting up on my soapbox (bear with me for a moment) to tell you, "You do you." Don't let the internet or Grandma Pearl tell you what you should or shouldn't do with your furniture. It's your home, make it sing! Alright…getting back down now. PS…my motivational speaking skills are available for your next corporate team-building event. Message me for details.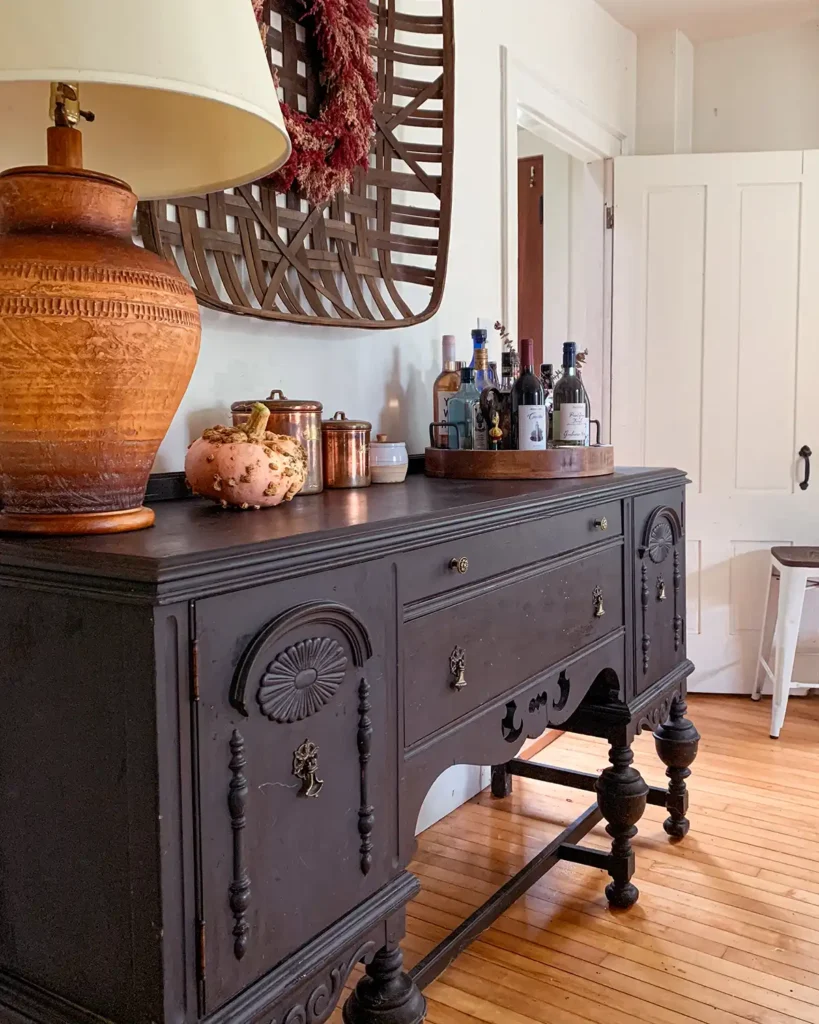 What About The Cost of Staining vs. Painting Furniture?
Is painting cheaper than staining, or vice versa? Well, it depends.
Sometimes staining can be more expensive. If you have to do a lot of repairs during the staining process, costs might add up. Especially if you need some specific furniture refinishing tools. And have you seen how much a gallon of high-quality polyurethane costs at Home Depot these days?! Yikes!
Other times, painting can cost more. High-quality cabinet paint is expensive. If you need a paint sprayer to get just the right finish, while yes it's an investment in tools, that adds to the cost as well.
Sometimes I wish I didn't love chalk painting as much as I do. The finish is my favorite, I have the most fun chalk painting, and in our circa 1781, Vermont farmhouse I feel it goes with the house. But it's not cheap to chalk paint furniture. A liter of Annie Sloan Chalk Paint is almost $50 plus furniture wax on top of that to finish the piece.
Depending on your wood finishes choice, the cost will fluctuate, sometimes widely.
I certainly didn't mind shelling out the dough to refinish my freebie, came-with-the-house cabinet in the craft room. When the cabinet is free, spending $100 to paint it in Annie Sloan Louis Blue is fine by me.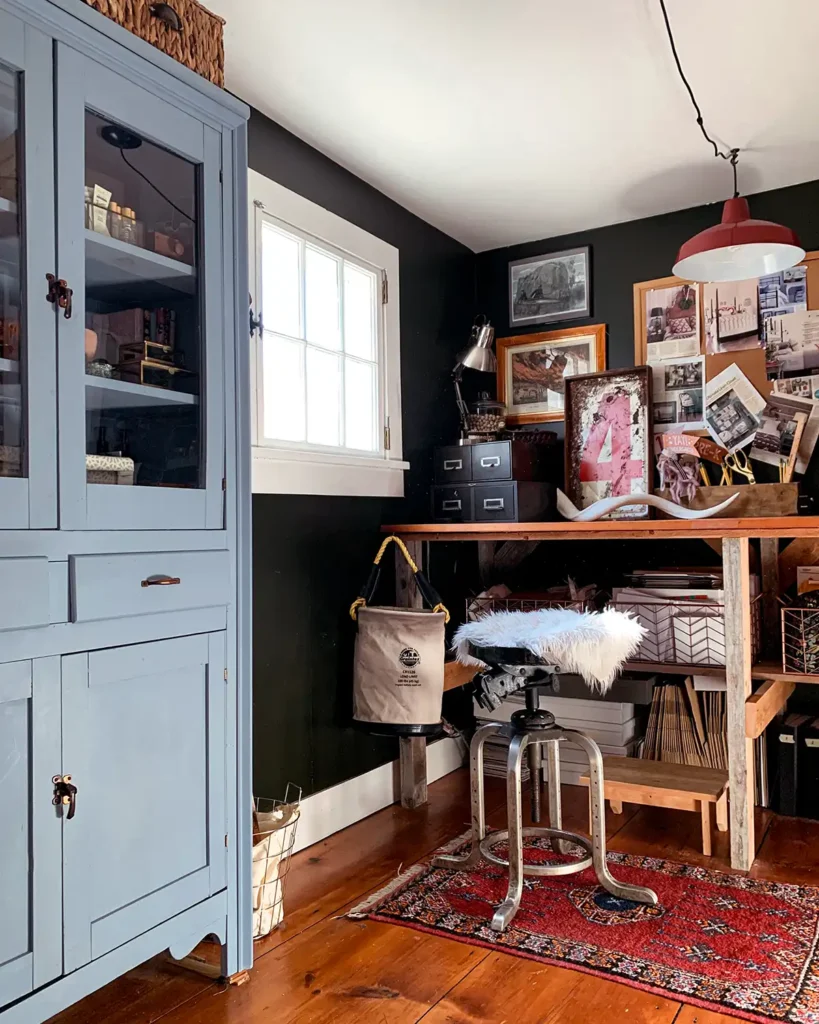 How I Decided To Stain Our Pine Cabinet?
As an example of deciding on staining vs. painting furniture, I'll share the inner workings of my brain on how I finally chose to stain the pine wardrobe in our bedroom. Disclaimer…my thoughts are a scary place, not to be entered lightly, and I overthink everything. EVERYTHING. You've been warned.
Basically, I had two visions for how I wanted the wardrobe to look in our room.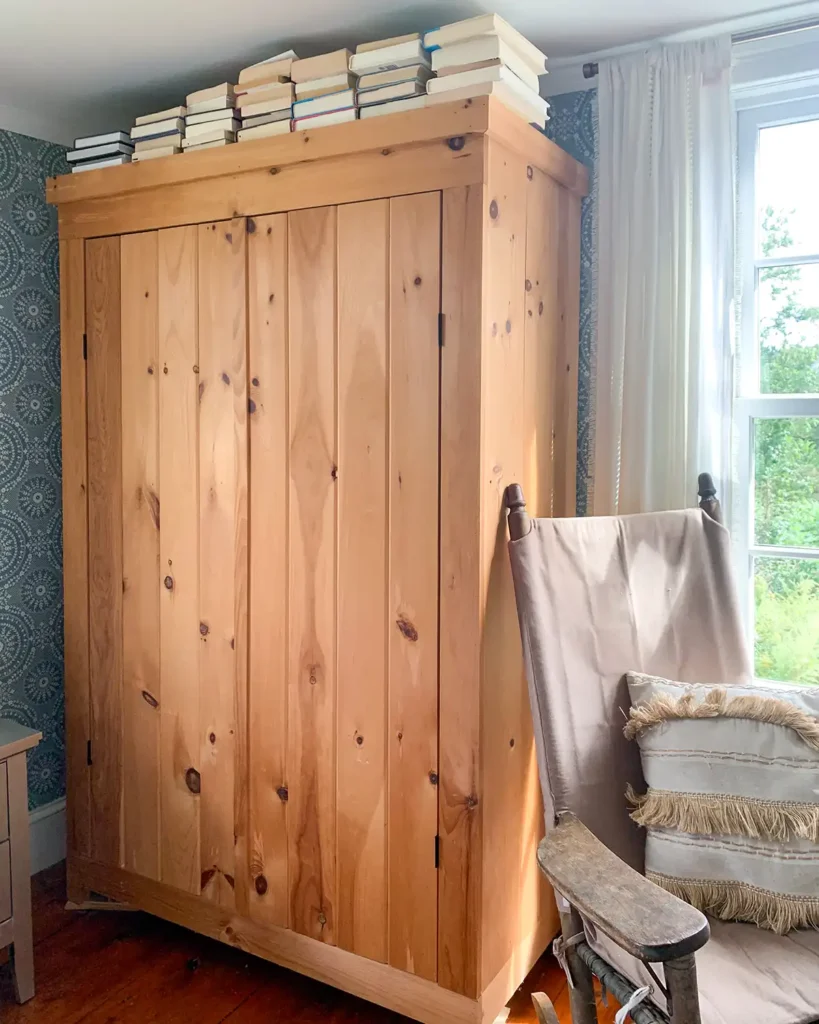 Vision One: Stained A Dark Color
We have this hand-me-down dresser in our room. It's a mid-century modern piece that we inherited from Colby's grandma Gert. After we moved out of our house from Maine we temporarily lived in her upstairs apartment until we could close on our Vermont home and move in. The dresser was in the apartment we temporarily lived in.
She sold the building and moved out while we lived there and we were given the option to keep anything we wanted. Talk about the right place at the right time!
I adore the dresser and especially how the dark shade contrasts with the light blue and white vintage wallpaper in our bedroom. Plus it ties nicely to the dark-painted nursery attached to our room.
I love the idea of staining the pine wardrobe in a similar shade. I do worry about the two pieces, being the same color, that it will feel too matchy matchy for me. Matchy matchy is great for two-year-old twin girls' outfits but not for bedroom furniture.
But the wardrobe and dresser are in opposite corners so maybe it will be okay. Maybe?! I do know I don't love the light wood and want a richer tone.
I also think in terms of decorating for the holidays when I'm making big design decisions. Can you just see the dark stained wardrobe with a pair of flocked Christmas wreaths hanging from the doors with ribbon?! It sounds dreamy!
Vision Two: Chalk Painted Green
The other vision I have for the wardrobe is to chalk paint it green. Not a dark green, but like a light sage green. I'm thinking either Coolabah Green or Duck Egg Blue, both Annie Sloan chalk paint colors.
I've pinned far too many chalk painted, old English-style wardrobes in a similar style to what we built, to ignore this as an option. My subconscious mind and itchy pinning fingers are trying to tell me something.
Chalk painting the wardrobe one of these colors also passes the decorating for the holidays test.
The Cost Factor
​Since choosing to stay home with our children and going down to one income, I can't help but factor in the cost. While I do want to get a certain look, if given two options that I love equally, I'm likely to choose the cheaper option. It means we have more money left in the home improvement budget for other things or that we can save up quicker for those bigger projects. Points fingers at you kitchen remodel!
To chalk paint the wardrobe, I'm estimating it will cost between $150 and $200 dollars. That includes 2 liters of Annie Sloan Chalk Paint and a 500 ml tin of clear wax. According to the Annie Sloan product calculators, that should be enough to cover the entire interior and exterior of the wardrobe.
To stain the wardrobe, I'm estimating a cost of around $130. That includes 2 quarts of Minwax stain and one gallon of polyurethane.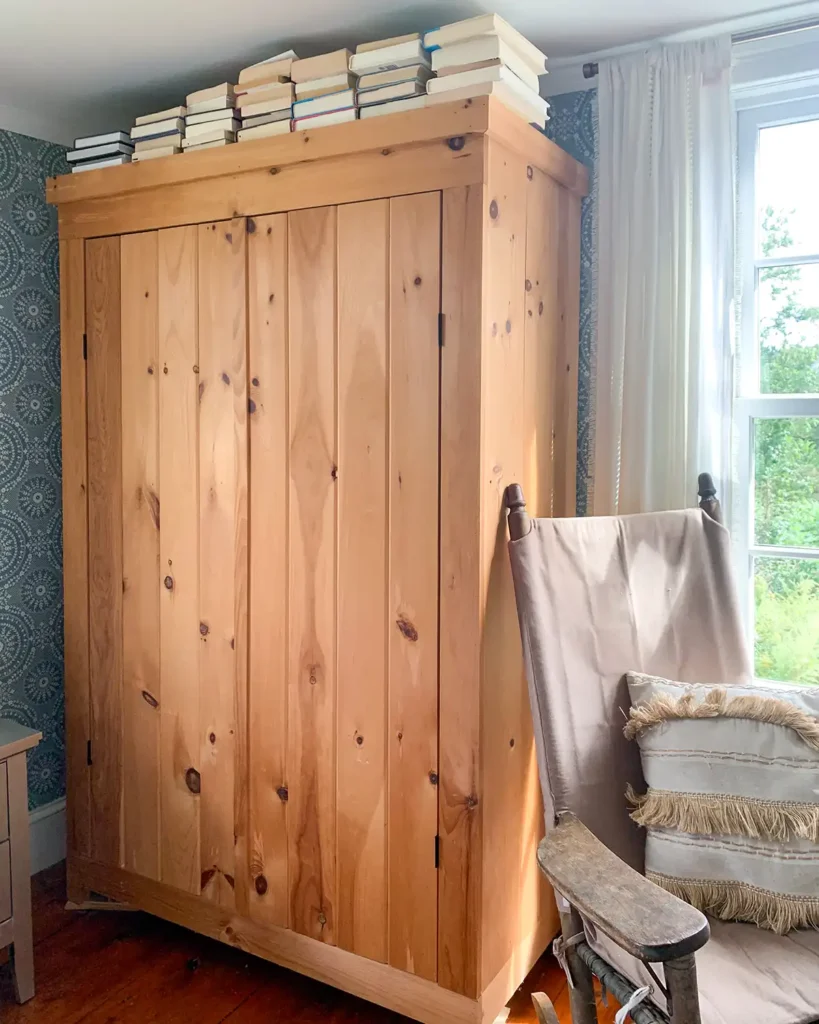 Changing Mind Factor
If I stain the wardrobe first and decide I don't like it, I can easily chalk paint it afterward. That's not the case if I chalk paint the wardrobe first.
Making the switch from a dark-stained wardrobe to a chalk painted wardrobe is much simpler than the other way around. Going from chalk painted to stained would require extensive amounts of stripping and sanding down to the original wood finish.
The Ultimate Decision
​Since I love two finishes equally, I decided to stain the wardrobe first. If I don't like it, it's easier to course correct. Plus, it's the cheapest of the two options.
A bonus for choosing to stain the furniture is that I can chalk paint our nightstands the sage green color instead. They're laminate pieces that I don't love in their current finish. I certainly don't want to gel-stain them.
With one nightstand right next to the wardrobe, the contrast in finishes between the dark-stained wardrobe and the chalk-painted nightstand will be beautiful. So if I love the stained wardrobe after completion, next up will be chalk painting nightstands.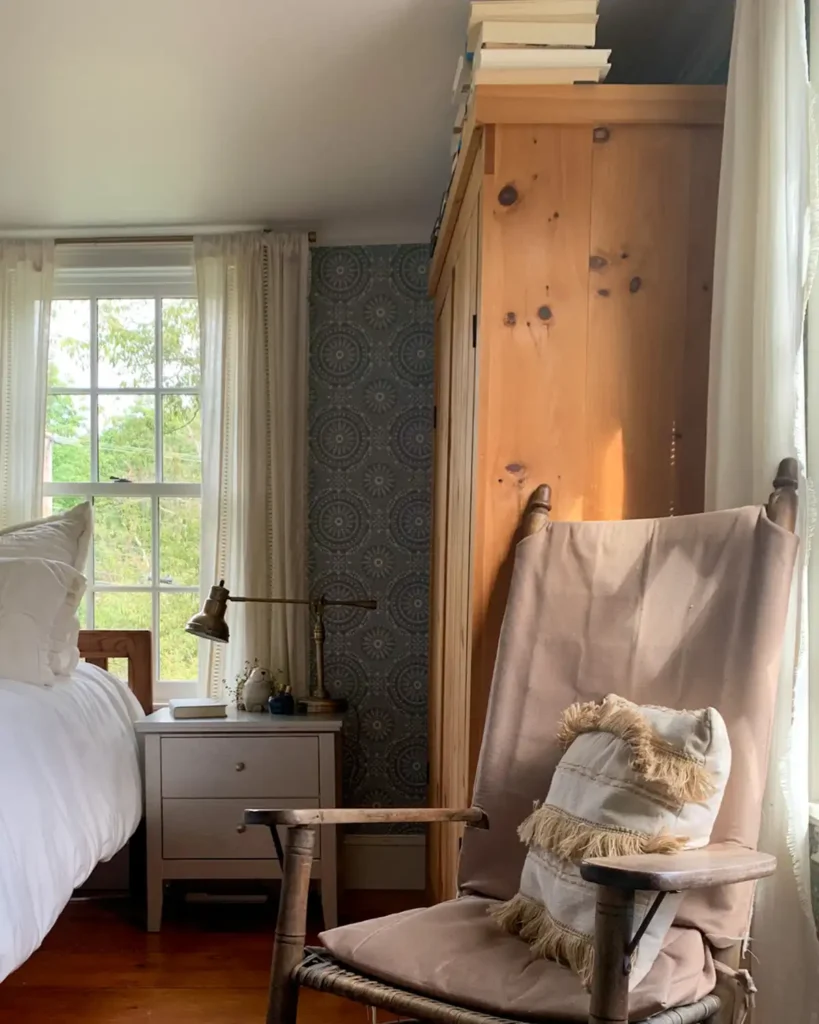 Wardrobe Refinishing Next Steps
Next up in our primary bedroom refresh is testing out some stain samples and deciding the Goldilocks of Minwax shades (the juuuuust right shade for our room). Then it's game on for cleaning out Colby's clothes from the wardrobe and getting to work staining the piece.
PS…How do you decide on staining vs. painting furniture?