Today let's talk about our home goals for 2023 and the five projects we want to tackle in 2023. I know most people write these types of posts in January, not in May. But in January I was amidst a conundrum of epic proportions, deciding what I wanted to do with my life. Spoiler alert…blogging wins. Hence I'm back (she says in her most on point Randy Quaid in Independence Day circa 1996 voice). Did you know that Randy Quaid lives here in Vermont? And that he is subject to arrest if he travels to another state? Wikipedia can explain Randy Quaid's unusual residency legal issues better than I can. But enough about Uncle Eddy, let's talk about the five renovation projects we want to finish in 2023.
Project #1: Primary Bathroom Renovation
This project is well underway and I feel like something major would have to derail it. Like maybe if the floor collapsed underneath the bathroom. That might put a little cramp in our style, but I bet we would still get it done. We demoed this poor bathroom in 2019 and slowly, really slowly started to work on it. It felt like we were always putting it on the back burner. It's one of the perks of bringing back the blog, we've been hardcore focused on one project at a time, slowly chipping away at getting it done.
We came close to derailing the whole project a couple of weeks ago when one wrong renovation decision put the project on hold so we could course correct. Spoiler alert, we made a rash decision not to put a wall between the tub and the toilet which created a spiral of other issues we didn't love. The wall is going up and before you know it, we'll be back on track with our reno.
As of the time of writing this post we have put together a small bathroom renovation design plan (in 2021) then redesigned it with a bathroom accessories plan when I found all the accessories in the original plan were no longer available, did all the unglamorous parts of renovating like plumbing and electrical, installed cement board, and put up a v-groove pine plank ceiling.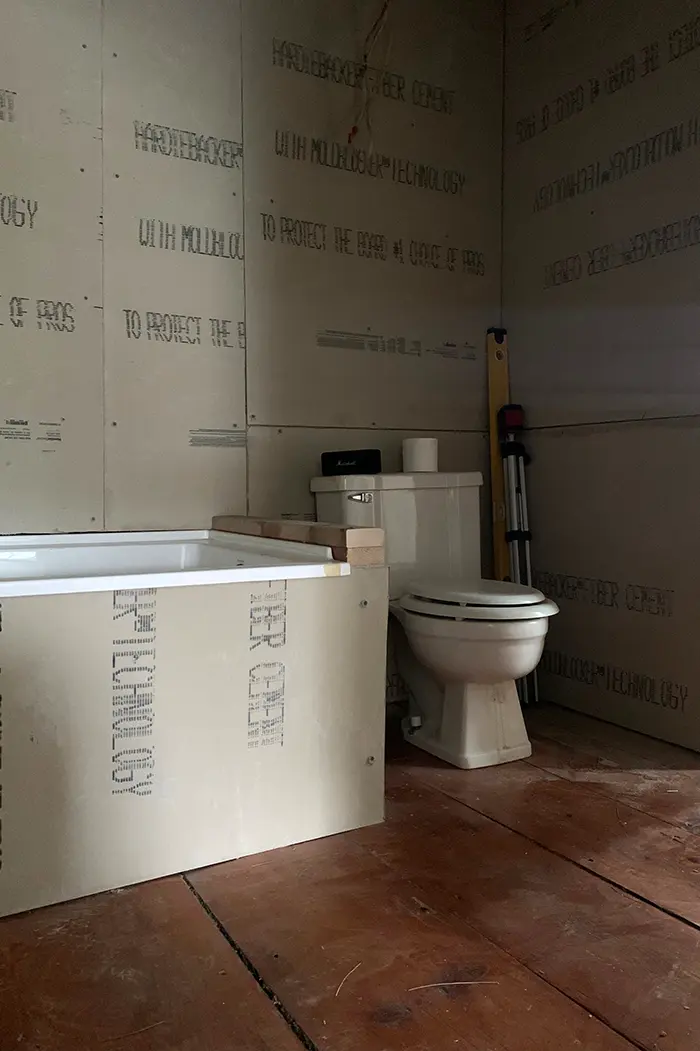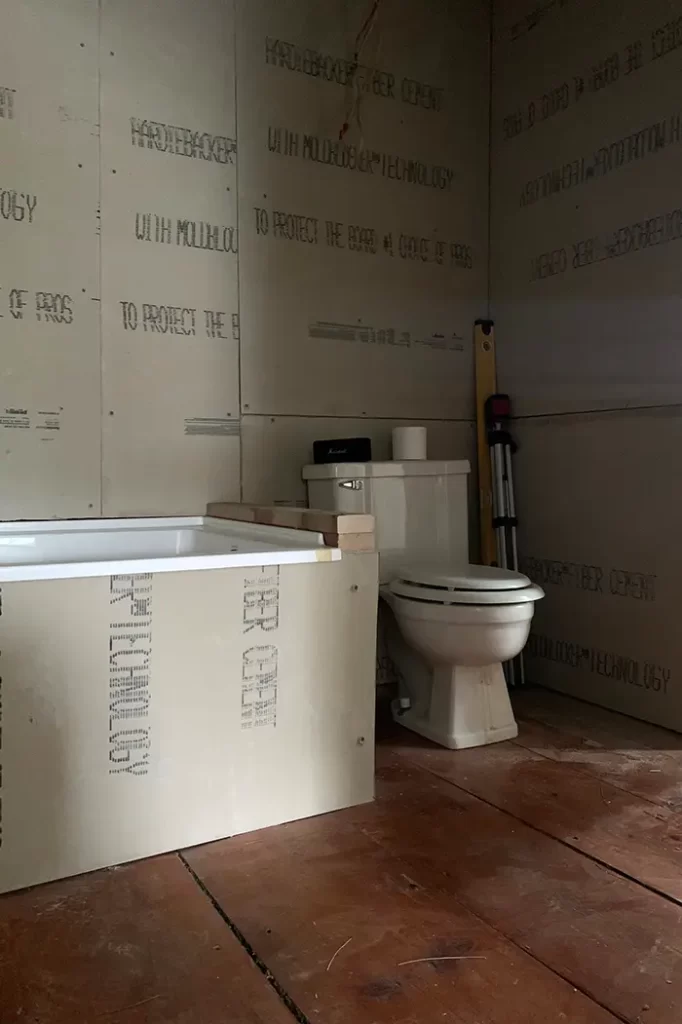 What's left to finish this bathroom renovation?
Build a wall between the tub and the toilet
Move the plumbing
Remove the vanity sconces (they just don't fit with our mirror and everything is way too tight)
Replace the cement board where fixtures were removed
Tile the entire bathroom with wall to wall, floor to ceiling white subway tile with black grout.
Design a bathroom vanity
Build a bathroom vanity
Install the final fixtures
Accessorize the bathroom and set it up for use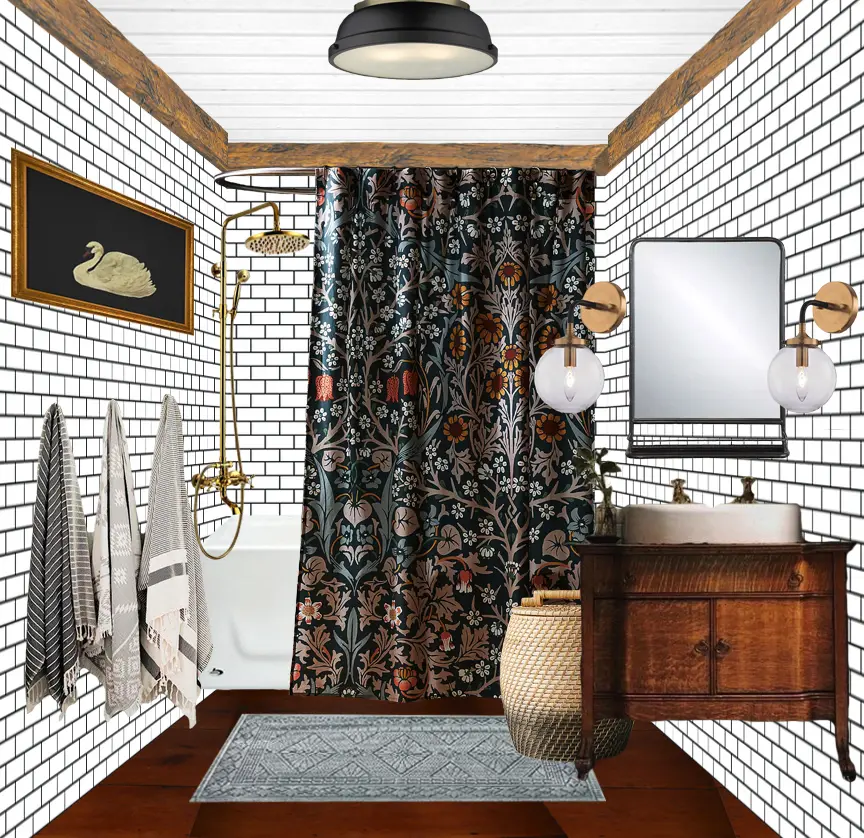 Project #2: Bedroom Styling
Our second home goal for 2023 is a MUCH lighter lift than an entire bathroom renovation down to the studs. After the bathroom, we are focusing on finishing our bedroom. It is so close. Like so close I can feel the project's breath on my neck. There was never a ton to do in our bedroom. When we moved in, we chose this room as ours because it had more space than the other bedrooms and also because of the unique wallpaper which is in really good shape. I love this wallpaper so much and I hope it lasts for years to come.
We did replace all of the double hung windows on the second floor of our home a few years ago, which included the windows in our bedroom. There were also a bunch of smaller punch list items over the years that we've tackled. Things like building a wardrobe since old homes like ours don't often come with closets. We also purchased a pair of matching nightstands with drawers, added a floor length mirror, and found a dresser.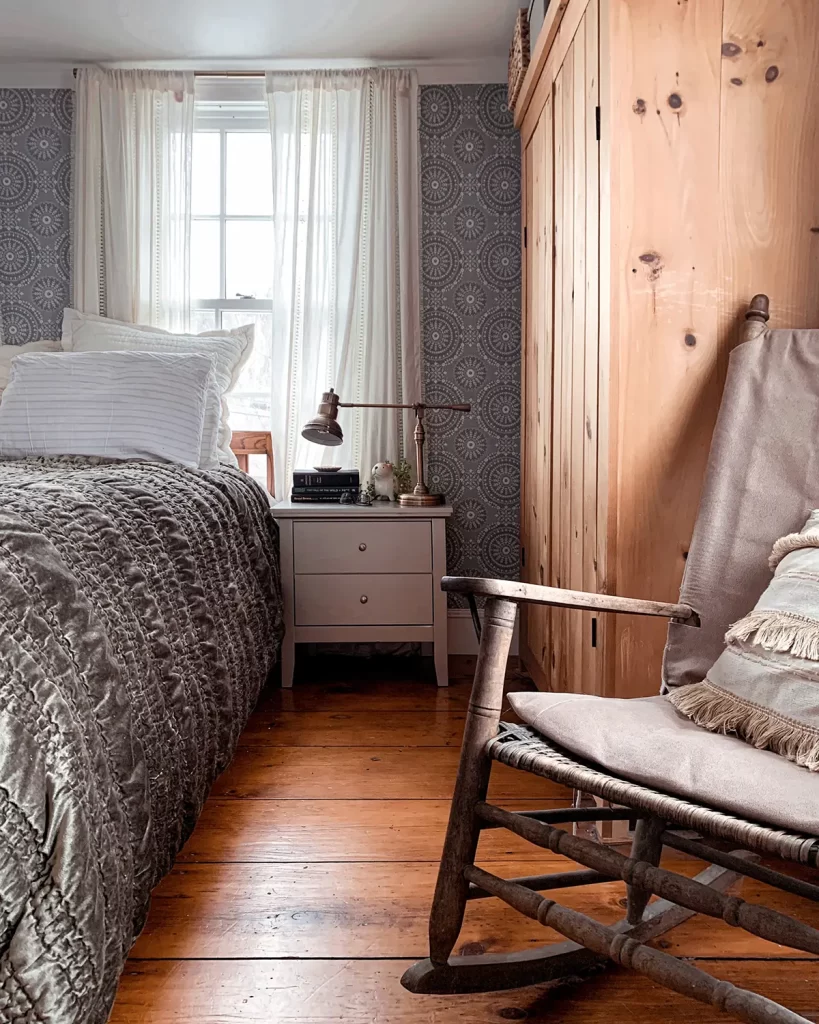 What's left to finish our bedroom?
Fine tune our bedding and find some summer bedding: Our current quilt and comforter is so warm in the winter but not great in the summer.
Stain our unfinished wood wardrobe: I've waffled for far too long on paint vs. stain for the pine wardrobe that Colby built. I think I finally landed on staining it.
Paint our nightstands: They're currently a shiny, silver laminate color which I don't love. When I ordered the nightstands from Wayfair, I thought they were a light green color. It's my fault for only looking at the picture and not reading the description. Lesson learned. I would prefer them to be a light green and have intentions to chalk paint them.
Replace the lamps: There's a reason all of our bedroom photos are taken only showing my nightstand and not Colby's. Our nightstand lamps are the same ones from our home in Maine. One of them broke when we moved here 8 years ago and instead of replacing them, we fixed Colby's lamp with some Christmas ribbon to hold it together. It's a real treat for the eyes!
Add some plants: Our bedroom is one of the sunnier spots in our home and I would love to add some greenery to the space.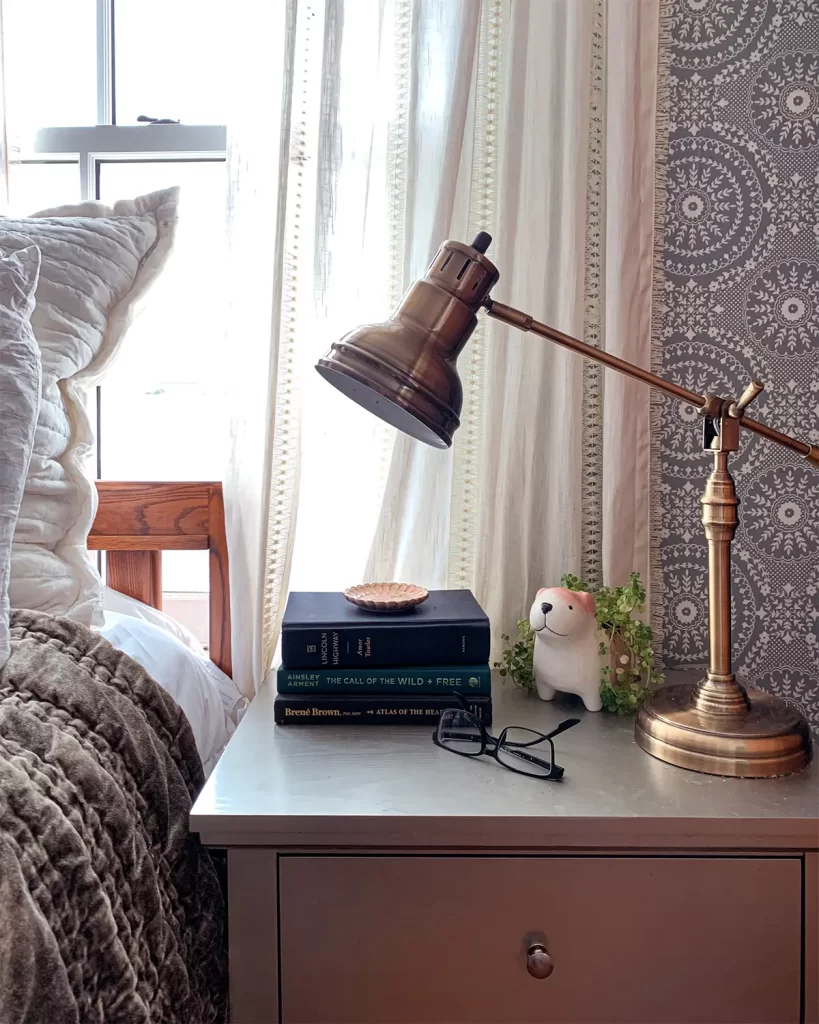 Project #3: Kid's Bedroom Styling
Finishing Rowan's bedroom and styling it is the third of our home goals for 2023. Working on Rowan's bedroom has been one of the most fun projects I've worked on in our home. What is it about a kid's room that brings so much joy?! Is it the whimsy? The styling of a kid's bedroom with reckless abandonment? I feel like I can get away with doing so many different things in Rowan's room than I can in the rest of the house.
It's also been really fun to decorate her room with her for the holidays. Her bedroom is always the first space that gets decked out for Christmas and usually the only space decorated for Halloween. I think Rowan was two, almost three, when we started turning this space into a big girl room and it was right before Christmas. That year, I was so bummed about not being able to put up a mini tree in her room. Well…we have definitely made up for it in the last few years. Rowan is super into decorating her room for the holidays and often has big ideas for how things should be. I love supporting her design decisions and seeing her budding creativity!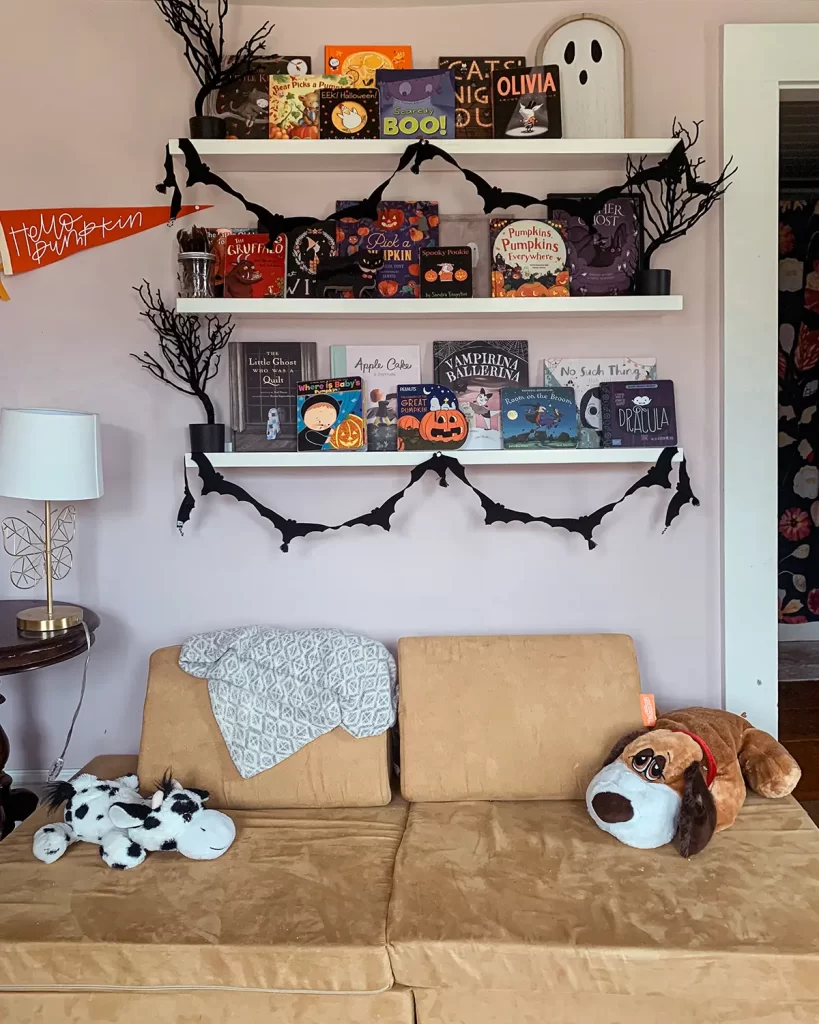 The big things in Rowan's room are done. Her room, like ours, also got a set of new windows a few years ago. SEE!!! Sometimes the window salesman's house DOES get new windows! She has all the major pieces a little girls' room should have like a wardrobe, bed, curtains, a play couch, and book shelves. While she has the basics, her bedroom is missing the final touches. That last layer of style. I'm glad it's taken me a couple years to finish off the space because now she has ideas and opinions, which she didn't have before.
What's left to finish Rowan's bedroom?
Add lace trim to the curtains
Make and hang some art on the walls (Rowan's request is to have it puppy related)
Figure out better toy storage (such a pain point)
Build a big bookcase for storage behind the bathroom door (maybe)
Turn her bathroom door into a sliding barn door (BIG maybe…I love this idea to make the door swing corner of her room more usable but I hate the idea of sliding barn doors for bathrooms)
Other small decorating projects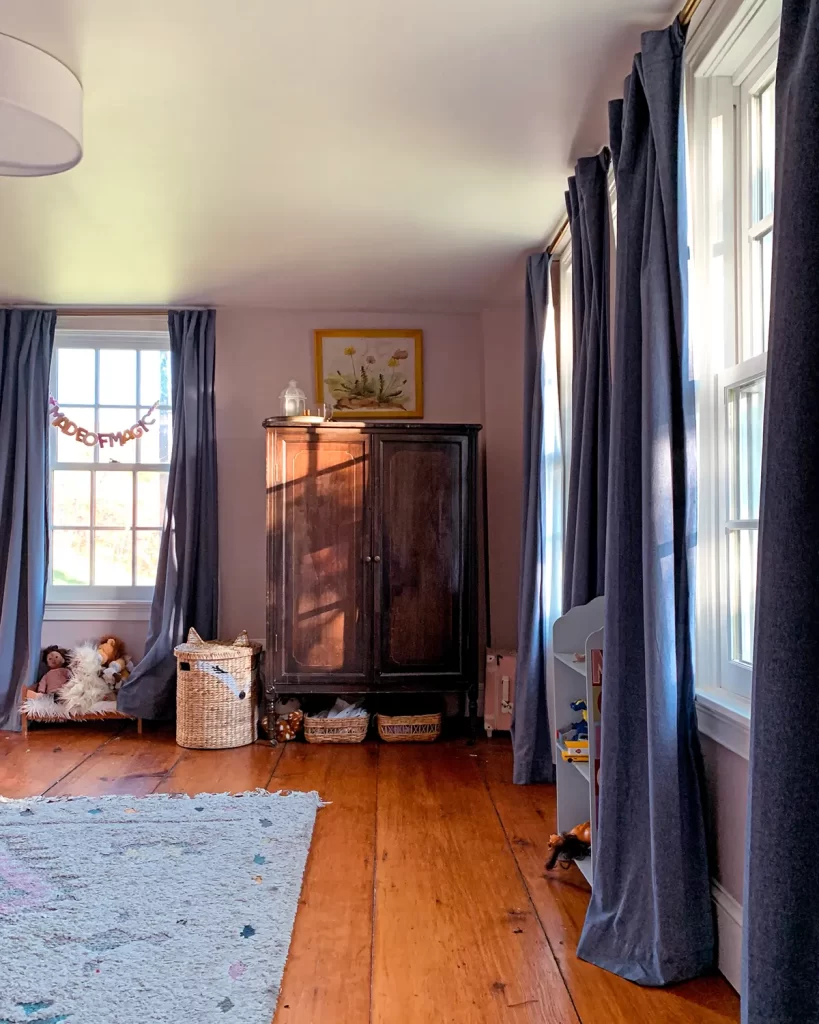 Project #4: Build A Greenhouse
This might be the home goal of 2023 I am most excited for! Finishing building a greenhouse in our yard. It's also the project that has the biggest potential for project creep and taking approximately one million hours of labor that we don't have. But it is going to be SO worth it in the end. Here's a sneak peak of the progress we made last summer on the recycled window sash greenhouse.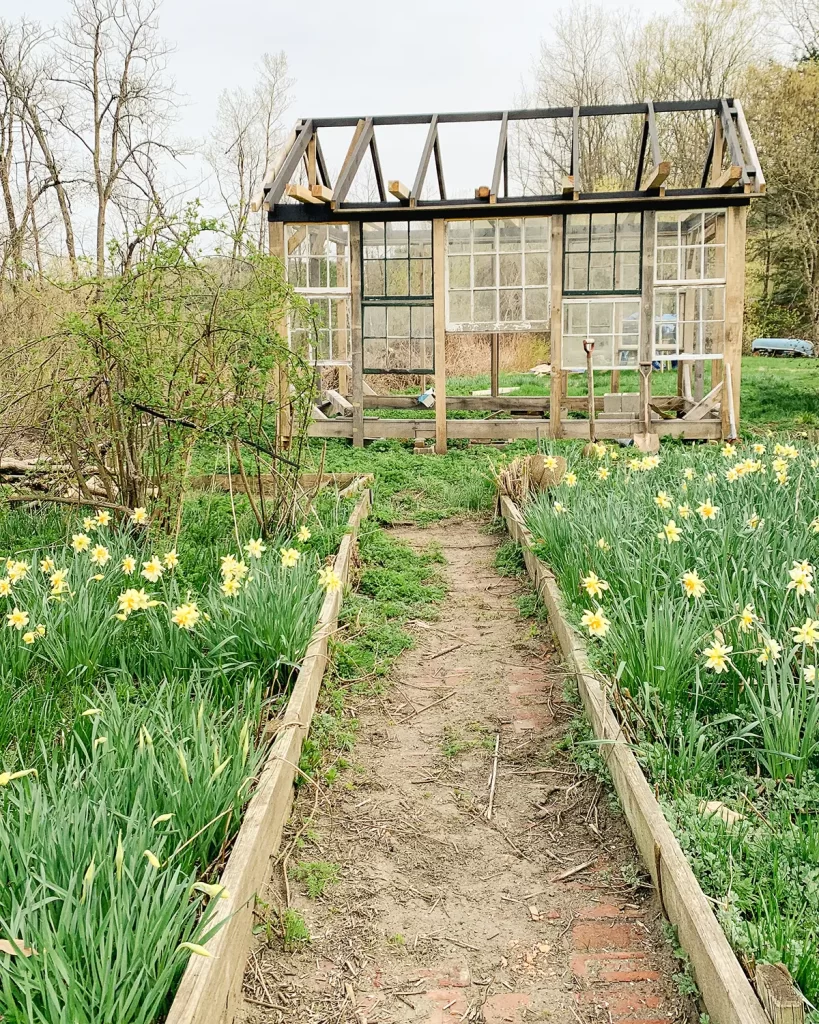 I have always wanted a small, recycled window pane greenhouse just to the left of our driveway where the old formal garden at our home used to be. When we first moved into our home, you could kind of tell that this space used to be a garden but it was so overgrown. Here's a shot of how overgrown the garden was on move-in day.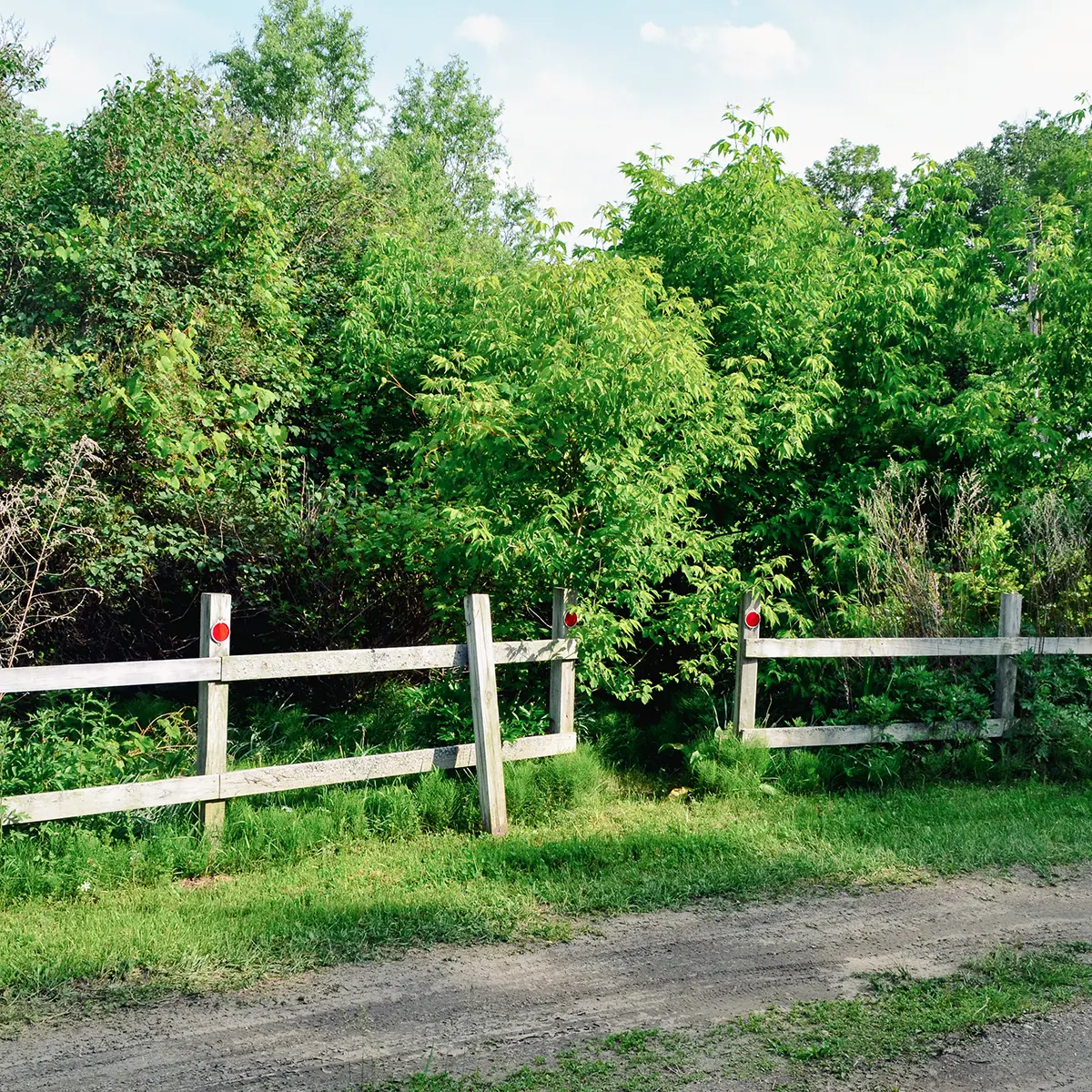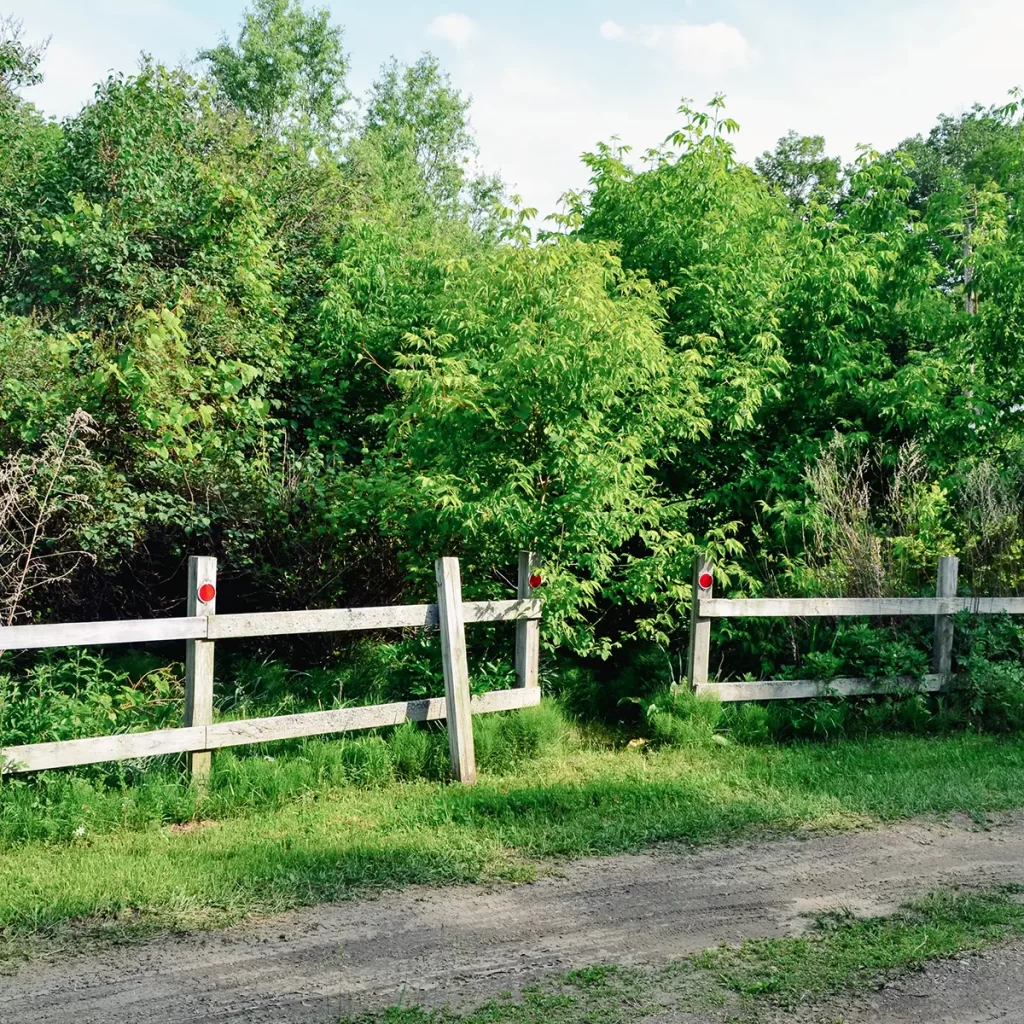 Do you see the entrance to the old brick walkway?! We used to lose our dog in that jungle! I still can't believe that's what this space used to look like. Cleaning out the garden has made a world of difference.
In the spring, there are thousands of daffodils that give way to peonies and roses in the summer. Every year we clean out this garden just a little bit more and a little bit better. While cleaning up the space, we found an old brick path that led to an open space that was just screaming for a greenhouse. True story…I heard it yelling late at night.
Last year, armed with a slew of old window sash from replacing many of our windows, we started to design and build the greenhouse. The shell of it is there but there's still so much more to do. In the meantime, the littles have enjoyed picking all of the daffodils this spring. Is there anything cuter than little girls picking flowers?!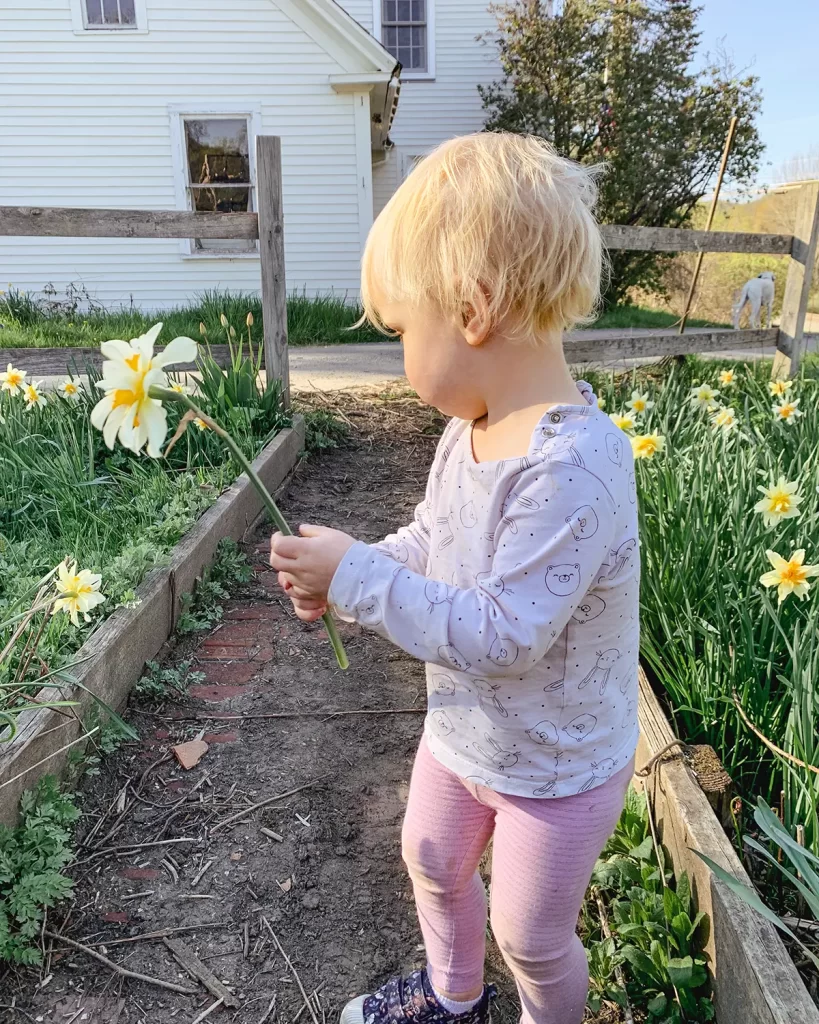 What's left to finish the greenhouse?
Work on the soffit, trim, strapping
Install polycarbonate roofing
Add the sash to the siding
Build a door
Build shelves for the plants
Paint everything
Work on drainage, floor, and critter proofing
Add raised beds and work on gardens around it
Relentlessly keep the area cleaned up and free of overgrowth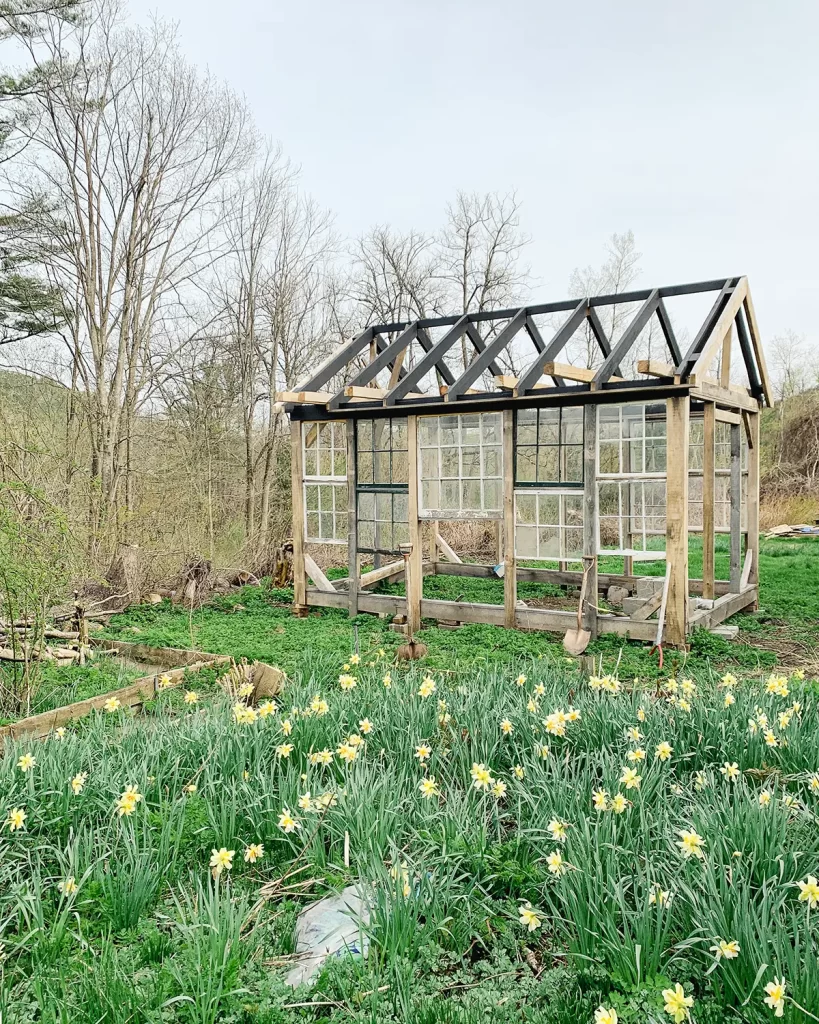 Project #5: Update And Paint The Playground
When Rowan was about two and a half years old, Colby's cousin asked us if we wanted their old playground. Their kids were high schoolers and they wanted to get rid of it. We gladly scooped it up and put it in our yard. It was a big surprise for Rowan one day. Colby took a day off and with the help of family, was able to take down the playground, move it to our house, and reassemble it. When Rowan headed to daycare in the morning, no playground. Upon her return…surprise…playground! I can still see her glowing face and excitement when she saw her new to her playground for the first time.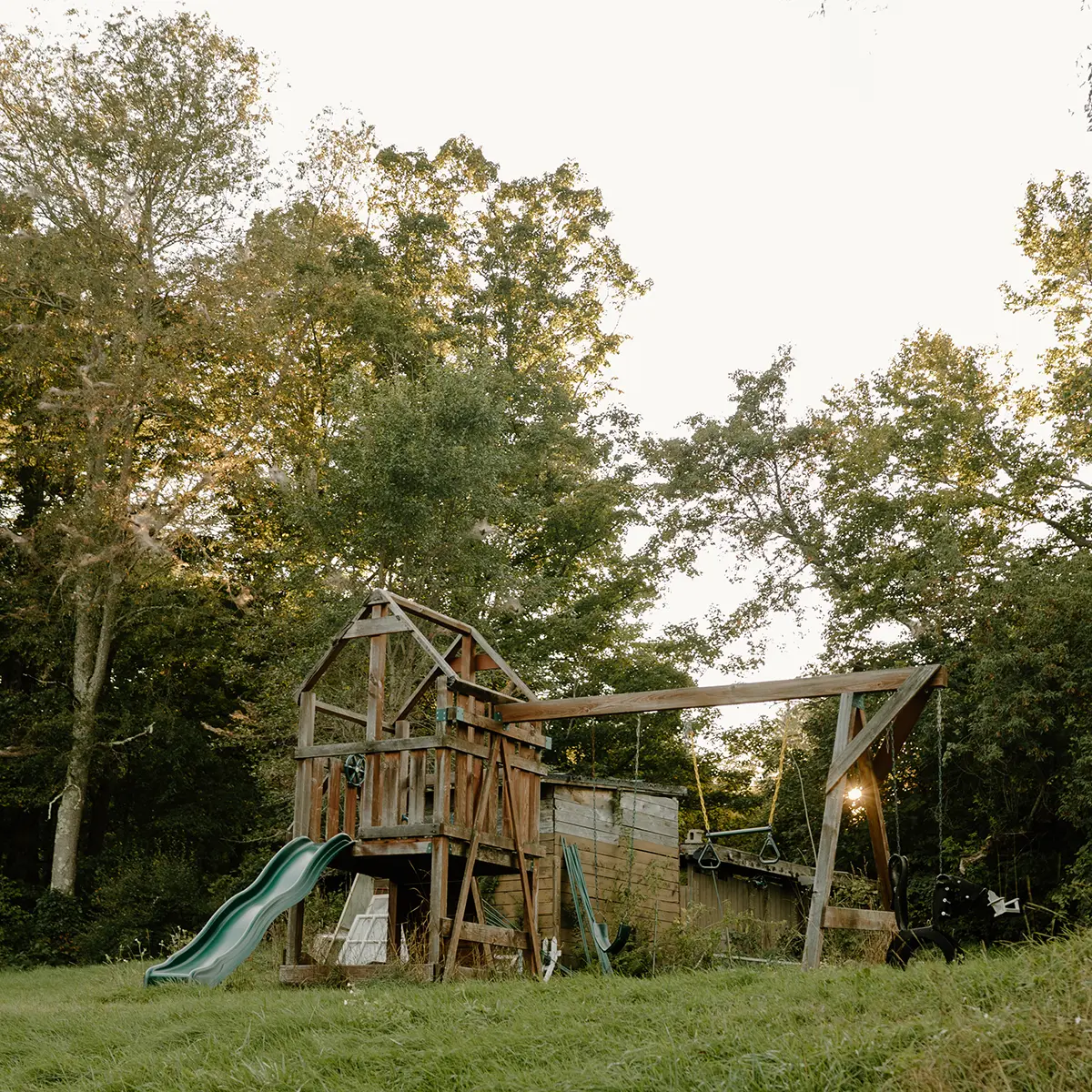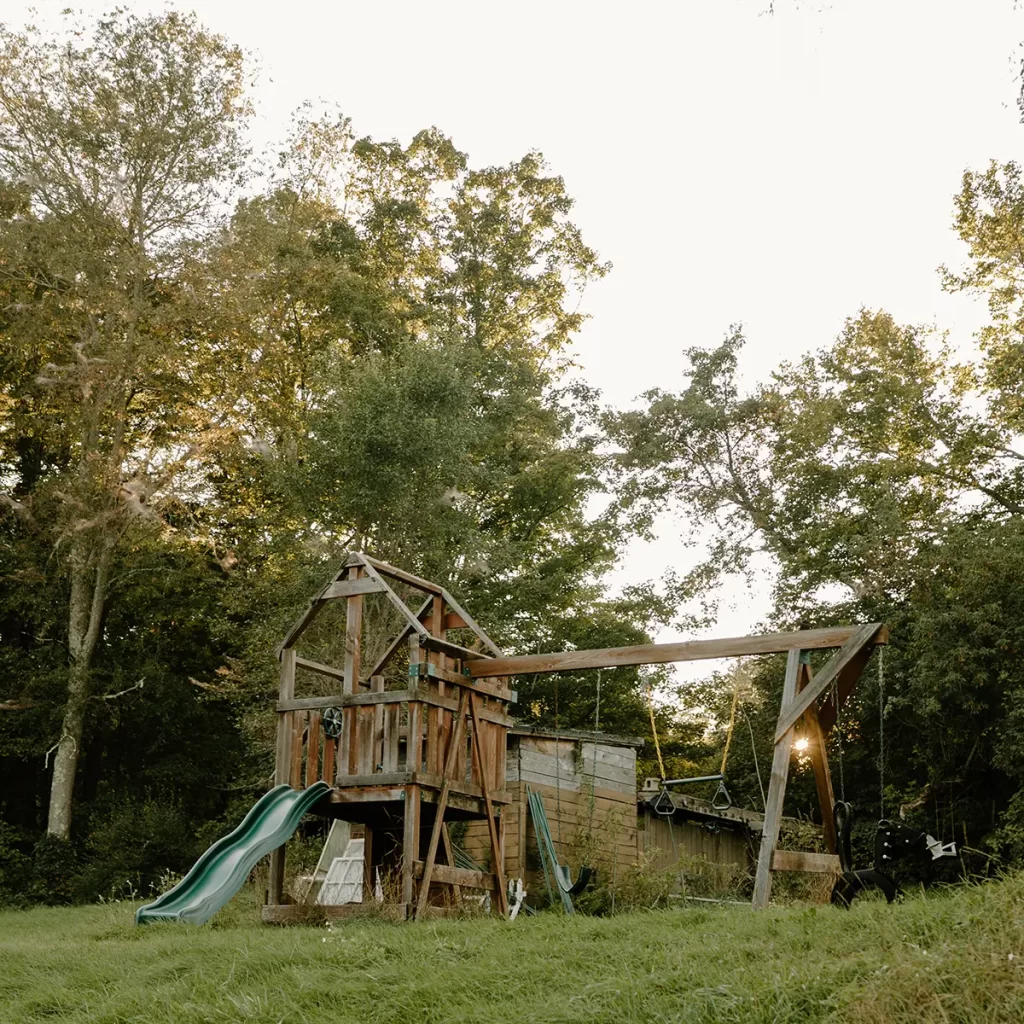 While initially a free playground, it won't be completely free in the end as it certainly needs some work. The last few years haven't been kind to it either. We've been wanting to work on it for years but every summer creeps in and out without us prioritizing making over the playground. I vow this is the year it gets done! It's not like our kids are getting any younger and it's usable years are fading all too quickly.
Rowan has put in several requests for some additions, like a sandbox and monkey bars. She was also telling us last night that, "It needs to be like a little house for girls because girls love that." I vow that this is the year we buckle down and make it a dreamier play space for both Rowan (age 6) and Beatrix (age 1). My vision for it is to be part playground and part playhouse.
What's left to finish the playground?
Create a playground design plan with a sandbox, monkey bars, and a playhouse
Repair parts that are rotting or breaking
Paint the entire thing
Add some fun accessories
So…What's Next?!
Our list of home goals for 2023 in actuality is much, much longer than this list but we are trying to focus. We are terrible at focusing and finishing so hopefully putting this out there on the internets will help keep us on track.
So, what's first?! More than anything, we want this year to be the year the playground gets overhauled. That home goal is our biggest priority right now. When the weather is nice, we'll be outside working on the playground. When it's not so nice, find us inside trying to finish up that primary bathroom renovation of ours.
And scene! I jokingly mentioned to Colby, "what happens to the blog when we finish all our house projects?" He just laughed at me. We will never be done. It's like when our home inspector said, "well, you don't have an MAJOR projects, but let's just say there are a significant amount of MEDIUM sized projects."