It's week five of the fall 2023 One Room Challenge and the point where it gets real. Real hard that is. Who thought renovating a bathroom in 8 weeks was a good idea?! Discreetly points fingers to self. Without further ado, let's get into this week's bathroom renovation update and status report.
Where we stand: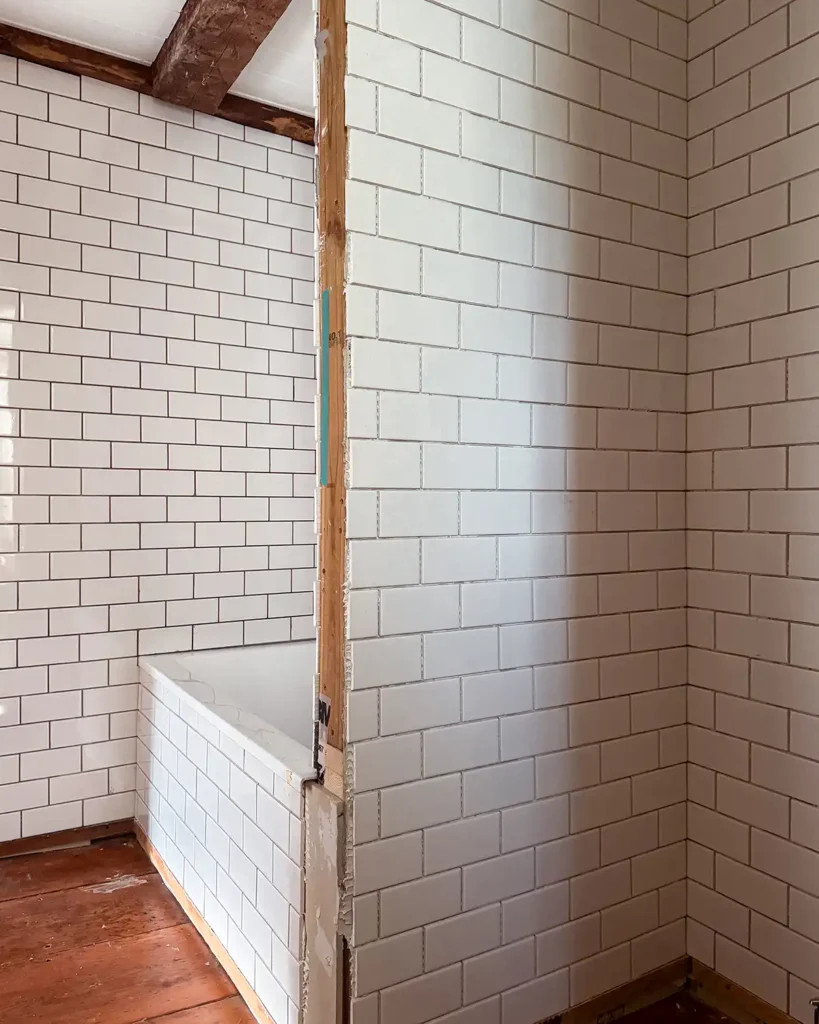 Let me pause while you "ooooooh" and "aaaaaah" over the subway tile so far. Pretty, right?!
Where's The Bathroom Renovation At?
Behind schedule, over budget, and all the usual. Gah! That sounds about on-brand for any major renovation but especially a bathroom renovation.
Tiling Update
We're still in the middle of tiling all the bathroom walls although we are so freakishly close to done. In fact, by the time you're reading this update, it just may be done.
I thought it would be fun to share with you how many tiles we've laid so far but then I realized that involves counting and math. Maybe it could be an extra credit project for our first grader who is learning math as I type!
This week we finished tiling the wall between the tub and the attic closet, the tub apron, and two-thirds of the toilet nook. All that remains is tiling to the right of the toilet and the attic door wall.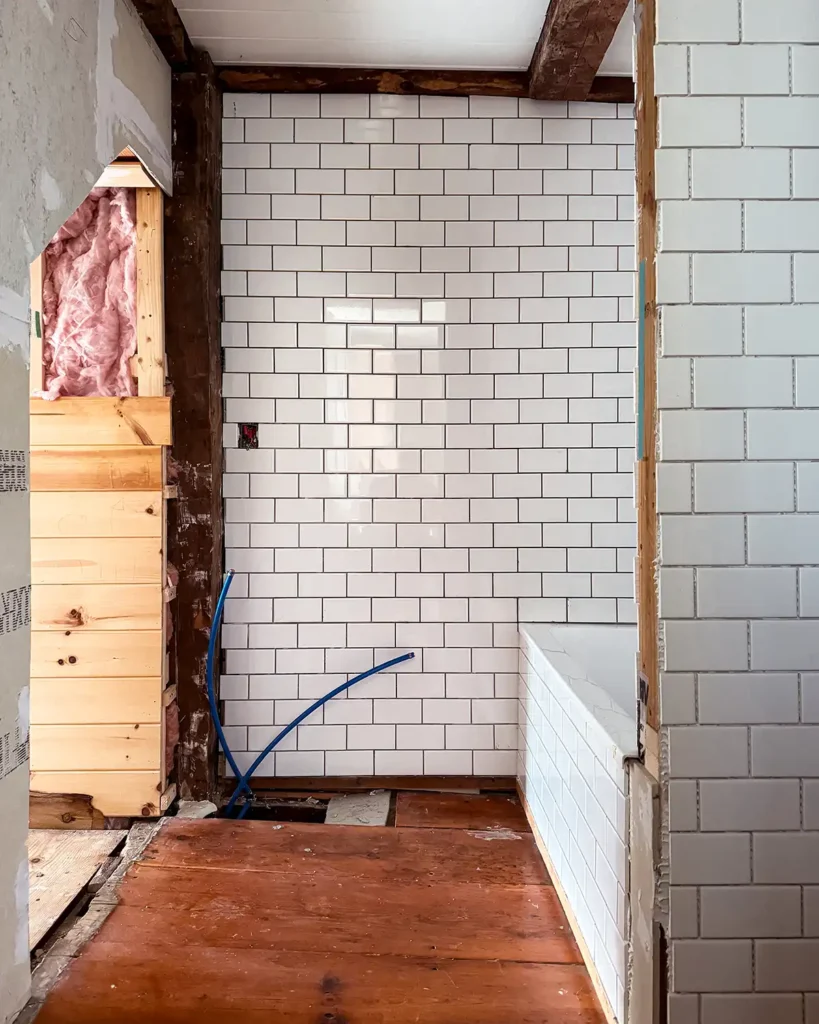 Our Toddler's New Word Is "Thinset"
True story. Ever since having kids, gone are the days of large chunks of time to work on house projects. These days, if we want to get something done, we try to do it with the kids or tag team projects (aka…Colby watches kids while I work). But it doesn't always work out well unless one of us takes the kids on an outing. They always want to get involved and "help mom."
Both our children (ages six and two) have been super interested in our tiling project. We've been tiling about an hour daily, in that window of opportunity just after dinner and before bedtime.
Rowan has told us that she's now added "tiler" to her list of job prospects. It's right up there with teacher, veterinarian, and artist. Bea on the other hand, runs into the bathroom, yells "thinset don't touch" and runs away as fast as possible. I am here for it.
It feels like tiling our bathroom has consumed our lives. But it's probably just because we're trying to squeeze it into the fringe hours. But it's put on pause for a few days because the great Halloween costume sewing extravaganza has commenced. One butterfly and one princess coming right up.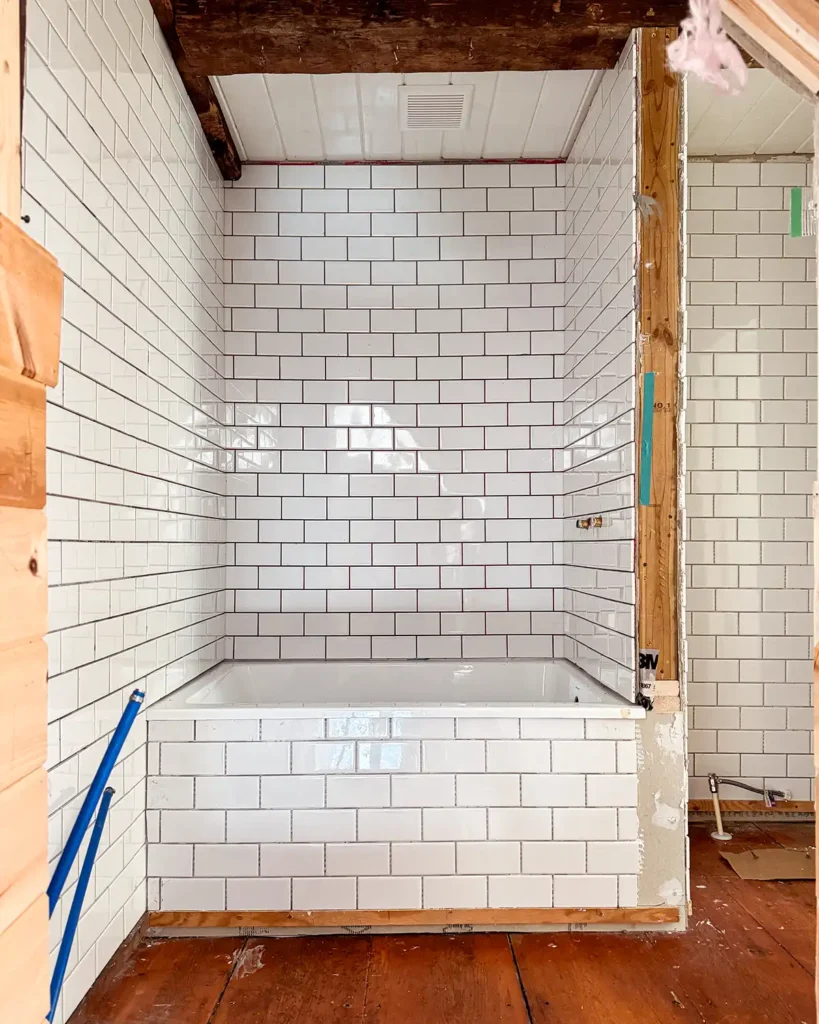 Bathroom Vanity Update
Armed with our bathroom vanity design, the next step is to build it.
Colby has a materials list figured out and marching orders to pick up the wood at the local lumber yard and the molding from Home Depot this week.
I picked up far too many stain samples to test out to find just the right shade. Be prepared for a dark stain on pine test coming up. Which will come in handy for choosing the color for staining the wardrobe in our bedroom as well.
Here's a reminder of the vanity design inspiration: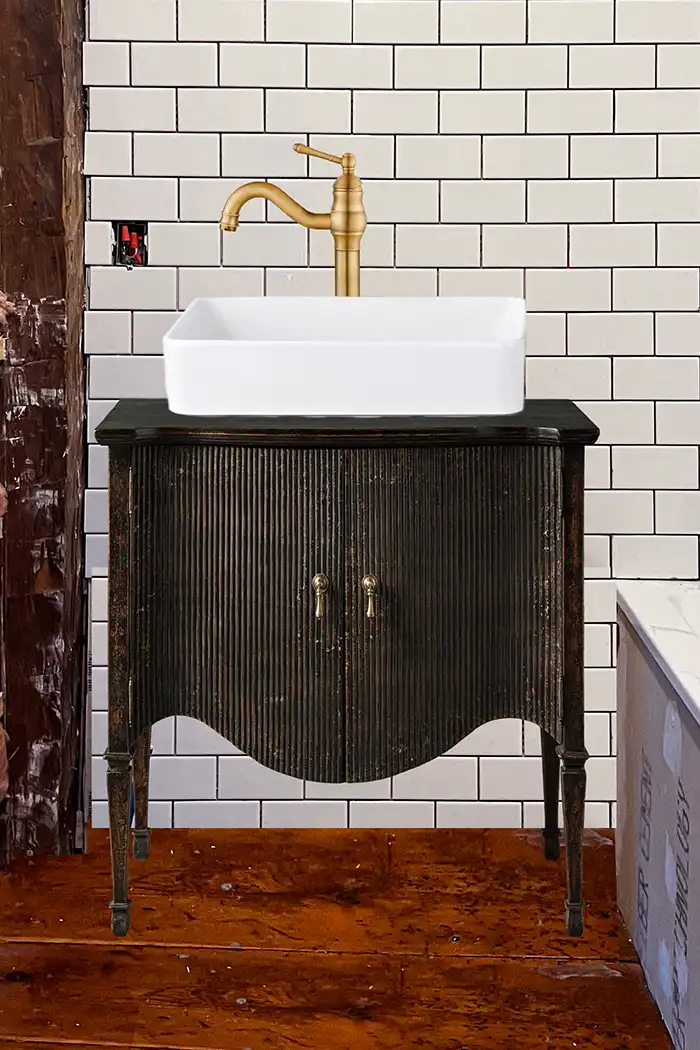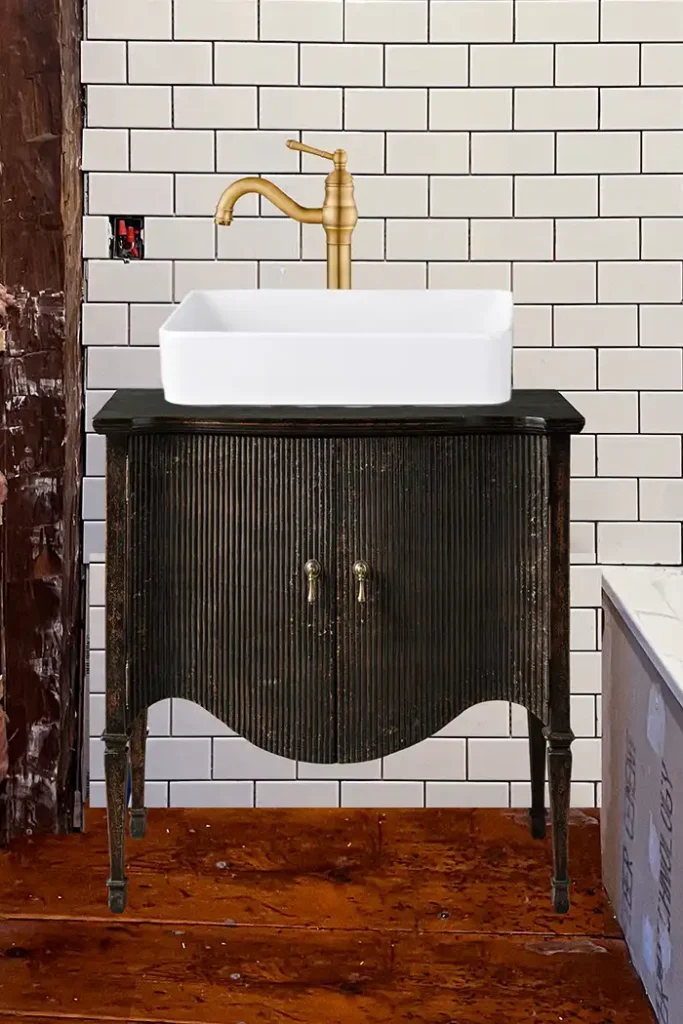 Niche vs. No Niche
When we were planning out our shower, the original idea was to put in a shower niche to store things like shampoo. You know, important things.
We watched precisely 72.4 YouTube videos on how to do it. In the end, we couldn't nail down the size we wanted nor the correct placement and finally gave up on the idea in lieu of a shelf in the shower.
I've come to the conclusion that there are zero stylish shower shelves out there. Home Depot…can you hear me? Can you design a stylish shower shelf?
The same problem presented itself when we finished the guest bathroom. I ended up buying some metal wall baskets from Target to use instead. They weren't meant for a shower but they've held up better than the legit shower shelf we had in the bathroom of our first home. Eight years strong with daily use and still looking great!
In terms of a shower shelf for this bathroom, the Anthropologie Maison Two-Tier Bathroom Shelf is calling my name. But it's pricey, a bit out of budget, and honestly, I haven't even measured yet to see if it fits. There's a distinct possibility it could totally overwhelm our small shower. Probably should figure this out soon since reveal day is in t-minus 21 days.
Here's a mood board with the Anthro shelf. It totally goes with the house.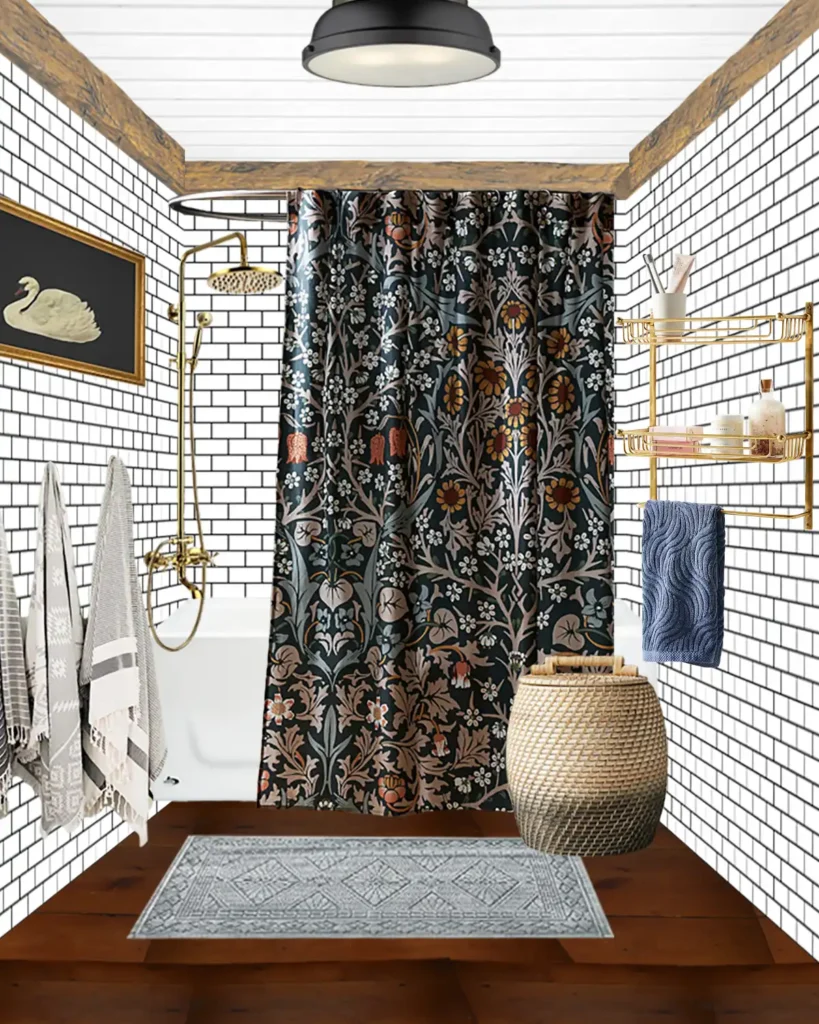 The Ol' Switcheroo
Let's talk switches for a second. The idea of putting traditional, dollar-a-dozen, basic light switches in this bathroom renovation makes my heart hurt. In general, I just don't feel like they go with the house. I've been doing some research on vintage-style switches and have a couple of companies I'm thinking of trying out on this bathroom.
The two I'm considering are the toggle switches from Buster and Punch and the single pole switch from Rejuvenation. Another option is House of Antique Hardware which has a wide selection of push-button switches.
Here are my two favorite switches tested out against the white subway tile with black grout: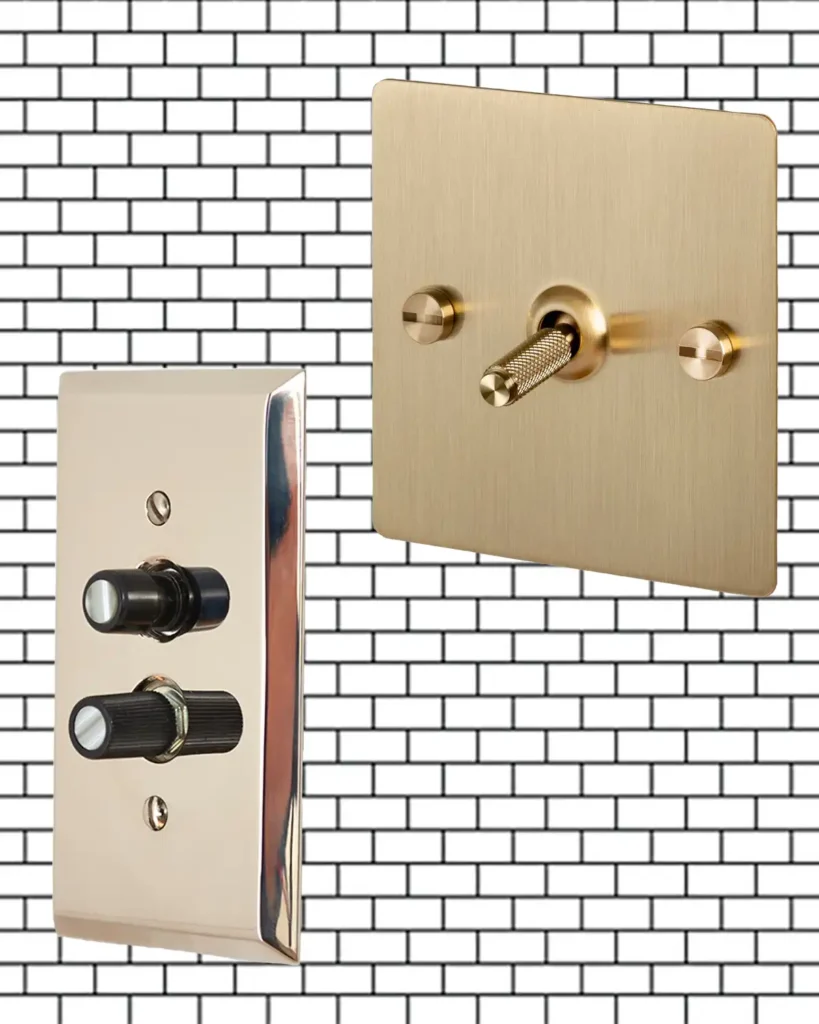 The Buster and Punch toggle switch os on the top and the Rejuvenation push button switch and plate is on the bottom.
Here's my conundrum. I like the Rejuvenation switches better but I like the finishes Buster and Punch offers better. Hmmm. Decisions decisions.
The Toilet's Gotta Go
Another reason we're over budget on the bathroom remodel, the toilet had to go.
Our original intention was to remove the toilet during tiling, take it outside, give it the world's best cleaning (there are stains on it we just haven't been able to get out), fix it (it has a penchant for continuously running), and reinstall it.
Colby has deemed it's time to replace the toilet. He's fixed it many times and it just keeps breaking. I know nothing about toilets or these things but I trust his judgement. Especially after the downstairs toilet, also old and broken, ran all day and drained our well last week.
So let's add toilet shopping to the never-ending list of bathroom renovation things.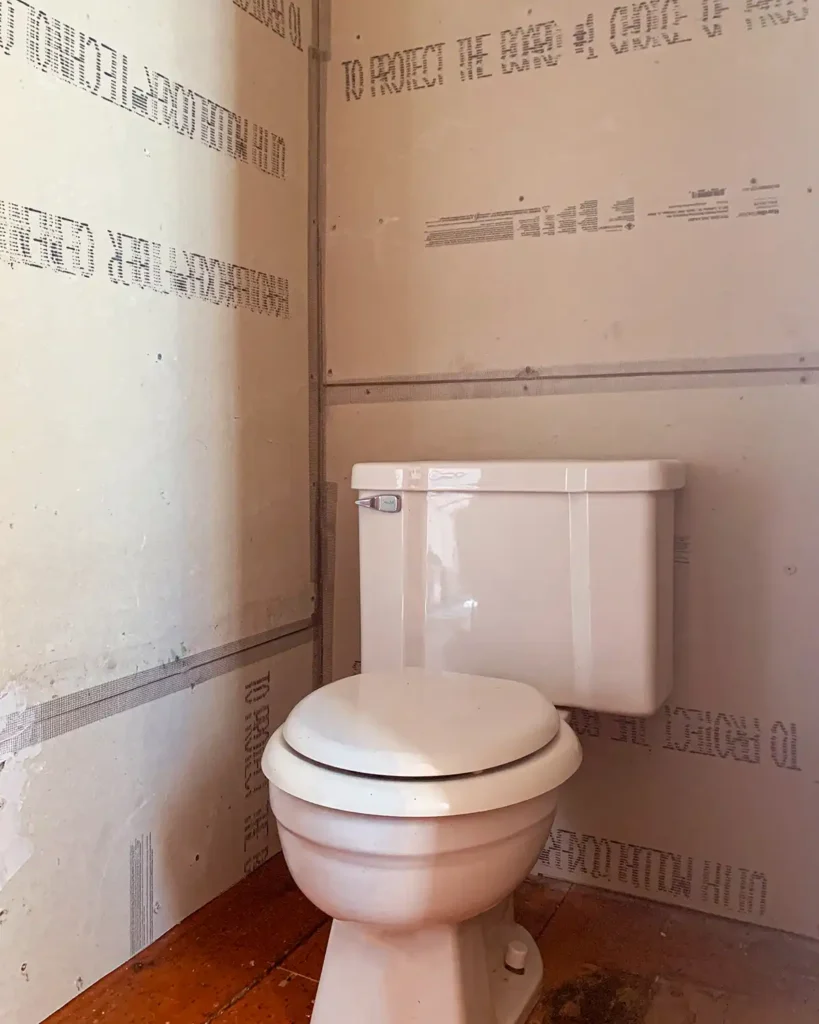 Bathroom Renovation Punch List
So what's left to do?! SO MUCH! Do you hear the anxiety in my voice through the screen? Would it help if I added some italics?!
I feel like the to-do list for finishing the bathroom just keeps getting longer and longer. But here's where it stands with three weeks to go.
Tile the last sections of the wall tile
Grout the entire bathroom
Install trim
Plank the walls between the bathroom and the attic closet
Paint the trim, planked closet door walls, and doors to the bathroom
Install the shower hardware
Build a custom bathroom vanity
Stain and poly the vanity
Install vanity, sink, and faucet
Purchase shower shelf and switches
Install overhead light fixture
Research/purchase a new toilet
Install new toilet
Refinish old medicine cabinet
Hang hooks, shelf, toilet paper holder, and cabinet
Install shower curtain rod and hang curtain
Replace switches and add switch/outlet covers
Add final decor and fluff
Currently hyperventilating into a paper bag. This is doable right?! But can't you see the vision finally coming to life?! It's getting there.
One Room Challenge Fall 2023: Week Five
As a reminder, this project is part of the Fall 2023 One Room Challenge (ORC). I'm joining other bloggers and designers to make over a room in just eight weeks. I was the fool who chose a bathroom (never again).
Make sure to visit the One Room Challenge blog for all the week 5 updates and cheer everyone on. We could all use it!

Catch up on my weekly bathroom renovation updates:
Stop by next week for my bathroom renovation week 6 update for the One Room Challenge.
Posts You May Also Like