We spent three weeks tiling our bathroom and all I got was this lousy t-shirt…I mean…a beautiful, white subway-tiled bathroom.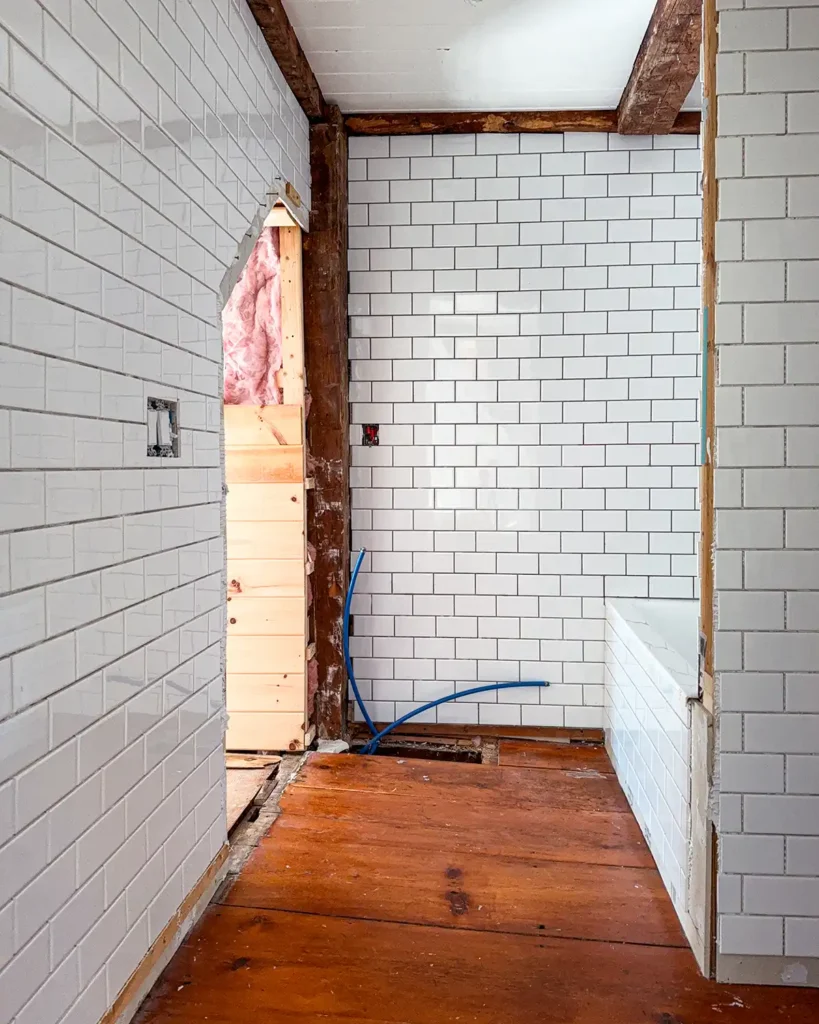 Stick a fork in it. The tiling portion of this bathroom renovation project is done and I couldn't be happier to have that part behind us. All 18 hours of it. Yes, I kept track.
I naively told Colby that now that the tiling is done I feel like the rest of the bathroom renovation will be smooth sailing and much easier. The heaviest lift is done. He looked at me like I had three heads…scratch that…six heads. Then he responded, "Have you seen this weird transition between the attic and the bathroom? I have no idea how we're going to make this look good, I need a day locked up in here."
I reminded him that he does not have a day. There are just two weeks left to this One Room Challenge (ORC) and a bazillion and a half (the half is important) projects left to finish. That didn't go over so well.
So let's dive into where this project stands and what is left to finish.
What Is Done
Let's start with the good stuff. The head pats and the "Hooray, you did-its." It feels so good to check things off the list. Where are my list-makers at?! You know what I'm talking about.
White Subway Tile Installation
After what feels like a lifetime of tiling, we have finished installing all the white subway tile in our small bathroom. We went with wall-to-wall, floor-to-ceiling white subway tile.
It is beautiful and such a statement, even without the grout and with so many rough edges because of missing trim. I am so glad we went with this look.
There was a moment when I doubted the decision. Colby was second-guessing if we could pull off this level of tiling and it made me pause. It's a lot of tile. Like 16 boxes of 3″ x 6″ subway tiles. But I had my heart dead set on this look ever since I came across this bathroom image and knew if we took our time and were super patient with the process (notably not my strong suit) we could do it. And we did! Look at this!!
Ordering Switches
I finally decided on switches, an outlet, and covers that I was debating in our ORC week five update. Which is cutting it close. They're expected to arrive just four to six days before the big One Room Challenge reveal day.
I first decided that I loved the Buster and Punch switches. They were the pricier option but I loved them, especially the finish. I went to add them to my cart and check out when I noticed that the switch covers had the Buster and Punch logo on the bottom. I'm all for branding but not when it comes to expensive hardware for my home. It was an immediate turnoff.
I did a little more research because I never noticed this on their Instagram photos. But sure enough, when I looked closely there it was. Such a bummer. I think it would have been okay if I had ordered the brass finish as it's less noticeable than the black finish I was contemplating.
Here are the original two choices: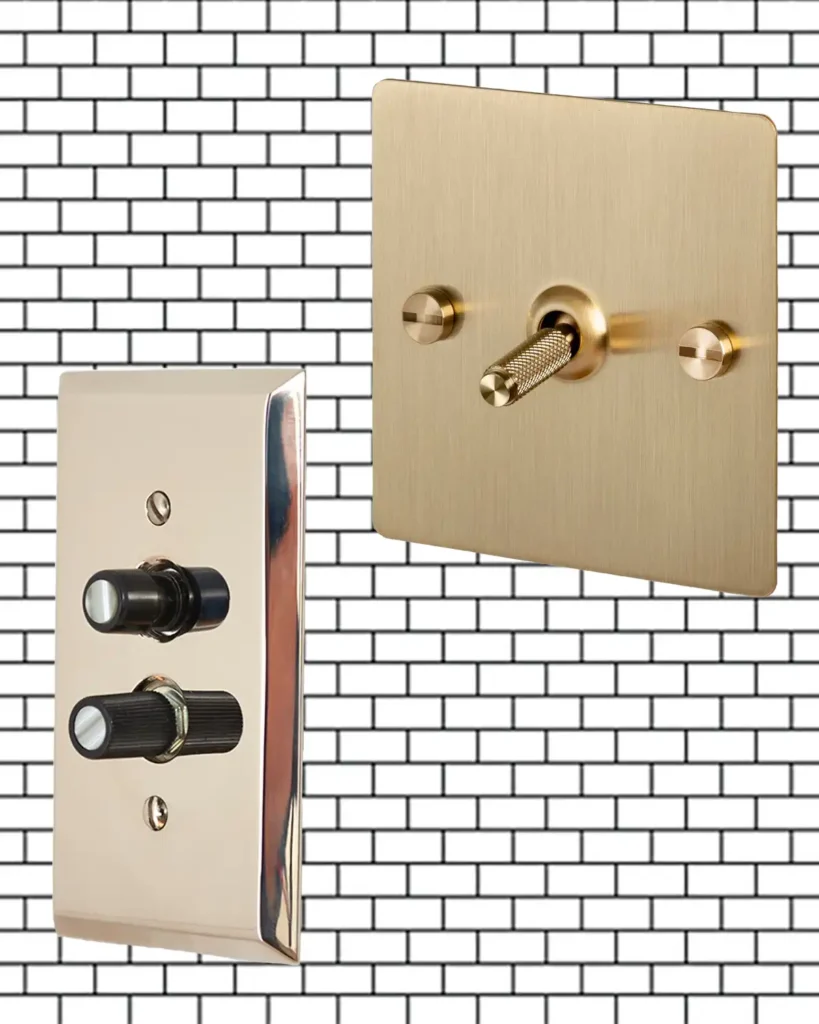 I don't see the logo at all here but it was 100% visible when I looked at a different finish.
Speaking of switches and covers, I did a complete 180-degree turn on the finish. I originally wanted brass. But when I looked to see how many brass finishes were already in the bathroom (shower hardware, faucet, hooks, toilet paper holder, shower shelf) I felt like black would be a better choice.
So I ultimately decided on the single pole switch from Rejuvenation along with the Lewis Triple Switch Plate Cover in Oil Rubbed Bronze and the Lewis Single GFCI Switchplate in Oil Rubbed Bronze. It felt a little excessive to spend $124 on such a small piece of our bathroom, but I know it helps get that old-world feel we're looking for in this bathroom and will last a lifetime.
Here are the switches and plates I selected, all from Rejuvenation: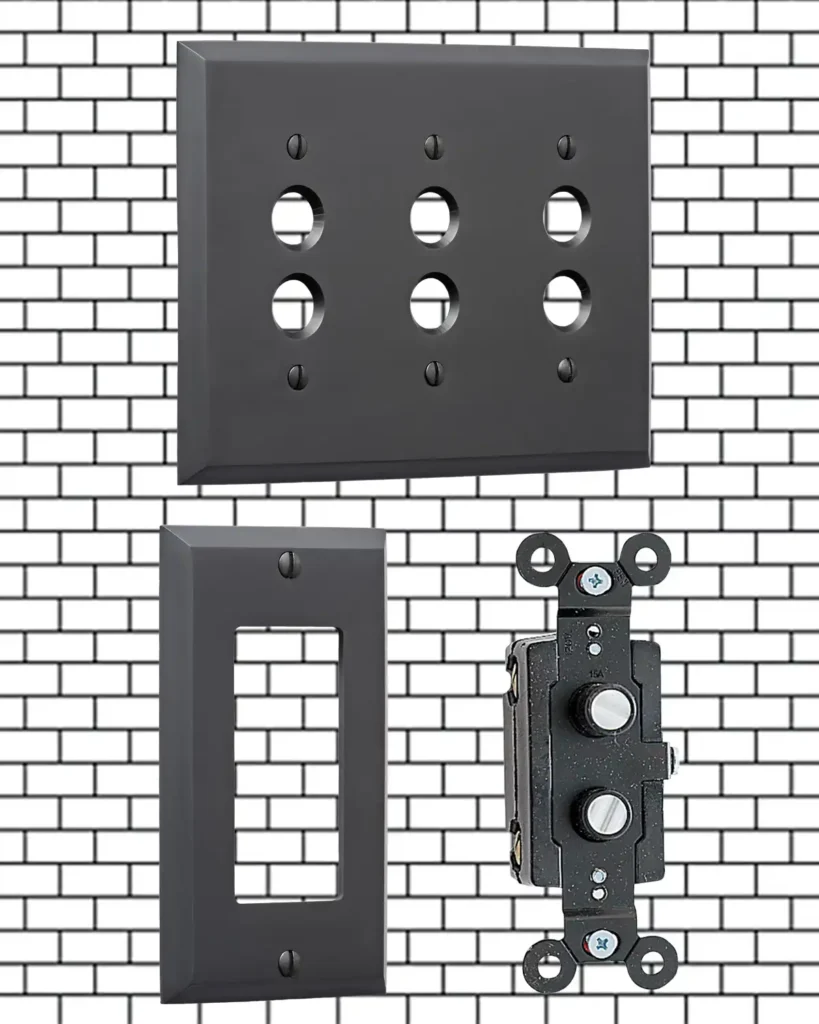 Ordering A Shower Shelf
I also made a decision on a shower shelf for our bathroom. In the ORC week five update I mentioned loving the Anthropologie Maison Two-Tier Bathroom Shelf. But at $248 it felt way out of budget.
I did more searching around and found something a little smaller for less than half the cost. It's the Double Bath Basket from Asher and Rye for $105. This shower shelf is smaller than the Anthropologie one in height, width, and depth. It's still big enough for shower essentials and the smaller profile would be helpful in such a small shower.
I showed both options to Colby and he suggested we go with the Anthropologie shelf. It's the shelf we both really want, primarily because it has a towel bar on the bottom where we could hang wet washcloths to dry. That's one of the pain points in the kids' bathroom, no place to let wet washcloths dry.
So the Anthro shelf is also on order and expected to arrive just four days before reveal day. Fingers crossed it makes it on time, although you never know where UPS will leave your packages here in rural Vermont. They rarely find the right house!
Here's a reminder of what the shower shelf from Anthropologie looks like in the bathroom renovation mood board: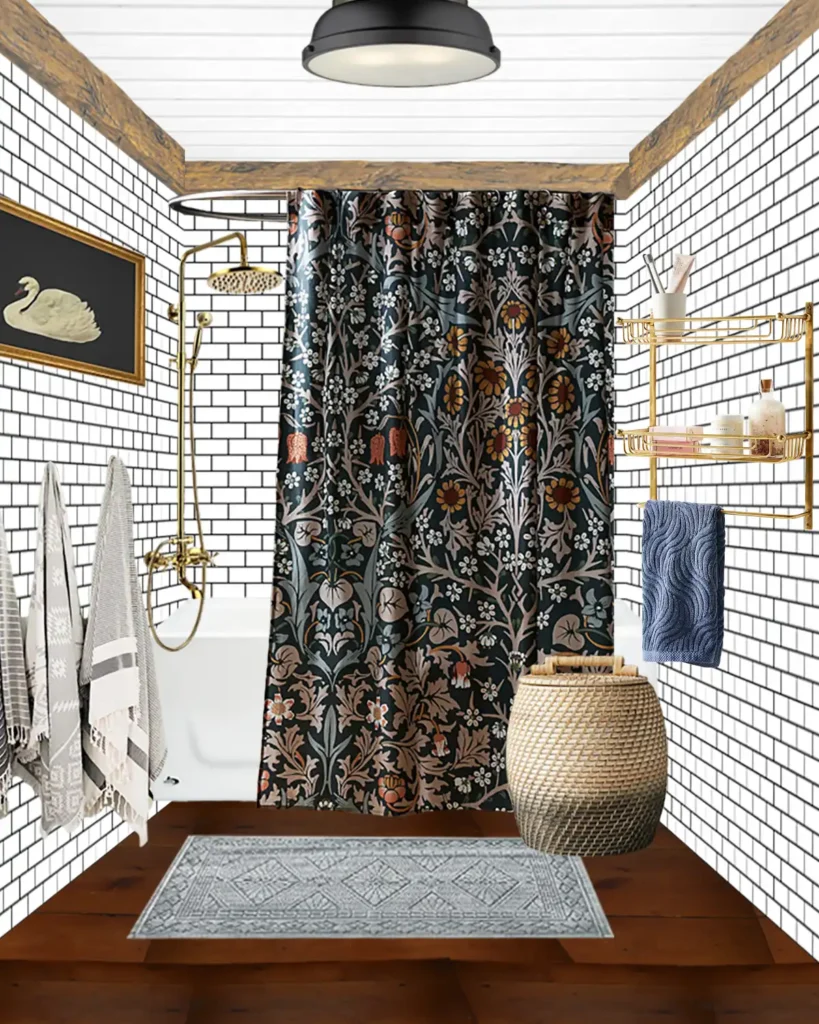 Toilet Purchase
Who knew that choosing a toilet would be so hard?! In all of our previous bathroom renovations, the toilet was the one remaining, original item from the bathroom. Hence I've never shopped for a toilet before.
Since we're on a tight timeline, I went to the Home Depot website and browsed all the white toilets that were in stock at our local store. I narrowed it down to two Kohler varieties that I approved of their look and had the best reviews.
Option #1: The Kohler Highline Arc toilet. And option #2: The Kohler Elmbrook Revolution. We measured both to make sure they would fit in our space and both seemed like the right fit. I made an in-store decision to go with the Elmbrook Revolution solely because I liked the squareness of the tank.
There was another toilet at the store with a sign on it that said "Flushes 8 billiard balls in a single flush." Intriguing (note the sarcasm) but not sold.
Here's my super rough Photoshop of our in-progress bathroom with the Kohler Elmbrook toilet: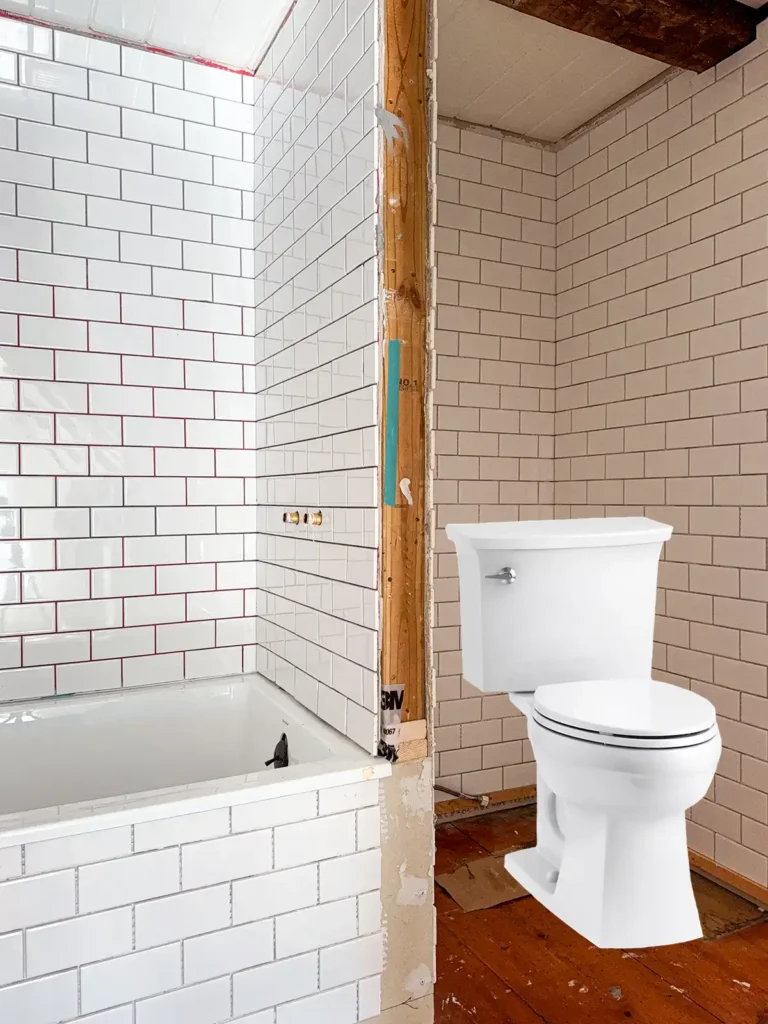 What Is In Progress
Grouting Tile
Earlier this week, we started to grout the shower area of the bathroom. Thankfully, it's not taking nearly as long as tiling.
The look we're going for in the bathroom is white subway tile with black grout. We opted for the Fusion Pro Sanded Grout in Charcoal. She's a beauty, Clark.
We do need to make a trip to the local Home Depot since we ordered the wrong size grout bucket when we placed our big materials order for the project. The one-gallon bucket would have been the right size instead of the one-quart bucket. We used the Fusion Pro grout calculator, which was super handy to determine the amount we needed.
Here's the one wall that's done so far (excuse the grout haze…I like to clean it up around 24 hours after grouting):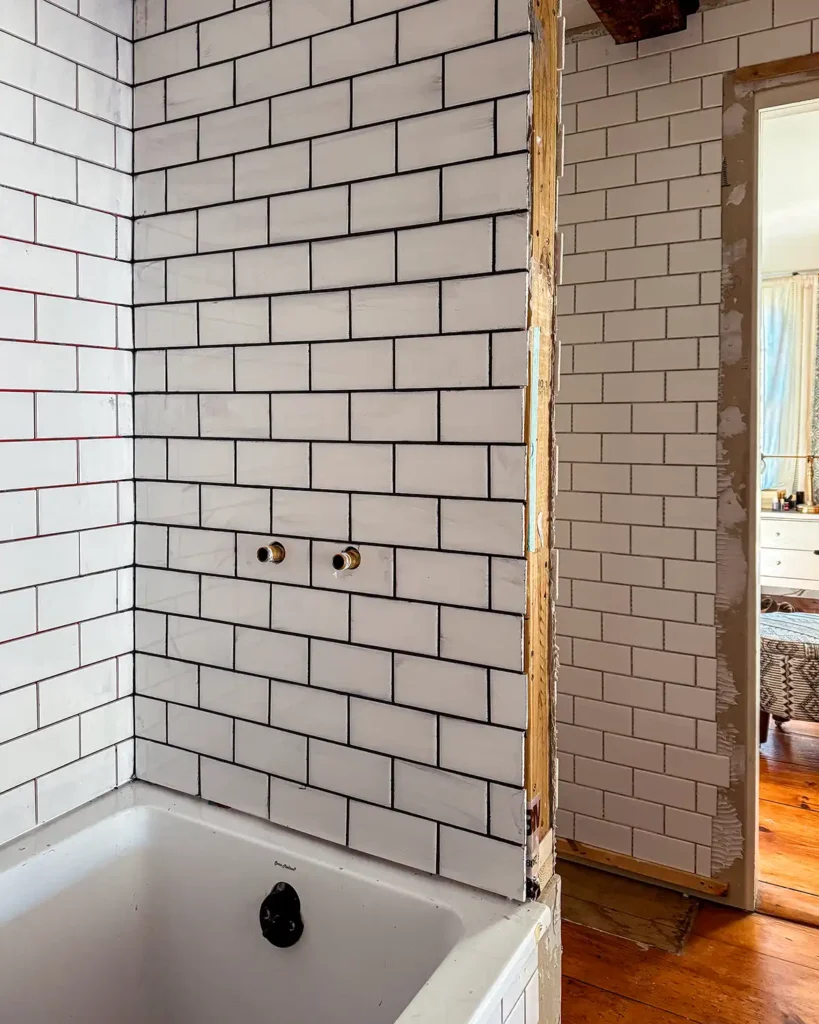 Vanity Building
I like how I put this one in the "in-progress" category. By "in-progress" I mean that we went out and purchased all of our materials so we could build this vanity design. Colby even cleaned up the shop (look for the blue moon folks!) to prep for the project.
Sunday is dedicated to building a bathroom vanity. We cleared the calendar of all things, well except for one soup party with our friends. Mmm…noodle soup (remember the Friends episode….anyone?!)
Colby is pretty confident that he can get it built relatively quickly. Which naturally means 17 things will go wrong and it will require 3 trips to the local hardware store.
Here's a Photoshopped pic of what we're aiming for in building the bathroom vanity (basically, the Arhaus Conrad sideboard turned into a bathroom vanity):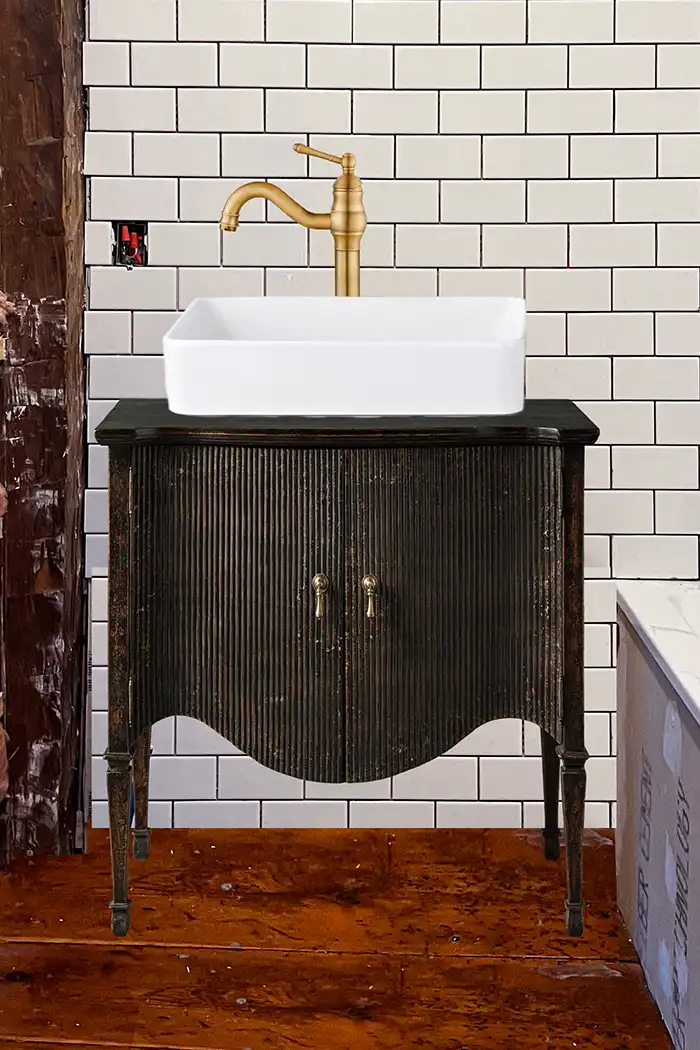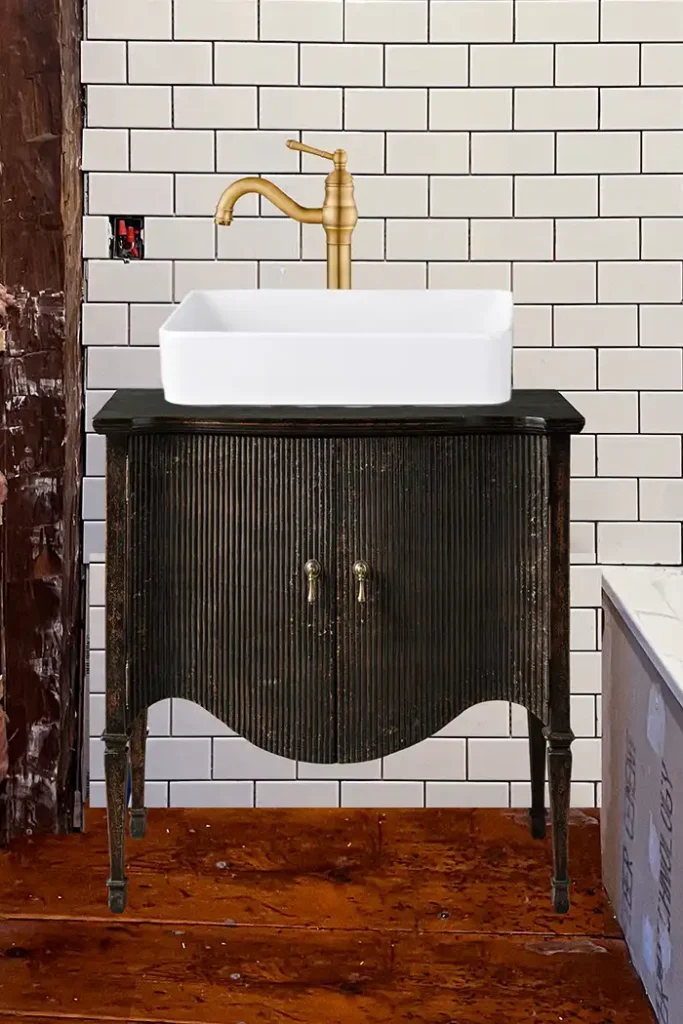 What Remains
Let's consult last week's list, shall we?! And as a hardcore list maker, let's make sure those completed items get checked off.
Tile the last sections of the wall tile
Grout the entire bathroom
Install trim
Plank the walls between the bathroom and the attic closet
Paint the trim, planked closet door walls, and doors to the bathroom
Install the shower hardware
Build a custom bathroom vanity
Stain and poly the vanity
Install vanity, sink, and faucet
Purchase shower shelf and switches
Install overhead light fixture
Research/purchase a new toilet
Install new toilet
Refinish old medicine cabinet
Hang hooks, shelf, toilet paper holder, and cabinet
Install shower curtain rod and hang curtain
Replace switches and add switch/outlet covers
Add final decor and fluff
It's a pretty straightforward list from here on out. Thank goodness, since there are only two weeks left. We got this, deep breaths.
The one item that has us shaking in our boots (a little bit) is installing all the trim. This bathroom is not square and not level. Not even close.
None of the rooms in our house are even remotely level. This makes sense since it was built in 1781 and as Colby likes to say, "They just built them that way." But it always makes for a rough go when it comes to installing trim since we like to make it look level and scribe in the baseboards in particular.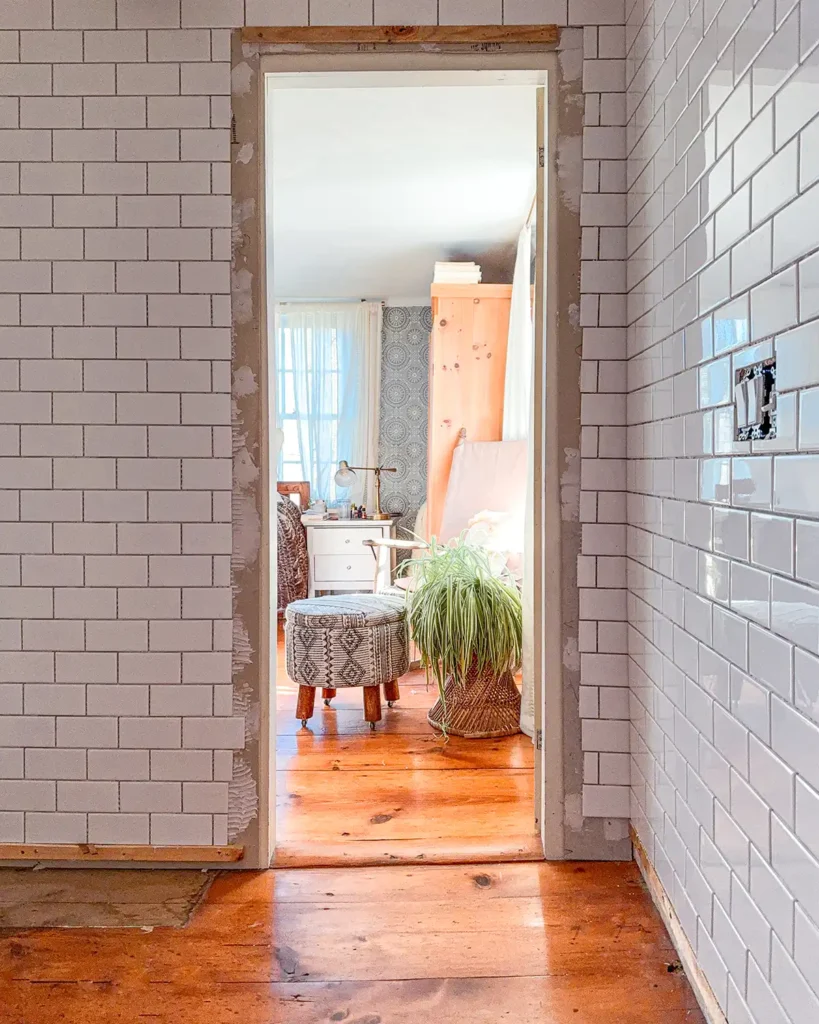 I'm just now noticing the missing bottom tile to the right of the door…face…palm. Also do you see the dips and swirls of the floor?!
One Room Challenge Fall 2023: Week Six
This concludes my Fall 2023 One Room Challenge (ORC) update for week six. As a reminder, the ORC is a bi-annual event where bloggers and designers rally to make over one room in their homes in just eight weeks.
Be sure to visit the One Room Challenge blog for all the week 6 updates and cheer everyone on. We could all use it!

Catch up on my weekly bathroom renovation updates:
Stop by next week for my bathroom renovation week 7 update for the One Room Challenge. Fingers crossed there's a grouted bathroom and an installed vanity! Maybe I should cross my toes too…you know…just in case.
Posts You May Also Like