This is Angie, reporting in from Vermont with our bathroom renovation progress report for the One Room Challenge. Our LAST progress report before the big reveal day. And we are getting close, oh so close to finishing up this space. The tile is grouted, trim is going in, the vanity is built, fixtures are getting installed, and it's starting to look like a real live bathroom.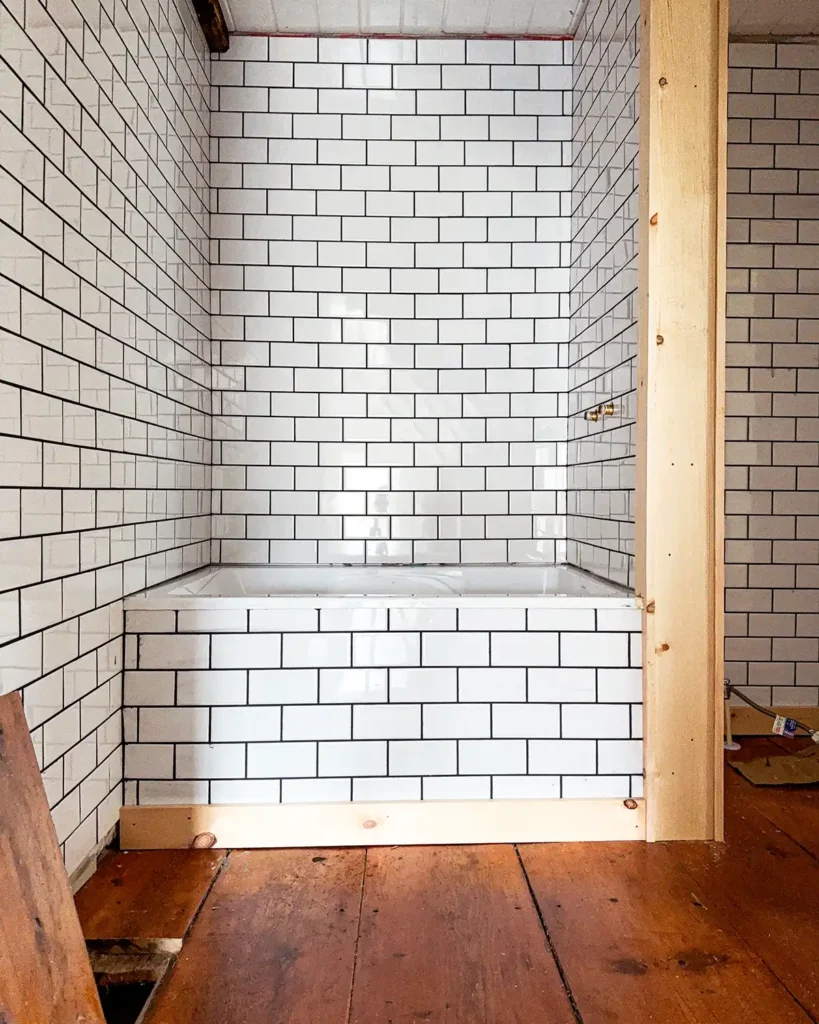 The Universe Said "Finish The Bathroom"
How about we start today's update post off with a story?! A comedy of errors one might say.
We were originally supposed to be in Connecticut this weekend for a family get-together and a birthday party. The plan was to leave Friday morning and come back Sunday evening. Leaving very little time to finish the bathroom renovation. I was anticipating not being able to finish the bathroom in time for the One Room Challenge reveal day next week.
Well, as per usual when one plans a trip with small children, one kid gets sick shortly followed by another kid. Road trip canceled. Huh, with three full days at home with no plans, maybe we can pull this bathroom reno off?!
AND THEN…because you know there's another plot twist…my MacBook broke for the second time in a month. So off to the Apple Care center in Texas, it ships. I'm left without a laptop for the week. No blogging for me meant I had extra time (like those hour-and-a-half naptimes) to work on the bathroom instead of the blog.
Between those two plot twists, we have made some PROGRESS! It was like the universe knew I needed to finish this bathroom project and it made things happen so we could. Even though I would rather have my laptop not break and my kids be healthy.
Soooo….let's dive into this week's bathroom renovation update and progress report. The theme of today's report: lots of grouting done and lots of grout haze left to clean.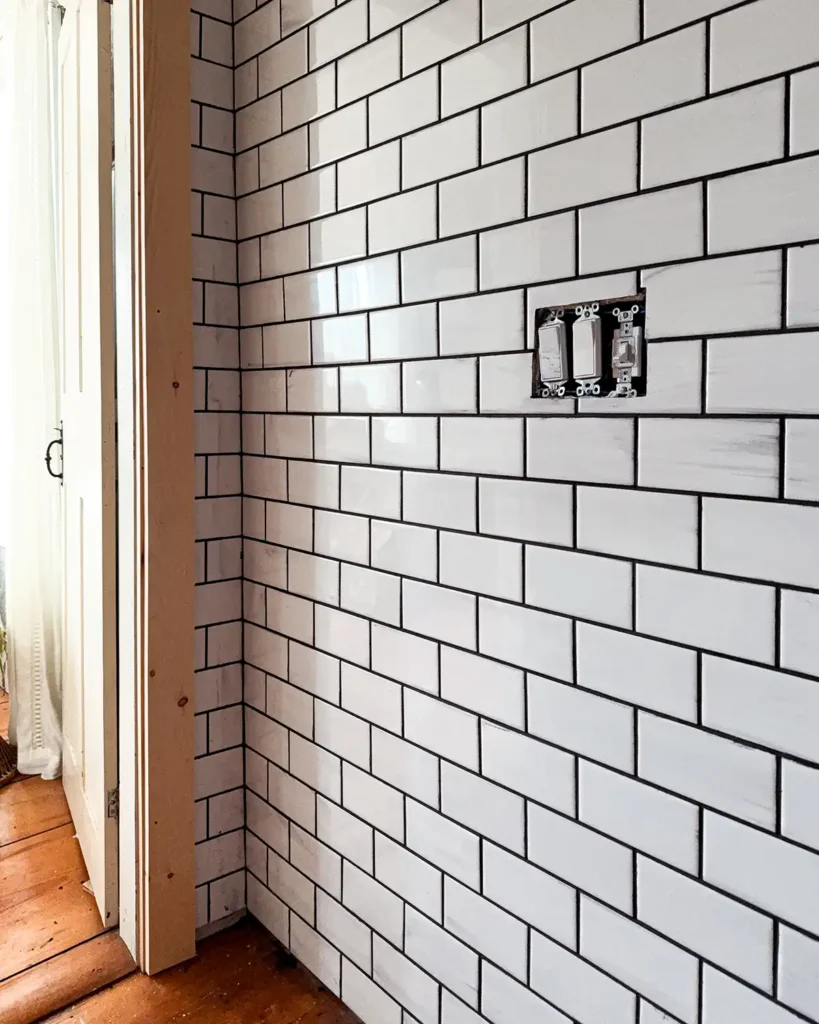 What Is Done
Let's start with the things we've finished since our bathroom project week six update.
Grouted Subway Tile
It was a huge win when we finished grouting ALL the subway tile in our bathroom. We had finished the shower nook the week before and this week the toilet nook, the front of the tub, and the wall between the bathroom and the attic all got grout. No more grouting to do! Well, kind of. There's still that pesky issue of cleaning the grout haze off a few of the walls.
Obligatory action shot of the grouting process in all its messy glory.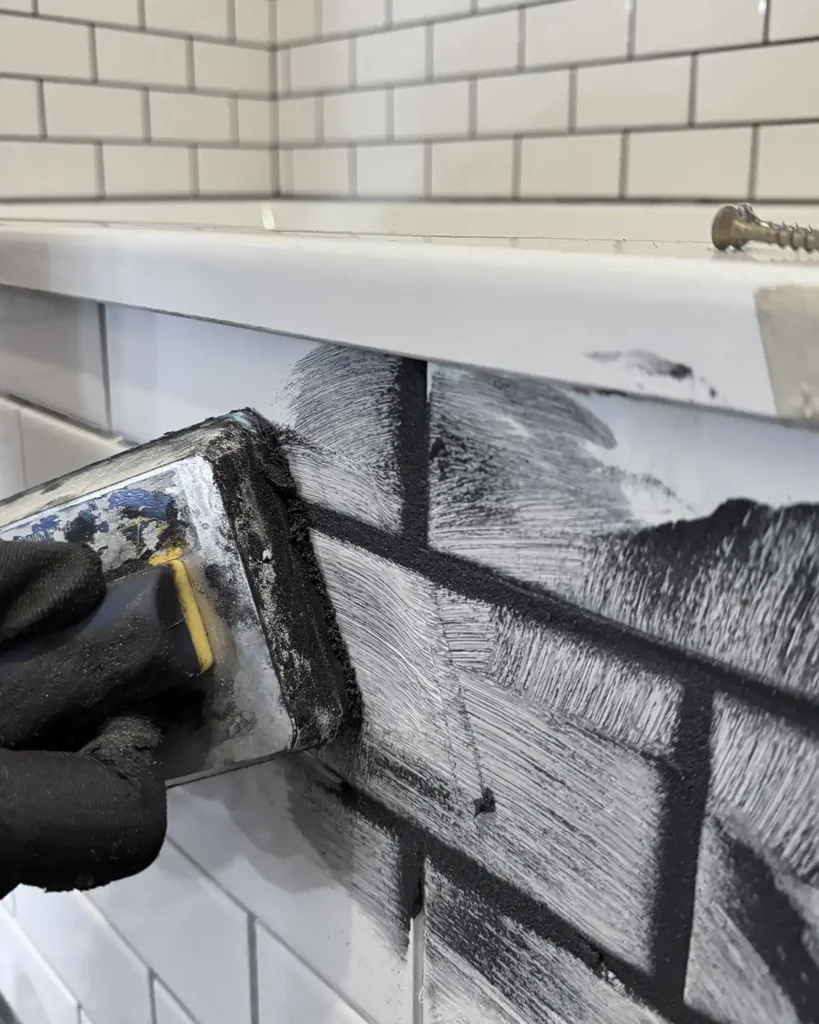 Things Have Arrived
The last few things we ordered for the bathroom project have arrived. Kind of. The Anthropologie shower shelf has made it, although it just came and we haven't unboxed it yet. Fingers crossed they sent the right one. There was an instance of ordering a puzzle from Anthro one year and we were sent a bright red, Carmen Sandiego-style hat instead.
The switch plate cover and the outlet cover have arrived from Rejuvenation. However, the push button switches are on backorder and aren't expected to arrive until the end of November. I'm picking up some cheap black switches and a cover today to serve in the interim.
Vanity Built
The vanity is built and it is gorgeous! It looks exactly how I envisioned it based on the design inspiration and sketch. Colby locked himself in the shop last Sunday and pretty much built the entire thing in a day minus the doors that were giving him a little trouble. But it's built, hanging out in our kitchen, awaiting finishing.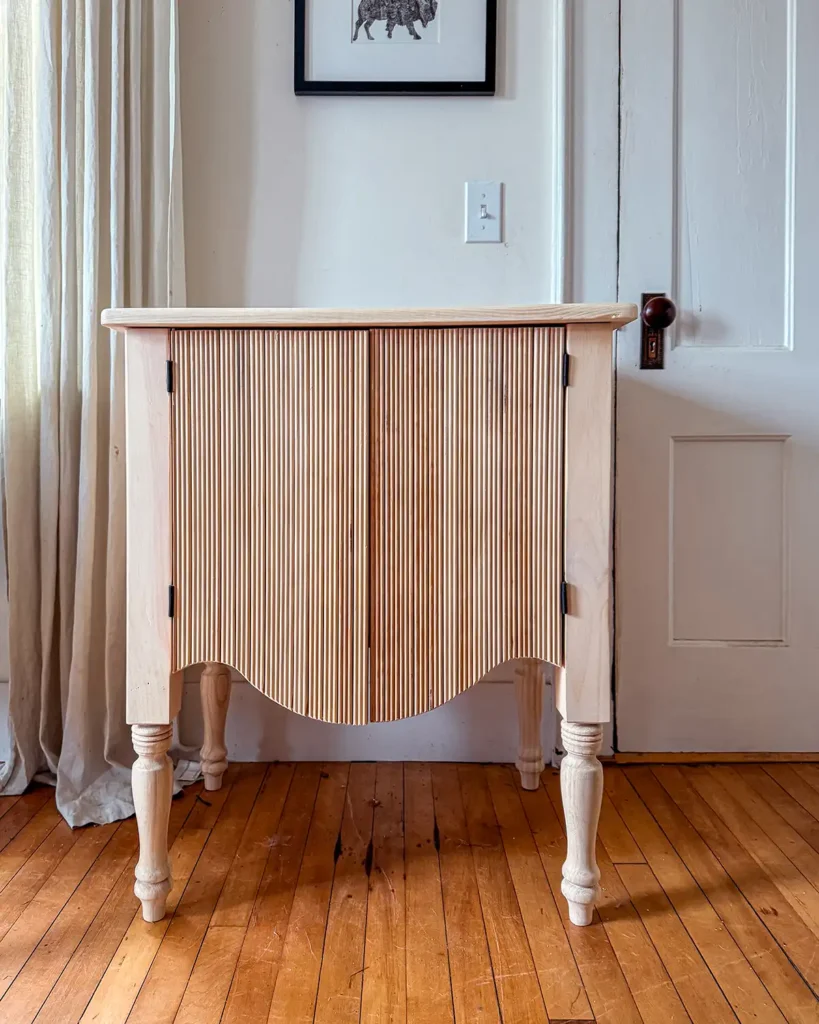 What Is In Progress
So many exciting things are in the works! From little things like installing an outlet to bigger things like trimming out the entire space.
Cleaning Grout Haze
I forgot about this step when I made my initial "finishing the bathroom" to-do list. Then I grossly underestimated how long it would take to clean all the black grout haze off the tiles.
About half of the bathroom has the grout haze cleaned and I'm trying to stay one wall ahead of Colby as he's simultaneously adding trim to the bathroom. But alas, I'm falling behind.
Cleaning grout haze isn't hard, it's just time-consuming, especially if you don't do it right away. It takes a bucket of water, a soft cloth, and a lot of elbow grease. I'm trying to clean it all around the 48-hour mark after grouting, but there are a few sections I'm behind on.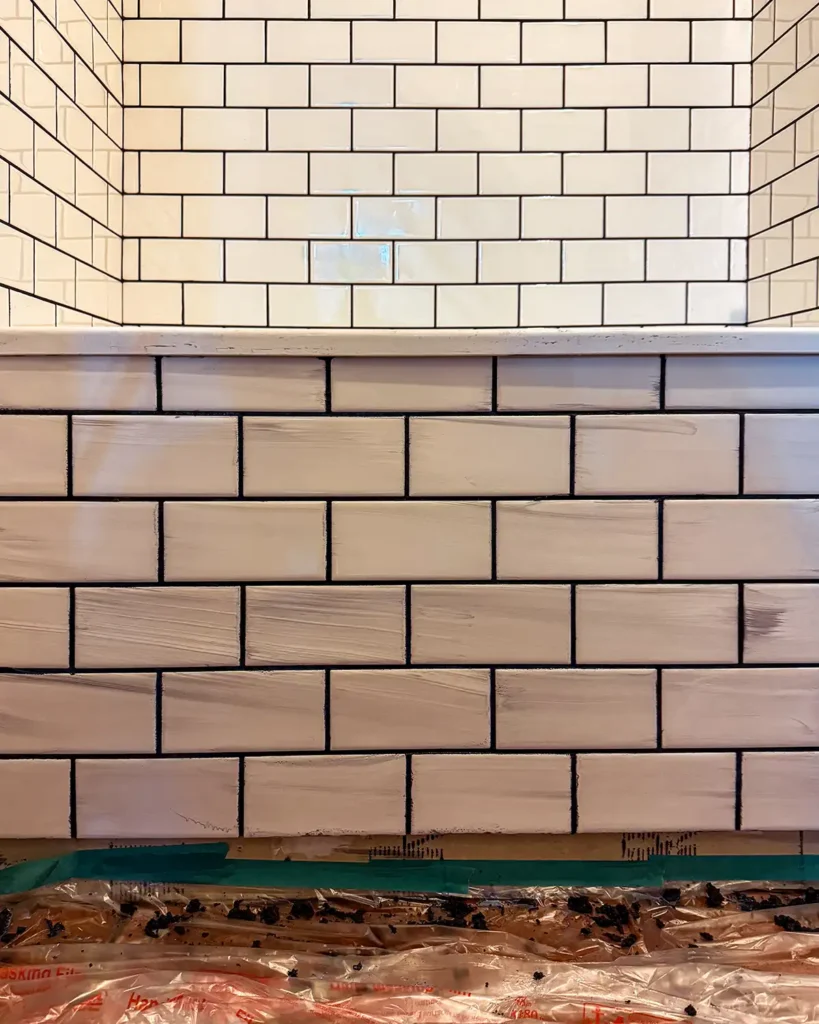 Trim Installation
The trim is starting to go up and there's nothing that makes a space feel more finished than having trim up and painted. Just having that rough-looking wall end between the tub and the toilet is making me swoon.
We're keeping the trim pretty simple in this space since we want the wall tiles and the grout to shine. Around the beams, we're adding just a thin piece of pencil trim, like we did in our kids' bathroom remodel, which we both love.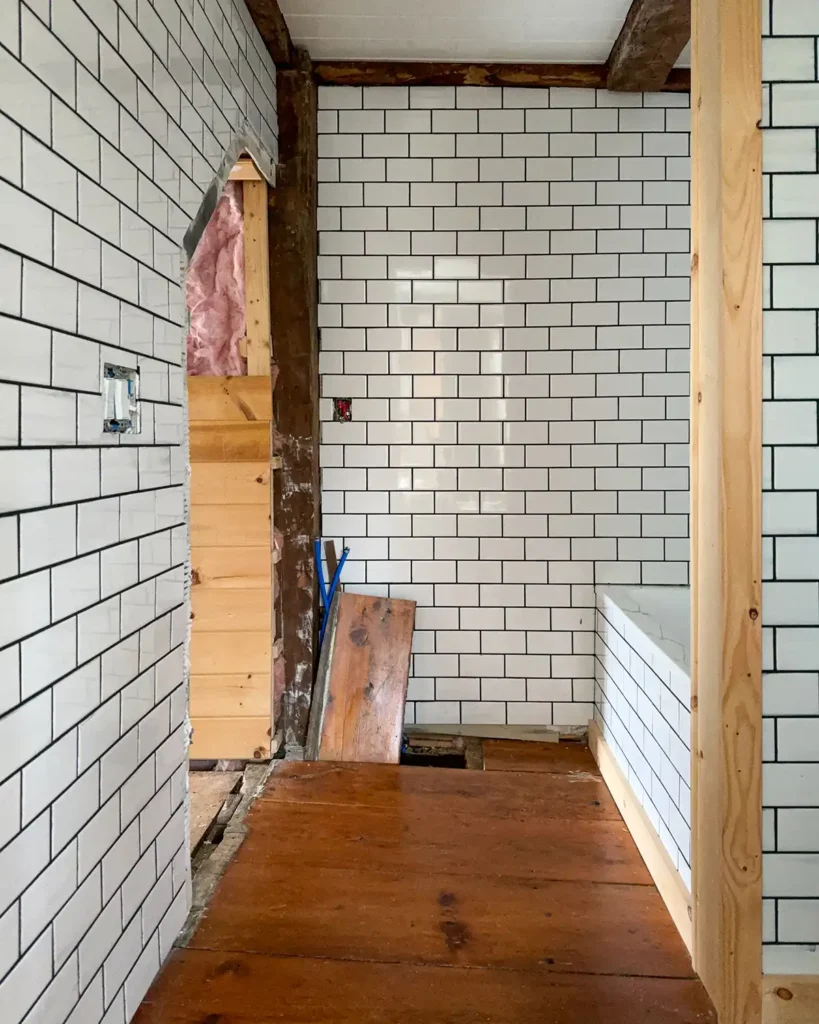 Staining Bathroom Vanity
It's time to choose a stain color for the bathroom vanity. Originally, I had wanted to do a weathered staining/painting technique on it but now I'm leaning towards straight staining.
I'm not feeling creative right now. Maybe it's from the 17 hours of tiling and the 8 hours of grouting (but who's counting?!). And I kind of just want it to be done quickly so we can use our bathroom again. It's only been 6 years since it's been remotely functional! Although it's questionable if it had ever been functional. Remember what it looked like?!
I've got the stain color narrowed down to True Black (left), Ebony (middle), and Dark Walnut (right) all from Minwax. I think I'm going with Dark Walnut but reserve the right to change my mind and go with something out in left field. It feels like a richer and warmer color than the other two.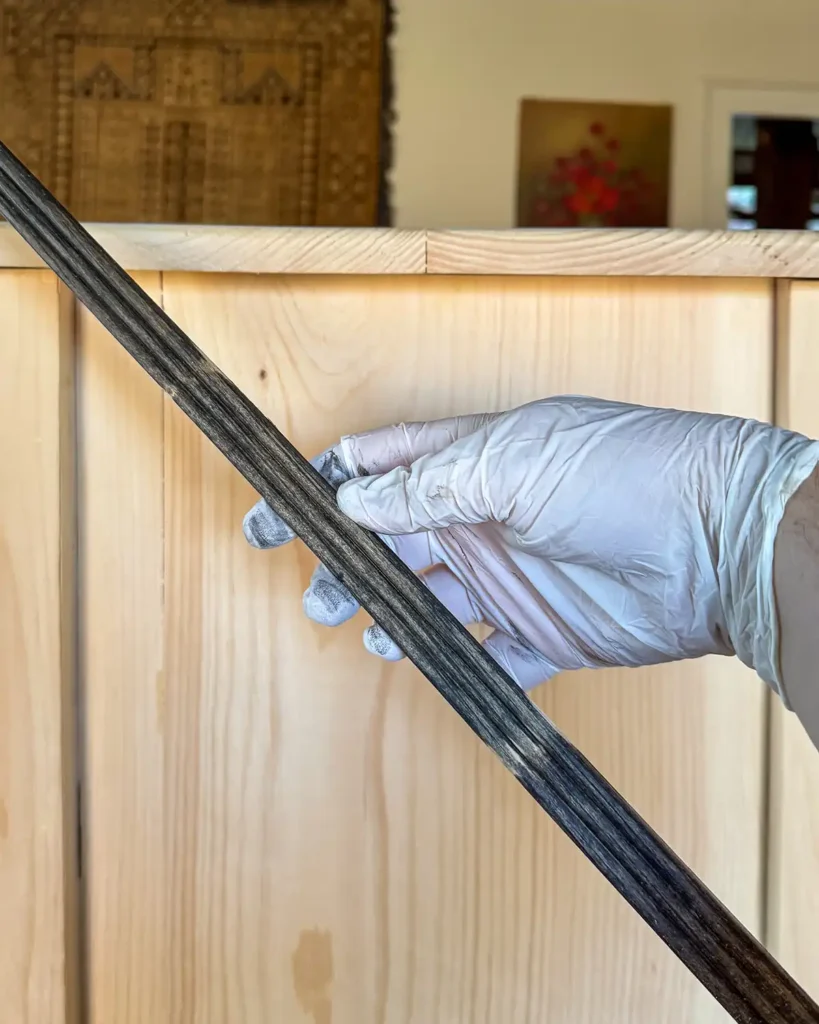 Refinishing Vintage Medicine Cabinet
One of the bathroom projects on the list is to refinish a vintage medicine cabinet. I recently brought the cabinet out intending to remove some shelves and chalk-paint the whole thing.
The problem I encountered is I don't know what I want stored in this cabinet and probably won't until we've been using the space for a while. It seemed silly to remove shelves and paint it now just to hack it again once I figure out what should be stored in here.
I've checked this off the list for now, but I'll be revisiting it after we've used this bathroom for a month or so and better figure out our storage needs.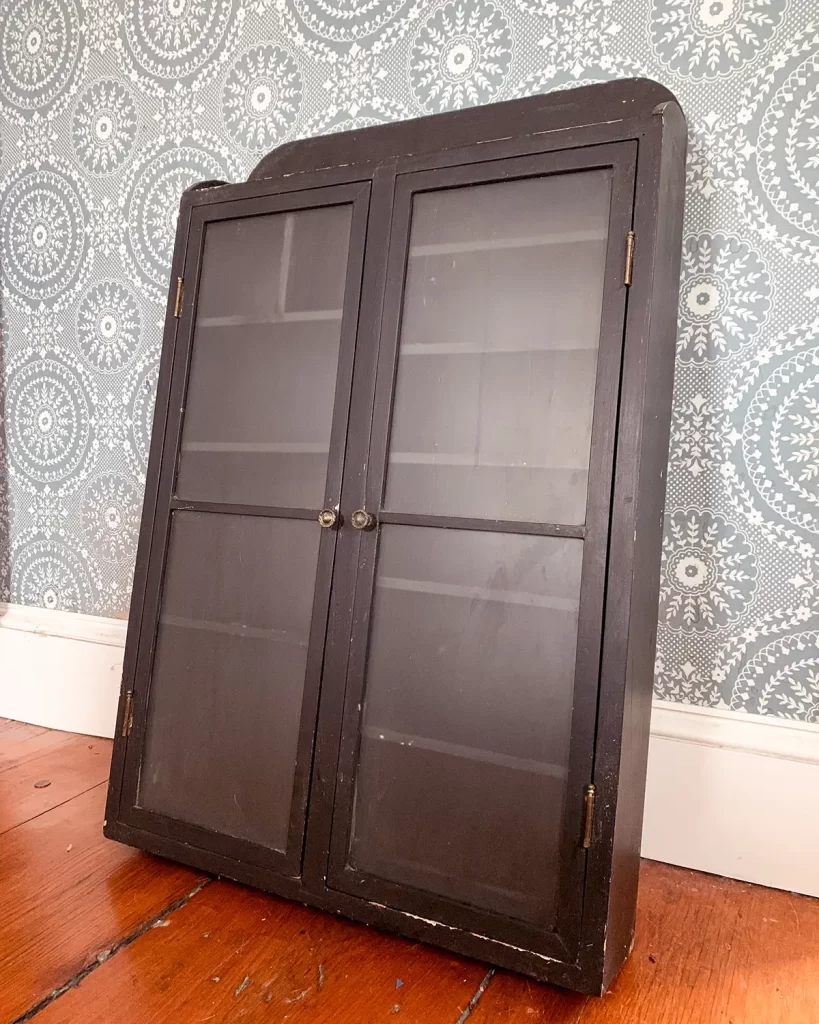 What Remains
Let's look at the list, shall we?! LOTS of installation and little things left to do but the most time-consuming parts are done!
Tile the last sections of the wall tile
Grout the entire bathroom
Install trim
Plank the walls between the bathroom and the attic closet
Paint the trim, planked closet door walls, and doors to the bathroom
Install the shower hardware
Build a custom bathroom vanity
Stain and poly the vanity
Install vanity, sink, and faucet
Purchase shower shelf and switches
Install overhead light fixture
Research/purchase a new toilet
Install new toilet
Refinish old medicine cabinet
Hang hooks, shelf, toilet paper holder, and cabinet
Install shower curtain rod and hang curtain
Replace switches and add switch/outlet covers
Add final decor and fluff
It's the home stretch and this list is feeling a bit like a stretch but doable to get done in the next week. Fingers crossed we can get it all done and the parents stay healthy enough to make it work. Although we've both officially caught the kids' sickness and we're going downhill fast. It's going to be down to the wire!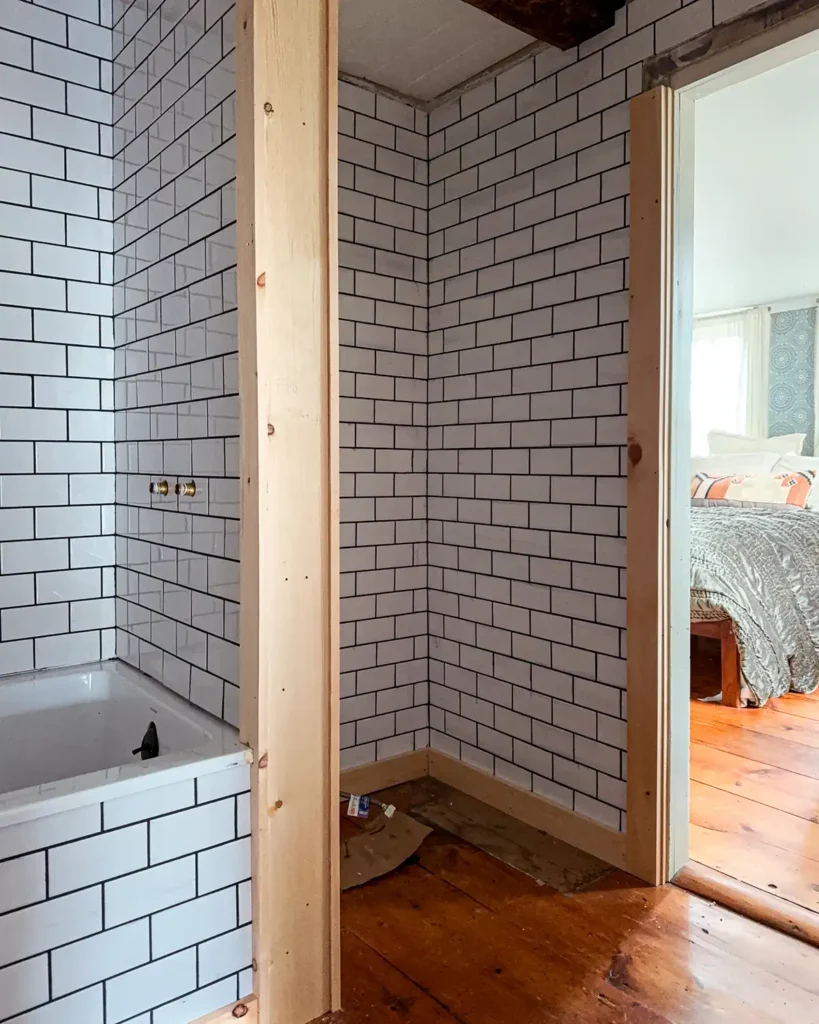 One Room Challenge Fall 2023: Week Seven
And scene on my Fall 2023 One Room Challenge (ORC) update for week seven. For those who are just joining us, the ORC is a bi-annual event for bloggers and designers to make over one room in their home over eight weeks, sharing progress along the way.
Make sure you visit the One Room Challenge blog for all the week 7 updates from everyone else. Leave a comment and root on your favorite projects. We sure could use the support at this point! Crunch time!

Catch up on my weekly bathroom renovation updates:
And don't miss next week's big bathroom reveal post. She sure is going to be a beauty, Clark.
Posts You May Also Like